Work with freelancers, they said.
It will be fun, they said.
Until recently, my idea of fun would have been far different. It would have involved most of the freelancers I'd worked with getting acquainted with my stranger-hating Rottweiler- when she was in a really bad mood.
When I started my legal communications business two years ago, I managed to keep clients happy as a solopreneur. Then they started asking me if I could help them with things like email marketing, graphic design, and web development. Although these were services I wasn't equipped to deliver, I knew fellow solopreneurs who could, and soon I was busier than ever.
For someone like me, the gig economy was a godsend. So many people were freelancing, contracting, and following contingent occupations that the Freelancers Union estimated that 35% of the American workforce was actively freelancing in 2016. They were clearly becoming an important source of skilled workers for businesses like mine.
Although I had some great experiences with freelancers, others should have come with a warning label and made me consider going back to my former business model of more limited offerings (and income) but more peace of mind. If your experiences are anything like mine were, were are 5 signs that you need a freelance management system, and how to set one up.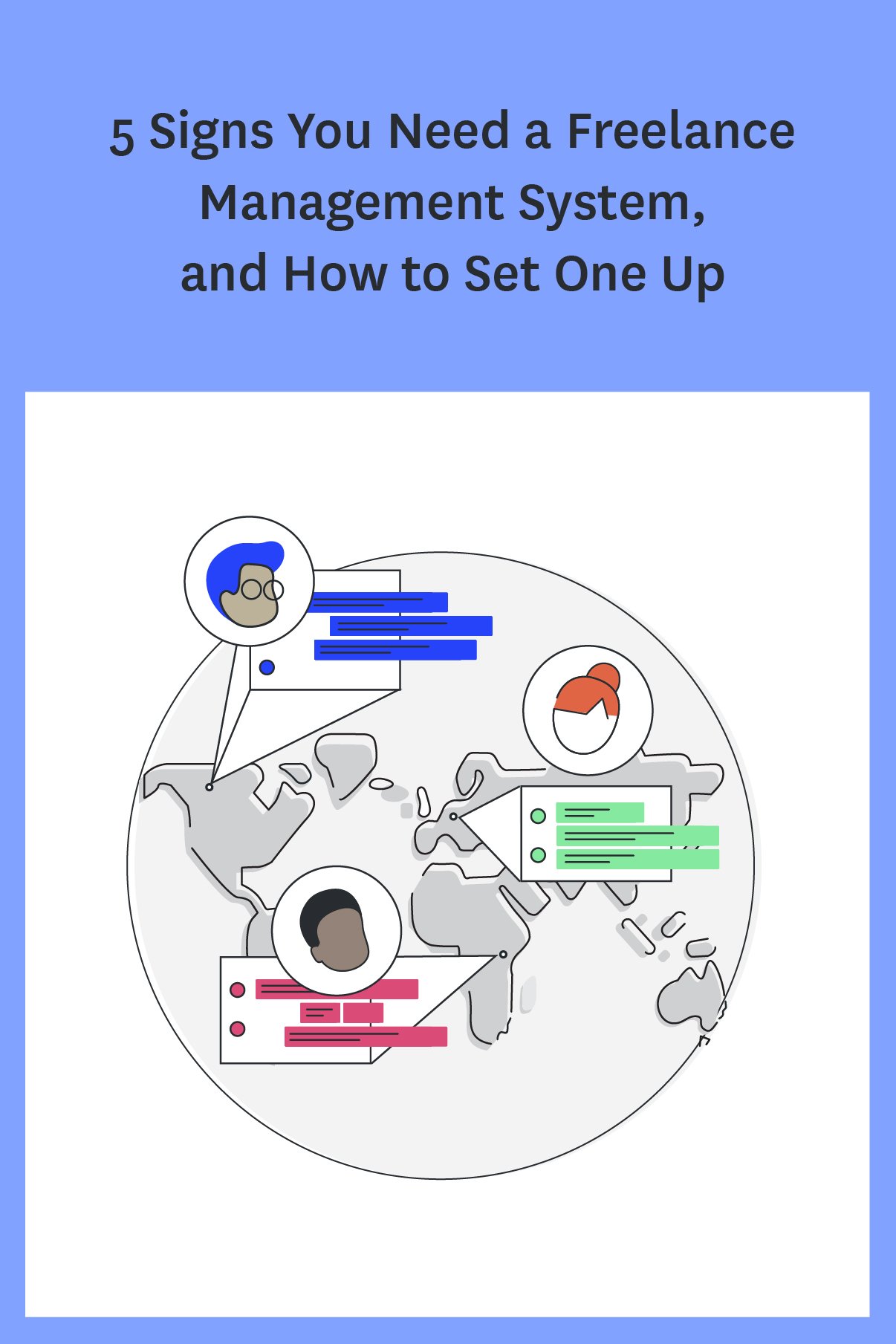 1. Missed Deadlines- A Lot of Them!
I'm not talking about missed deadlines due to illness or family emergency: the nine to five world is impacted by these personal issues as well. I've experienced them myself, so I know that things can happen.
Some of the freelancers I hired missed deadlines for what I suspect to be a different reason. Unlike full-time employees, independent professionals often have two or three projects on the go at once. If they're not the most organized people, they forget deadlines easily.
2. The Work Was Lost in the (E)Mail
Not turning in work is another big problem, and one that's impossible to overcome when someone lives multiple time zones away and doesn't respond to your emails. I always made it clear to each freelancer that I understood personal emergencies. I also knew from experience that sometimes you say yes to something and don't realize that you're in over your head until you're well into the project. All I wanted was to be notified as quickly as possible so that I could make alternative arrangements for my client, not excuses after the fact.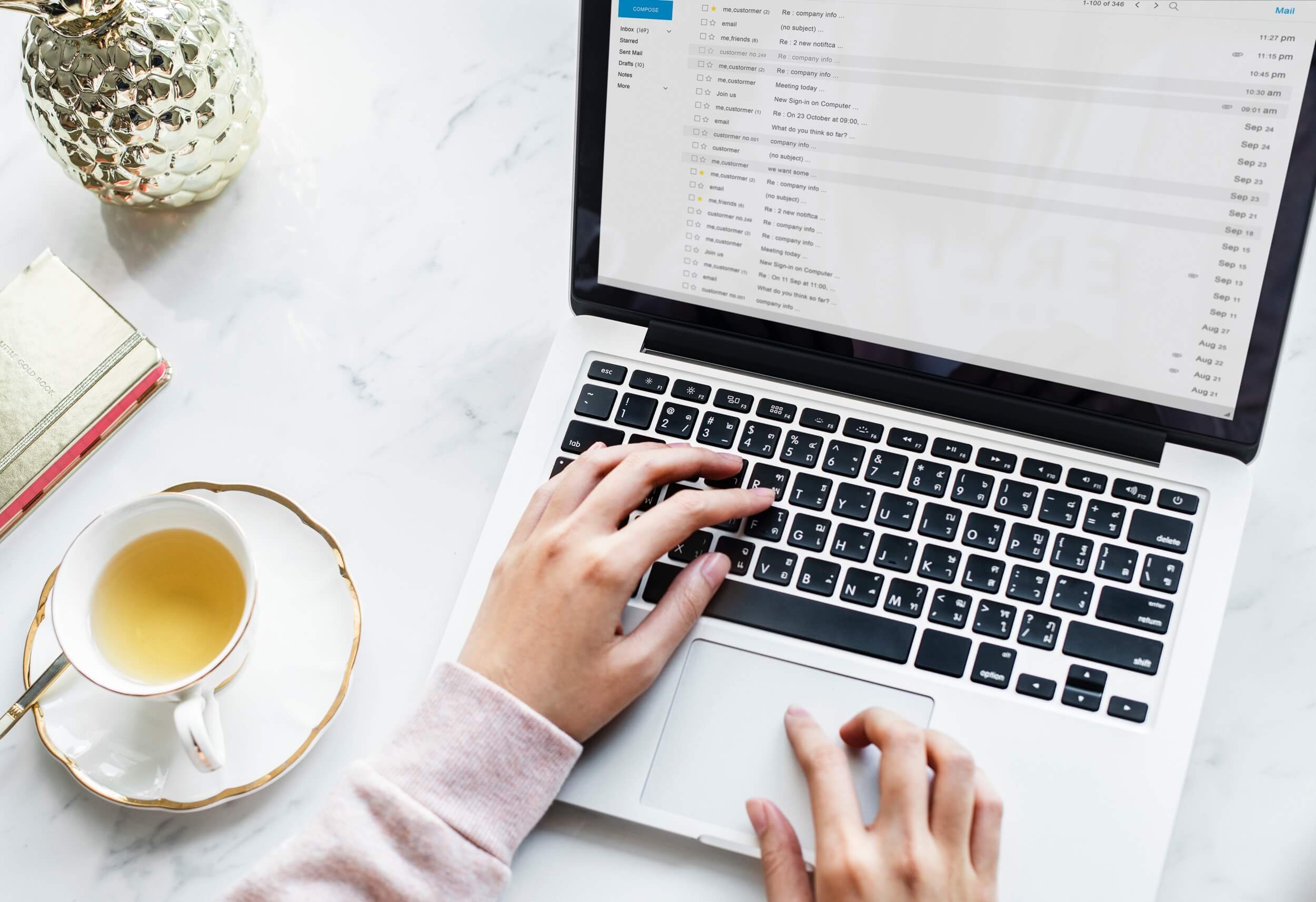 3. They Go MIA
Those new to freelancing can have a hard time staying accountable to you because you aren't there watching their every move. One day they're answering your messages promptly and sending you regular progress reports and the next, they're AWOL. Sometimes they even have a partial or even full payment in hand. There was nothing I could do except dispute the payment with Paypal and refuse to deal with them in the future.
4. Ideas Are Stolen
This one is especially frustrating. It hasn't happened to me, fortunately, but a friend of mine hired an app developer to help him take his idea for an interactive time management app and turn it into reality. After he shared every aspect of his idea with the developer so that they understood the required outcome, that person disappeared and stopped replying to his messages.
A month or so later, my friend saw a carbon copy of his app on the Google Play store, making a tidy sum of money for his erstwhile developer. Suing the guy would have been problematic: you can't really copyright an idea and the developer lived overseas. But the experience left my friend justifiably bitter.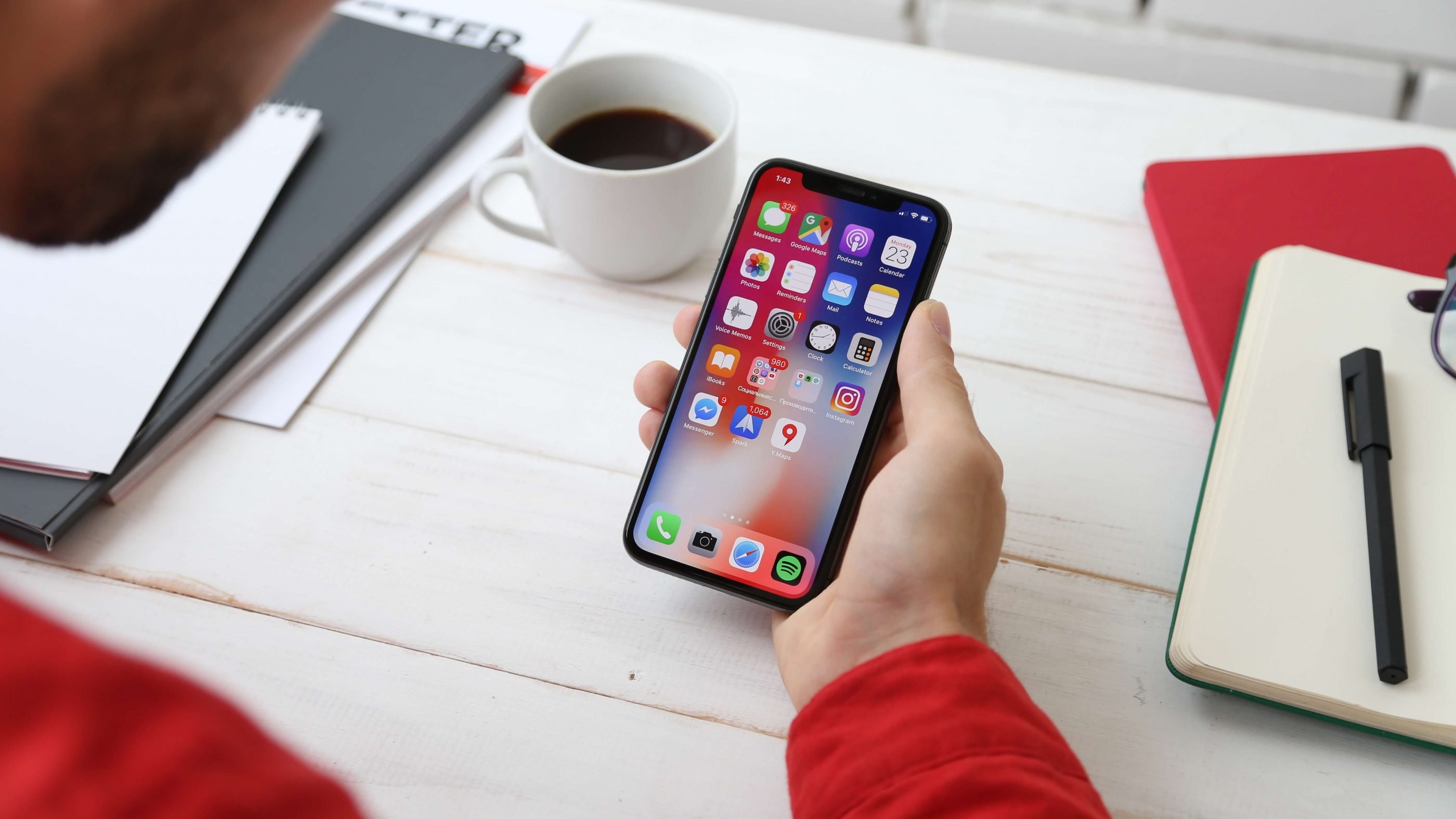 5. Misunderstandings Are Easy
While digital communications have allowed us to transcend miles and even time zones, they're different from face-to-face interactions in that misunderstandings are really easy. If you've ever received a text or email that upset you only to discover that the sender came across in a different manner than they intended, you'll know what I mean. I've had more than one freelancer think I was criticizing them when all I meant to do was seek clarification on some aspect of their work.
Freelance Management Systems Explained
You can eliminate these problems or minimize their impact by implementing a system that allows you to manage your contracted workforce more efficiently. Fortunately, there are some great technologies that support companies and solopreneurs who rely on freelancers. They're called (naturally) freelance management systems, or FMS.
FMS are software or browser-based solutions that allow you to manage all aspects of the freelance relationship more effectively, from onboarding and assigning projects to communicating feedback, reviewing successive drafts, and paying their invoice. They offer a lot of benefits, but I found them especially useful for the following tasks and functions:
More efficient onboarding: Most of your freelancers will live a considerable distance away, which makes the onboarding process difficult if you don't have a good system in place. With a freelance management system, onboarding becomes centralized and everyone you hire receives the same orientation and introduction to the team.
Improved team visibility: A freelance management system provides you with better visibility over all the artists, writers, developers, etc. working on your project. Depending on which system you use, the freelancers can also be visible to each other and watch the project progress, which improves both team spirit and accountability.
Better budget management: Being a smaller business, I haven't had budget management issues, but I have friends who operate larger companies and their freelancer hiring process tends to be split across multiple departments, making it difficult to track spend properly. A good FMS brings a company-wide view to the hiring of freelancers, so you can see how much you are spending on different types of freelancers.
The freelance management system that I use to create and manage my remote teams is Toggl Plan. I can't praise it enough, but I'll try!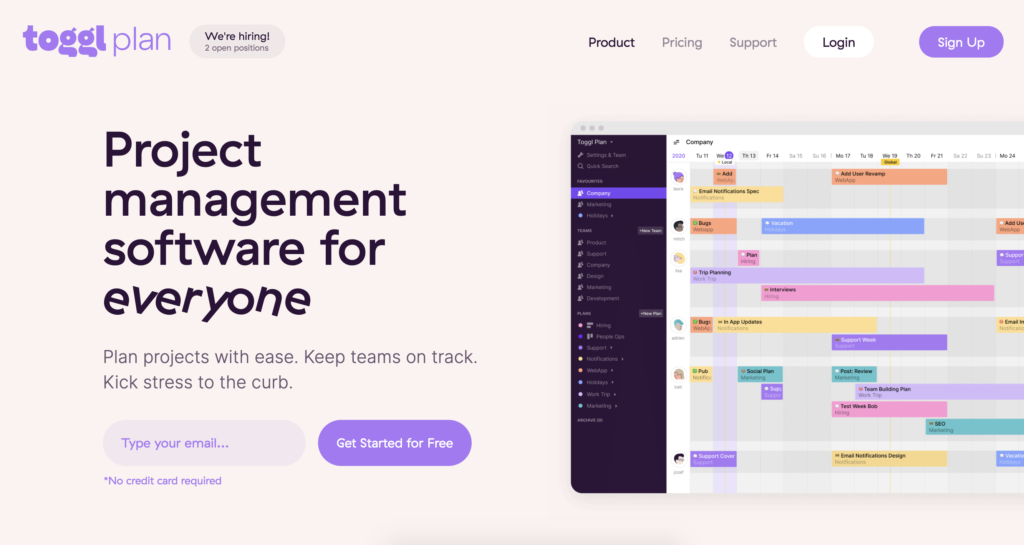 For starters, Toggl Plan is easy to use. Although the product website has great documentation, I found that you can master it by diving right in and experimenting with the various tools and functions. The interface is simple and intuitive, and you get the hang of it quickly.
The Gantt chart timelines are easy to set up and populate with team members, tasks, and milestones. You can also color-code them and group certain types of information together for quick visual assessment of project progress.
Team timelines are shared, so everyone on your remote team can see when deadlines are drawing near. Not only does this give your project more transparency, but it can make your freelancers feel a certain sense of ownership over the big picture that would be impossible to achieve if their awareness was limited to their own assignment.
It integrates with Slack, which so many freelancers are using today. Team communications have never been easier, and the central platform beats a mountain of email correspondence any day.
Toggl Plan integrates with other popular project management systems such as Trello. I know someone who runs a blogging business, and he uses the Trello editorial calendar to let his freelance writers choose a blog subject, document the progress of the work, and submit it for payment. Everything else he does in Toggl Plan.
Finally, Toggl Plan is free for teams of 5 or fewer, so you have nothing to lose by trying it!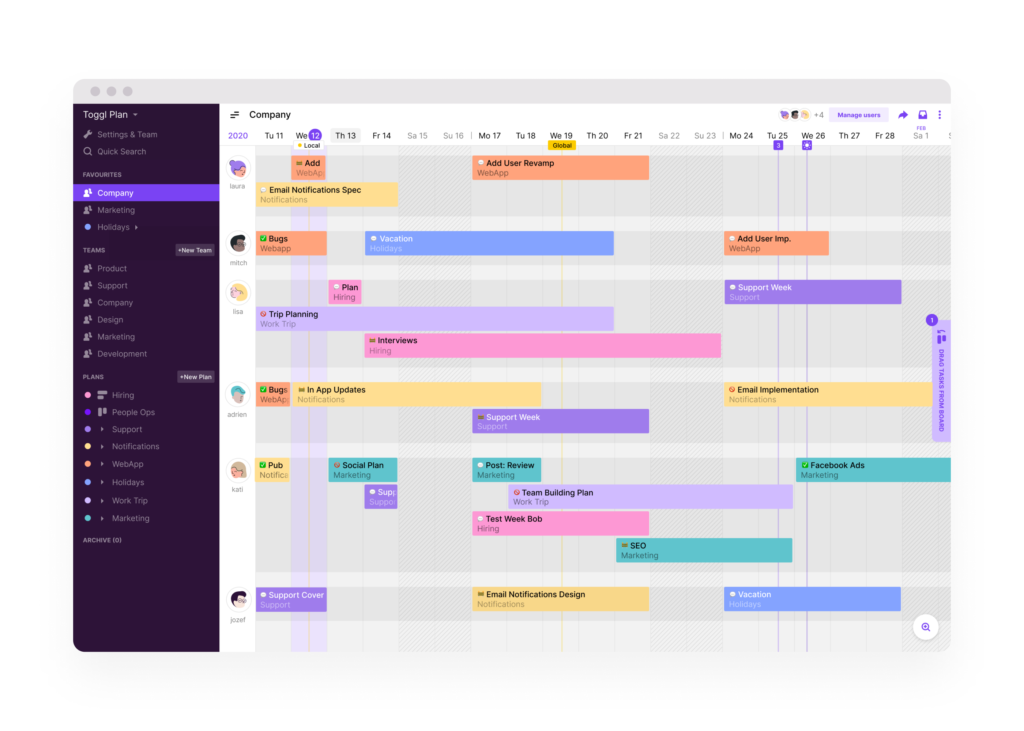 If you're impressed by high-value endorsements, you'll be interested to know that Toggl Plan is the team management software of choice for iconic businesses and service providers like Spotify, National Geographic, Buzzfeed, and Microsoft.
In one case study, a program manager at Boiler Room used Toggl Plan to solve the issues she was encountering with spreadsheets, namely:
The complications of having separate sheets for each department
Too many tabs made it hard to get a centralized overview of everything that was happening
Boiler Room is an online music platform dedicated to making underground music more widely available. The program manager had to keep track of 35 in-house employees, 15 who worked remotely, freelancers who provided extra support, and contractors who put on-site events together. With Teamweek, she could easily keep track of multiple project briefs by:
Creating a project timeline for each new brief as she received it
Allocating a certain amount of time for each segment of the project
Using the automated weekly digest to send an email to everyone on her creative team
She commented that the weekly digest email gave all of the recipients an overview of what they needed to accomplish that week, so that employees and freelancers alike could schedule accordingly. Everyone knew what was expected of them, and when, which cut down on the number of communications she had to make and left her free to focus on other tasks.
Conclusion
When you implement a good freelance management system like Toggl Plan, you will gain a valuable degree of visibility into what your remote workers are doing. You'll see how much progress you're making, so addressing an issue with a slow or disengaged freelancer won't jeopardize your project, and important deliverables won't get lost in an email mixup. You'll soon wonder how you managed without it (although you won't want to remember)!
Rose Keefe is an author and technical writer who has over ten years' experience in supporting project managers in the manufacturing and construction sectors. One of her primary responsibilities was developing product manuals that supported efficient use of industrial equipment. She continues to write on the subject of time management and commercial productivity for trade websites and publications.