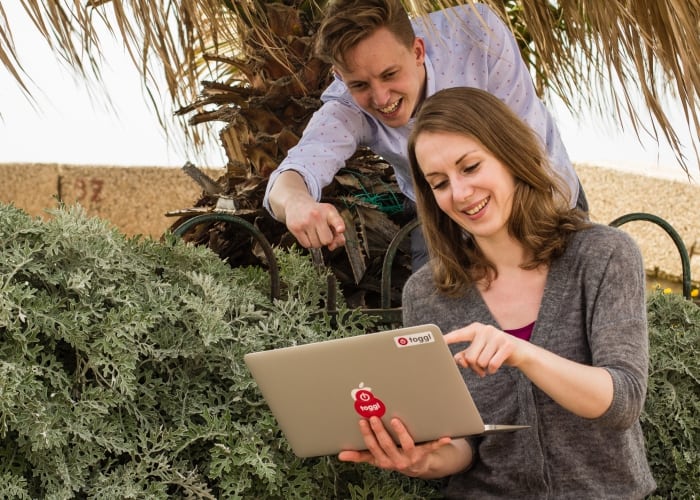 Recently we ran a survey asking users which features they would like to see most in Toggl Track – turns out the top 5 features users missed the most were the ones we've had for years (like Toggl Track Timeline).

As someone working on user onboarding, this result was baffling.
We're constantly A/B testing which copy, page elements or e-mails have the strongest impact on getting new users to stick around, yet there are still numerous features that our users have never heard of.
On one hand, knowing that we have already developed most of these features is a positive sign that Toggl Track is moving in the right direction. On the other hand, though, it is kind of sad to see that lots of you don't know about all the possibilities that Toggl Track offers for better time tracking.
So, to bring those hidden features to light, I've put together a list of the top 5 lesser-known things you can do in Toggl Track.
1 – Setting tracking reminders
People forgetting to track their time is a common problem. And yes, we've done something about that.
For Toggl Track Desktop and Toggl Track Button users the tracking reminders are nothing new, but for web app users this is definitely something worth giving a try (specially if you're new to Toggl Track and are having a hard time remembering to start the timer).
Both the Button extension and the Desktop apps have tracking reminders that let you choose on which days and at what times you want to be reminded about tracking. If Toggl Track sees you're not tracking time, you'll get a friendly pop-up reminder to do so.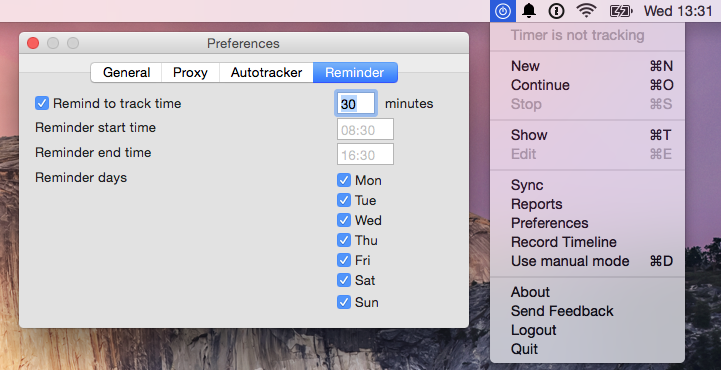 The Desktop apps also have idle detection – if your timer is running but you are away from your computer, when you return Toggl Track will offer to either keep the idle time, discard it, or split it into a separate time entry!
2 – Recording your computer usage with Toggl Track Timeline
Many of you have mentioned it would be awesome if Toggl Track could automatically record your daily computer usage. This has been possible already since 2013 when we first introduced Timeline.
Keep in mind that you need to enable timeline on your timer page and give Toggl Track Desktop permission to monitor your active windows for this to work.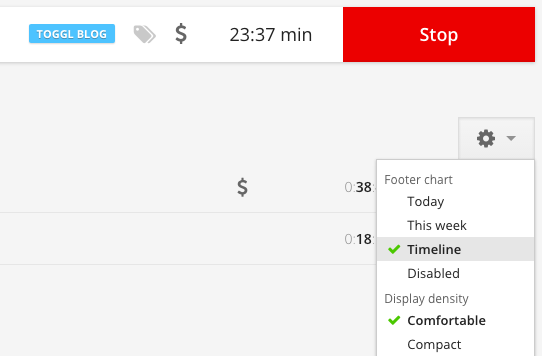 When enabled, timeline records every website and program that you view for longer than 10 seconds, and displays your workday in 15-minute graphic chunks. The chunks become highly useful if you've forgotten to start the timer, and want to see when you actually started working.
They also help you see at a glance what part of the day you've covered with time entries and whether there are any gaps to be filled.
To enable Timeline, choose "Record timeline" from Toggl Track Desktop settings, and select "Footer chart – Timeline" from the cogwheel icon on the Timer page in the web.
3 – Pause and continue time entries
If you've used Toggl Track for a while, chances are you've noticed the little green Continue button that appears when hovering on the previously tracked time entries. You probably also know that clicking it creates a new time entry with the existing entry's details.
However, I bet that most of you didn't know that you can actually change the settings for the Continue button – you can set time entries to only have a date and a duration instead of a start and stop time.

This way when you continue a time entry, it will actually add time to the original entry instead of starting a new identical one – great way to keep your timer page cleaner when working on the same task several times in a day!
4 – Saving & sharing Toggl Track reports
If you're tired of generating the same reports each month, check out bookmarked reports – our best kept secret Pro plan feature.
Bookmarked reports is a true time-saver – it lets you save your reports so you can easily retrieve them later. You can also share them with your team members and even with people who don't have a Toggl Track account at all.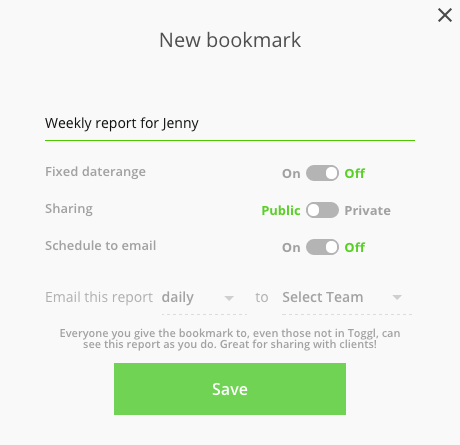 The cherry on top is the fixed date range option – leaving the date range unfixed means the receiver can change the date themselves while the filters stay the same – this way you won't have to send your clients a new report each month.

5 – Rounding up time entries
Last but not least – rounding up time.
To my big surprise, many daily Toggl Track users didn't know they have a possibility to round their time entries up or down to the nearest minutes or hours – so if you want to have neat reports, I truly recommend to check out this Pro feature.
Rounding can be set up on your Workspace Settings page, where you have a nice variety of rounding ranges to choose from.

To see the rounded times in your reports, choose "Rounding – ON" from the cogwheel icon on the Reports page, and voila – all those confusing, way too detailed seconds at the end of your time entries are gone from your Reports!
If none of the above mentioned features were new to you, congrats! You know how to get most out of Toggl Track.
If, however, there's anything else you'd like us to add, feel free to leave your requests in the comments below.
Who knows – maybe your desired feature is already available (and well-hidden) in Toggl Track?