Freelance is the new normal
When you think of a freelancer, you might imagine a writer who works for pennies online. Or perhaps you're thinking back to your last Lyft driver.
I used to think the same thing until I became a freelancer myself. With 35% of the US workforce run by freelancers, and 45% of them providing services in the technical space, freelancing is no longer a "hobby" but a respectable career.
A rise in this field surfaces questions like, "How do I start a freelancing business?" and "Where do I find gigs?" We'll show you the best freelancing websites to find work, get training, and build a community.
If you're trying to hire a freelancer, check out our guide, How to hire a freelancer.
What do freelancers want?
Freelancers love the "F" word—freedom. But what does freedom mean for freelancers?
Finding quality work – Low-paying gigs and inconsistent work is a typical freelance backstory. Rather than falling into this vicious cycle, they strive for high-quality clients with competitive pay.
Finding resources – You don't have a company guiding you toward promotions and higher education. Freelancers invest in educational materials and give themselves a raise.
Finding others like them – Sure, freelancing opens the door to freedom, but wouldn't it be nice to celebrate this perk with a supportive group?
All the other things that companies provide, as well as ways to stay on track! – Freelance workers are in charge of handling their finances, vacation time, and scheduling. They're always looking for the best productivity and time tracking tools.
Below is a list of freelance sites to find work, educational tools, supportive communities, and resources.
Best freelancer websites to find work
Experienced freelancers will recommend referrals or connections to find gigs, but new freelancers have to start somewhere! Whether you work part-time or full-time, our curated list of job boards will jumpstart your career.
Best freelancer websites for software development
It doesn't matter if you're a web designer or a full-stack developer. You'll love this list of job boards.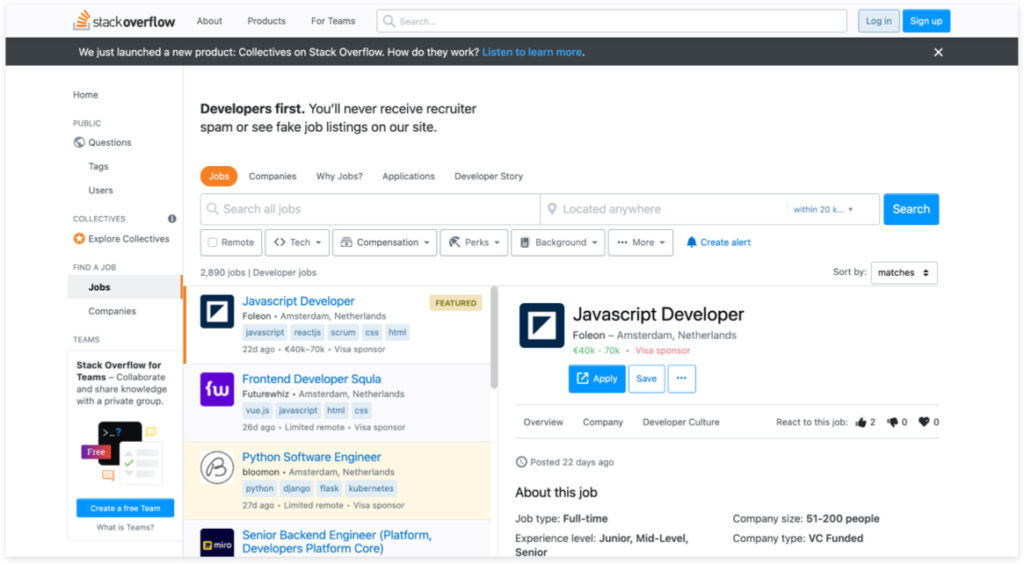 Developers ask questions and share projects on Stack Overflow. But it's not only a soundboard for developers; you can also find freelance jobs. You'll love their filter feature, which uses tags to filter out non-relevant tech stacks.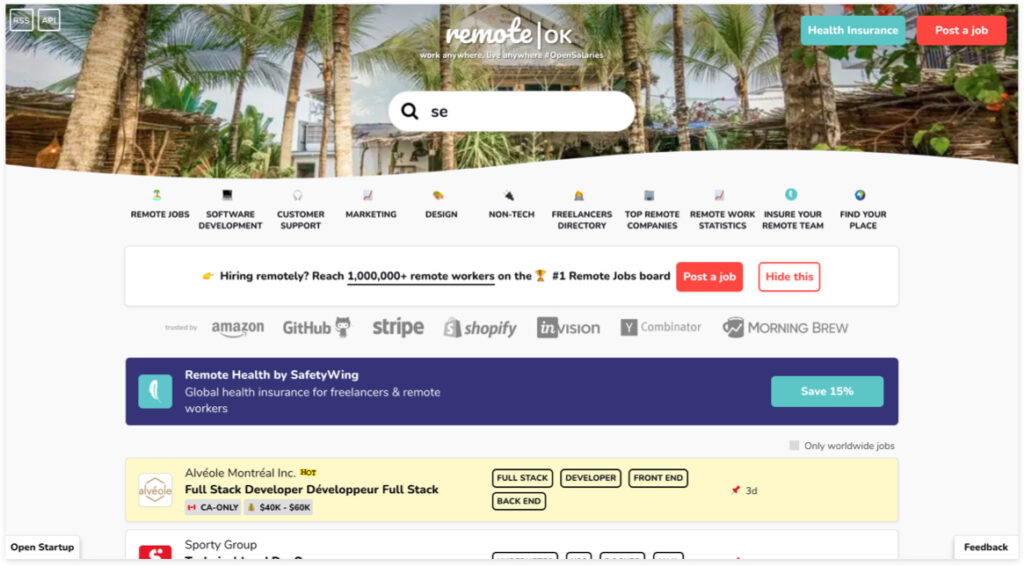 Remote Ok categorizes web developer jobs by tech stack. They also use tags to label whether a job is verified, new, or popular.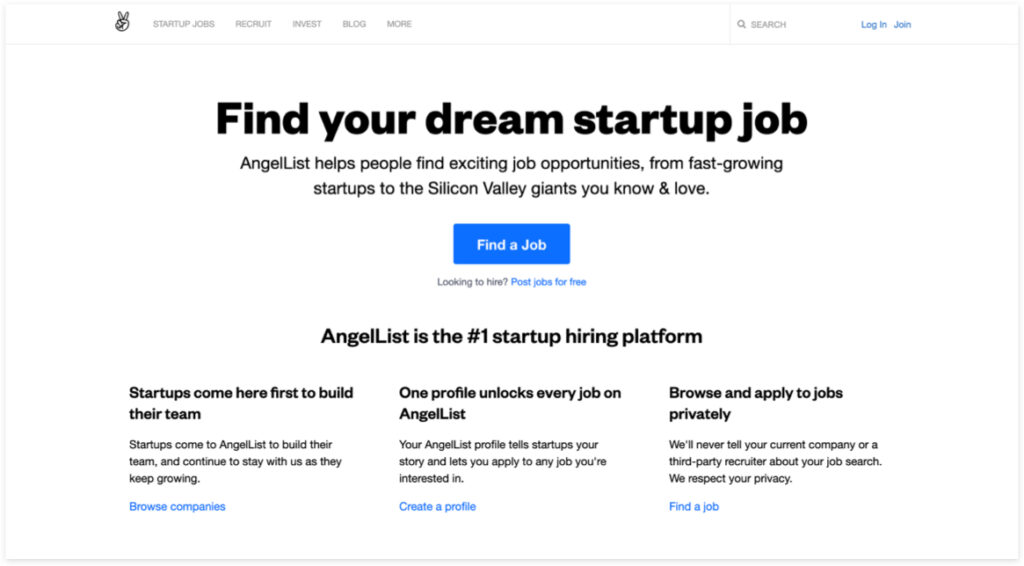 The one-stop shop for startup gigs, AngelList partners with 100,000 of the world's top startups. You'll find companies ready to accelerate your career in the fast lane.
Best freelancer websites for graphic designers
Graphic design can be anything from logo design to t-shirt design. Below are three job boards to land freelance designer gigs.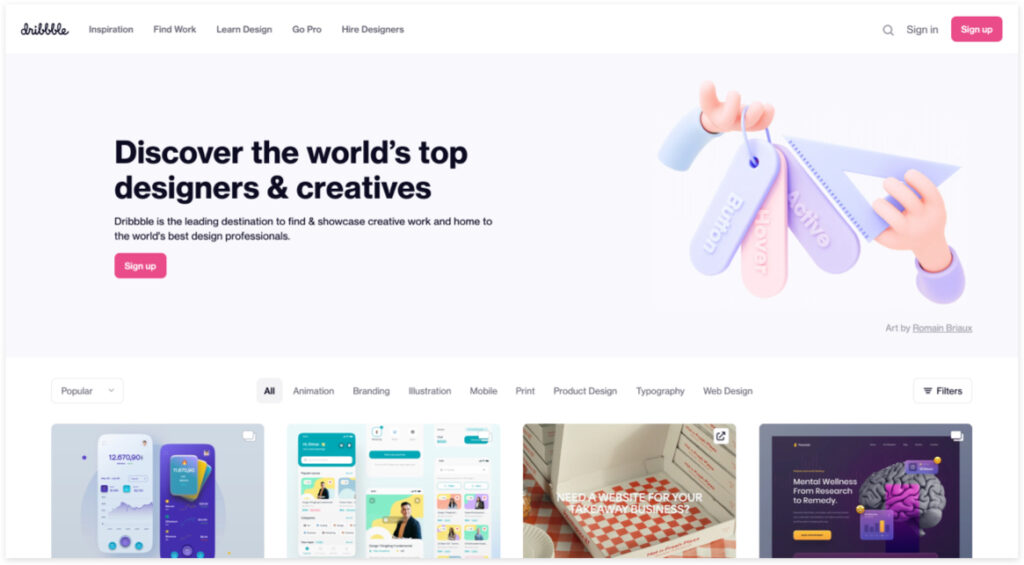 For $5 a month, Dribble offers a "Freelance Projects" job board for one-time and ongoing gigs. They also tell you what skill set the client is looking for—UI design, illustration, mobile design—as well as the projected salary.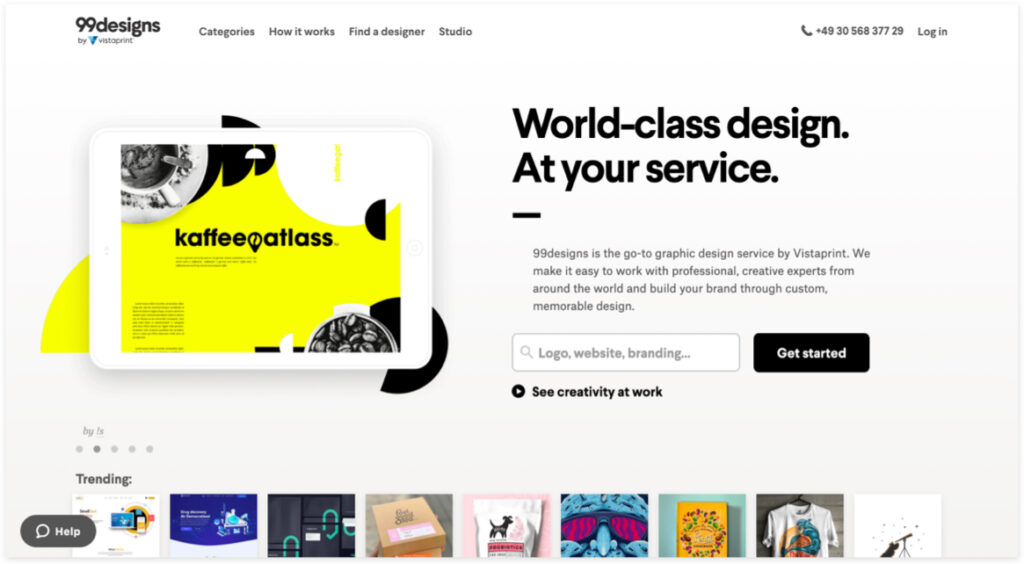 Once your application is approved, 99Designs will accept you as a designer and share your portfolio. You can also win jobs by entering design contests.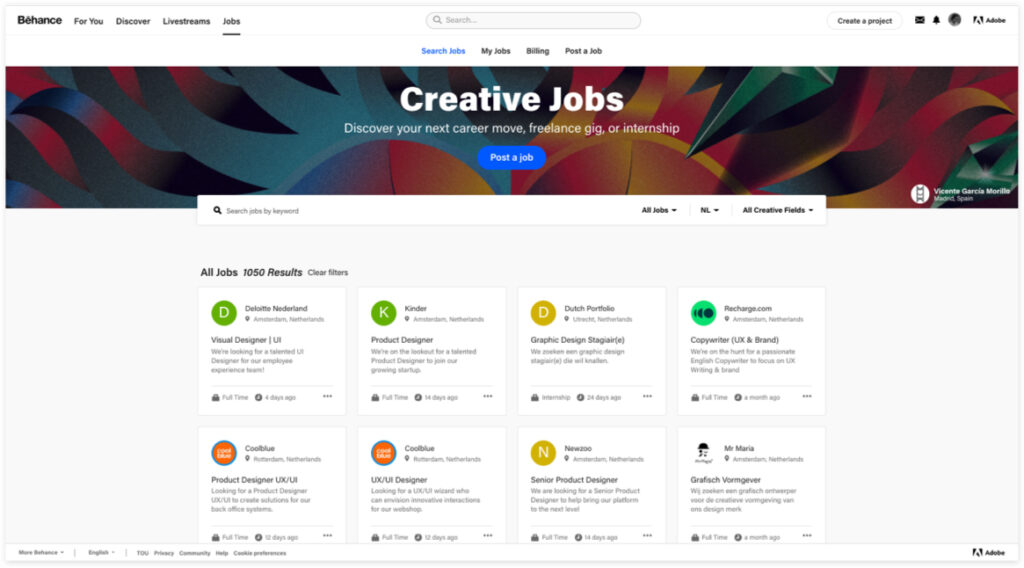 Powered by Adobe, Behance is free to use. It's easy to find hundreds of listings with their built-in "freelance" filter. You can also attract clients by showcasing your projects on the "Discover" page.
Best freelancer websites for writers
Freelance writers come in all shapes and sizes. Whether you're a ghostwriter, technical writer, or blogger, you'll find various writing opportunities below.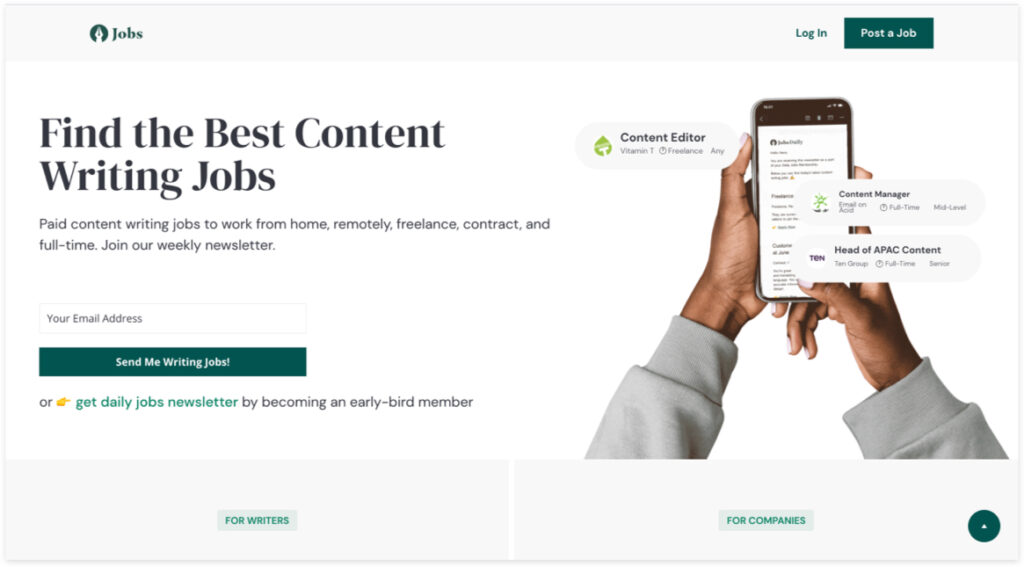 Ditch the daily job search and receive weekly emails of openings from eCommerce brands like Shopify. If you want more job ops, sign up for Content Writing Jobs' membership and access their daily newsletter.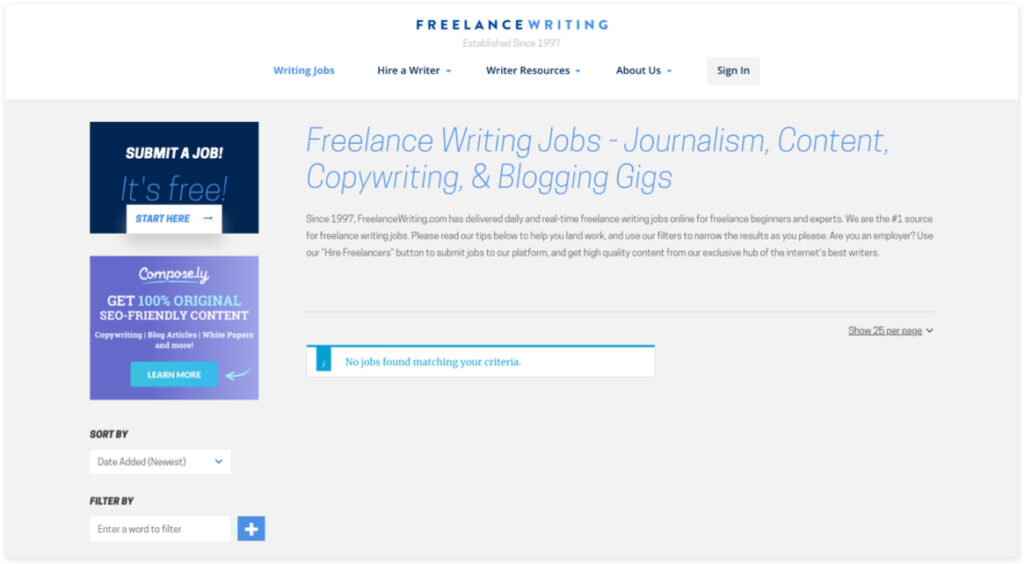 No more wasting time with multiple job boards. This freelance platform consolidates writing gigs from other boards, like Indeed and Craigslist, into one list.
Slack groups
Stop competing with hundreds of applicants and use Slack groups to find projects. Group members present most opportunities, so you'll have direct contact! I've found luck through groups like Peak Freelance and Superpath Content marketing.
Best freelancer websites for beginners or jack of all trades
Website development, design, and writing are only three out of the hundreds of freelance job categories. You might be interested in working as a virtual assistant, accountant, or translator. Below are resources to find freelance work across the board.
Note: There are plenty of blogs that rave about Upwork and Fiverr, which is why we've listed alternative options. This list is slightly less competitive.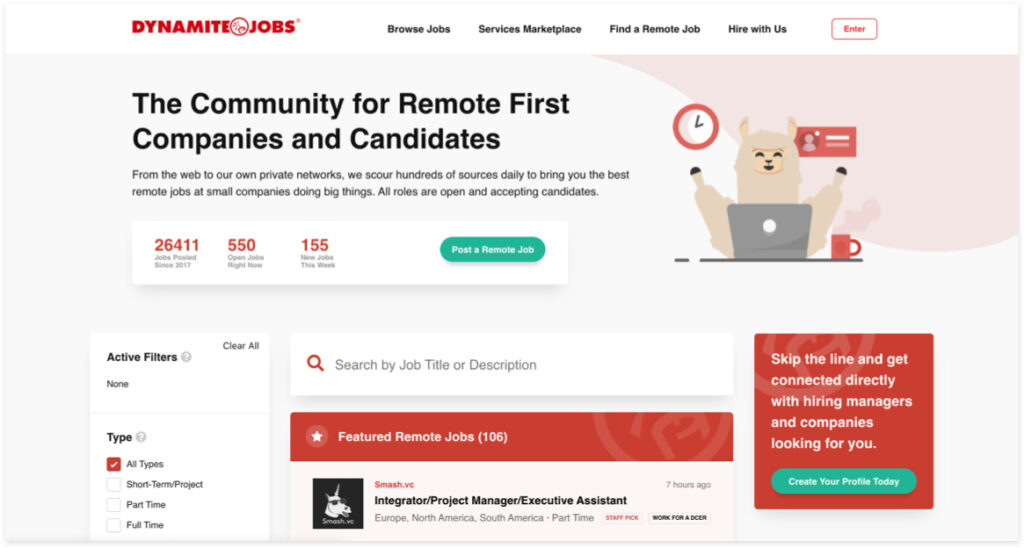 A site for remote-first companies, you can filter for contracts or gigs/projects. You can even filter jobs by time zone!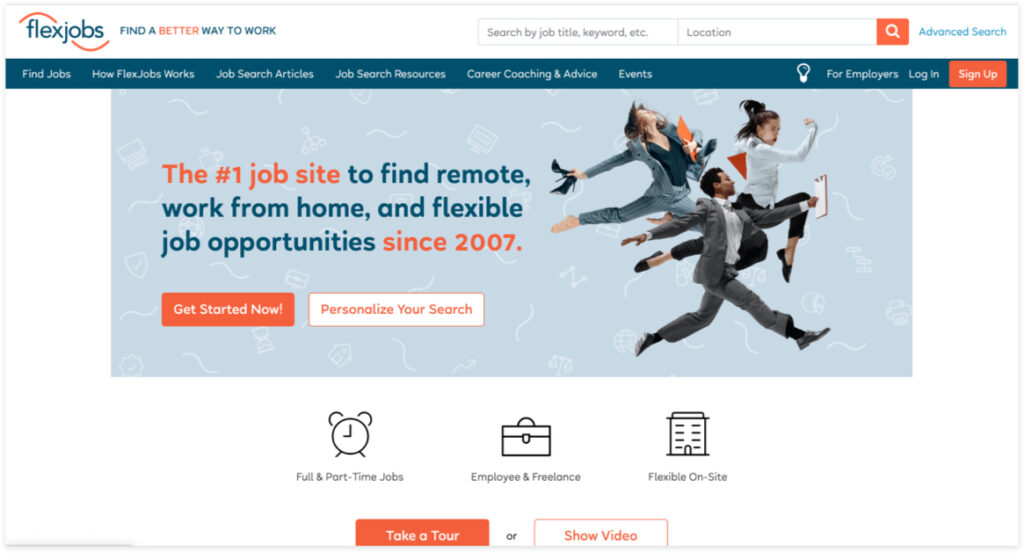 You'll find 800+ jobs every week in over 50 career fields. Their $15 monthly membership grants access to webinars, resume experts, and discounts on tools (e.g., Grammarly).
LinkedIn
Marketers and managers on LinkedIn are eager to connect with freelancers like yourself. As you search through their job listings, connect with employers to land a job directly.
Facebook groups
I'm part of a few Facebook groups and regularly see job listings on my feed. If you search "(Your niche) job boards," you'll find groups specifically for finding gigs!
A quick note about freelance job boards
When I first started freelance writing, I spent hours sifting through job boards. It can feel like a never-ending cycle of unaccepted offers and low-paying gigs.
It's easy to get frustrated when you're competing against hundreds of freelance workers for a small pool of quality gigs. But hey, job boards aren't the only way to find work! Diversify your search with an online portfolio and cold pitching.
On another note, many businesses still think it's okay to offer low-wage freelancing jobs (Spoiler alert: it's not okay). Steer clear from listings with descriptions like "0.1 cent a word" and spend your time elsewhere.
Best freelancer websites with free or affordable training
You know where to find freelance work, but what about the rest of your business? You'll need to market your services and handle the logistics, like taxes and pension, to grow a profitable income stream.
These three courses will kick your business into gear.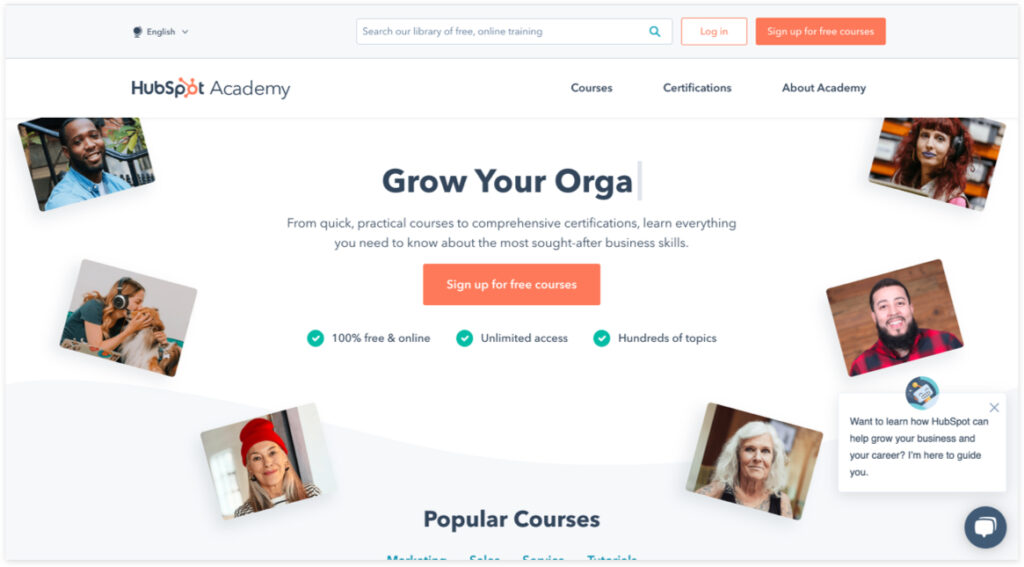 This content marketing agency offers free courses to market your freelance talent, including:
Email marketing
Blogging
Digital marketing
SEO
YouTube marketing
Each course is only one to three hours long, and you'll get a solid introduction about each strategy.
Price: Free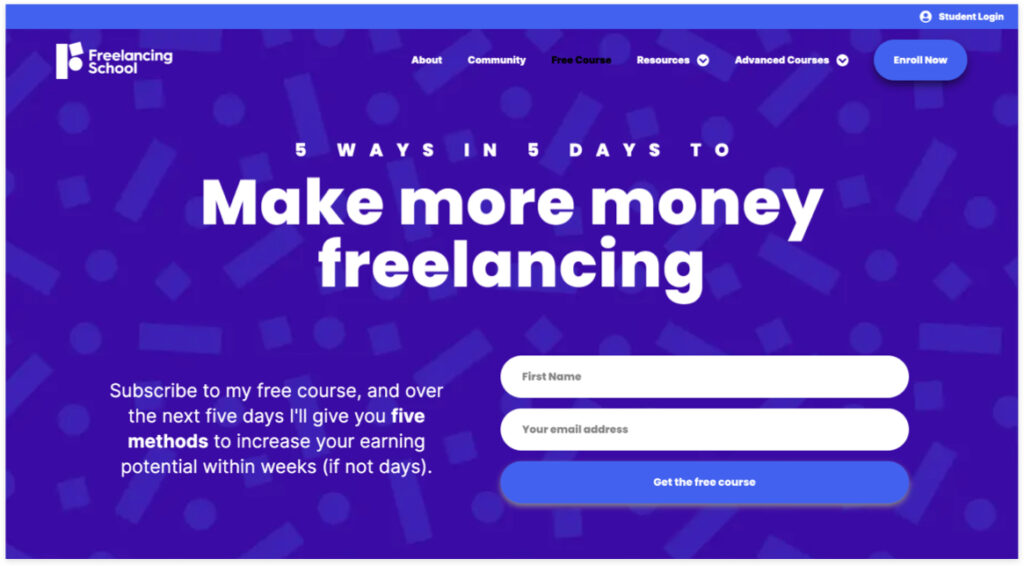 Jay Clouse dumps his experience as a freelancer, working at startups and creating LinkedIn courses into three freelance courses—marketing, selling, and business.
You can start with his free 5-day email course.
Price: $99 for each course, or $249 for all three.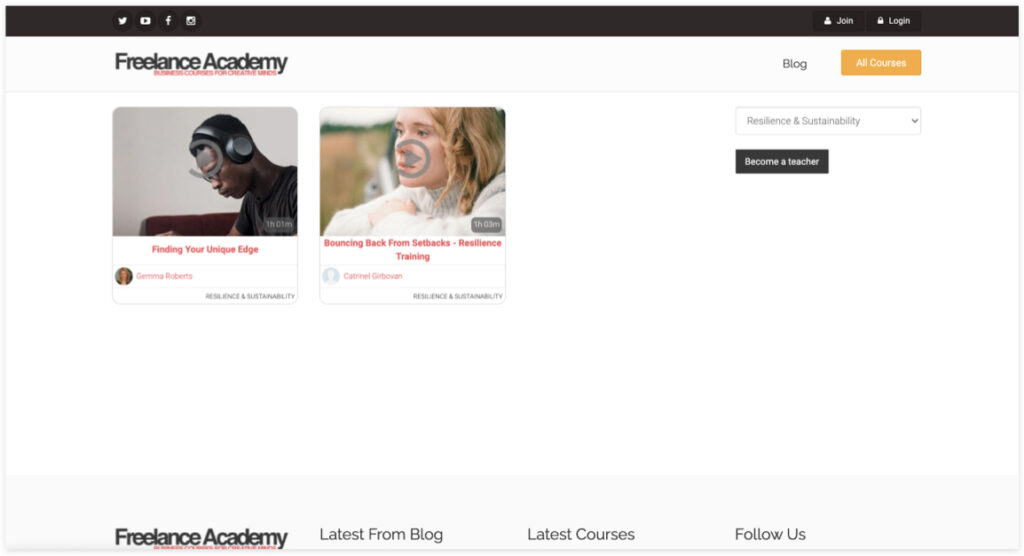 Look through 20 courses about various topics like finding clients and building your brand and marketing strategy.
Price: Each course varies, but memberships are a fixed price of €14.50 a month.
Looking for a specific freelancing course? Head to Udemy or Skillshare to find hundreds of training sessions for your skillset.
Best freelancer websites for finding community
Working remotely comes with many perks, but the downside might be feeling lonely. Avoid the freelancer "work from home blues" and join these free communities.
Best freelance resources, from apps to newsletters and communities
Creating your schedule comes with responsibilities, like staying on top of client work. Below are four freelancing sites you can use to stay productive and motivated.
For staying focused: Flow.club uses virtual coworking sessions to finish demanding tasks in one hour. It goes like this: 5 minutes to share goals, 50 minutes to work, and the last 5 minutes to celebrate.
For tracking profitability and productivity: Freelance work gets messy if you don't know how you're spending your day—how productive are you, really?

Tools like Toggl Track helps you track billable hours and other tasks like website maintenance, marketing, and administrative tasks. Knowing how you spend your time is an opportunity to change your schedule accordingly.
For creating sleek websites: Bring Your Own Laptop records tutorials to design websites using Adobe products like Dreamweaver. You can watch his free YouTube videos or sign up for a $12 monthly membership.
For inspiration: Niall Doherty's eBiz weekly newsletter features success stories from online creators to inspire your next project. You'll also get the latest on the best online courses and job boards.
Final word on freelancer websites
There's never been a better time to become a freelancer. With hundreds of resources, job boards, and communities, you'll learn the ropes of freelance life sooner than later.
I won't lie and say there isn't a learning curve. But once you get the hang of working for yourself, you'll attain freelance freedom in no time.