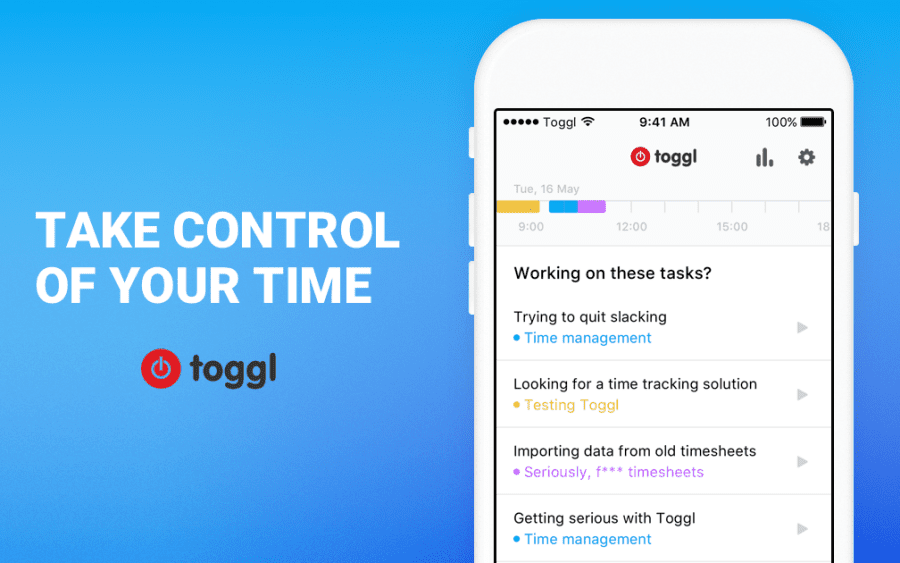 This is supposed to be a clever article description but screw it, we're just too excited – we've got a brand new Toggl iOS app in the works!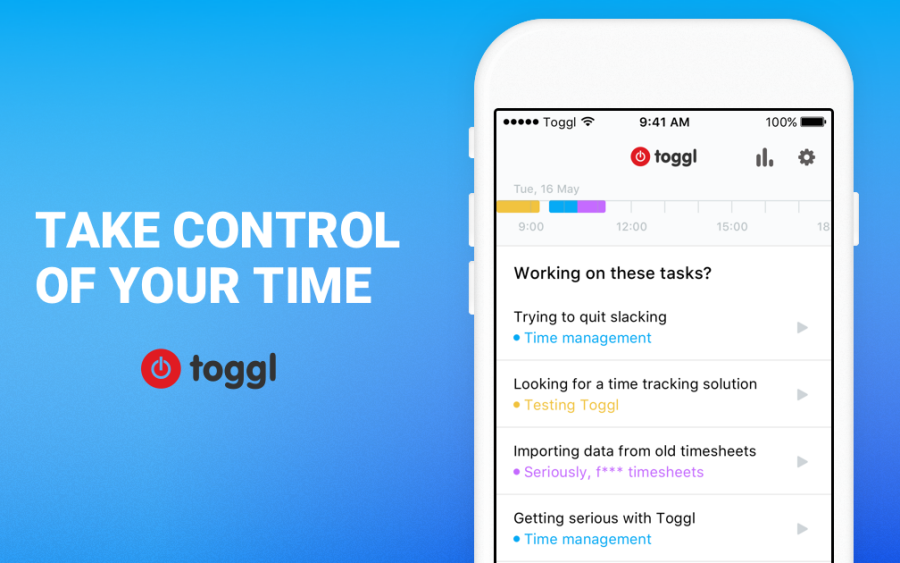 We hope to release the new app a bit later this year. If you want to be the first to try it out, you can sign up for the beta launch list here. We'll let you know once the new app is live!
Why are we rebuilding the app?
One of our aims at Toggl is to give users a great cross-platform experience, whether you track your time on the web, desktop or your phone, which is why we have apps on all these platforms.
We constantly seek to step up our game and improve both our core service, as well as all our apps.
For this reason we decided that it was time for some major changes with the Toggl mobile experience, and we decided to rebuild our mobile apps entirely from the ground up.
Read on further for a detailed explanation of our decision, or skip to the bottom to get a sneak peek of some of the new features we are working on!
Starting from scratch
Toggl has had mobile apps for many years, but recently we have not been entirely satisfied with them.
The apps are beginning to show their age, and they have not quite kept up with industry standards, the ever-changing mobile app eco-system, the needs of our users, and the evolving feature set of Toggl.
As the software industry advances, our engineers have learned a lot over the years. Much of that knowledge – from development practices to how to approach certain technical challenges – is difficult to apply to an existing application. What sometimes seem like unimportant details can have long-lasting implications, which is why we are critically evaluating all our practices and technical decisions to create as solid and future-proof a foundation for our apps as possible.
Further, while certainly adequate, our apps have not had the near-spotless user experience we are capable of in some time. From faster startup times, to a snappier and more responsive user interface, and a full modern redesign of our apps, we want to give our users a mobile app we are proud to put on our resumes.
Our apps have also been fighting with rare technical challenges, rooted deep in their original designs.
Between helping users with their issues, tracking down syncing issues or rare crashes, and the technical debt accrued over the years, we've have little time to work on new features and other improvements – including some of those requested by our users.
In addition, our mobile apps have been lagging behind with some of the many new and improved features of Toggl.
By starting fresh, we can build a new core for our apps that will not only support all our current features, but also be more flexible to change for the kinds of features we will add in the future.
What we're doing about it
Instead of just recreating the same app, we are also taking a step back to see where Toggl and the mobile platform as a whole are heading.
One of the biggest lessons from this is that we cannot simply recreate our apps just like they were before – adaptations of the Toggl web interface to the form factor of mobile devices.
Instead we will develop a truly new time tracking experience, tailored for our users on the go, with features unique to smart phones being front and center – while of course still allowing for, if not improving on, the same great and simple time tracking that is synonymous with Toggl.
At Toggl, we like consistency and continuous improvement. But we also innovate and experiment, keeping what works, and scrapping what does not – and if needed even to rebuild things from the ground up.
To allow us to create our new apps we have been hiring developers with a wide range of experiences from all around the globe using our pretty unique, skill-based hiring tool. We've built a new team of people with fresh ideas and perspectives, and the passion and drive to deliver an exceptional user experience, and the secret goal to create the best Toggl app anyone has seen yet.
The new app
OK, that's enough build up – what are we actually doing?
Simply said – the new Toggl mobile apps will be mobile first, taking advantage of the unique properties and capabilities of smart phones, to make tracking your time even simpler than it was before.
Integrations
One big keyword is integrations.
The new Toggl mobile apps will integrate with your calendar and provide suggestions based on it, or even allow you to straight up copy events from one to to the other. That meeting at 3 o'clock? Toggl knows about it, shows you front and center and with one tap, you are tracking!
Learning your habits
Another big keyword is habits.
Why should you have to type in what you're doing (and on that tiny mobile keyboard!), if you are doing the exact same thing every day, or every week, at the same time? Toggl will recognise your habits, and suggest activities when you open the app. One tap and you are tracking!
Fresh, user-centered design
Lastly, we have completely redesigned every aspect of the apps user interface, giving it a fresh modern look, and getting rid of all distractions that would keep you from tracking your time as easily as possible.
And these are just examples. We have many other ideas for how to make the Toggl apps smarter, so that you don't have to spend your time on tracking time.
While our plans are always in motion, adapting to the changing industry, and to the feedback from our users, the features we are investigating range from location sensitive tracking and suggestions, to integration with wearable devices and your other favourite productivity tools.
Got any other ideas? Drop them in the comments below, and we will be sure to take a look!