Like everything in the 21st century, recruitment is becoming more and more digital. Recruiters who want to attract the best talent turn to digital recruiting strategies to stand out from the crowd and land the best hires.
Especially with young talent, where 34% of recruiters say they struggle most, organizations need to be leveraging digital technology to allow candidates to showcase their skills in an environment they feel comfortable.
If you're not already on board, by the end of this article, you will be. We'll start off by defining precisely what digital recruiting is and the benefits it brings to organizations. From there, we'll walk you through our 9 top tips to nailing a killer digital recruiting strategy to ensure you're ready to find the best candidates online.
Let's get going!
What is Digital Recruiting?
Let's start with a definition from Study.com:
"Digital Recruitment occurs when hiring managers and human resources professionals use technology as a tool to attract and hire the best talent for an open job listing."
Digital recruitment is so much more than just posting your job advert online. A proper digital recruiting strategy covers everything from vacancy planning to employee onboarding, utilizing techniques across social media, online PR, digital branding, skills testing, virtual events and online job boards.
While a complete digital recruitment strategy covers all of those areas, harnessing the power of digital technology makes it easier to cover all of that ground. Recruiters can get in front of high-quality candidates without leaving their (home) office, connecting directly with high-quality talent, even when they're not actively looking for a new role.
There's a good chance you're already doing some sort of digital or virtual recruiting. But are you executing a broader digital recruitment strategy? Here's why you should be!
The Benefits of Digital Recruiting
Exploiting the power of digital technology has delivered considerable upticks in efficiency and revenue across many different industries. Recruitment is no exception. Here's just a few of the benefits business see when adopting a virtual recruiting strategy:
Greater Exposure. The most significant benefit of digital recruitment is the ability to get in front of more candidates. Gone are the days of bulletin boards and ads in local newspapers. Whether through job boards, social media or digital sponsorship, getting in front of not only more candidates but more of the right candidates can be achieved in just a few clicks.

Boost Efficiency. Digital hiring tools not only help you gain exposure they also allow you to quickly and easily manage candidate responses. There's no need to manually filter through hundreds of resumes or conduct screener calls with software tools handling these tasks (and many others) automatically. This frees up valuable time to nail the other aspects of your digital recruiting strategy!

Higher Quality Candidates. If you add greater exposure and improved efficiency together, you ultimately get a better quality of candidate. Think of it like fishing – if you can cast a wider net, which has fewer holes in it, you're going to land a better catch. As a recruiter, this means boosting your client satisfaction by delivering the best talent on the market to their open vacancy.

Maximise ROI. Shorter time-to-hire and high-quality candidates mean you're getting more done in less time for greater reward. Especially in an agency environment, that means billing targets get smashed out of the water, and the commission comes rolling in.

Better Candidate Experience. Especially for young talent, digital is where people feel at home. Making the most of digital technologies will improve the candidate experience, making it easier for them to engage with your brand, get instant application feedback, and progress through the recruitment process faster.
9 Tips for a Killer Digital Recruiting Strategy
We've only scratched the surface of the benefits gained from putting digital at the heart of your recruitment. A successful digital recruitment strategy can be split into three parts: laying the foundations, executing the hire, and managing performance. You're probably eager to get started, so here are our 9 top tips for a killer end-to-end digital recruitment strategy.
Laying the Foundations
#1 – Start With The Brand
Digital recruitment starts way before you post your job ad. Our first three tips help you set the foundation of your hiring process.
Why does employer brand matter for recruitment? Well, as the world moves digital, it's been shown that over 78% of people will look into a company's reputation before applying for a job.
Getting your company branding right is essential to ensure you don't turn future employees off before you've even got started. Ensure you fully understand who you are as a business, what makes you different, and crucially, the values underpinning what you do.
When you get further down the recruitment journey, having a solid brand and company ethos in place means you'll attract candidates that not only have the skills you need but align with your company culture and can hit the ground running!
#2 – Create Awesome Content
With the branding sorted, it's time to show off what makes your company a great place to work. Digital channels open up great mediums to showcase what you're all about, including video and podcasts.
Don't rush your content creation, though! High-quality is essential as it shows off your professionalism and again serves as an extension of your brand. Your marketing team are already likely to be creating great content for customers, so pivot that content to appeal to candidates too.
Ultimately, put yourself in a candidate's shoes and ask yourself – would this content make me want to work here? If the answer is no, try again until you find something that generates real excitement!
Here are some examples of inspiration candidate content:
Customer testimonials
Case studies
New product launches
Charity/volunteering work
Social events
Industry collaborations
Thought leadership articles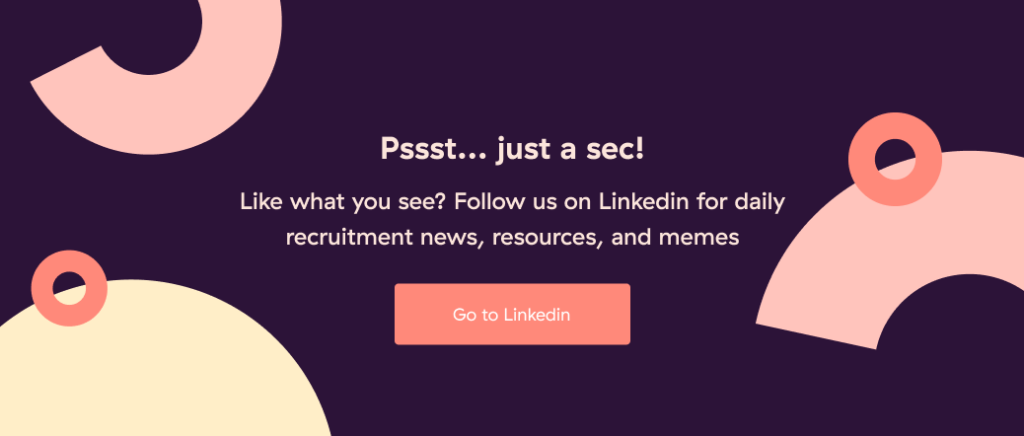 #3 – Get Active on Socials
Armed with excellent content, it's time to start building a network on social media. Not only is social media a great place to extend your business brand, but on a personal level, it's also the best place to position yourself as a leader in your industry.
Mix and match your social calendar with the following types of content:
Share the awesome content we covered in tip #2 to build excitement about your organisation
Share news or opinion pieces on your wider industry to position yourself as a market expert
Engage with future hires and industry leaders to actively contribute to the online community
Promote open job vacancies to your audience, utilising ads where needed to target specific audiences
Remember to experiment with different social media channels to find the best audience for your organisation. Younger talent may be more engaged on platforms such as Instagram or Facebook, with senior-level hires more active to LinkedIn or Twitter.

Executing a Hire
#4 – Pick The Best Job Board
Now we're into the business of actively hiring. While social media is excellent for getting in front of candidates, the best way to get a vacancy filled is to post an ad on a job board.
A key area where many recruiters fail is taking a scatter-gun approach to job ads. Rather than just shooting for the major job boards like Indeed or Monster, look for an industry or niche-specific job board.
It sounds simple, but going for a targeted job board means you're more likely to find talent specific to your requirements. Also, they're usually cheaper to post your vacancy on – win, win!
Are you looking for developers? Why not try one of the most popular communities in development, Stack Overflow? If your company works fully remote, check out Remotive!
As with socials, it's all about experimenting. Try out some niche job boards to see the sort of candidates that come forward.
Toggl Hire actually shows employers which Traffic Sources are working the best for them, so they can focus more of their energy on the right kind of job boards:
#5 – Choose The Right Hiring Tool
The benefits of digital aren't just seen in distributing your job post. Hiring tools help streamline the end-to-end process of planning, assessing, managing and reporting on recruitment performance.
Finding the right tool can often be a challenging experience. Here's a 5-step approach to choosing the right tool for your business:
Take the time to document your system requirements. Focus on the parts of your process that are causing you pain or taking a lot of time as fixing these can add real value to your digital recruitment strategy.

Research the options on the market. There's a wide range of different hiring tools out there, supporting planning, sourcing, screening, interviewing and ranking potential hires.

Shortlist candidates. Pick 3-5 tools you like the look of to take forward to the next stage. When shortlisting, don't just focus on the features; consider other aspects such as the system design, support and pricing to ensure the overall product experience is right for you.

Test Drive. If the tools offer a free trial, don't be afraid to take them for a spin. If you can, try to fully simulate a real-life scenario using each tool to ensure they don't just tick the boxes but actually perform how you need.

Choose the right tool. Having tried out a few tools, pick the one that worked best for you and your team and get on with nailing your digital recruiting strategy!
#6 – Harness Digital Assessments
While there's a range of tools on the market to assist recruiters in speeding up their hiring process, many focus on online skills tests. In fact, a 2020 study found that 75% of top HR professionals expect to see technology boosting the candidate assessment process by 2023.
Naturally, at Toggl Hire, we're big advocates of digital skills testing and how it can be used to overhaul the traditional assessment process. Why use stale and one-dimensional resumes when you can dynamically test candidates on the skills they need for the role?
Here's a 1-minute video to showcase how we're changing virtual recruiting!
#7 – Focus on Candidate Experience
The rise of digital means many of our daily interactions happen in an instance. For years, candidates have been crying out for a fast and engaging way to apply for roles. The good news is, with digital recruiting, you can ensure the candidate experience is maximized.
Here are a few ways you can do this:
Enable 'instant apply' on your job ads. This means candidates can apply in just a few clicks based on their preloaded platform profiles. You'll see these features on job boards such as Indeed and social platforms like LinkedIn.

Optimize for mobile. Whether it's your social content, job ads or website content, make sure it looks great on mobile. When over 50% of all internet traffic is done over mobile, don't fall into the trap of alienating future employees.

Instant skills testing feedback. If candidates are going to invest time in applying for your roles, they deserve the courtesy of feedback. At Toggl, candidates get instant feedback on their performance and how they compare to other candidates – it's a big reason we have a 91% candidate happiness rating!
Managing Performance
#8 – Track The Right Recruitment Metrics
When using digital hiring tools, there's no longer an excuse for not understanding your performance. Many tools will track these for you automatically, alongside generating scheduled reports to view the results in an instance.
Whether you're just executing your digital strategy or you've been up and running for a while, tracking the right recruitment metrics will help you fix any holes in your digital hiring performance.
Here's some of the critical recruitment KPIs the best digital recruitment teams track:
Time to fill – Typically, the time between posting a job ad and filling a vacancy.
Time to hire – The time between the first contact with a candidate and them accepting the role.
Hiring Source – The digital channel a candidate came from, e.g. job board or social media.
Applicants per vacancy – The number of applicants that apply for a specific role.
Cost per hire – Costs / no. of hires (Typical costs include advertising, staff costs, system fees).
Most organizations see immediate improvements in all of the above KPI's when going to digital. This is primarily thanks to the enhanced reach of their job ads through social media and improved processes through hiring tools!
#9 – Embrace Feedback
Most organizations don't fully nail their digital strategy the first time. Instead, it's an iterative process of improvements born from trial and error and seeing what works for their business.
Embrace feedback from candidates, clients and hiring managers to continuously improve your recruitment process.
Some hiring tools may include a feedback function, making it simple and easy to get feedback directly as part of the process. If not, you can leverage any of the many survey tools on the market to instantly gain targeted feedback from those around your digital recruitment strategy!
Wrapping Up
The rise of digital technology has changed the way recruiter can get in front of candidates. Whether it's through social media, online PR or digital branding, especially for young talent, digital techniques are helping recruiters stand out from the crowd and land the best hires.
Naturally, we're biased, but we think one of the best ways to harness the power of digital recruiting is to use skills tests. Why spend time sifting through a pile of one-dimensional resumes when you can have candidates showcase their skills practically?
It's one of the many ways that cutting edge recruiters are maximizing their ROI, improving the candidate experience and boosting efficiency through digital recruiting.
James Elliott is a Strategy Manager and Writer from London, UK. When not working on the day job, James writes on a variety of business and project management topics with a focus on content that enables readers to take action and improve their ways of working. You can check out James' work on his website or by connecting on LinkedIn.