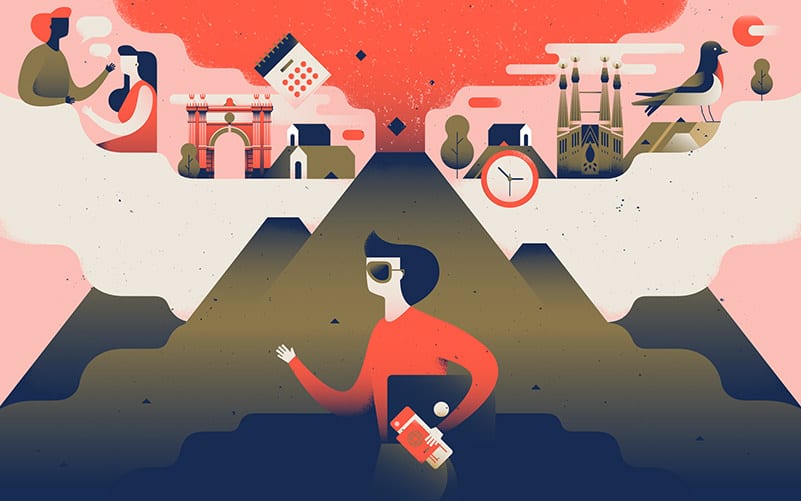 On my 12th day in Bali, I was bitten by a snake.
Sitting in the hospital, while the doctors cut through my skin to clean the wound, I thought this would be the worst thing that would happen to me on my working holiday. Two days later when Mount Agung started spitting out volcanic ash clouds, I found out I was, unfortunately, mistaken.
This is the first installment of our new series "Field Notes" where we explore the interesting and unusual world of remote work.
I left my home of Brazil in August, with plans of heading back in December. After only two months on the road, I decided to keep traveling indefinitely. I was already planning on going to Bali. I would spend 20 days there: 10 on vacation and another 10 working remotely. At the end of my 20 days, I was set to fly out for a Toggl team meet-up in Barcelona.
On my 16th day in Bali, more specifically in Canggu – a village 60km south-west of Agung – the first volcanic activity was reported. Rumours about the airport closing started to spread. The next day, I was still in my bed when I saw that the airport was indeed closed for the next 24 hours due to the volcanic ashes.
No reason for panic, right?
If it's closed just for a day, I might face a delay of a few hours when I flew out 4 days later, I thought. There just wasn't much I could do. I just had to keep myself updated with what was going on. All the major international news outlets were posting updates on the airport status. I was also checking the airport's social media and even a local Instagram account about Bali (@bali).
Unfortunately, there was a lack of "official" information on flights coming from the authorities (or at least I couldn't find it).
Another two days passed and the airport stayed closed. I was supposed to board my plane the next evening. Any hopes that my flight wouldn't be canceled were slowly dying. The anxiety of not actually having the information was starting to hit me. It wasn't long after that I received an email confirming what I had been expecting: my flight was canceled.
Having a remote job and being free to work at my own convenience couldn't be, well, more… convenient.
This would be a good time to mention that having a remote job and being free to work at my own convenience couldn't be, well, more… convenient. At Toggl, we work on flexible schedules. That means, if need be, you can just compensate for any missed work at a later time. I'm saying that now because, first of all, I wouldn't be in Bali if this wasn't the case, and secondly, because in situations like this it's so much better to be able to simply *not work* and deal with the situation.
So, instead of my usual work routine, the next morning I went to a cafe, had a yummy breakfast and prepared for my first task of the day: getting in touch with the airline's customer service. After going back and forth a few times with their agent, I was given two alternatives: a new flight leaving from Jakarta in two days or a flight from Bali in four. I chose to leave from Jakarta. Of course, they'd not help me in any way getting there, so my next task was to figure out how I'd actually make it to Jakarta.
I saw news about the Lombok airport possibly shutting down. The volcanic ash clouds had started to drift westward.
I made a plan to take a boat to Lombok – another island in Indonesia, just west of Bali. I would stay there overnight and then fly to Jakarta the next morning.
Not long after I bought all the tickets and got a driver to take me to meet the boat at the bay, I saw the news about the Lombok airport possibly shutting down. The volcanic ash clouds had started to drift westward.

Luckily, before I could "enjoy" the frustration of having a second canceled flight, the Bali airport was reopened. My original flight was still canceled but at least I had another way to get to Jakarta.
If you ever find yourself in a similar situation and you don't absolutely have to leave (and are, of course, safe from whatever might be causing delays), I would recommend finding a place to stay for the next days and enjoying your time.
The more delays there are, the more cramped everything becomes. If you need a bus, car or a train to a new location, be aware that these will be full of other travelers doing the same. I had Australian friends whose flights got canceled days before mine and their new departure date was a week after. I know it's unfortunate, especially if you had other plans, but sometimes there isn't much you can do.
In my case, I had to get to Barcelona to meet up with our team, who was cheering me on over Slack.

The next day I went to the airport assuming it's gonna be hell-like since, at that point, the airport had been closed for 4 days. Everyone was trying to leave. I wasn't wrong. Turns out hell is a game of patience.
Sometimes you make plans and execute them. Sometimes you plan and things you can't control take over.
My flight to Jakarta was delayed for 2 hours. After that, another hour and then another. As I went to the gate to get another time estimate, somebody told me the gates had changed and my flight was already boarding. I managed to make the flight. I got into Jakarta at 4 am, around 4 hours after my planned midnight arrival.
After all the hassle my trip luckily continued without any further problems. This is when I planned to get in touch with my insurance and claim some reimbursements. I didn't want to do it before because, from my experience instead of helping me, it would turn into another problem to handle.
Which leads me to what I've learned from all of this: sometimes you make plans and execute them. Sometimes you plan and things you can't control take over. Frankly, shit happens. It can really throw you off. What actually matters when things go wrong is your attitude.
I could've gotten all stressed out. I could have called my insurance and screamed at someone that I was supposed to fly because of a work trip. But none of those options would help me get anywhere, would they?
This time the universe showed me that I'm not in control by stranding me in Indonesia with a volcanic eruption, but next time it could be dealing with a critical bug or someone else's mistake. Attitude is always key. Stay positive, you were never in control.