If you have a video call where no one says, "Is everyone here? Can you hear me?" did it even happen?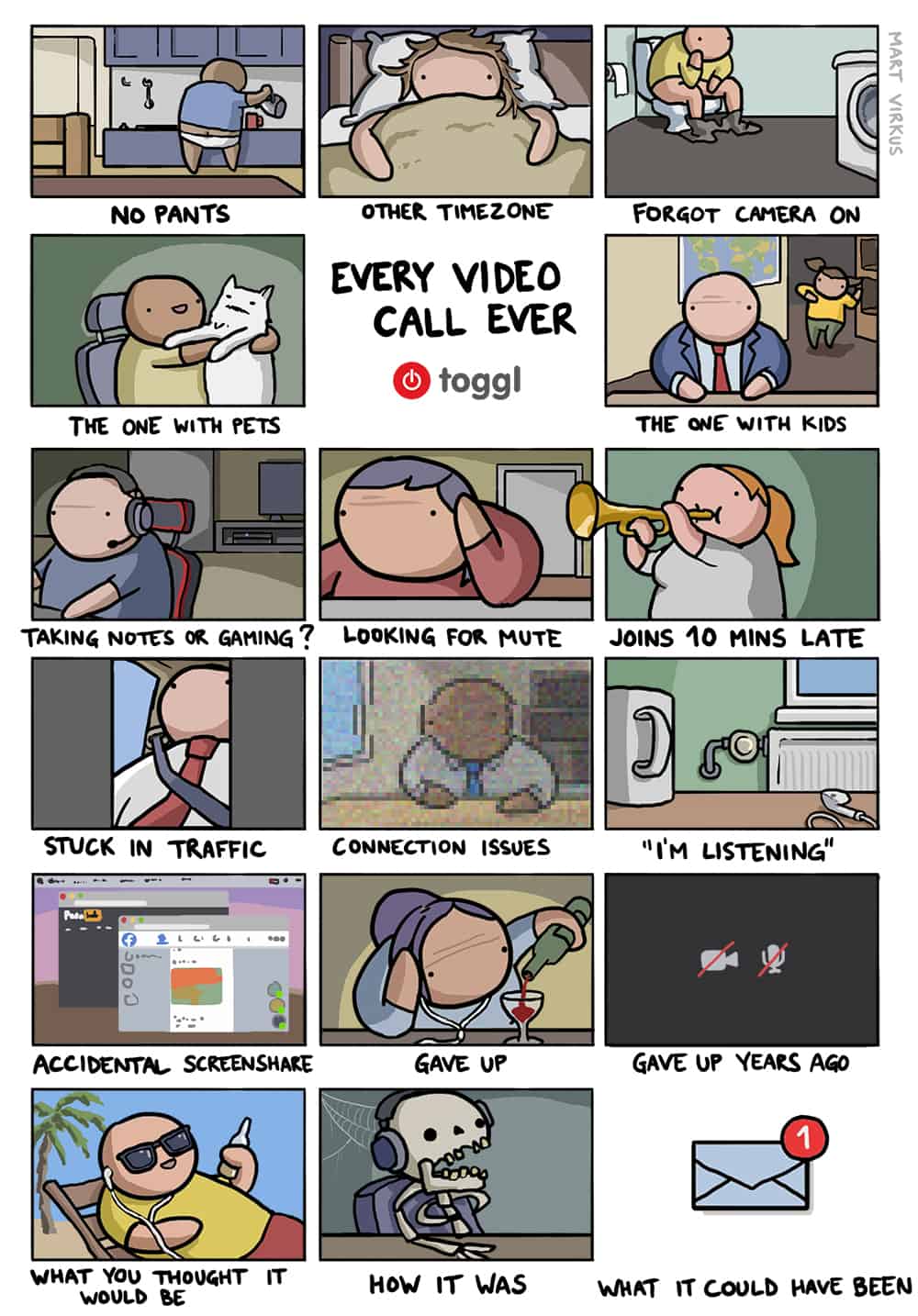 Since Toggl went fully remote back in 2015, most of our meetings have been over video. So we can safely say it is totally possible to build and run a global company without ever putting on pants. Actually, putting on pants makes it more difficult, because it wastes precious time and energy.
Yet we still struggle with the same video call issues we had five years ago.
Every one of our video calls follows the same script:
Half the people are late, the other half is fixing audio issues.
Audio issues are fixed but nobody says it to avoid small talk
Someone tries a funny Zoom background but fails. Spends the rest of the meeting trying to fix it
"Is that everyone?" 
Meeting starts 15 minutes later than planned. People try to establish speaking order but keep interrupting each other. 
Everybody hopes someone took notes because nobody heard anything
Extremely awkward and painful silence as nobody wants to be the first to end the call
Manager attempts to get personal, everybody dies inside a little.
In all seriousness, video calls are a great alternative to office meetings, despite some of the challenges. If anything, the slight awkwardness of video meetings is an advantage as people are less likely to drag them on.
The important thing is to follow video meeting best practices – which are pretty much exactly the same as with a regular meeting. If you're feeling video call fatigue, there are ways and features to make meetings less tiring for all involved.
Also, make sure everybody has a good internet connection. There's nothing worse than listening to a blurry mess where you can only make out every third word. Connection troubles also waste a ton of time.
Most of the world is stuck at home right now, but if you're thinking about sticking with remote work after (or if) the crisis ends, we've put together this super helpful starter guide here, complete with tips from startups that have done it for years.
Got more comics?
Life shouldn't be all work and no play, so to keep the insanity of the modern world at bay we do a lot of comics – on programming, remote work and even zombies. Check the comics section of the blog for the latest and the greatest of them.
One more thing – we also make the world's best time tracking app. It's, like, a side project.

Mart has a background in anthropology - a discipline which has turned people-watching into a science. He most enjoys working on projects that make you go from "that's stupid" to "hmmm".