This is a story about how our new teammate – Rico – found us and how we ended up hiring him by using Hundred5.
For my past jobs, friends and acquaintances paved the way. I never had to apply for real. That changed when I applied for Toggl. No one I knew could help me join a company literally based all over the world.
Thanks, Google
It all started when I searched for "timekeeping app", and found myself on toggl.com by accident. Within seconds, I had an account and was tracking. Intrigued by such a wonderful signup experience, I checked out the company blog.
All I had to do was to take a short test. No CV or filling out forms required. What did I have to lose?
I ended up on the jobs page. A career change was the last thing on my mind, but the Toggl blog promised a good salary, in a remote work environment. A big plus, because I live in low-cost city with terrible traffic.
All I had to do was to take a short test with Hundred5. No CV or filling out forms required. What did I have to lose? Based on my work experience, I took the front-end, customer support, user acquisition tests.
3 Tests, 1 Applicant
I breezed through all the front-end test items, except for the Javascript code sample. Even though the automated parts of my test scored 100%, my struggle with ES6 made it clear I didn't have the skills needed for that job.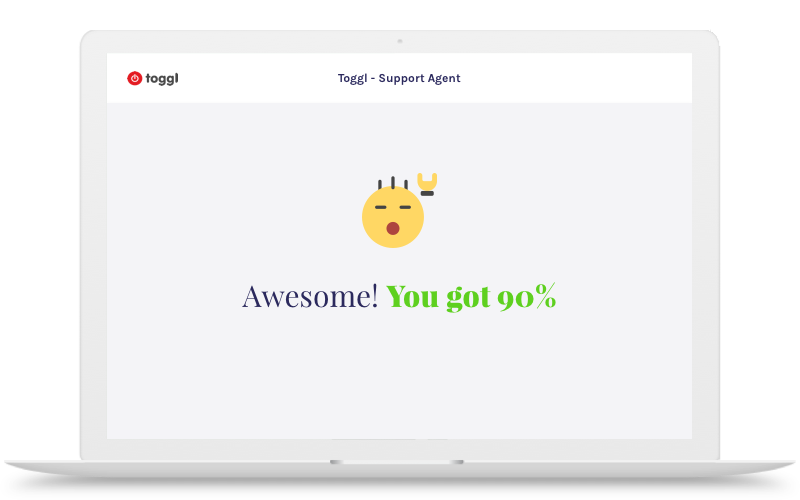 After I finished all the tests less than an hour later, I had a good idea about what each role would require. At the same time, the fast feedback of the tests turned me into a genuine applicant.
It sounds counter-intuitive: by requiring less hoops to jump through, Toggl seemed more serious about hiring the best. Instead of a well-written CV full of rhetoric, Toggl asked for a skills demonstration. Under time pressure at that, so you had to know what you were doing. I wanted to join Toggl, because I wanted to be considered worthy.
So when I got over 90% on the customer support test (I didn't even pass the user acquisition one), my hopes depended on joining Kadri and her team of support ninjas.
If at First You Don't Succeed…
I made it to the next step. A week after I took the test, I received an email from Kadri. Based on my test answers, and after I confirmed my desire to join Toggl, she arranged a "Test Drive" for me. After a short Skype chat with her, I spent half a day answering test support cases under her guidance.
Around a week later however, I got some bad news: Toggl decided to go with someone else. My only consolation was that Kadri promised that she would reach out if there was a new opening.
She kept her word a few months later, when she got in touch again. Kadri and I had another video call, and apparently she thought I was still worth consideration. Since I already did a "Test Drive" on my previous try, I went straight to a "Test Week".
Yet this application wasn't traditional in any sense.
For five days I got paid to work part-time, as I worked in the support team and handled the same tasks they did. This was a check of my comfort and competence with the actual job, and my potential teammates.
After the Test Week and a final interview with Krister (our CEO), I was hired!
A New Way to Apply
My quest to get into Toggl was my first real job application. I couldn't rely on my personal contacts like I did back home. Modesty aside, it was also the first time I wasn't sure that I would get the job (and I didn't, right away).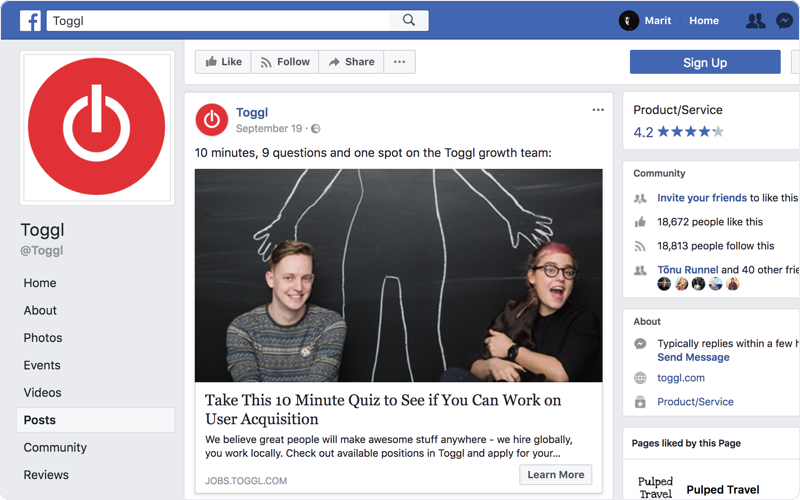 Yet this application wasn't traditional in any sense. I didn't submit a CV. I never waited weeks for updates on my application. I've seen friends labor for hours over the perfect resume, only to wait in vain for any answer.
I also can't think of—considering my limited experience—another job application process that would turn casual prospects into hungry ones.
That's why I consider my first real job application as the best. And it seems my new employer considers how they found me the best too.