Tired of writing out professional responses for would-be clients who assume your time is free? Feeling anxious about emailing that big client that finally contacted you?
Worry no more!
We've created this 100% serious*, for sure not a joke**, totally useable*** email generator, that will take the stress of your future client communications.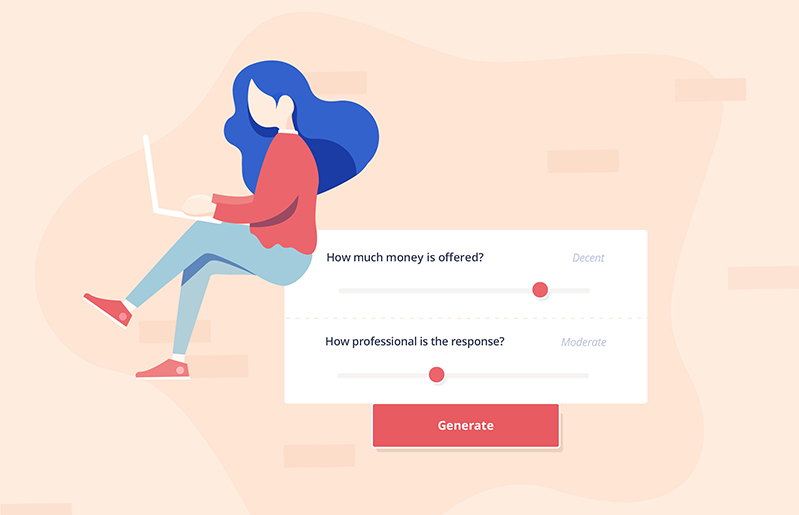 Just let us know how much money was offered and how professional you'd like the response to be, then let the generator do its thing!
Let's face it: no matter where you work, people will find small ways to push your buttons. It's inevitable. But when you work as a freelancer, there's a whole new world of frustrations and anxieties you deal with on a daily basis.
From the person who thinks exposure is acceptable payment, despite literally dozens of parody videos, articles and *cough* email generators *cough*, explaining why that's wrong, to that one big client you've always wanted, but gives you huge waves of self-doubt when you finally score the account
Should I Send These Emails To My Client?
Before you ask us if we really think you should send these emails to clients, let us preemptively tell you: that probably isn't the best idea.
But sarcastic, passive-aggressive (and sometimes flat-out aggressive emails) can be fun to read and hopefully take a bit of the stress out of dealing with real clients, who truly believe that your time is free (yikes).
Don't forget to check out Toggl Track–the best time tracker out there – to help you get the most out of your paid time.
If you do happen to send one, you should totally let us know.
Legal Notices
*It's really only about 10% serious.
** This really depends on what you consider to be a joke (or at least that's what our lawyers tell me).
*** Our lawyers tell me this is 'technically true,' and therefore legally permissible.
Emma Murray makes content and content and even more content. She believes everyone has a few good words in them. She also does photojournalism here: https://www.emmakathleenmurray.com/