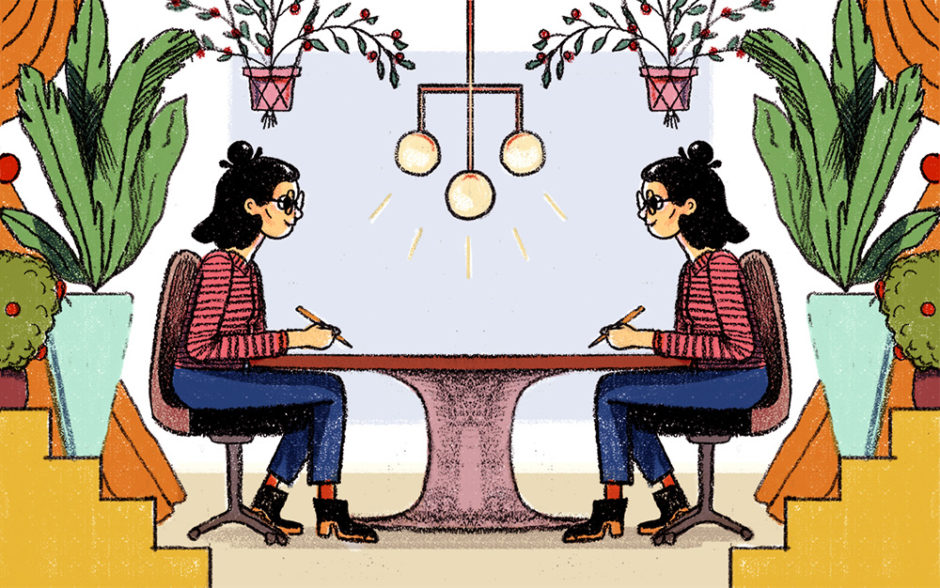 Measuring success by your bank balance may feel right, but what happens when you hit a rough patch? The freelancer review can help you plan for the inevitable ups and downs.
Illustration: Annelise Capossela
As a freshly-minted freelancer, one of the things I was happiest to leave behind in the corporate world was the annual review. It was liberating to think I'd never again have to sit in a cramped meeting room, my toes wiggling nervously in my shoes, while a manager cycled through formulaic feedback. 
However, after a haphazard first year in business, I knew I'd made a mistake by not committing to any self-reflection rituals. I'd lost all accountability, and my results were suffering. I needed a new approach. That's when I decided to book a meeting with myself and conduct a freelancer review. The effect on my motivation (and results) was immediate.
Annual reviews aren't all bad
While it can be freeing to no longer submit to the adult equivalent of a school report card, exiting structured environments without any format for collecting feedback or self-reflection can leave you with a glaring blind spot in your own performance. When conducted well, self-reviews can be a useful tool to motivate you, evaluate your performance, and encourage self-awareness.  After all, you're now the manager, employee, and marketer for your own business and you're competing for work on a global scale (in the U.S. alone there are an estimated 56.7 million freelancers). If you want to win gigs and maintain your edge, you're going to have to get real about your results. Could the key to your success lie in the dreaded annual review process?
For us freelancers, our bank account is our main source of feedback. If it's running empty, we know we need to change something. If it's nice and fat, we maintain the status quo. But that approach is reactive and can sometimes lead to situations spiraling out of control. When things are tough, how do you know what to change? What if you don't have the capital to take risks and experiment with new approaches or new clients? 
For us freelancers, our bank account is our main source of feedback. If it's running empty, we know we need to change something. If it's nice and fat, we maintain the status quo. But that approach is reactive and can sometimes lead to situations spiraling out of control.
Without engaging in some deep self-reflection, you can find yourself (as I did) on the verge of returning to traditional employment.
Conducting my own performance appraisal helped me be accountable for where I was wasting time and energy and set concrete goals. It allowed me to be honest about the blocks holding me back and craft what I wanted the next twelve months to look like. By becoming accountable to myself, I made the previous year's annual income in one month.
A positive review (and a healthy bonus) can set you up for a successful year ahead. And a negative one can provide the encouragement you need to help you correct your course.
The best part of following the freelancer review process is that you need not wait until the end of the financial year to perform it. Anytime you need to recalibrate, you can revisit these steps. 
How to perform your own freelancer review
Step # 1: Define success
Being your own boss means you not only get to decide what your rate yourself but how. Don't like defining success by your annual profit? You don't have to. Not a fan of creating a 'mission statement' to evaluate your business decisions against? You're free to forgo it. Working for yourself, you can create as little or as much structure as you are comfortable with. The key to making it work is deciding your goals in advance and holding yourself accountable for achieving them.
For 84% of freelance workers, lifestyle is more important than earnings. How would you design your ideal life? Whether that's having more time to spend with kids, being able to make appointments around your own schedule, or enjoying your hobbies—be conscious and deliberate about how you want to conduct your week. If you don't respect your work/life boundaries, your clients won't either, leaving you particularly vulnerable to scope-creep.  
Try this:
It's time to define some goals for your business. The more targeted you can be, the easier it will be to work out if you've your goals. Allow yourself to dream, but be specific. How much money do you want to make annually? How many hours per week do you want to work? Would you like to take a vacation? Map it all out. If you'd like to use a framework for goal-setting, consider using the SMART Goals system or even setting OKRs.
Goals in writing are dreams with deadlines. – Brian Tracy
Of all the steps I took, this one was the most important because it allowed me to be clear about my own expectations and set some concrete objectives around getting clients and delivering work.
I started by working out my current strike-rate (for every pitch I sent, how many jobs was I winning). Then, by calculating the minimum amount of profit I needed to make per month, I was able to work out exactly how many pitches I needed to send per week to stay afloat. By the end of this session, I had committed to a new set of minimum expectations for myself. Through meeting those expectations, I turned my business around.
Step # 2: Source feedback
Getting constructive feedback when you're a freelancer is difficult. Many of your clients won't have the time nor the inclination to complete a detailed analysis of your performance—preferring just to hire you again if the relationship is working (or not if it's floundering). However, there's a lot of room between satisfied and dissatisfied, so it's important to know where you stand.
If you haven't already, get into a habit of requesting feedback after you complete a project. You can do this with a quick phone call or email after you've submitted an invoice or by catching up in person. Once you've gotten into this routine, receiving the feedback itself will seem less intimidating, and you'll become more in tune with how happy your freelance clients are. You'll know what to deliver more (and less) of next time.
We all need people who will give us feedback. That's how we improve. – Bill Gates
Try this:
Ask your three most valuable clients if they are able to if they can spare twenty minutes for a video chat or call to discuss their experience of working with you. Tell them you're gathering feedback to improve your service offering and to ensure you're meeting their needs and expectations. If there are things you need to change, your reputation rests on you being nimble and adapting to their recommendations (where possible). However, if you find your clients are delighted promoters of your business, you'll have some clarity on what's working (and perhaps even be able to gather some testimonials to use for your website).
Step #3: Write an (honest) self-evaluation
It's time to sit down with a cup of tea, a pen, and paper. Yes, we're doing this the old-fashioned way. Why? Because research shows that handwriting engages different parts of the brain, slowing you down and allowing you to be more reflective and creative.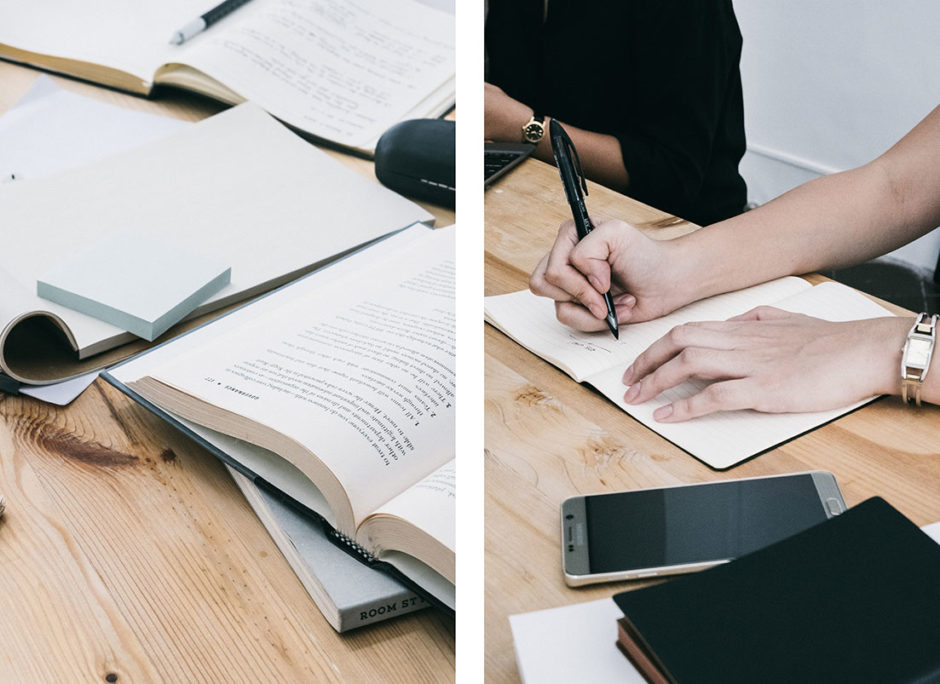 With the freelancer review process, you don't have to score yourself numerically or use word-based rating systems. It's just you! The idea is simply to cultivate self-awareness by assessing yourself as honestly as you can.
Try this: Ask yourself some focusing questions—you can pick a few you like from the ones below.
Strengths:
What was your proudest moment?
What projects did you find the most enjoyable?
What did you find motivating?
What came easy to you?
Areas of improvement:
What moments were you least proud of?
What projects were the least enjoyable for you?
What demotivated you?
What did you find really hard?
Professional development and future opportunities
How did your work environment contribute to or detract from your success?
What are three skills you learned?
What do you need to learn to perform or win more/higher quality work?
How would you like to see your business expand or contract in the next twelve months?
What opportunities are there for you to mentor others?
Step #4: Provide recommendations for next time
Now that you've set goals, gathered feedback, and evaluated your strengths and opportunities, it's time to make some recommendations…to yourself. 
Based on the information you've gathered, if you were your own boss (which you are), what changes would you ask yourself to make in the next year? Be clear about what you expect to see from yourself and your work.
Think beyond income and to your broader lifestyle. How much time do you want to dedicate to your wellbeing or family this year? How can you ensure you achieve balance and avoid freelancer burnout? 
If you work from home, take the opportunity to review your equipment and ensure it's still supporting your overall health. Most of us can't afford to be laid-up for weeks because of a poor workstation set-up yet it's rarely something we consider until we're injured. Safeguard yourself by building this into your annual review. 
Try this:
One thing you absolutely need to do as a freelancer is review your rates annually. This is where apps like Toggl Track come in handy. If a client has paid you a flat fee for a project, tracking your time allows you to know if you've been profitable. Using this data, have a look over your clients and projects over the past twelve months and evaluate if what you're charging translates into an appropriate hourly rate. Yes, in this gig economy, there is always someone else out there willing to do it cheaper than you. But if you don't own your worth, it's unlikely your clients will either.
If you decide it's time to increase your rates, there are ways to go about it without scaring off your existing clients.
Step #5: Decide on an outcome
This is where an annual corporate review has a freelancer review beat: bonus time.
If you feel you've been successful in achieving your aims, it's important to reward yourself. You've worked hard, toiling away in a fickle industry with little job security. It's time to recognize your efforts. 
There's only one problem…there's usually no budget for massive bonuses. If you want to treat yourself (and you should), you'll need to get creative.
Try this:
Treat yourself to an experience you can enjoy with a loved one: It's time to take advantage of the flexibility of your lifestyle and take a day trip, visit a park, go see a movie or even head out of town for the night.

Indulge in some 'me time': Are there some self-care rituals you've been skipping while you doubled-down on work? Now's the time to book a spa treatment, get that massage or even just turn the laptop off and the sports channel on.

Try a little splurge: What are some low-cost items that make you feel luxurious? Before I left the corporate world, I had a ritual of buying myself a new bedspread with every bonus. It was just something little, but it made my entire room feel refreshed (and when you work from home, we know that your room can be an excellent chill-out zone). What small luxury could you indulge in?

Start saving for a bonus next year: If cold-hard cash is still your thing, you might consider saving for next year's 'bonus' now. By attributing a small portion of each invoice to a savings account (just like you would for tax), you can create a healthy little kitty for yourself. You can then create conditions upon which you'll be able to access the funds next year (for example, meeting your profit goals means you can use the funds to take the family on holiday).
Being a freelancer comes with freedoms you rarely experience in the corporate environment. It's rewarding, but ultimately you get out of it what you put into it. If you prefer to fly by the seat of your pants and adjust your performance intuitively—great! However, if there is a slightly twisted part of you that misses being accountable to—and assessed by—a chain of higher-ups, consider trying the freelancer review process. You might be pleasantly surprised to realize you can reap the benefits of the annual appraisal, without having to actually answer to a horrible boss.