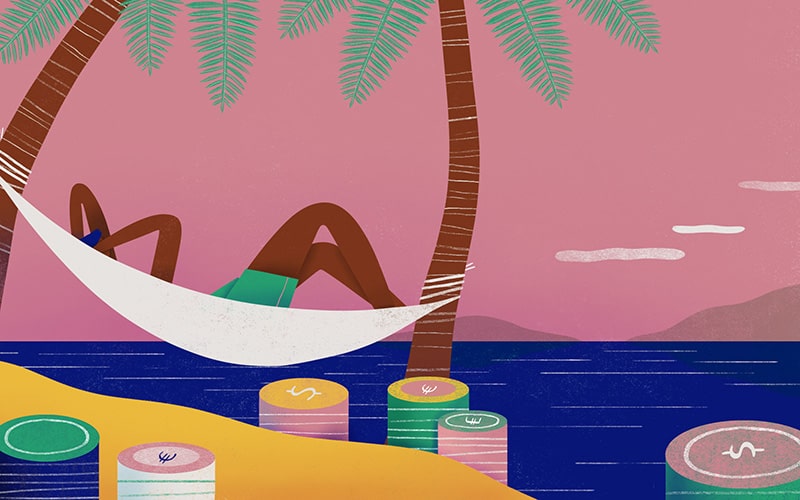 Whenever people hear the phrase "get paid to travel", they dismiss the idea as a pipe dream. Paid to sightsee? Pft, how impossible.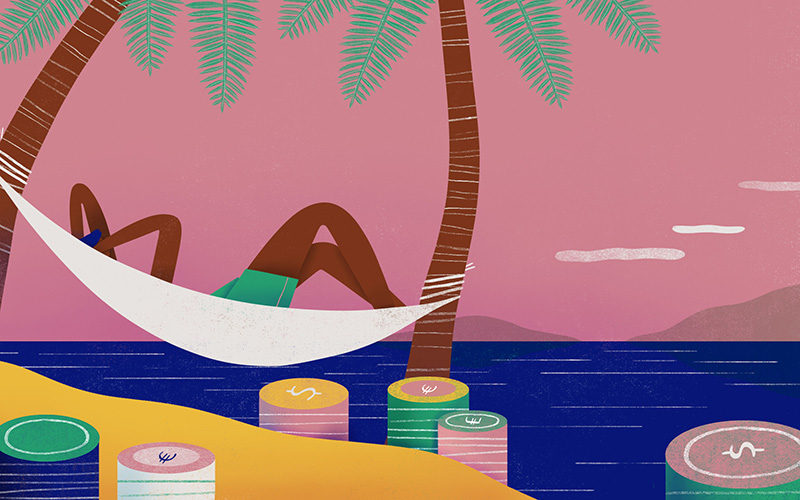 But picture this: you're sitting on a comfortable, newly upholstered chaise longue.
At the small table before you sits a fresh bowl of crisp salad, generously drizzled with your favorite sauce.
A generous drink stands loyally at its side, and as you lay back and stretch your legs out, you gaze at the gentle Spanish seashore and marvel at the breathtaking view.
Does this seem like a dream come true?
Most of us dream of uprooting and learning about ourselves by testing our wills through wild, wonderful adventures. And of course–no one wants to work in a dull, dreary office.
Why resign yourself to the cubicle life when you could experience so much more?
If you've ever thought about exploring the world and seeing the most beautiful, culturally rich destinations on the planet, then here's the good news: It's wonderfully, entirely possible.
There are a number of reasons why this seems impossible, and the most annoying of these is:
MONEY.
"Sure," you've said to yourself. "I'd like to travel and go sightseeing. I have a huge bucket list of places I want to visit. But I just can't afford it!"
Oh, but you can. You can absolutely get paid to travel.
There are plenty of ways to earn money while traveling–it'll fund your trips and give you access to some of the gorgeous places on that spiffy Pinterest board you've been tending to for the last few years 😉
Before you start:
The most important thing to know is that you won't necessarily be staying in fancy, five-star hotels while eating caviar.
That, unfortunately, is almost always reserved for the uber-rich. What you can do, though, is enjoy homestays, eat homemade food, visit places that you've seen in your books and magazines, and live a pretty fine life.
Pro tip: The main key to surviving away from home is to downsize. Don't get caught up trying to prove your wealth or amazing to life to your followers on Instagram.
Live on less: if you think about it, what do you really need to survive?
Do you have to go out every night, or drink that much alcohol?

Do you always have to eat out, or could you make some meals from your own kitchen?

Do you have to live in a nice apartment by yourself, or would you be willing to share a house with other people?

Do you have to drive your own car, or would you be okay with taking public transportation?
By taking these small steps, you can build up a considerable little wad of cash that you can use to finance the first leg of your journey: getting out of the country.
After you save enough money, create an itinerary.
Where do you want to go first?
Research low-cost, high-quality places to stay.
Figure out how much you would have to earn to live comfortably there: for example, in Indonesia, one person can live quite nicely for $1000 a month. Where's the destination of your dreams, and how much does the plane ticket cost to get there?
How is the Internet? (Some of the methods we're listing will require a good connection).
Here's a huge list of ways that you can get paid to travel. Pick the one that inspires you the most, and follow through with it! We'll see you on the other side 😉
1. Teach English
In many ways, English is a blessing. It's often used as the language in business–in the United States, but also in South East Asian countries.
And since South East Asian countries also host some of the most beautiful cultural icons in the world–Angkor Wat in Thailand, and Ha Long Bay in Vietnam.
You don't have to become an accredited teacher–you could just start a small, home-based tutoring business.
If you'd like to make big bucks, though, go for a certification that lets you teach English (a popular one is the TEFL, or Teaching English as a Foreign Language exam).
Most international schools will offer you a competitive salary if you have accreditation as a teacher or a bachelor's degree. But if you prefer flexibility, then you can simply teach English from home or online.
2. Write sales letters for companies.
Companies are always looking for people to write for them.
If you can write a killer sales letter (check out AWAI's course on the art of selling), you can pitch your services to businesses through cold-calls or cold-emails. The best part about writing these types of content for customers is that you never have to show up in the office to make your money.
If you don't enjoy writing sales letters, but you're great at other forms of content–copy, articles, fun and informative blogs–you can always pitch those services instead.
3. Consult for brands.
Do you have experience in marketing or branding?
Being a brand consultant is a lucrative business, and it's one of the few jobs where you can keep working until you get really old and pruney and feel like retiring.
If you've built businesses before, then it's entirely possible to use your expertise–whether it's as a CEO or a startup founder or the head of a specific department–to consult for businesses that are looking to grow.
4. Start a business.
Handmade crafts are a dying art in the modern world, but the demand for them is often very high.
Fortunately, you can find plenty of suppliers in countries like the Philippines.
If you're the craftsy type, search for goods that you think would find success–then sell them back home. If you love handmade beaded jewelry, for example, you could visit a local market and find a creative maker, then partner with them to create a line of luxury beaded necklaces.
Or–you could export spices to your home country.
The possibilities are limitless: the hard part is picking and sticking to a niche.
5. Become a tour guide.
Is there an international destination that you know incredibly well?
If so, you could share that knowledge with other visitors from your country and help them see the location as you do. Tours that cater to international folks tend to be stale and boring, and most visitors only ever visit the tourist traps.
You could change the lives of visitors by showing them the true side of the destinations they're visiting.
You could join a tourist agency, where you'll often get a salary, or create your own by coordinating with experienced local tour guides. Themed tours, for example, can be fun and memorable.
The cons: starting a business is never easy.
Also, if you're going solo, you won't have a guaranteed source of income. You'll have to be prepared to be outgoing and friendly at all times, so avoid this if you prefer to work alone.
6. Freelance.
Think about the skills you have.
Can you build websites?

Or write really good speeches?
If you have a laptop and access to great Internet, then all you have to do is market those skills.
Sites like Upwork and Fiverr are two of the best freelance sites, connecting you to millions of possible clients, and they're great for applying to international freelance gigs.
However, you can also search RemoteOK, a massive job board dedicated exclusively for remote work (it was started by a digital nomad).
If you plan on freelancing, then it's best to start your career before you make the move. That way, you'll have a great portfolio for your potential clients to look at, and you'll also (hopefully) have repeat clients.
Some marketable skills you can sell: graphic design, translation, editing, coding, web development and design, etc.
If you feel like you don't have any marketable skills, then learn one!
There are plenty of online courses dedicated to teaching you different skills–they're often much more valuable than college degrees because they teach you how to build something.
Here's a list of over 25 companies who hiring remote workers!
7. Work as a nanny or au pair.
An au pair is an international nanny who lives with a family for a specific period of time. In return for taking care of your client's children, you will receive room and board, travel expenses, and some pocket money.
Most clients seek au pairs who are women, and many people who choose to work as au pairs tend to be young–usually, they're students or recent graduates.
If you'd like to experience a lovely city and love children, this option could help you satisfy your wanderlust cravings.
Pro tip: you won't always have to learn your client's language in order to work as their au pair.
Most speak basic English, and many couples will even request that you speak to their children in English so that they can learn the language.
8. Become a destination wedding photographer.
Destination weddings are all the rage, and being a photographer is both a glamorous and grueling occupation. In Asia, wedding photographers are often up at two in the morning on the day of the wedding to take photos.
The bride starts getting her makeup done at 3 in the morning, and the day often starts with a religious ceremony in the morning, before moving to a grand reception in the evening.
If you're a great photographer, you could apply to an agency in the country where you'd like to be based.
Nomina Pictures in Indonesia, for example, sends their clients to Japan, Italy, Singapore, Thailand, and many other places.
If you have a portfolio already, then you could also start your own one-man wedding company.
Many destination wedding photographers charge thousands of dollars for a single wedding or pre-wedding photo shoot. Though the barrier entry is high, working as a destination wedding photographer can help you earn big bucks that'll ensure you'll be living in luxury.
9. Work as a developer.
This technically could be lumped in with "Go freelance," but being a web developer is a highly valuable skill.
Your knowledge of different programming languages and systems can nab you an enticing salary. Toggl, for example, pays starting developers EUR 44,000 a year, and you can work from anywhere in the world.
A large majority of remote job listings seek experienced developers.
And–since your work is 100% on a computer, there's really no need to come into the office.
Which one do you prefer: working on your computer in a frigid office, or working on your computer in a beach bungalow?
10. Build a website.
Building a website based on a niche you enjoy or know a lot about is a great way to build passive income.
You can monetize it by connecting it to Amazon Affiliates, or by placing ads on it (many people use Google Adsense).
The best thing about building a website? You can work on it from anywhere in the world, as long as you have a decent Internet connection.
There are plenty of topics that you can write about: tech tips, cultural destinations all around the world, product reviews (that's easy to monetize).
You could even write about your own globetrotting journey, and inspire others to start their own digital nomad life.
Disclaimer: creating a website can be tough. It requires time and effort, and you won't see results for a year or more.
Many travel bloggers, for example, spend at least a year building their sites, and during that time they constantly have to churn out content to make sure they get traffic.
You'll also have to handle the marketing, finances, and growth of your site. If you're up for the challenge, then starting a niche website can be a great way to get paid for traveling.
11. Become an influencer or model.
Yes, we know, we know–ugh.
But if you want to get paid to travel, becoming a high-profile influencer is one of the most effective ways to do so. As an influencer, you'll often get reimbursed for the promotions that you create.
And if you land the right clients, they'll often fly you out for photoshoots. Many beauty bloggers are paid by companies to go on trips that increase the brand's awareness.
It's a win-win: you get to go to some pretty amazing places, and they get more exposure.
Still, being an influencer or model isn't easy–and to tell you the truth, none of the methods on this list are.
If you want the luxury of getting paid to travel, it's important that you put in the work and effort that the endeavor needs. Otherwise, you'll be stuck panhandling at the airport, trying to scrabble up enough change to fly home.
Good luck, fellow wanderer! Let us know the ways you get paid to travel–we'd love to hear your own experiences.