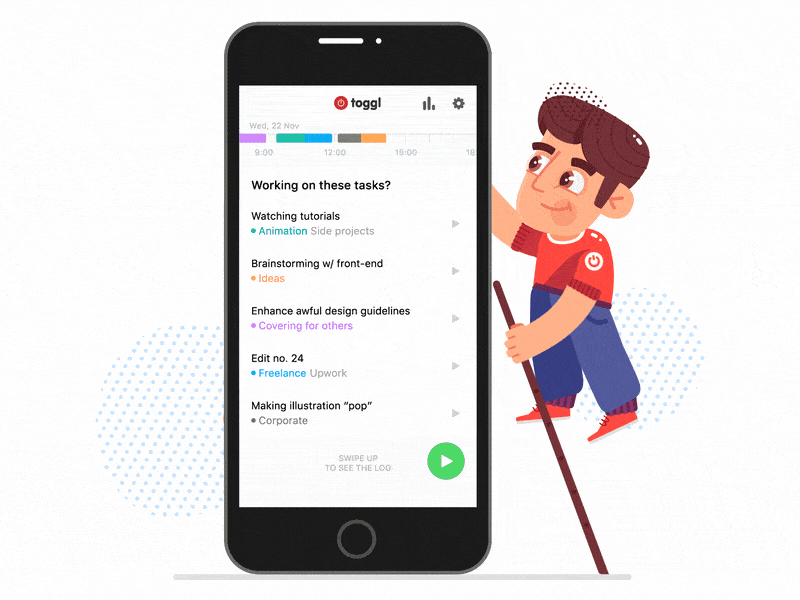 Our goal at Toggl is to make time tracking as effortless as possible. Today I am thrilled to introduce you new Toggl iOS app — the simplest time tracker to help you get things done.
A brand new app
This is a completely new and separate Toggl app in the App Store. To be able to use it, you'll need to download it from the App Store and log in with your existing Toggl account (or create a new if you are not a Toggl user yet). Support for the old app (one you probably have installed right now) ends in December 2017. We recommend that you remove the old one once you've set up the new Toggl app!
Why use Toggl on mobile?
Fastest way to track time
Typing is one of the most annoying and time-consuming parts of the mobile experience. Why should you have to type in what you're doing all over again, especially if you are doing the exact same thing every day, or every week, at the same time? With a brand new suggestions view you don't. You'll be able to find time entries suggested by the app itself, based on your habits and previous entries. Just tap continue and you are tracking!
To start a new time entry, tap a green start button at the bottom right corner. Easily type in all the necessary information — description, project, task, and/or tags — into a single line. The app offers you suggestions right away once you start typing.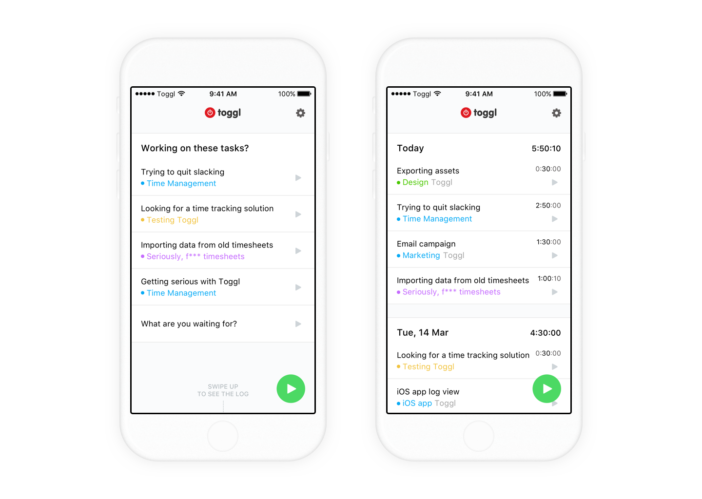 Suggestions and Log view
To create new time entries even faster, use shortcuts to quickly add a project/task and/or tags to your time entry:
To add a project/task: type @ followed by the project name
To add tag: type # followed by the tag name
For example, 'Quit slacking @time management #toggl'. Honestly, logging your hours can't get any simpler.
Track your time on the go
Forgot to start or stop your timer? Been there, done that. One of our goals is to give users a great cross-platform experience. With Toggl you can access your time entries and tasks simultaneously on mobile, web and desktop. And you can track your time anywhere — at work, at home, at school, just name it — your data is always in sync.
Distraction-free design
Time management takes up a great part of our lives which is why we have completely redesigned the whole app's user interface. We designed the new app striving for the best iOS experience, so you can stay motivated and organized with Toggl's intuitive and beautiful tracker.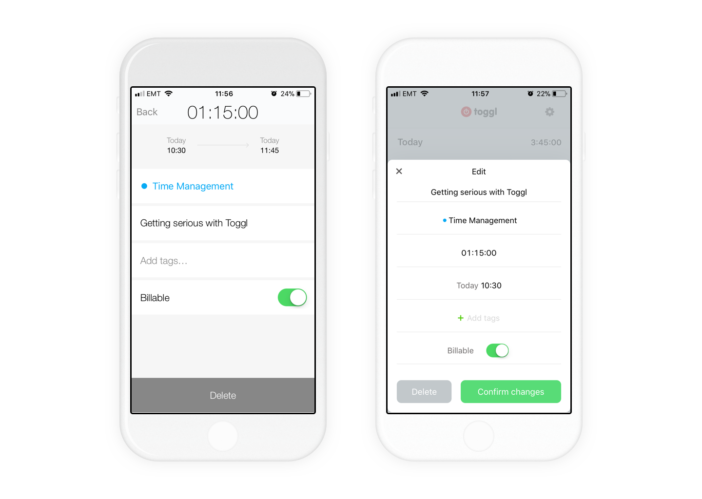 Before & after: New edit view is more concise to give you an instant overview of your time entries.
It's important to stay focused, hence we changed the whole flow of how new time entries should be created. Instead of forcing a user to edit every detail and piece of information separately, we created one flow that user needs to create a new entry.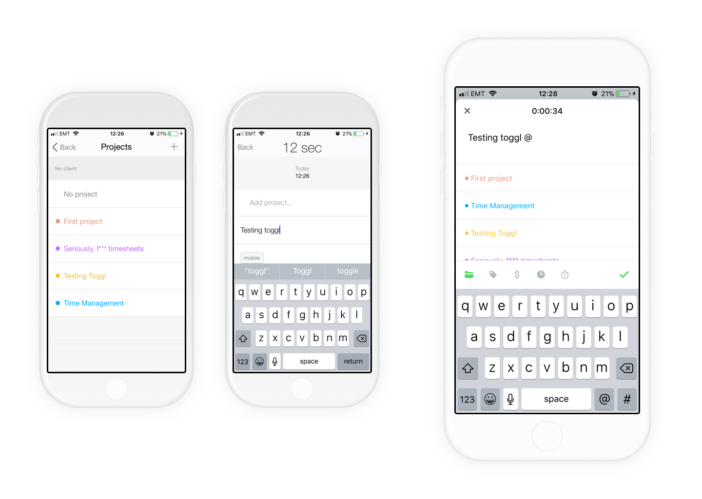 Before & after: It took a lot of steps to create a new time entry with all the necessary information. Now you can type all the details into a single.
This is just the beginning of a new and powerful time tracking tool. We'd really like to hear what you think about the update to make Toggl apps even better. Send us an email at support@toggl.com.
Be the first one to try it out 🙌