In software development, backend is not the hero we need, but it's the hero we deserve.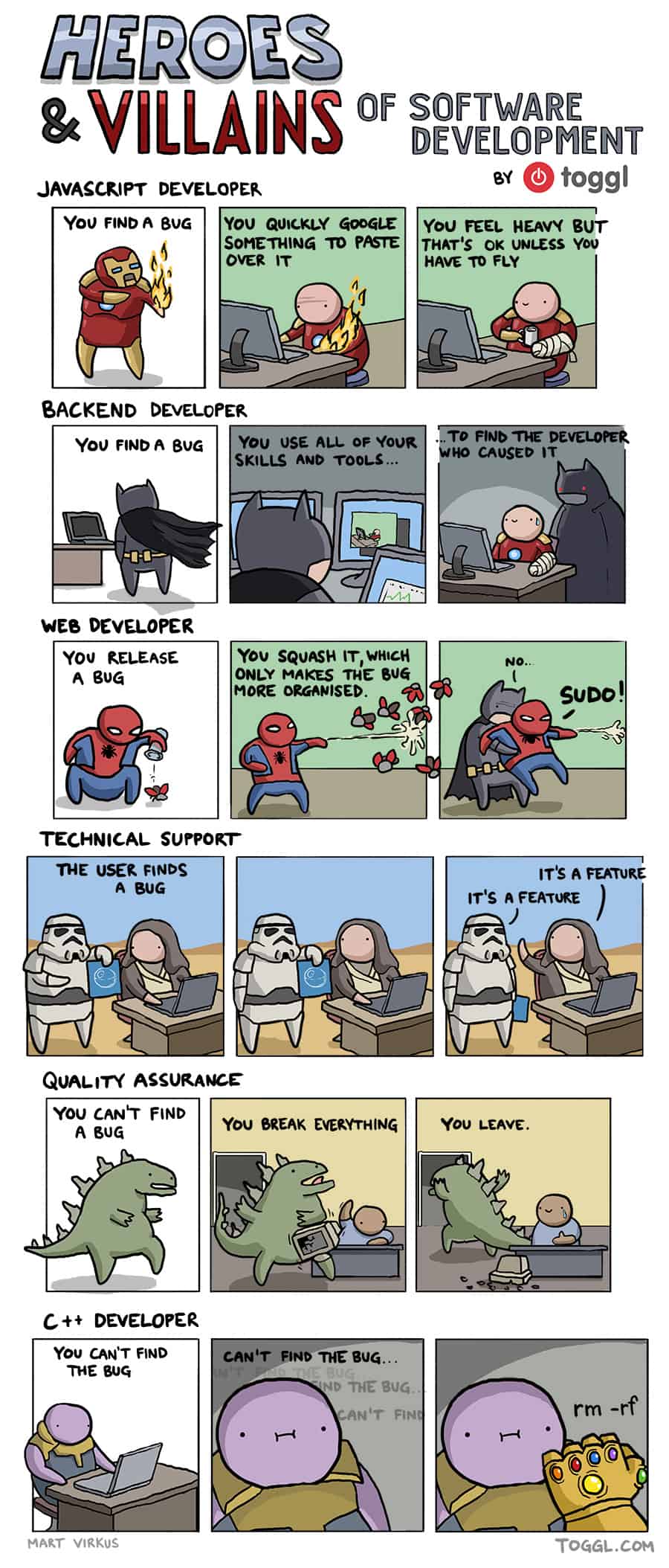 To an ordinary person, the internet just works. We take it for granted. In reality, our beloved websites exist only thanks to the toil of developers who must face dangerous and often invisible bugs daily.

To us, Toggl isn't just a simple time tracker. It's a simple time tracker – with legacy code.

I Want to Learn More About Software Development.
Splendid – we have a lot of resources on why you'd be better off picking some other career. There's a comic on why programming is ill-suited for rescuing a princess. We also have a painfully accurate comic on how different IT professionals would solve a broken lightbulb. We also rewrote the Bible using different programming languages.

For more serious stuff, take a look at what our frontend lead Thiago has learned about being a better developer during his long career. If you're thinking about trying out a managerial role, he also wrote this brilliant piece about his trials during his transition from a developer to a manager.
What is Toggl?
You didn't ask but let us tell you anyway – Toggl is a simple time tracking app that helps you see where and how you spend your working hours. Our ultimate goal is to help people finally answer the age old question of "how long do you think it will take to build my app?"
If you think that's something that might help you in your daily work, go ahead and sign up. Toggl has a neat forever free plan for teams of up to five people.
The Wirecutter called Toggl "the best time-tracking application for freelancers," and Allison from Twitter called us "the real MVP." Dave on Reddit only thinks we're fine. But that's ok! We think he'll come around. Toggl is totally free for solo users and small teams to signup and use, so why not start tracking and see how much time all those rewrites are taking you. That is, if you really want to know.
Mart has a background in anthropology - a discipline which has turned people-watching into a science. He most enjoys working on projects that make you go from "that's stupid" to "hmmm".