Everyone wishes they could get a little glance into the future so if you work at an agency, today just may be your lucky day.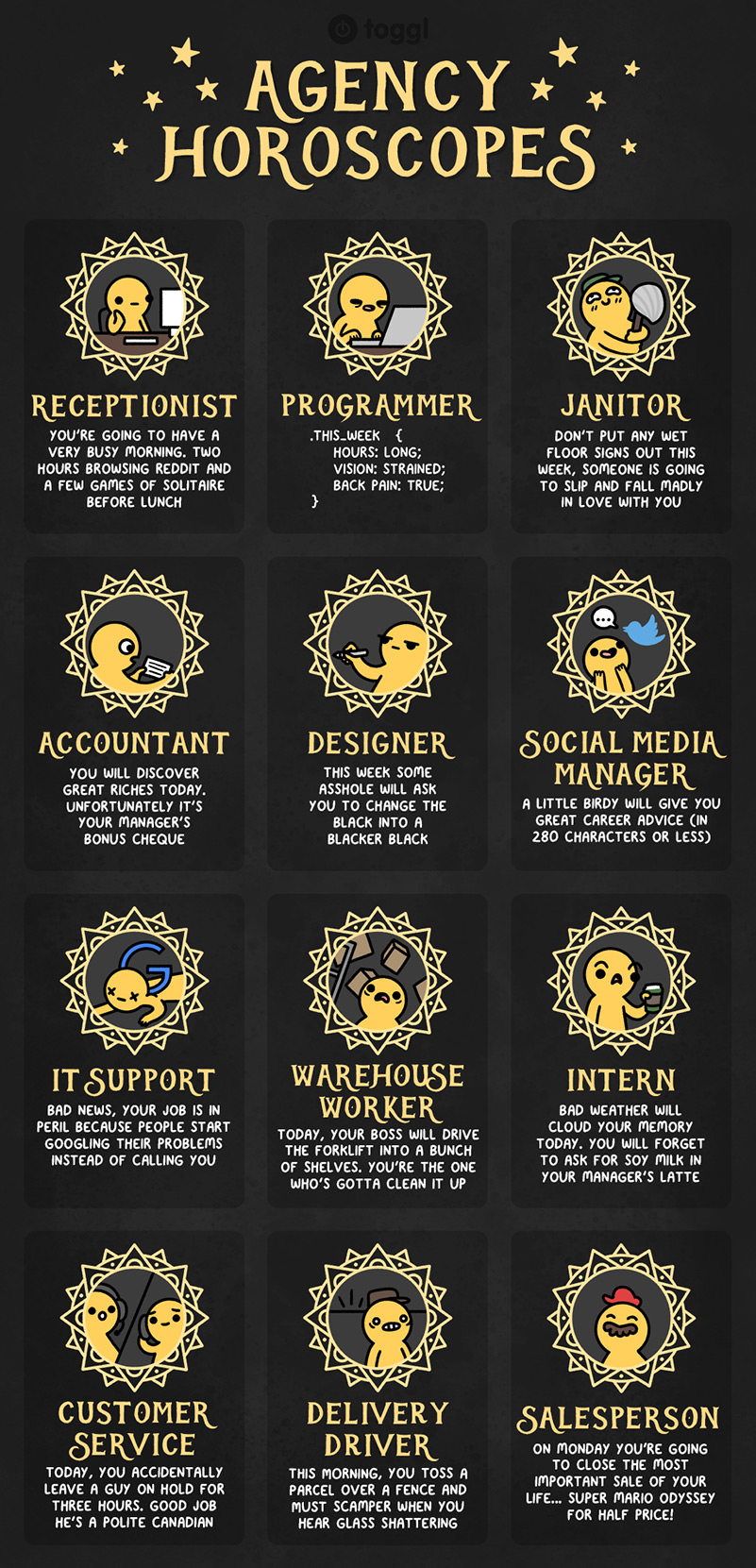 This comic was created by Safely Endangered comics for the Toggl Team – the people behind the world's no. 1-time tracking app.
You might have a few questions like, "what if I don't like my horoscope?" or  "what kind of agency has a delivery driver?" Look, we don't decide these things… it's simply written in the stars. So feel free to direct your questions towards the cosmos.
Agency horoscopes are cool and all, but what else have you done?
If you like this, you might want to check out more of Safely Endangered's comics. We've got a guide to computer security for those of us who know nothing about computer security. We also have a comic about the expectations vs. the reality of being a freelancer.
If you're a freelancer, chances are you'll like this comic where we explain freelancing problems with dinosaurs.
If you're a developer, boy do we have some great stuff for you. We did this awesome comic about using different programming languages to rescue the princess from the dragon as well as this comic that theorized what might happen if programmers created the earth (spoiler alert: it's not great).
Will you do more of these?
Oh boy, will we ever. We like doing these so much that we've started putting out a new one every Thursday. You can follow our blog, Facebook, or Instagram to keep up to date. We even do Twitter.
If you have any fresh ideas that we could put into a comic, do let us know in the comments below and we promise to add you as an easter egg when it comes out.
Until then – keep on trackin'!
Emma Murray makes content and content and even more content. She believes everyone has a few good words in them. She also does photojournalism here: https://www.emmakathleenmurray.com/