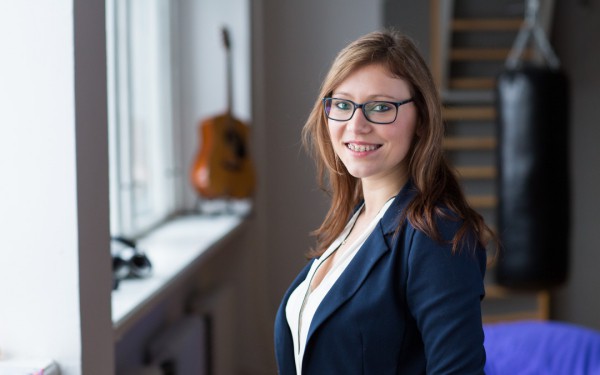 Update: As of February 2017, the Business plan is known as Toggl Enterprise. Have a look here to compare all our existing subscriptions!
Today I am thrilled to introduce to you Toggl Business – a new time management package where effortless employee time tracking meets faster, easier control for managers.
Why toggl business?
All through Toggl's life, we've been getting praise on how easy it is to track time with us and how useful the seamless, visual reports are in helping improve efficiency and productivity. Managers also appreciate how easy it is to get their employees to understand using Toggl.
However, what we've also been hearing year after year at client meetings and in support e-mails is that most managers still spend hours every week doing repetitive menial tasks to ensure time was actually tracked and reports correct.
Despite the ease of use, many team members still forget to put their time in. Managers would regularly have to export, save and compare employee timesheets with their Toggl data to make sure no-one has edited their time logs after these were submitted to the clients or HR departments. Inappropriate profile names and incorrect time zones further add to problems with reports.
In the end, managers just want quick regular status updates of time spent – not hours spent on tedious corrections.
So, after analyzing hundreds upon hundreds of cases of customer feedback, we developed Toggl Business to offer a robust set of features designed specifically to address the problems of these managers, and help save them time on managing their staff timesheets.
More control, fewer worries
Here's a list of the features we've added so far. This list will improve in time, but the time gains for managers are significant already.
Automated tracking reminders
Expressly created to ease a manager's workload in chasing up team members who forgot to enter their time. Just set up the target number of hours each employee must track per week (or day) and we'll send the team members an e-mail ourselves when they fall behind.
It's very easy to set up: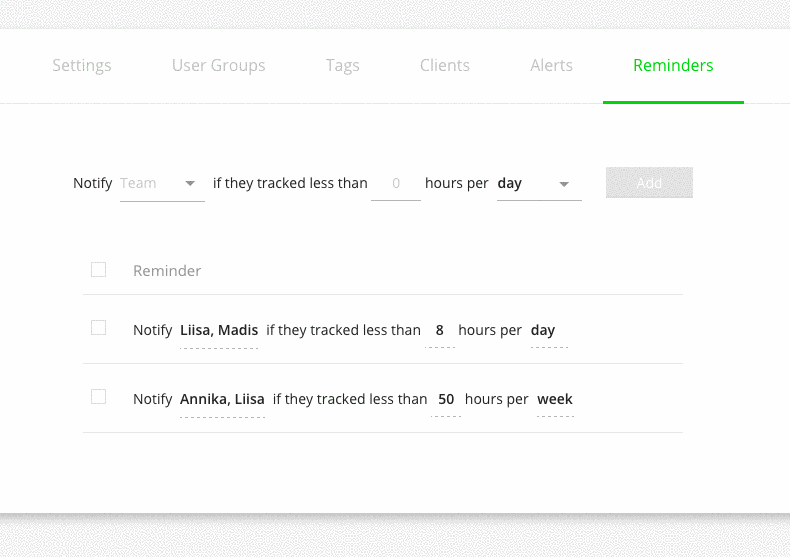 Scheduled reports to your e-mail
This keeps managers from running the same reports over and over again.
Simply configure a set of reports you need of different clients, projects or users, and schedule them to arrive on your e-mail daily, weekly or monthly.
Here's what the setting looks like in your reports section: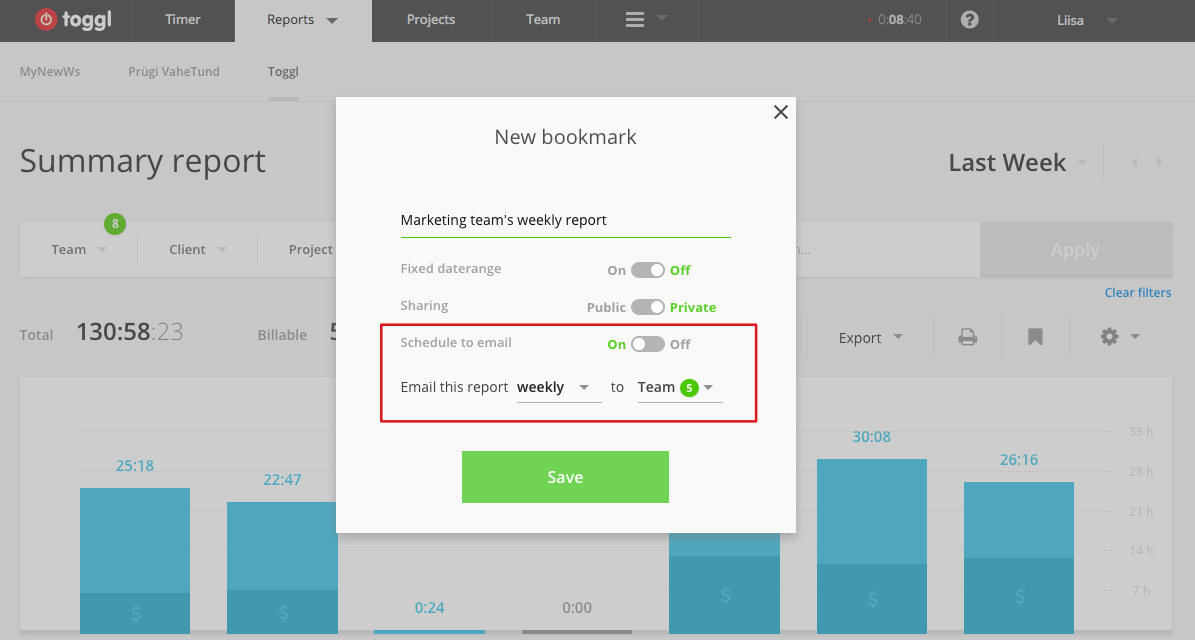 This way you'll have an overview of things without ever having to log in to Toggl.
One-click time audits
Time audit helps you find incorrect time entries with just once click.
This feature lets you quickly seek out entries that mess up your reports – entries that have been left running or were started, then stopped immediately, entries without project or task. No need for special sorting or Excel magic – one click will find them all.
Adding time for your team
Sometimes people forget to add their time entries, even with reminders. With Toggl Business, you can add time for your team members yourself, which is a lot quicker than chasing them down, or waiting for them to come back from vacation.
Preventing changes to time logs
This feature lets you lock all time entries up to a specified date.
People changing their time logs after the reports have been approved for invoicing and accounting can cause a lot of problems. This feature ensures that once the reporting deadline drops, the data stays fixed. You can be confident that there will be no surprises in your reports even 6 months after initial submission.
More administrative control
With Toggl Business, you can also make sure your team member names are presentable, check and edit their time zones and even reset their passwords when the reset e-mails aren't getting through for some reason.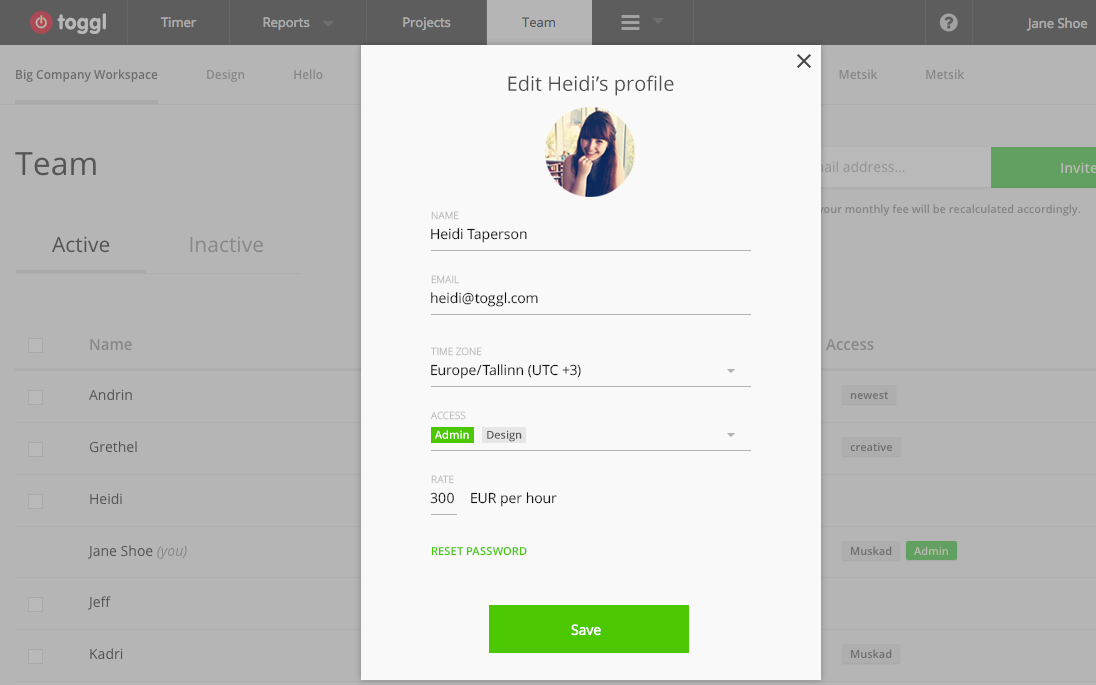 Priority support
We value your time as much as you do – we understand that in a high-performing business, any questions and problems must be addressed immediately. This is why support requests coming from any Business plan user (managers as well as regular team members) will be assigned highest priority by our support team.
Pay for what you use
When you've subscribed your team for a year, but someone leaves or is deactivated, we will prorate that credit to your Toggl balance, so you can use it later when adding new members.
For pricing and more details on what Toggl Business has to offer, check out this article.
This is just the beginning of a new and powerful time management package. Your feedback is going to play a crucial role in determining the directions we'll be taking, so I look forward to hearing your input and opinions.
Always yours,
Liisa Toompuu
Toggl Business Product Lead