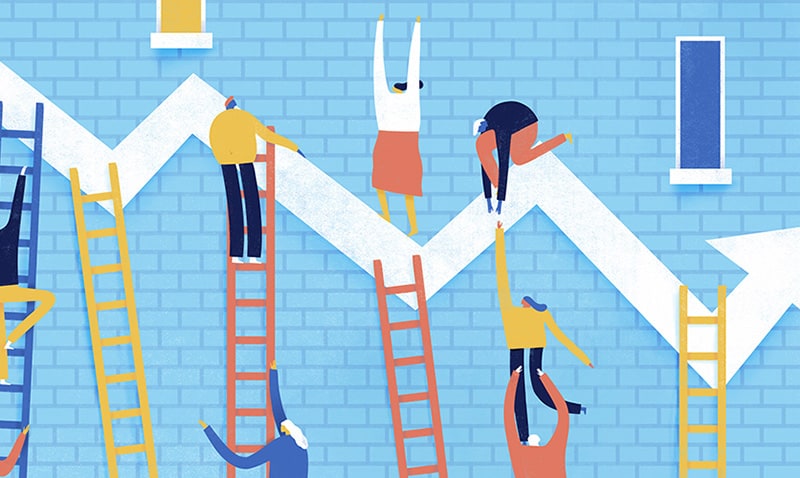 When it comes to B2B marketing, there are plenty of hurdles that you need to overcome. But, the one that requires you to put in the most effort? Without a doubt, it's B2B lead generation.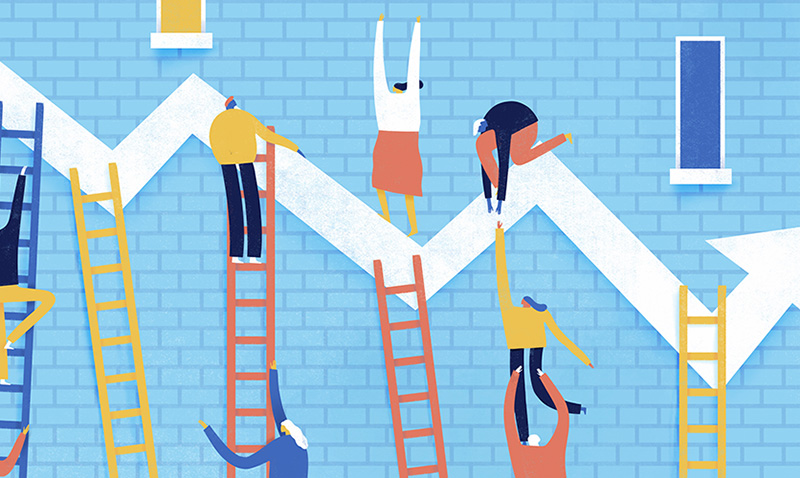 If you don't generate new leads, you don't have any prospective customers in the pipeline.
If you don't have any potential customers in the hopper, your revenue dries up. If your revenue dries up… well, you see where this is all heading, don't you?
Effective lead generation is critical. However, it's also challenging—especially when it comes to B2B marketing.
When you're selling to another business, there are far more stakeholders you need to speak with and internal stamps of approval that you need to get as opposed to if you were just selling to a single consumer.
A recent CEB report noted that salespeople need to consult with more than four people internally over the course of each sale.
-explains Katie Herzog in a post for Ervin & Smith.
That's a lot of conversations that need to be had.
And, when your salespeople are working with numerous—perhaps even dozens—of leads at the same time? The sales process can be slow at best.
So, this all brings us back to effective lead generation.
After all, the warmer your leads are when they start those conversations with your salespeople, the easier and more efficient the entire sales process will be.
Those leads are already interested in what you're offering—your sales people just need to seal the deal.
With all of this in mind, there's one big question you need to answer: How can you effectively generate leads? Here are five cost-effective B2B lead generation strategies that you can start implementing right away.
Don't fall down the rabbit hole! Use Toggl to track your time spent on B2B marketing to focus your time on the strategies that work and further optimize your lead generation efforts.
1. Take a magnifying glass to your data.
While there are plenty of B2B marketing strategies that work decently across the board (which we'll dive into in just a moment!), it's important to remember that every single business and customer base is different.
What works well for one brand's audience might not necessarily produce the same results with your own.
So, before you start mapping out your lead generation strategies for the upcoming year, the best place to start is to take a hard look at your analytics and ask yourself questions like the following:
Where are your leads already coming from?

Are there any lead generation efforts you've put into play that don't appear to be effective?

Which lead generation effort has the best conversion rate?
Analyze constantly! Metrics and numbers don't lie. Identify significant trends and learn from them,
-advises Johanna Rivard in a post for Pure B2B.
By taking the time to understand your audience—as well as what's working and what isn't—you'll have the information you need to better figure out how to generate leads in the upcoming year.
2. Keep publishing content.
We know—you're sick of all of that tired "content is king" chatter. But, there's no sugarcoating it: Content is often considered the ultimate lead generator.
Why? Well, content is effective for a few reasons.
First, it's a great way to begin a relationship and establish some trust with prospective customers.
Rather than shoving sales messages down their throats (remember, your content shouldn't be pushy or overtly "salesy"!), content exists to inform and educate them.
If and when they're ready to purchase?
You'll be one of the first to pop into their minds—thanks to your helpful content.
In a similar vein, content helps to give you some authority and credibility.
When you're putting valuable and insightful content out into the world, that positions you as a thought leader in your field or chosen niche—making you a much more trustworthy resource for businesses who are ready to purchase.
When you hear the term "content", it's easy to think strictly of blog posts.
But, rest assured, there are numerous other mediums you can use to spread your message and forge relationships with prospective customers.
This year, consider which of the following could be a good fit for your own business:
Starting your own blog

Guest posting on other relevant websites

Creating free resources and downloads, such as ebooks or whitepapers

Publishing videos

Starting a podcast

Hosting free webinars
The list goes on and on. But, when it comes to content, there's one important golden rule you should keep in mind: Quality matters far more than quantity.
It takes a well thought through strategy, high quality content, and following a process of review and refine, to ensure any campaign achieves the maximum impact. The more activity you do and the better the content you produce, the quicker your results will be,
-advises a post for Lead Forensics.
Producing content does involve a time investment. However, when it comes to your business' bottom line, it's an incredibly cost-effective way to get more leads in your pipeline.
In fact, content marketing costs 62% less than traditional marketing—yet generates approximately three times as many leads.
Needless to say, if you aren't already actively creating content, it's time to get started.
3. Step up your email marketing game.
Email marketing continues to take a top spot when it comes to lead generation tactics. And, for that reason, you like to think that you already treat your email list like gold.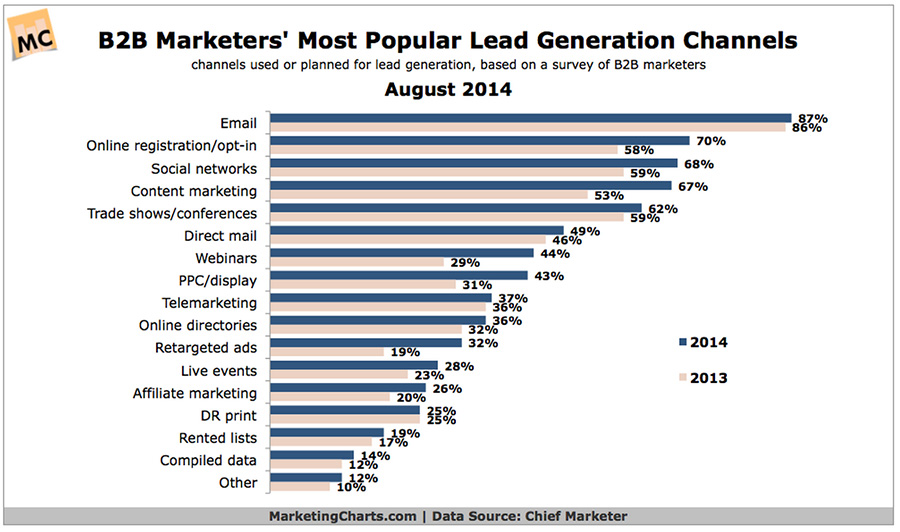 But, ask yourself this: What sort of messages are you sending on a regular basis?
If you're blanketing your entire list in the same generic (and perhaps even irrelevant) newsletters and announcements, it's time to rethink your entire email strategy.
Email automation has been a buzzword in the marketing world for quite some time, and for good reason.
Essentially, automation empowers you to send highly targeted emails to your customers based on a specific action.
This is helpful, because it allows you to speak to different leads that might all be at different points in your sales funnel.
You'd send a very different message to a lead who had just visited your website once than to one who downloaded your ebook and already requested a free consultation, wouldn't you?
Sending them the same email would demonstrate a lack of understanding and personalization—which can ultimately just frustrate potential customers.
While traditional newsletters and email marketing are still important, the ability to capture more data on users and use behavioral triggers has enabled B2B marketers to get a lot smarter with how they target users in the inbox,
-explains Marcus Taylor in a post for VentureHarbour.
Companies that have implemented marketing automation have experienced awesome results.
Thomson Reuters, for example, increased their revenue by 175%. For that reason, according to Pepper Global and reported by HubSpot, B2B marketers say that the ability to generate more and better leads is the top benefit of marketing automation.
It's understandable to feel intimidated by the thought of needing to setup your own email marketing automations.
But, rest assured, the vast majority of email marketing platforms make this relatively easy (and even have templates and suggested triggers that you can use).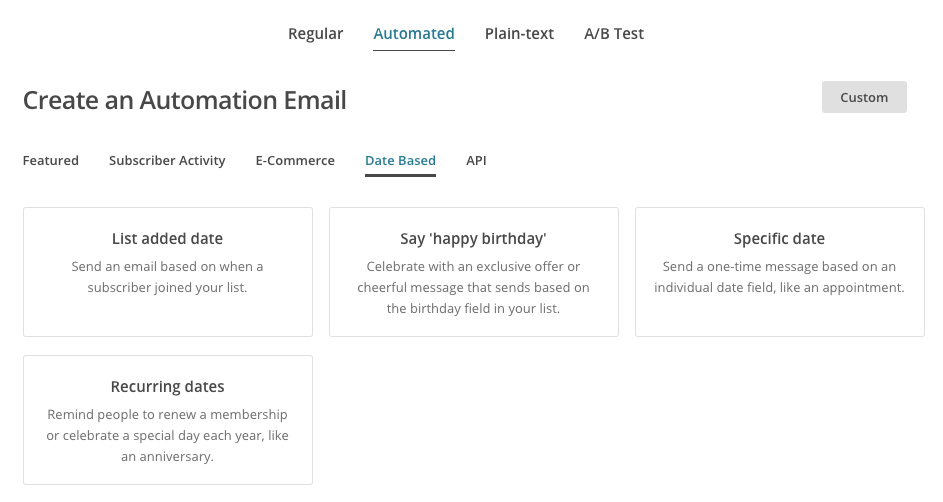 Play around within your own tool to explore the possibilities.
If you end up stuck? Reach out to customer support to get the help you need. You'll have your own automations up and running in no time!
4. Improve your SEO.
Just the mention of search engine optimization is enough to make any marketer cringe. But, when you're aiming to step up your lead generation efforts, SEO deserves some attention and energy.
Consider this: 75% of users never actually make it past the first page of search results. If your business doesn't appear there when users are searching relevant terms?
That can take some major wind out of your lead generation sails.
While appearing on that first page will help to get more interested eyeballs onto your site, search engine rankings have another added benefit: They give your business some more legitimacy.
It's a psychological trick—the results that appear toward the top just appear more trustworthy and credible.
There's a lot that goes into solid SEO efforts—too much for us to really dive into in detail here.
However, if you're intimidated by the idea of optimizing your own website and eager to at least make a dent, here are some great places to get started:
Publish relevant, high-quality content:

Not only is this important for your content marketing efforts, but content is also something that the search engine algorithms consider when ranking sites.

Post content regularly:

This is another factor that can influence your ranking. Search engines like websites that are updated frequently, so make sure that you stay consistent with your content efforts.

Develop a linking strategy:

Linking out to other credible and authoritative sites gives your own website some added legitimacy. So, be sure to include plenty of links within your blog posts. Even further, link anchor text (which should be a relevant keyword, i.e. "lead generation strategies") rather than using text that reads "click here" or something similar.

Utilize alt tags:

Using images in your content? Use keywords to assign alt tags to your graphics and images.
That barely scratches the surface on all of the different things you can do to take your SEO to the next level.
If you're particularly serious about landing top spots in the search engine results, it's wise to work with an SEO expert who can help you rank higher.
It'll cost a little bit of money (as opposed to the DIY route that's particularly cost efficient). But, it can be well worth the investment—especially since the top five URLs on the search results page get a whopping 75% of user clicks.
5. Leverage social media.
You knew social media would appear somewhere on this list. It's popular, it's cheap, and it's effective—provided you know how to best leverage it to your advantage – with the best social media analytics tools.
It's tempting to think of social media as your soapbox. It's your megaphone—your opportunity to broadcast your message to all of your followers.
However, when it comes to social media, the key word is social. Your focus should be on building and fostering solid relationships—rather than shouting sales messages to anybody and everybody who will listen.
One great way to do this is to show the human side of your business.
Remember that people buy from people.
So, the more you can enlighten potential customers to who you really are—whether it's through a regular team member spotlight or even a photo from your office's guacamole contest—the more inclined they are to make a purchase.

It's also helpful to use calls to action wherever you can.
In order to increase leads from social media think about where you can include a call to action. Don't post images without including a link to something on your website and don't forget to add links to your posts and tweets,
-says a post for LeadForensics.
While these tips for sites like Facebook, Twitter, and Instagram can be helpful, obviously there's no better platform than LinkedIn when it comes to generating leads.
In fact, 79% of B2B marketers say that LinkedIn is an effective source for lead generation. Studies also show that 80% of B2B leads come from LinkedIn.
Needless to say, LinkedIn marketing is no longer optional if you're eager to get more leads in your pipeline. Here are some great ways to get started:
Send personalized connection request messages to prospective customers.

Join relevant groups and participate in discussions.

Use LinkedIn's advanced search to zone in on other prospects.

Republish your brand's content to LinkedIn Pulse.
The more you can leverage LinkedIn to forge and maintain beneficial relationships, the more streamlined your lead generation efforts will be.
Over to You
There's no other way to say it: B2B sales can be challenging.
When so many internal conversations need to be had to make a single sale, things can be slow at best.
But, this is also why effective lead generation tactics can be so helpful. The warmer your leads are by the time they even get in touch with a salesperson at your company, the more effective and efficient the entire process will be.
However, lead generation is also something that leaves B2B marketers scratching their heads.
Fortunately, there are plenty of strategies you can put into play in the coming year to step up your efforts.
Use the five tips we outlined above, and you're sure to have tons of qualified leads filling up your pipeline.