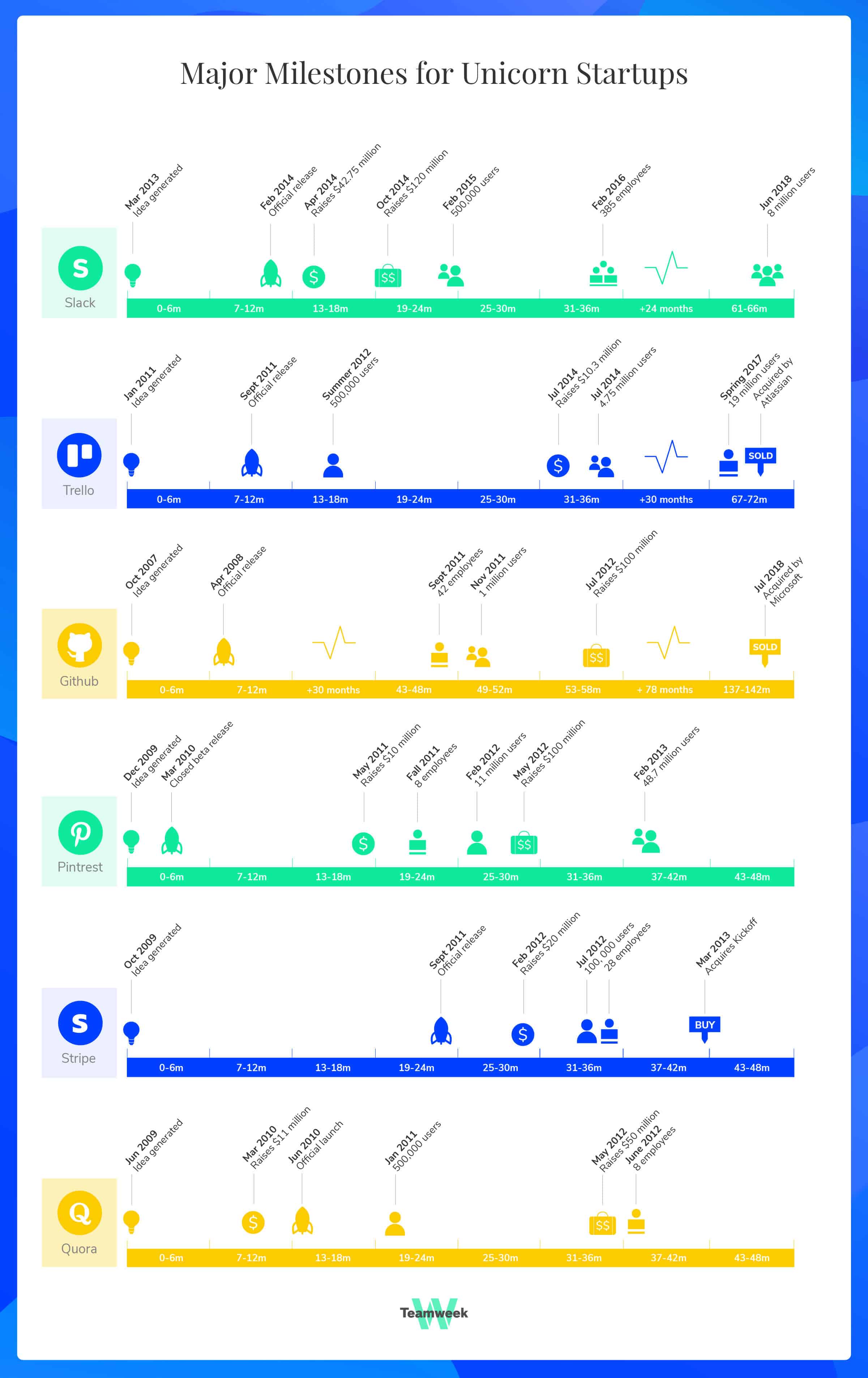 Share this image on your site
Have you ever wondered how a startup becomes a unicorn? We were wondering the same thing.
We looked at six tech unicorn startups in North America and saw a few common trends among the companies we researched. Here are the key takeaways:
Unicorn Startups Have Experienced Founders
No surprise here, it takes a lot of experience to build a billion dollar business. The majority of the founders we looked at had worked for startups before, had launched other businesses (both successful and failed), and had often done both.
For example, the founders of Quora had both worked at Facebook prior to starting Quora.
Stewart Butterfield, the founder of Slack had created two games (both failed), and launched and sold the photo site Flickr before creating Slack.
The founders of Pinterest first created a shopping app called Tote that failed before they went on to create Pinterest. In addition, one of the founders had worked at Google and another had worked for a venture capital firm.
These founders were successful because they leveraged their relevant experience and didn't let failure deter them from trying again.
[bctt tweet="From #startup to unicorn, see how companies like @SlackHQ, @trello and @Pinterest went from idea to major player." username="toggl plan"]
Unicorn Startups Are Born From Necessity
Most of the startups we looked at were created because their founders saw something missing from the market and wanted to create a solution.
For example, employees at Tiny Speck originally created Slack to make it easier to communicate between their American and Canadian offices. Similarly, employees at Live Current Media started working on Stripe as a side project because they saw a need for an easy-to-use payment system.
Trello also began as a side project at Fog Creek Software, where team members wanted to solve high-level planning issues.
Fun fact: our company Teamweek started the same way. The CEO of the time-tracking software Toggl couldn't find the perfect planning software to coordinate big projects, so he created Teamweek. The Toggl team used Teamweek internally before spinning it off into a new company.
Unicorn Startups Grow Fast
Really fast. Most of the startups we looked at went from idea to launch in a year or less, sometimes as quickly as three or four months.
After launch, the companies continued to grow quickly, acquiring users, funding, and employees at an exponential rate.
How do unicorn startups afford to grow so fast? They all raised funding from outside investors, ranging from $10 million to more than $100 million.
Key Takeaways
Ready to launch your own startup and reach unicorn status? You'll need a rock-solid idea, preferably something that solves a problem you or your company is currently facing. Make sure your idea is useful to a large audience and not just a tiny niche.
Move quickly from idea to launch so you can stay ahead of the competition. Raise capital from outside investors to keep up your growth trajectory. And if your company fails, start again.
Sources
www.wsj.com/articles/SB10001424052702303448404577409212961081738
www.statista.com/statistics/463353/pinterest-global-mau/
www.crunchbase.com/organization/pinterest/funding_rounds/funding_rounds_list#section-funding-rounds
www.reuters.com/article/net-us-funding-pinterest/start-up-pinterest-wins-new-funding-2-5-billion-valuation-idUSBRE91K01R20130221
www.businessinsider.com/inside-pinterest-an-overnight-success-four-years-in-the-making-2012-4?page=2&r=US&IR=T
www.techcrunch.com/2012/02/07/pinterest-monthly-uniques/
www.crunchbase.com/organization/quora#section-overview
www.quora.com/What-is-the-history-of-Quora-How-was-it-started
www.quora.com/How-many-staff-does-Quora-employ
www.fastcompany.com/3041905/slacks-founder-on-how-they-became-a-1-billion-company-in-two-years
techvibes.com/2014/02/12/tiny-speck-pushes-slack-out-of-beta-2014-02-12
techvibes.com/2015/09/25/a-brief-history-of-slack-2015-09-25
techcrunch.com/2014/04/25/stewart-butterfields-collaboration-app-slack-raises-42-75m/
www.crunchbase.com/organization/slack/funding_rounds/funding_rounds_listhttps://slack.com/about
uk.businessinsider.com/slack-ceo-worried-about-growing-culture-2016-2
slackhq.com/diversity-at-slack-d44aba51d4b6
slackhq.com/we-love-it-when-the-numbers-turn-over-70a61a69b2ffhttp://time.com/4090762/slack/
github.com/about/milestones
news.microsoft.com/2018/06/04/microsoft-to-acquire-github-for-7-5-billion/
en.wikipedia.org/wiki/GitHub
zachholman.com/posts/scaling-github-employees/
github.com/about/facts
www.inc.com/magazine/201303/will-bourne/2-reasons-to-keep-an-eye-on-github.html
trello.com/about
blog.trello.com/trello-atlassian
beta.techcrunch.com/2017/01/09/atlassian-acquires-trello/?_ga=2.118061961.1639150670.1529392063-2139255400.1529392063
techcrunch.com/2017/02/21/how-atlassian-bought-trello/?guccounter=1
blog.impraise.com/360-feedback/the-trello-story-how-atlassians-latest-acquisition-achieves-their-success-performance-review
techcrunch.com/2012/07/09/payments-startup-stripe-swipes-20m-from-general-catalyst-sequoia-thiel-and-more/
techcrunch.com/2013/03/11/payments-company-stripe-acquires-team-task-management-and-collaboration-app-kickoff/
en.wikipedia.org/wiki/Pinterest
www.getcontrol.co/blog/history-stripe/
Emily is the former marketing team lead at Toggl Plan.