The next topic in our series on New Toggl is about Tracking Time in Teams. We'll be issuing more articles on this, but let's start with some basics about inviting new members, deactivating users and managing access rights.
1. Inviting members
You can invite users by entering one or more email addresses, separated by commas, into the Invite field.

Then manage these invited members from the Invited tab.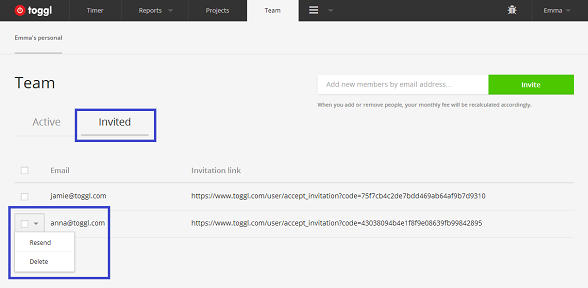 2. Deactivating users
We've added a new option to Deactivate members.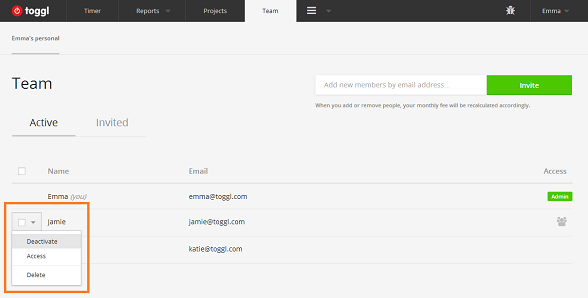 You can temporarily deactivate a user without having to completely remove them from your workspace. This way they cannot log into this workspace anymore, but they can still be selected in the report filters. Members marked as "Inactive" are not billed for, either.
Activating a deactivated member can be done from under the Inactive tab. This reinstates the member without sending additional invites. You can re-activate a team member at any time.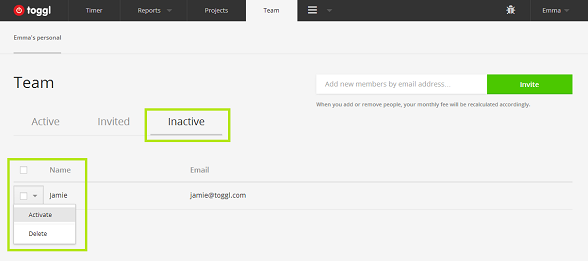 3. Managing access rights
Marking team members as Admin has stayed from the previous version of Toggl, but we've also added a new functionality called User groups. User groups can be used to simplify the management of larger teams – just assign a group to a user, assign the same group to a project, and access is allowed. When a new user joins, you just need to add them to the group, and they'll automatically be in the project as well.
User groups can be created from the Workspace Settings / User groups section.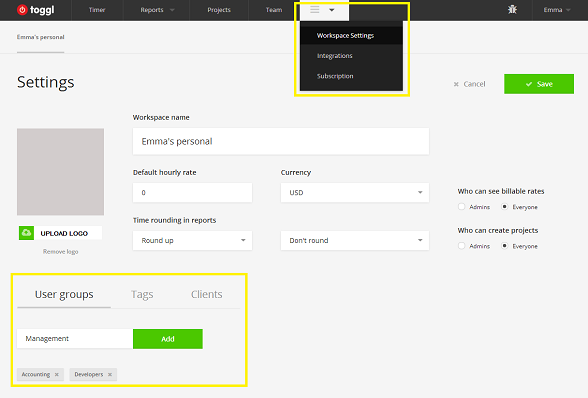 Here you can add new User groups or delete existing ones.
To add members to User groups, go back to the Team page and open the Access menu that shows on the far right when you hover over the user's name. Now mark applicable groups and then Apply the settings.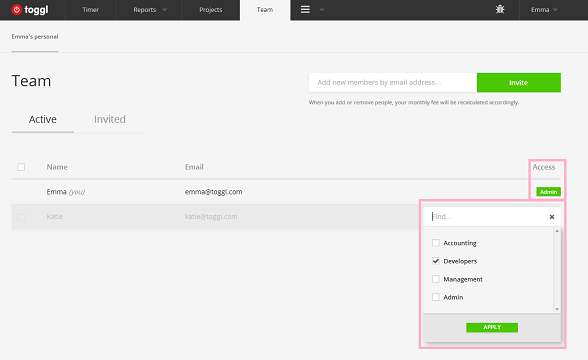 The other part of access control – managing groups on projects – will be discussed in later installments. The User filter in reports will also get a groups selection in the future.
Hope this was helpful and if you have any feedback or suggestions, then it´s all welcome to support@toggl.com
Best wishes from your Support Team!