UPDATE: You've found an ancient post! Widgets are not a thing anymore, but check out Toggl apps for Android and iOS.
We just released a new version of our Android application. The biggest change is that now it includes a widget that gives you fast access to your time entries. It looks like this: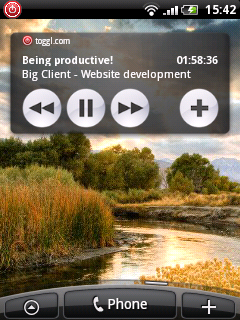 The app has been uploaded to Market and if you installed it from there, you should get an update notification soon. You can also download the new version from our extras/widgets page. I'll also remind you hackers out there that our mobile apps are open-source.