One of the most vital and necessary practices within any business is the ability to manage their product effectively and efficiently. Deadlines need to be met, time frames utilized, and, of course, product needs to sell.
Like any well-oiled machine, management must work in a system in order to not only survive, but thrive. It's not just about getting information jotted down, it's about sharing content and critiquing where needed.
Fortunately for any company, start-up or established, product management software has made once time consuming and often complicated tasks as simple as the click of a mouse.
Without any further ado, here are a few examples of product management tools to make the product cycle a little less cluttered and your life a little easier.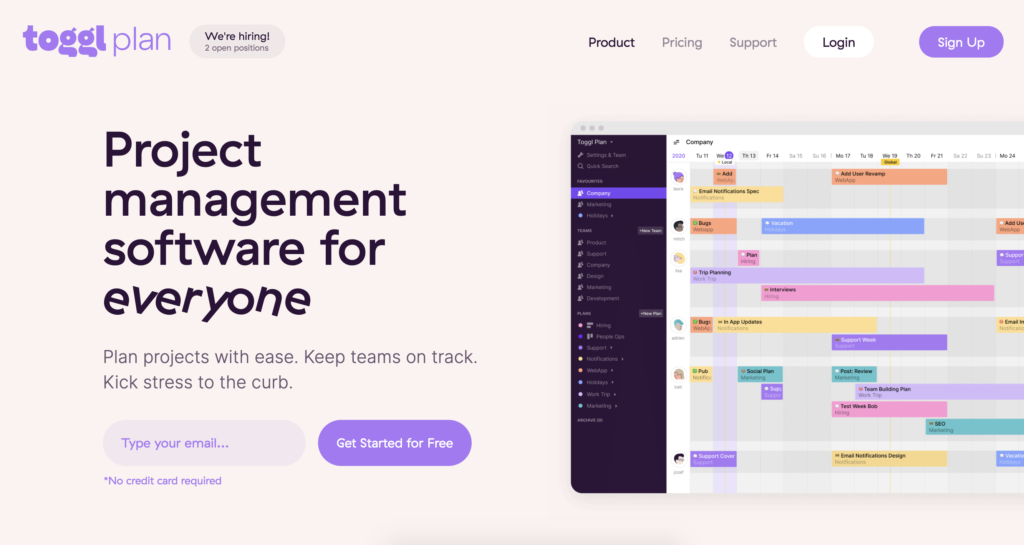 Who should use Toggl Plan? People looking to have a birds-eye view of what their team is working on.
Toggl Plan is a Gantt-style application that helps team managers plan their resources in a visual way, and have a clear understanding on what's going around in the team.
With thousands of new visitors and signups per week, it's easy to see how fast Toggl Plan is growing. You might think to yourself, "All that is fine and dandy, but what about functionality?" Toggl Plan has you covered. The list of premium features is quite impressive:
Timeline view

Organize task folders

Color coding like you wouldn't believe

Slack, Basecamp and Trello integration

Project filters

Public link shareable

Overbooking calculation

Google Chrome extension

Unassigned task backlog

Calendar exports

Multilevel user accessibility

PDF timeline download
The only con to Toggl Plan is that it lacks a few advanced functions, which can be challenging for bigger projects. That being said, new features are being released continuously. Fortunately for teams of up to five, it's free to use!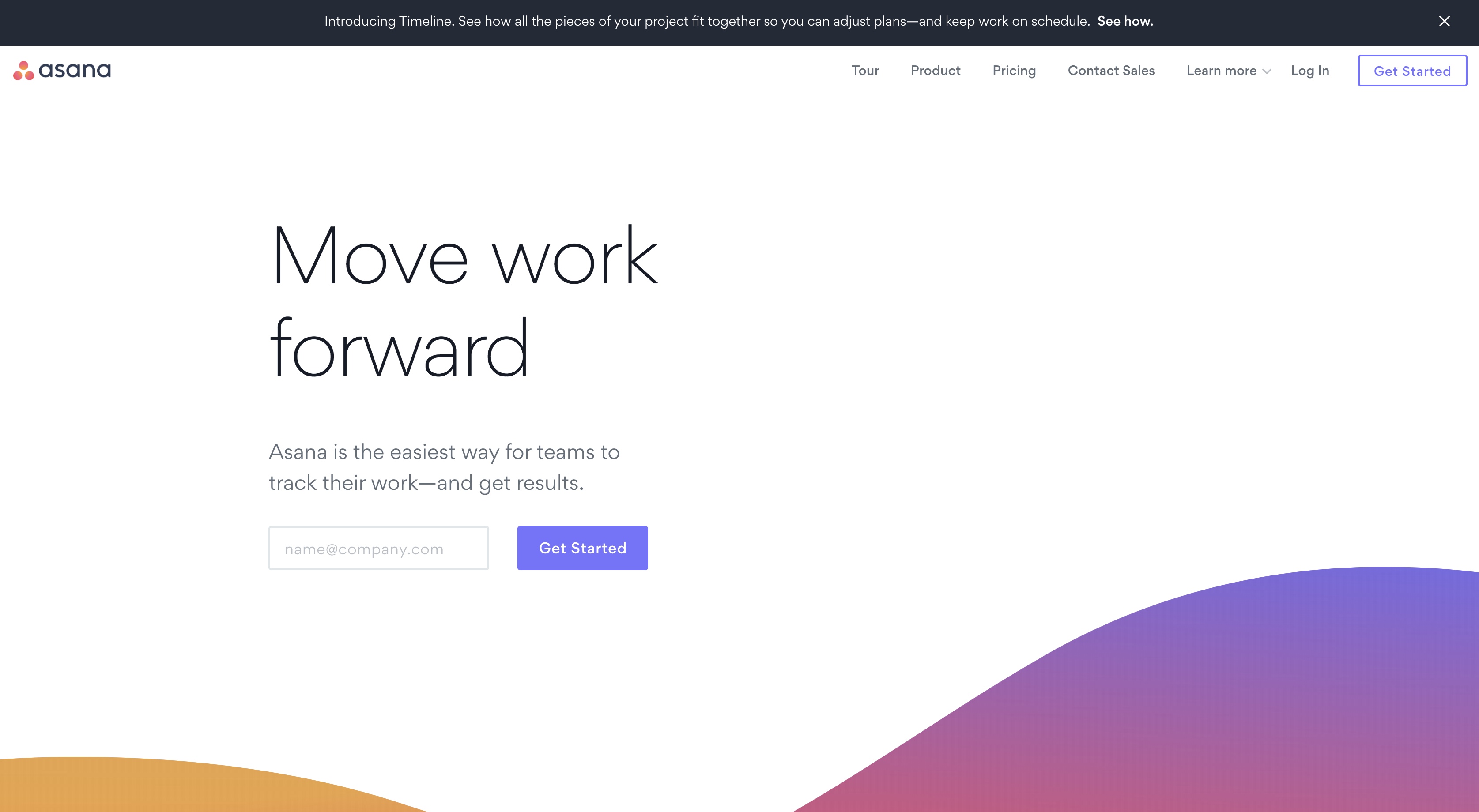 Who should use Asana? If you want ultimate flexibility and customization, and you are willing to navigate the complexity, then Asana is perfect for you.
As one of the more popular project management softwares out there, Asana focuses on bringing tools and features to its clients in an all-in-one package.
It's fast, and flexible. Projects can be regular to-do lists, or Kanban boards, which means it's a great option for almost any product team. For teams of up to 15 people, the application is free to use, making it a great option for start-ups or people on a budget.
That being said, Asana is missing quite a few useful, advanced tools for it's free users like time tracking and Gantt charts which are useful when developing new products. Other than that, the only real downer is that it only offers very basic dashboards, making it a little more difficult to view team progression and projects.
Basically, Asana is great from teams of up to 15 people, but if you want to unlock the other half of the features, it's $9.99 USD per person.
Pros
Free up to 15 team members
Simple and easy design
Cons
Free version lacks many features
$9.99 USD per user (Cha-Ching)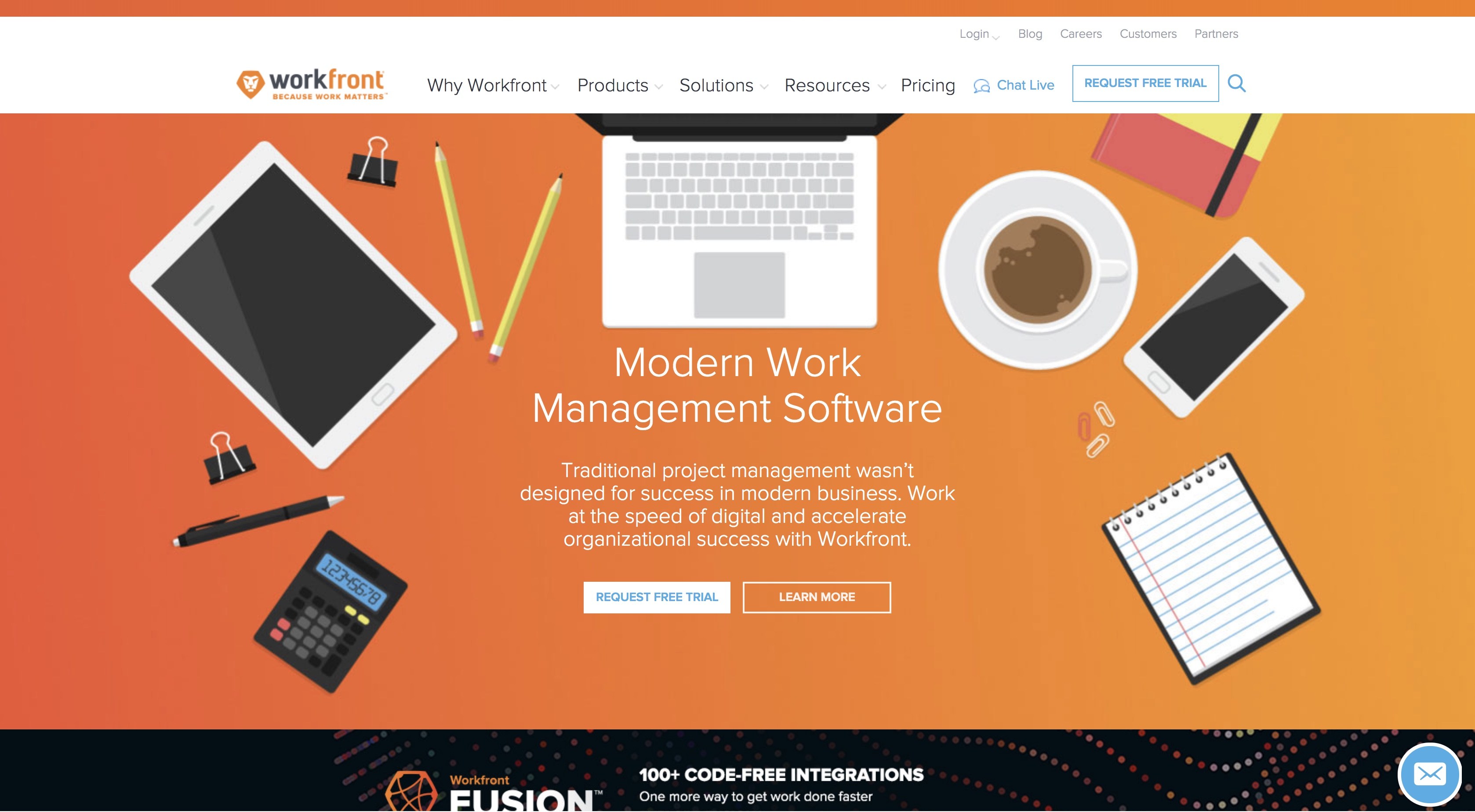 Who should use Workfront? Enterprise and large companies looking to manage large scale product cycles.
As a very high-end product management tool, Workfront focuses mostly on large businesses instead of small businesses. Rich with advanced features and open API, Workfront makes it easy to manage large scale projects, track progress, resource balance, and budget.
Workfront's claim to fame is clearly their ability to manage enterprise sized business, but what does that mean for everyone else?
Well, for starters, being on a large scale means a large set up. Because applications are so customizable, set up time can often stretch to weeks for some users. On top of this, the software does not include in-app chat or timers. Equally as disappointing, Workfront does not display a generic price for their product. This is for many reasons, but the main one being that price varies depending on the users.
Pros
Extremely customizable
Perfect for large, established businesses
Cons
Long setup time
Very difficult to use for small businesses
No Installation icon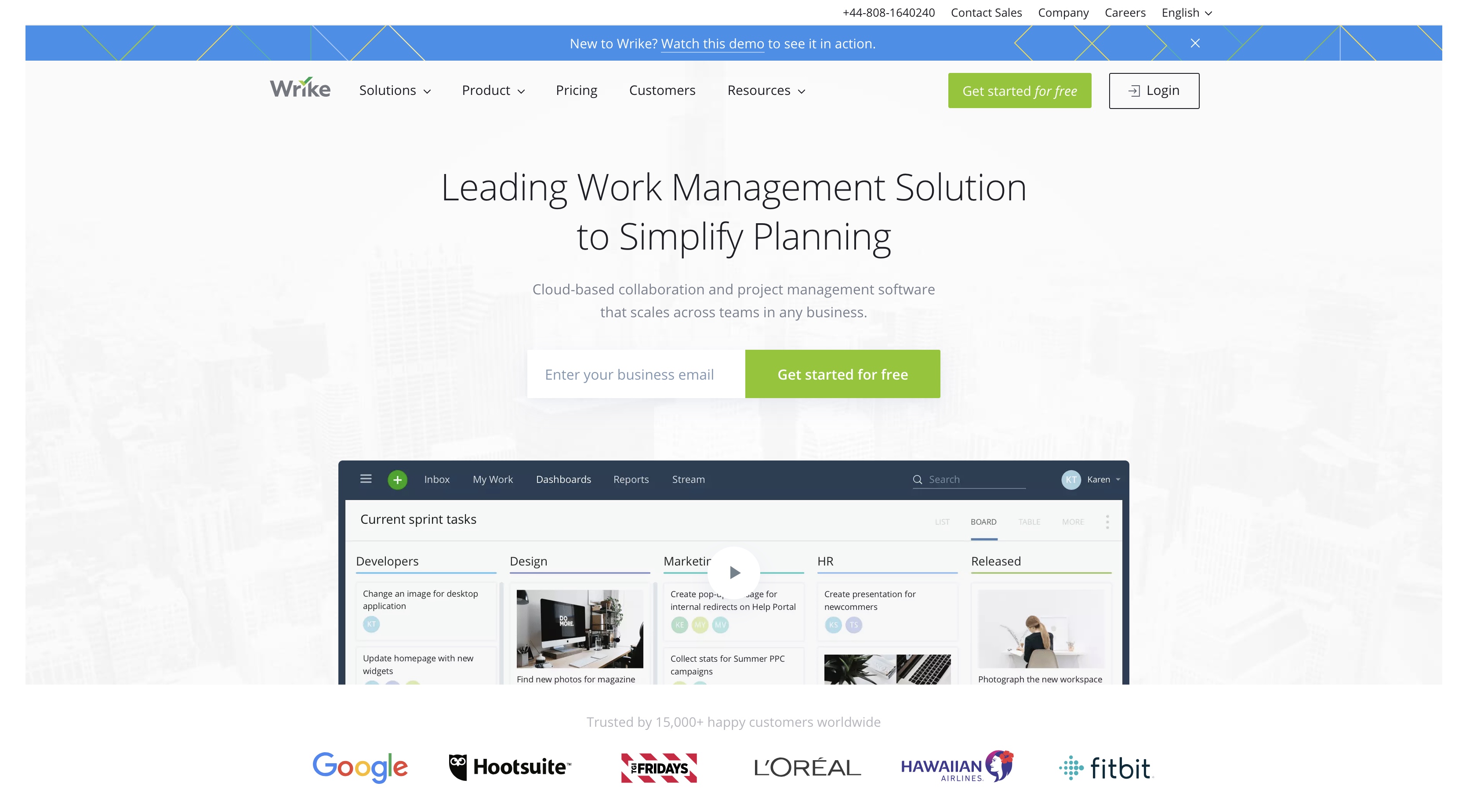 Who should use Wrike? Anyone willing to sacrifice cost for flexibility.
Wrike focuses mostly on its project management software by offering a flexible and friendly interface. One of the greatest features for Wrike is the fact that you can integrate many, many applications. Even though they have a lot of features, Wrike is often quick and easy to setup, which makes it a go-to for a lot of companies.
Price is the main downfall for Wrike. While they do offer a free version for up to five team members, those seeking premium access will have to pay $150 USD for up to 15 users. Ouch. So while Wrike is a great option for those with deep pockets, there are many other comparable and more price friendly apps out there.
Pros
Fast and easy setup
Time tracking
Highly customizable dashboards
Cons
Missing a few features
Very Expensive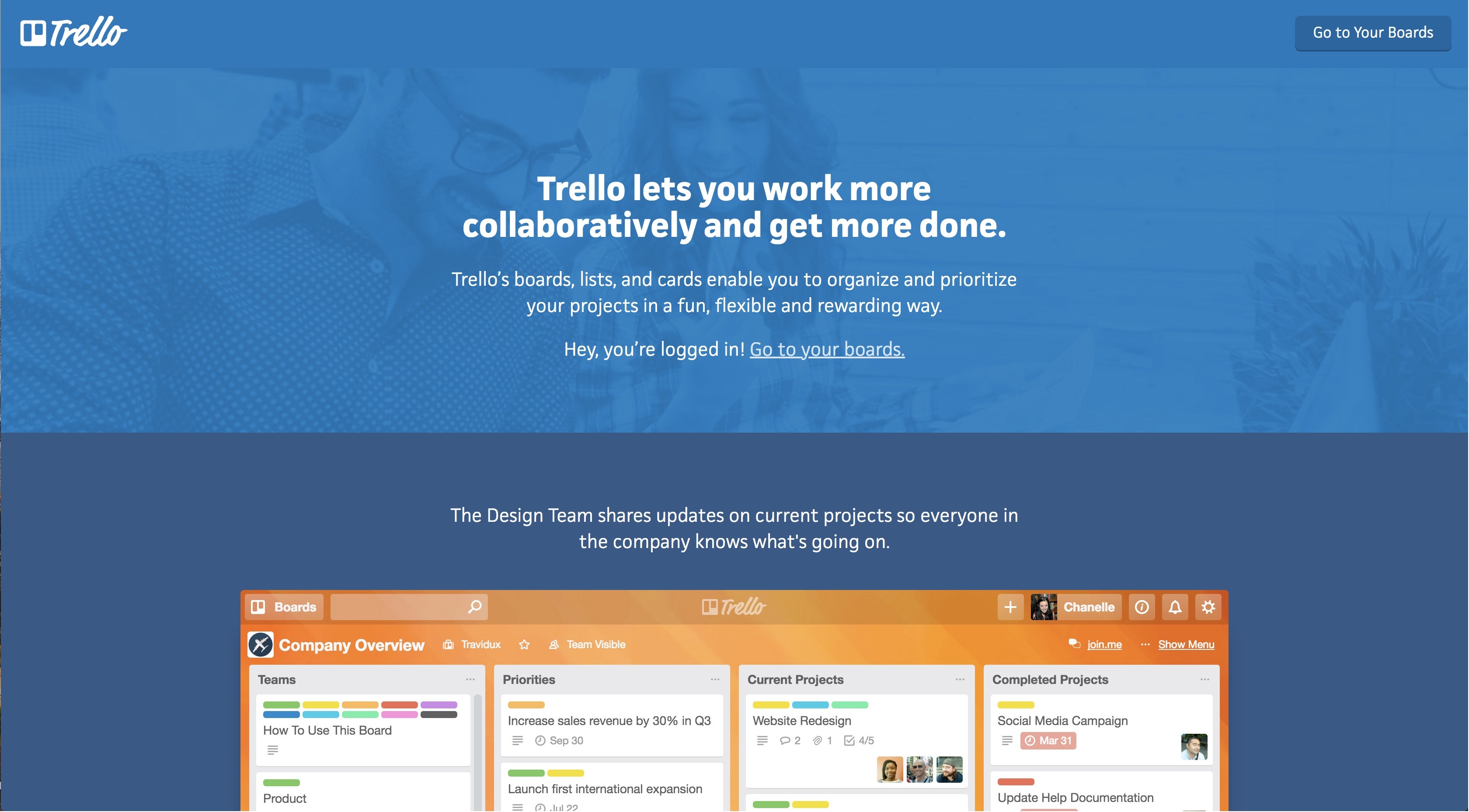 Who should use Trello? Small product teams looking for simplicity, affordability and visual Kanban boards.
Trello is basically like social media for product management. Product management media, if you will. It allows tasks to be assigned, deadlines to be tagged, and teams to communicate together. Trello uses a wide array of boards, lists, and cards to help its users organize and complete projects.
Pros
Fast and easy setup
Robust features, even in the free plan
Integrates with many other popular programs
Cons
Can get overwhelming for large teams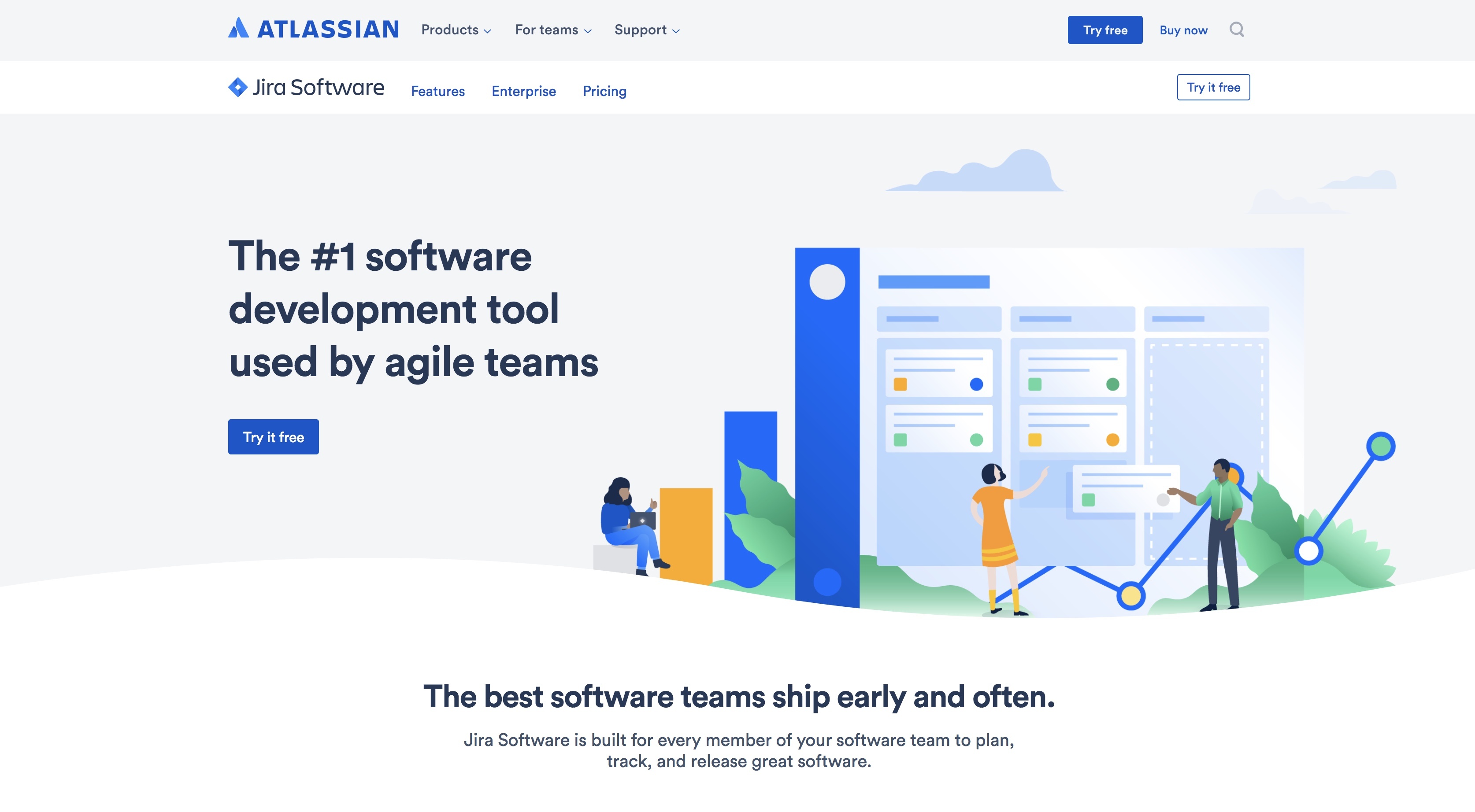 Who should use Jira? Enterprise teams managing software projects and looking for full flexibility and powerful features, or small teams below 10 people.
Jira, Atlassian's star product, is the go-to option for mid and Enterprise business looking to manage product and software projects with ease.
It's mostly focused on Agile development – it has Scrum boards, Kanban boards (a la Trello), Agile reporting and Agile roadmap planning.
One great thing about Jira is their flat fee for small teams – $10/month. And if you are not happy, they offer a 30-day money-back guarantee. I guess it's not all about the big Enterprise after all.
Pros
Affordable
30-day money back guarantee
Cons
Works best for teams already using Agile
Who should use ProductBoard? Product teams, large and small, looking to build products based on what users want.
Productboard is the product management solution that helps you understand what users need, prioritize what to build, and rally everyone around your roadmap.
The tool is perfectly designed to help you understand what users need by consolidating research and feedback in one place, prioritize what to build, share you progress with internal and external stakeholders, and carefully monitor the launch.
Unlike ProductPlan, they are focused on the startup and software world, and they can count Invision as one of their customers.
Pros
Integrates with many popular tools
Has many features product designers want/need
Cons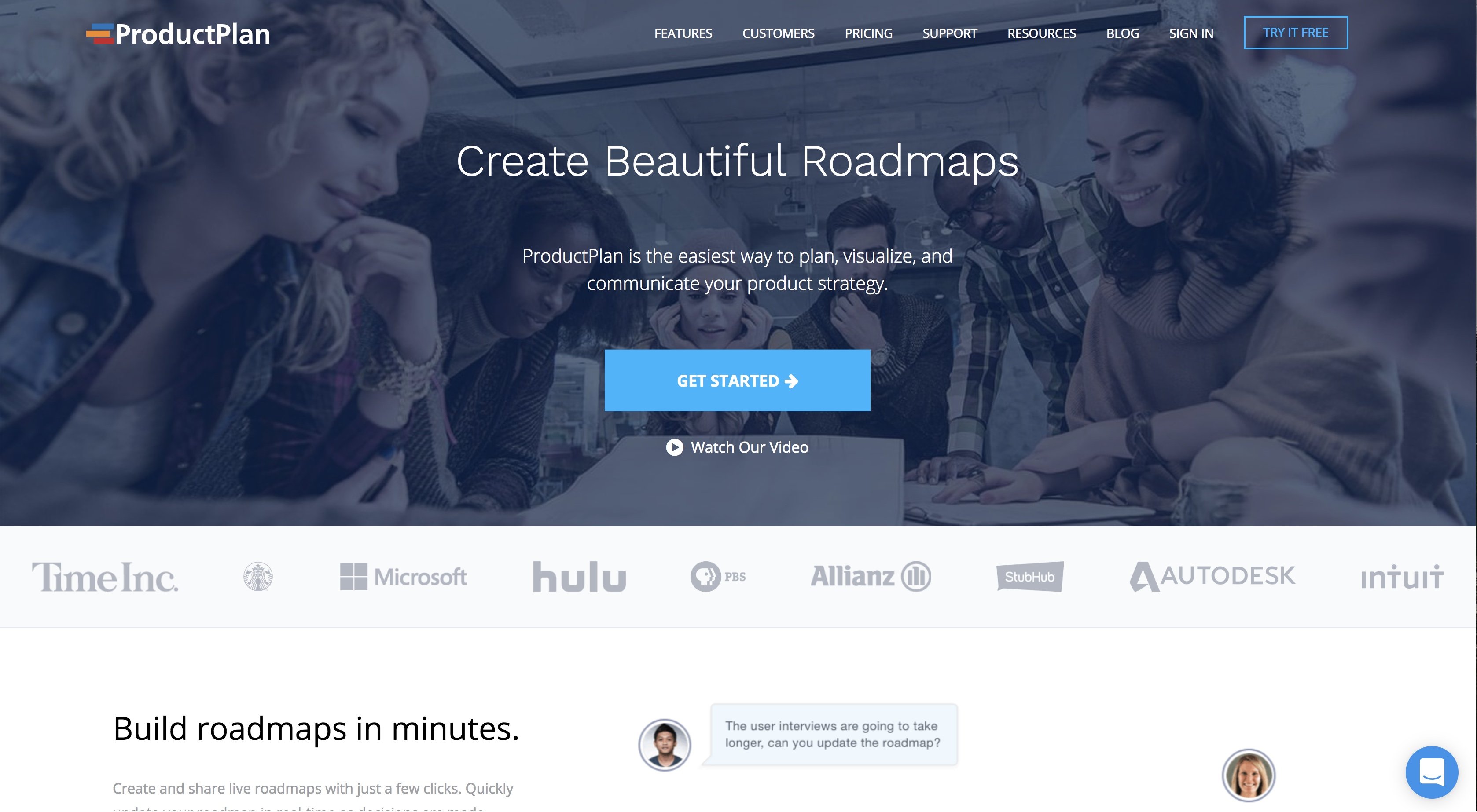 Who should use ProductPlan? If you are looking to create beautiful visual roadmaps in minutes that meant to be shared internally and externally, give ProductPlan a try.
Product Plan is, probably, the best way to present a compelling story with beautiful, visual roadmaps and then share them with clients and across your organization. They have some impressive features, like prioritization via feature scoring, and they integrate with other product management Tools like Trello and Jira.
They have an impressive roster of customers, including Alaska Airlines, Starbucks, Hulu and Time Inc. The only drawback is that they only have one non-Enterprise plan at $34/month.
Pros
Free 30-day trial
Easy-to-use interface
Cons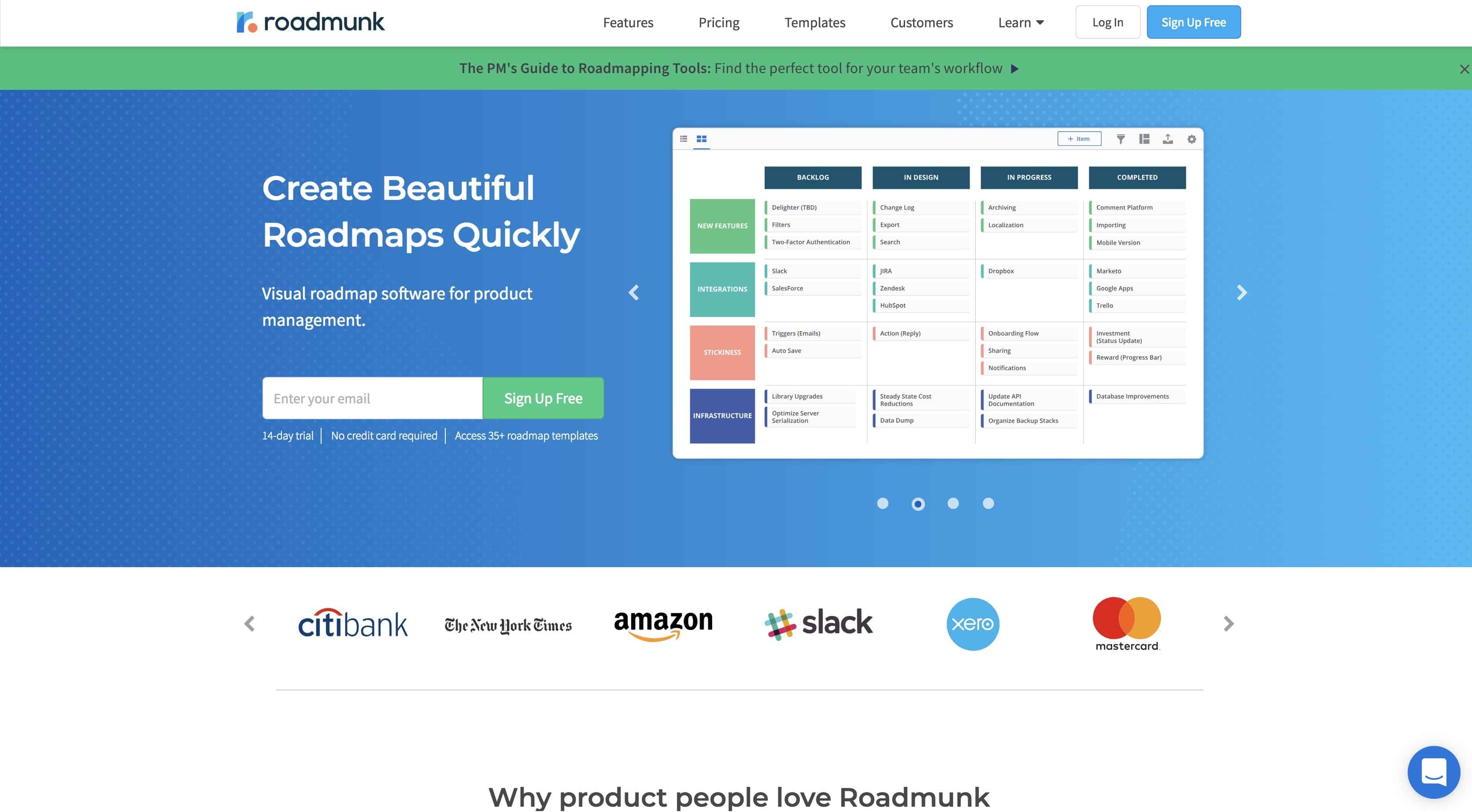 Who should use Roadmunk? Small product management teams for a visual way to represent their roadmaps, with deep pockets.
Roadmunk is a visual roadmap software that allows product management teams. It's a simple, yet powerful piece of software. It has almost any feature a Product Manager can dream of – including collaboration, exporting, JIRA integration and more.
That said, the impressive combination of features and simplicity comes with an explosive price: their recommended tier is $49 per user per month. Auch.
Pros
Syncs with Jira
Has a template library so you don't have to start from scratch
Cons
Cheapest plan has very limited features
Let's Wrap It Up
There are many, many, I repeat, MANY different tools out there for product management. Keep in mind when searching for specific tools that some are compatible with certain systems, and some aren't. It's clear to see how product management systems, software, and tools can greatly affect the success of any business.
The world has advanced in such a way that we no longer need to rely so much on emails and boardroom meetings. We've moved from face-to-face interactions to face-to-screen interactions from all corners of the globe. Now that we've got that settled, let's not worry about those cramped schedules and iffy deadlines.
Let's get to work!