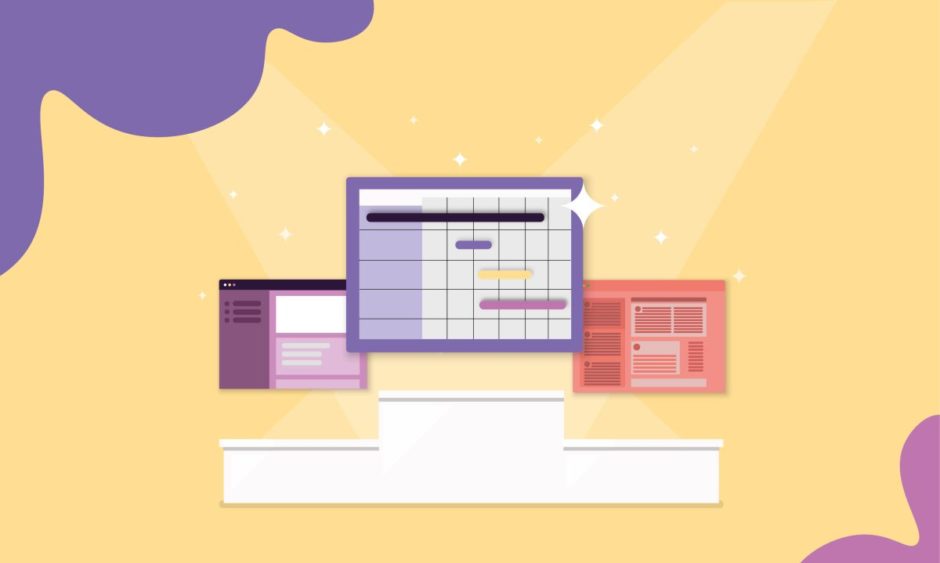 In this article, you'll learn about the must-have tools in a product management software stack.
In fact, we use most of these tools at Toggl Plan. These tools help us keep our product development on track — from road-mapping to tracking progress.
As a product manager who wants to stay on top of your product development, you'll love these tools.
In addition, you'll also learn:
What Are Product Management Software Tools?
And the factors For Selecting Product Management Software
Let's start.
What Is Product Management Software?
Product management software helps plan and execute product development. It helps product teams manage product development activities, including:
Capturing & prioritizing ideas
Customer research
Creating a product roadmap
Planning product development sprints
Task management
Team communication & collaboration
Managing product releases
User tracking & Analysis
As most tools today are cloud-based, they work equally well for in-house and remote product teams.
Must-Have Product Management Tools
Now that you know what product management software is, let's look at some of the top tools in this category.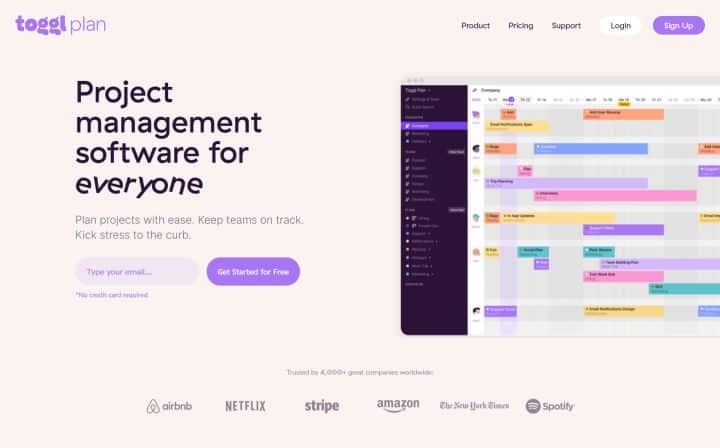 Toggl Plan is a beautifully simple project planning and task management app. It comes with the following features:
Plan timeline: Plan a high-level product roadmap or a detailed schedule for your product development cycle. Mark product release dates as milestones on the timeline.
Team timeline: Manage your team's availability and workload to avoid burnout.
Boards: Capture, organize, and prioritize product ideas. Or manage product development sprints.
Tasks: Create custom workflows, have multiple team members work on a task, and create recurring tasks.
File attachments: Share designs and mockups as task file attachments. Collaborate with team members using comments and notes.
Price: Toggl plan has both free and paid plans. The free plan comes with unlimited timelines, boards, and tasks. Paid plans start at $9 per user per month and come with recurring tasks and access control.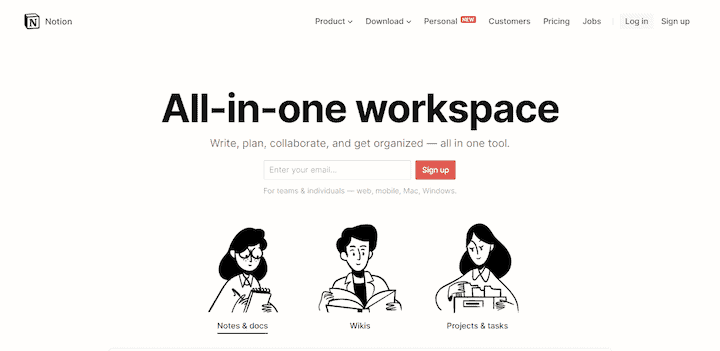 Notion is an all-in-one tool to write, plan, and organize work. It has all the features you need to collaborate on ideas, including:
Team wiki: Document and share your team's vision, best practices, and standard operating procedures.
Boards: Manage product sprints using Kanban-like boards. Manage task cards, assign tasks to team members, and track task progress.
Notes & docs: Capture ideas, share files, and document your processes.
Price: Notion comes with a free personal plan. Paid plans start at $10 per user per month for teams.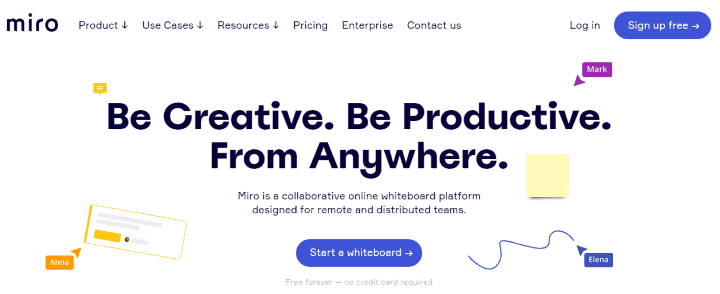 Miro is a visual collaboration tool for product teams. Think of it as an online whiteboard where teams scribble, capture, and organize ideas. Features include:
Whiteboard canvas: Draw, write, or design collaboratively with your team. Track collaborator's cursors to see how they interact with your whiteboard.
Screensharing: Present ideas, invite feedback, and work together remotely on presentations.
Embedded video chat: Collaborate face-to-face on your whiteboard, even when your team is working from home.
Price: Miro's free plan comes with unlimited users and up to 3 boards. Paid plans start at $10 per user per month and come with unlimited private boards and integrations.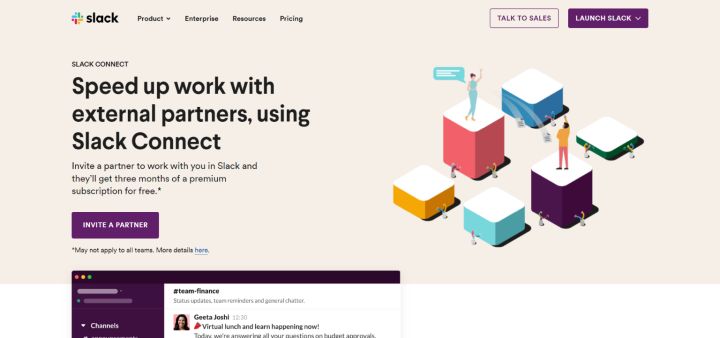 Slack is a much loved remote team communication and collaboration tool. Best of all, it integrates with almost all work management tools. Slack's features include:
Messaging: Organize channels by groups, projects, clients, or whatever makes sense for your team. Or, connect one-on-one with other team members.
Voice & video calls: Face-to-face communication with group voice and video calls.
File sharing: Include file attachments or integrate apps like Dropbox or Google Drive to share design files and documents with your team.
Price: Slack's free plan works for up to 10,000 messages and 1:1 voice and video calls. To get access to the entire messaging history, you need to upgrade to the paid plan. Paid plans start at $6.67 per user per month.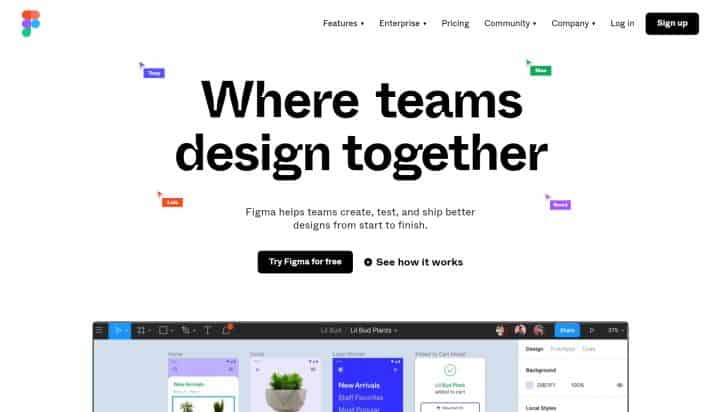 Figma is a design collaboration tool. It helps product teams collaboratively create, test, and ship designs. For product teams, Figma offers prototyping features, including:
Real design experience: Unlike other mockup tools, Figma prototypes provide a real-life design experience. You can export designs and code directly from prototypes that can then be used in your product.
Interactions: Define real product behavior interactions, including hover, click, button press, and more. Observe how people interact with your design to improve the UX.
Mobile optimized: Design mobile apps or responsive web apps with Figma's mobile optimization tools. Switch between various screen sizes to test your prototypes and designs.
Sharable prototypes: Share links to prototypes with teammates and product owners. Get feedback comments to improve your designs.
Price: Figma's free plan is suitable for up to 2 editors and 3 projects. For unlimited projects and version history, upgrade to paid plans. Paid plans start at $15 per user per month.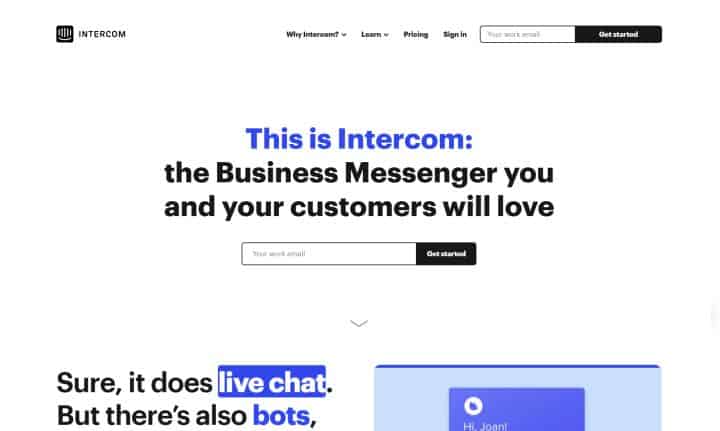 Intercom is a conversational tool that adds a chat capability to your website. Its business messenger helps you engage with product users and understand them better. Intercom comes with the following features:
Business messenger: Get user feedback by creating in-product conversations.
Product tours: Onboard users using product tours.
Segmented conversations: Create custom conversation campaigns based on user behavior data.
Announcements: Draw attention to new features and product releases with product-wide announcements.
Price: Intercom does not have a free plan. Paid plans start at $39 per month for small businesses and $499 per month for others.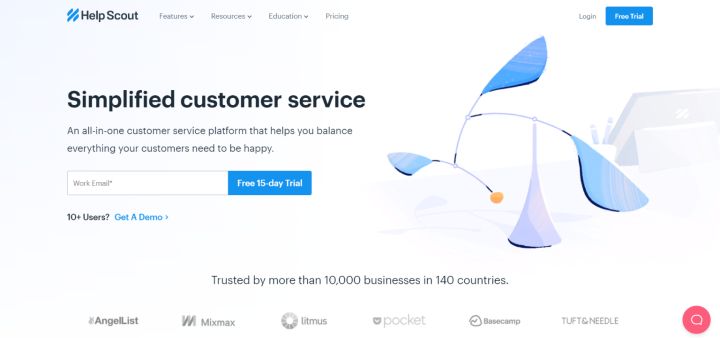 HelpScout is an all-in-one customer service platform. It comes with features for managing user support requests that help you research users engaged with your product. Features include:
Shared inbox: Collaboratively manage all your user support requests from one shared inbox. Add private notes and tags for new product ideas or improvements.
In-app messages: Engage users and ask for feedback with trigger-based messages. Announce new features or start a conversation to understand your users better.
Reports: Look at the trending features, topics, and questions among your users. Track customer satisfaction to improve your product.
Price: Helpscout has a 15-day free trial. Paid plans start at $25 per user per month.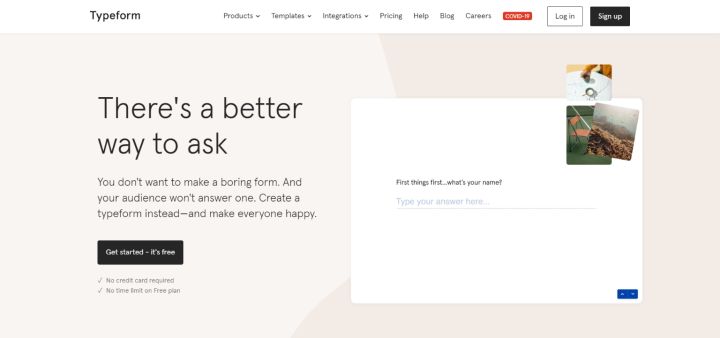 Typeform is a popular customer survey tool among product teams. Unlike other survey forms, Typeform follows a conversational approach to survey forms. This improves your response rates. Features include:
Conversational forms: Create versatile customer surveys with Typeform's unique conversational style of questions.
Conditional logic: Set up conditional logic jumps between questions based on user response.
Integrations: Save responses or trigger other workflows from popular tools like Slack, Google Sheets, Mailchimp, and more.
Price: Typeform's free plan is limited to 10 questions and 100 responses. Paid plans start at $35 per user per month.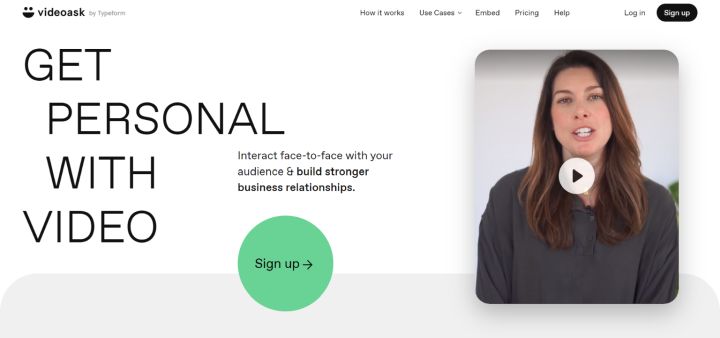 VideoAsk is a 1:1 customer research tool that uses asynchronous video to engage with your users. Using the tool is easy. Record a video and get user response via video, audio, or text. VideoAsk comes with the following features:
Video inbox: Manage video interactions in an inbox. As users respond to your videos, collect answers, email addresses, or feedback.
Conditional logic: Make meaningful, targeted conversations with your users based on how they interact with your video.
Schedule meetings: Allow users to schedule meetings with you via Calendly and HubSpot Meetings.
Transcriptions: Get transcribed conversations in your inbox and find them easily later.
Price: The free plan comes with up to 20 minutes of video and audio processing. If you need more, subscribe to VideoAsk's paid plans start at $30 per user per month.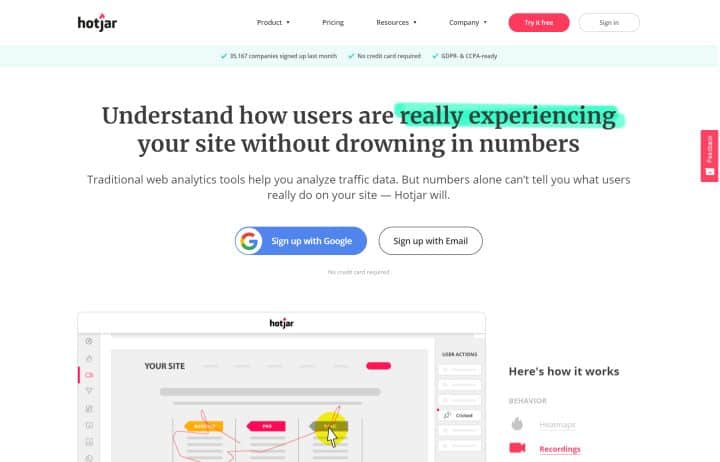 Hotjar helps you understand user behavior with session recordings, heatmaps, and surveys. It comes with the following features:
Session recordings: See video recordings of how users interact with your product. Track mouse movements and hover areas in your tool.
Heatmaps: Evaluate click maps, hover maps, and scroll maps to learn how users use your product.
Surveys: Create contextual surveys within your product to ask customer research questions and get feedback.
Price: Hotjar's free plan comes with up to 2000 page views, 3 surveys, and 100 session recordings. Paid plans product traffic and start at $39 per month.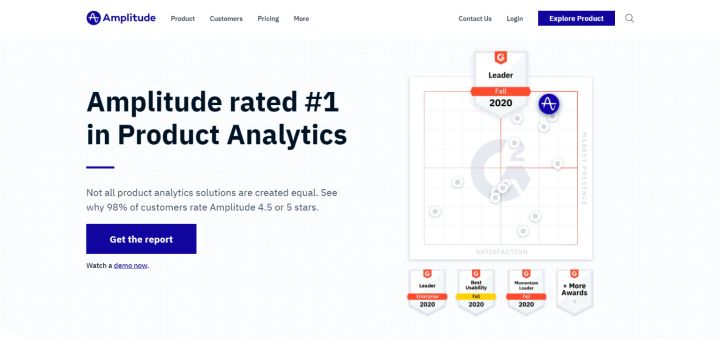 The final tool on this list, Amplitude, is a product analytics solution. It helps you understand your users, increase retention, and improves product experience. Features include:
Behavioral analytics: Understand your users, uncover their customer journey, and build data-driven personas.
Monitor product usage: See which users use what features. Segment users into groups, compare their engagement, and analyze usage trends.
Product testing: Understand how users engage first-time with your product and how it impacts the use of other features. Measure and test hypotheses with A/B tests.
Track user journeys: Evaluate funnels for conversions, identify common workflows, and find unusual product usage patterns.
Price: Amplitude's free plan is suitable for tracking basic analytics and up to 10 million actions per month. For behavioral analytics and unlimited tracking, upgrade to their Growth or Enterprise plans.
How To Select Product Management Software Tools?
Over the last few years, product management tools and techniques have become mainstream. With so many options and use cases, how do you choose the best tools for your needs?
It all comes down to your needs, your bandwidth, and your budget.
Every tool a product manager adds to the product management stack adds to the budget and reduces team bandwidth.
That said, here's a list of factors to consider when choosing a product tool.
Usability: How soon can your team start using the tool? Is the learning curve steep? Is the UI clean and intuitive?
Features: There's no single tool that can fulfill all product management needs. From ideation to delivery, what tools satisfy your needs?
Integrations: How does the tool integrate with other tools in your product management stack?
Value for money: Does the tool fulfill your needs at a price that you can afford?
Conclusion
A well-rounded product management software stack improves your product development process.
Tools are available for each stage of product development — from brainstorming ideas to delivering product releases. The tools in this article are some of the best product management apps available out there.
Try them out to start building your product management software stack.