The beginning of 2020 has been busy for us– we've gone through a comprehensive rebrand, taking on the new name and identity of Toggl Plan. We're nowhere near to calling this a closed project, but we passed an important milestone when we made our new brand public in the beginning of February.
The thing is, the changes to the name, appearance, and the way we talk are the main things the outer world will notice. And often, when thinking of a rebrand, these are the focus points. We experienced this as well when we first started planning for the project– the majority of the articles and case studies focus on how to change your name and logo.
We wondered: what other parts of our company would be impacted by our decision to rebrand? What do we actually need to work on? Is there something we're forgetting? Where do we start?
We couldn't find this information online so we're sharing our experience in the hopes that it might help someone else planning a rebrand.
Rebranding your company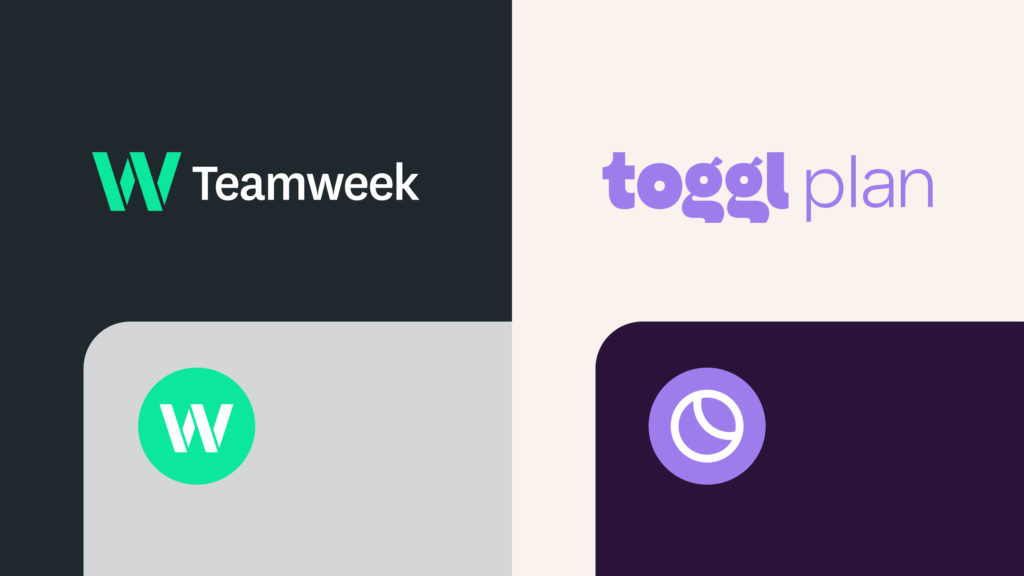 Every rebrand is different and the scope of the project will greatly depend on how many changes you plan to go through. Some of the questions to consider are:
Are you changing your logo? What about your brand colors and overall visual identity?
Are you changing your name? Does this result in moving your website to a new domain?
Are there other stakeholders involved?
Does the rebrand have an impact on your product?
Answer these questions and you'll get a pretty clear idea of the magnitude of your project.
Rebranding Teamweek to Toggl Plan
Here's the background on our company and the magnitude of our rebrand:
We're a SaaS tool
Our rebranding is 1/3rd of a massive rebrand project that includes also our sister companies: Toggl Track, the time tracking tool and Toggl Hire, the candidate screening tool. This means there's a lot of coordination with many people involved.
With the rebrand, we changed our logo, visual identity, name, messaging and tone of voice. The change itself was not huge – we didn't make a 180 in who we are. But we found clarity in how to communicate it cohesively.
We also changed domains and moved to a shared domain with our sister companies.
We did not change our product more than the cosmetic improvements required by the above-mentioned updates.
We hired an agency to help us create our brand direction, identity and tonality.
The to do list below is based on our experience. If your rebrand does not include all the changes we went through, you'll likely be able to ignore some of the items on the todo list.
The whole project, from the first mention to now, took us roughly a year. But the active work took place between August 2019 and February 10th, 2020, our launch date.
Create a rebrand to do list
If you change your visual identity, company name, and as a result, the domain, it is fair to say every person in your company will be involved in the rebrand.
If you're like us, you might find it hard to imagine everything you'll have to do within the scope of this project. Below is a preview of all the nitty-gritty work that needed our attention during our rebrand project.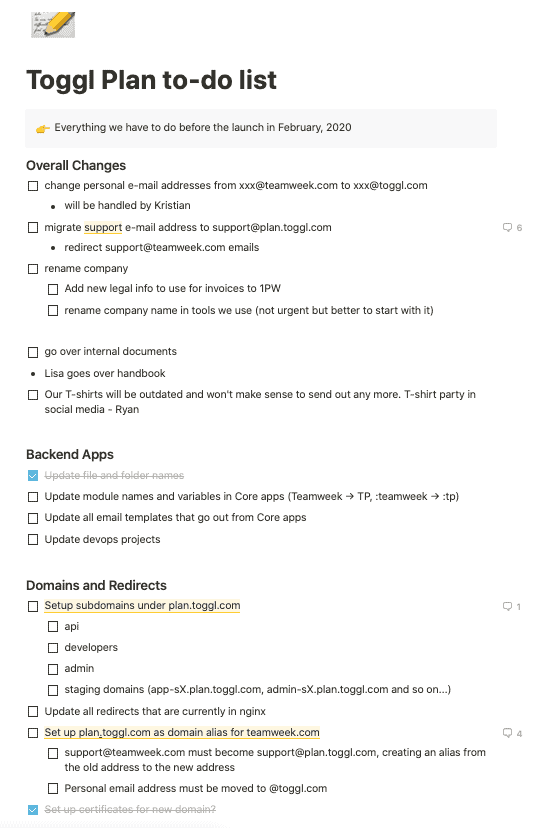 Planning your rebrand
People are different– some prefer to have a plan they can follow while others prefer to act as they go. It's likely there are people from both sides in your company. It's also likely that even if you plan everything, you'll have to make multiple changes to your timeline and task list.
However, mapping out everything you need to do in the beginning gets everyone thinking about the rebrand and how their work will be impacted.
We suggest you put together a rough to-do list for your rebrand, and then add all the tasks to a timeline to see how it'll all look. Sharing the timeline with the whole team also helps everyone keep track and plan their activities accordingly.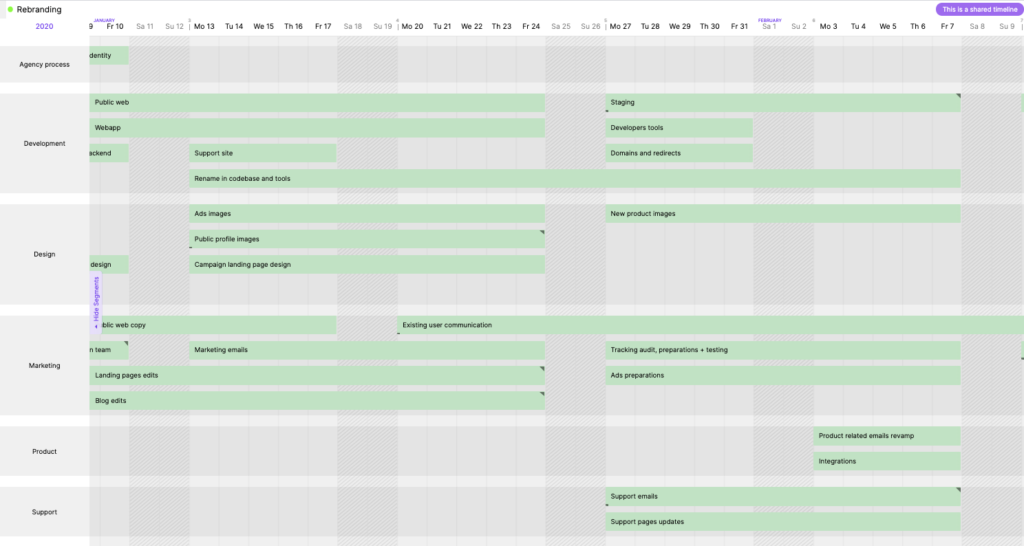 Rebranding your product
While you might think your product is good to go since you won't be changing it, you're wrong. There are two important aspects to consider regarding the product and your rebrand– the product appearance and the technical questions around its domain, code and various extensions and integrations you might have.
Appearance wise, your product needs a facelift so that it matches your new brand. This might include switching out logos and product name mentions, as well as changing colors and illustrations in use.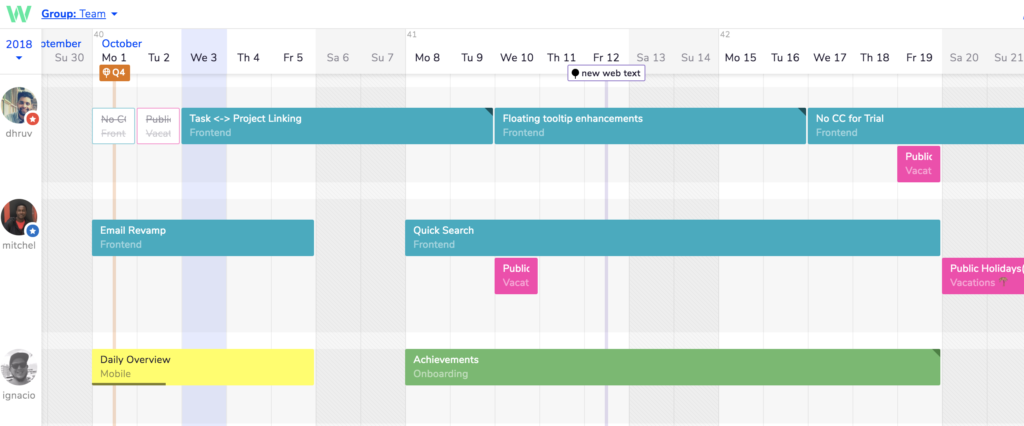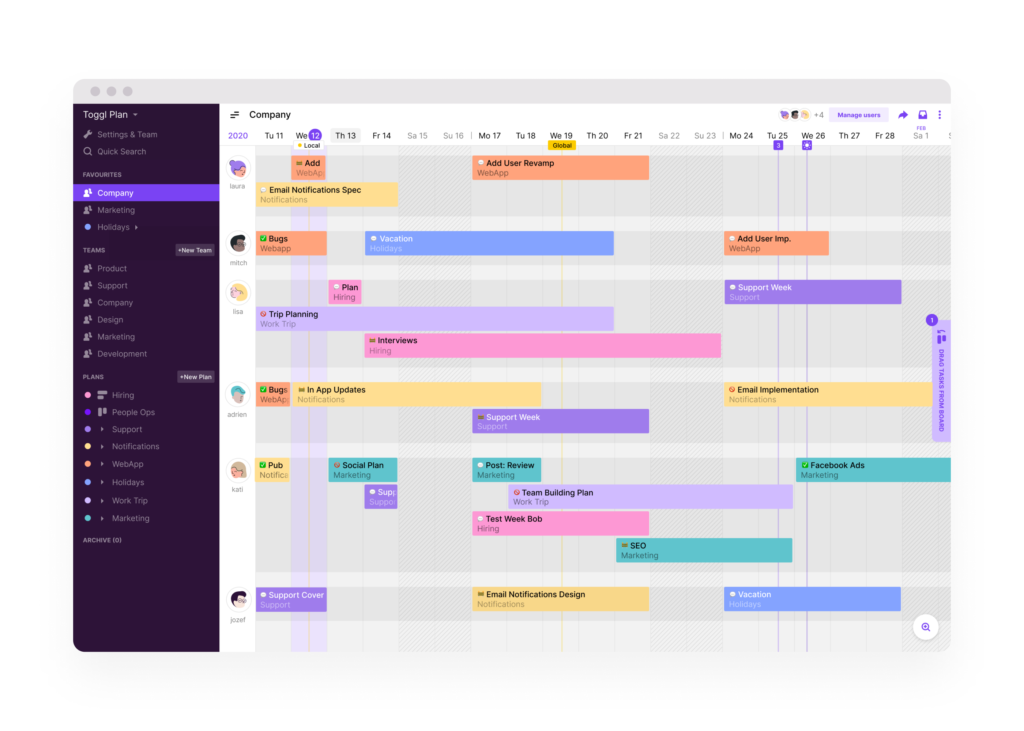 If you're using any product images or videos in onboarding, make sure to go over these as well. Video materials are especially tricky and might need to be redone from scratch.
While the cosmetic changes sound fairly easy, the hardest part is hunting down all the places where you have mentions of your old name or images with old logos.
The technical part starts with a simple enough question– where does your app live and does that domain change with the new name? Will your new webpage keep the same URL structure or is the rebrand a good chance to improve it?
It's likely you have to set up a new webpage and your webapp within that page. You also need to set up redirects to your new site and edit old redirects. There's a fair bit of backend and frontend work needed here, including things like updating names, variables etc. in the code.
Secondly, you have to make sure your API, integrations, extensions and all links generated within the app are updated. For API, you have to make sure all the data points are still correct, potentially update your documentation, and let your current API users know in advance of the changes coming.
Integrations and extensions might need new names, logos and technical configurations. Links, such as shareable views or user invites, need to be updated so that they'd belong to your new domain. There's nothing sloppier than your user trying to invite a new member to your product and ending up with an old link that doesn't make sense.
Rebranding your public web and blog
Similarly, to the webapp, there's the technical aspect of migrating to a new domain and redirecting from to old one. And then there's also the cosmetic side of updating images, logos and names.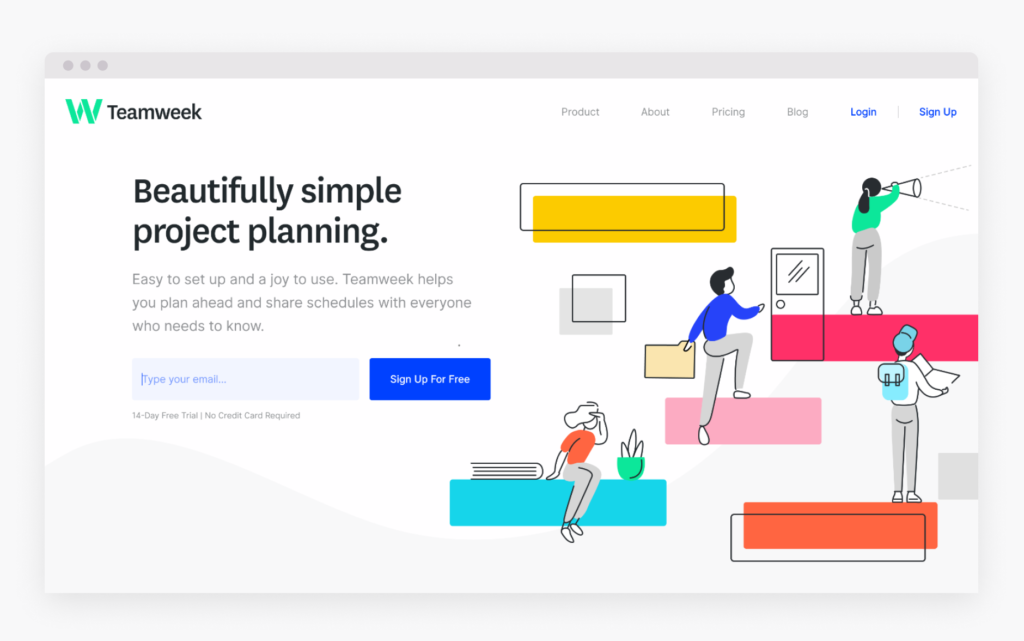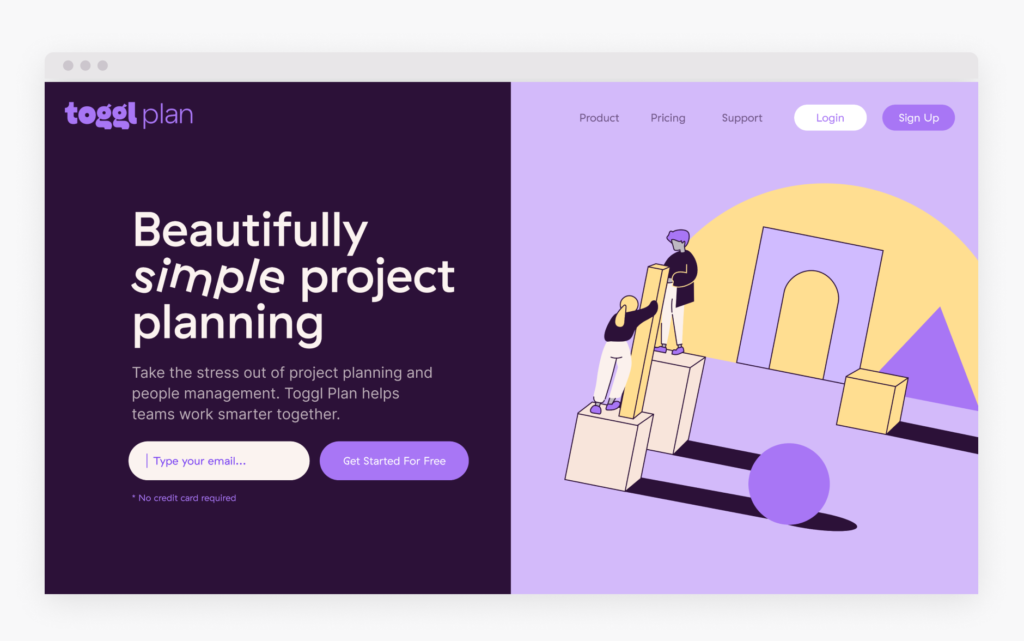 Similarly to your webapp, you also need to hunt down all the mentions, logos, links to as well as product images in your public web.
It will be impossible to update everything, and even unwise, as not all pages are created equal. Simply start off with the key pages (homepage, product, pricing, about page and top performing landing pages). Update links, mentions and product images over product images for top content only.
Don't forget about communication tools
Like us, you likely communicate with your customers on a variety of platforms. At Toggl Plan, we use in-app messages, emails, and direct messages on social media, among other platforms.
It's important to update your communication tools to match your new brand so that your customers don't get confused.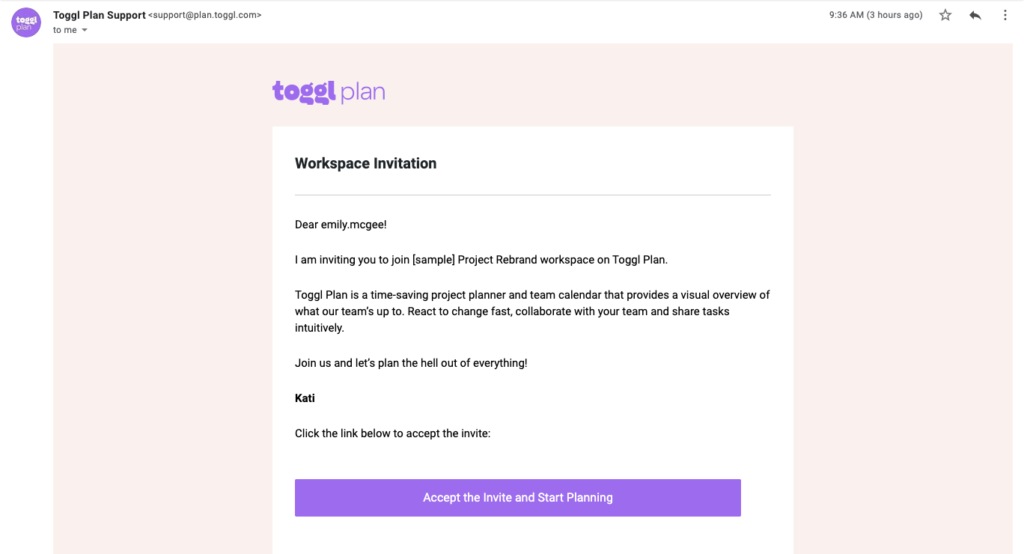 In order to make sure your customers can still find you after the rebrand, you need to find an update all the places that might have your support email address. Be sure to check help forms or contact forms, as well as chat boxes in the public web or in-app.
Also, be sure to review and update the automated communication you've set up. Check all of the following:
Marketing emails
Existing customer onboarding and membership emails
Product notifications, weekly summaries etc.
Invoices and billing notifications
Templates, case studies and other materials you're sending via email or enabling users to download from your site.
User invites and email verifications
In-app and public web pop-ups
Design and marketing
Your design and marketing team will be highly involved in your rebrand. Not only are they responsible for coordinating and implementing many changes, they are responsible for launching and promoting the new brand.
The design team is the one to put the new guidelines and materials from the agency to real life action. While there's a lot that can be planned in advance, such as new landing pages, ad images etc. there'll definitely be a lot that comes up later in the game and is required ad hoc.
It's always a good idea to put together a new press kit and in-house materials (main logo formats, colors, sample imagery and product samples) for the team as soon as possible. The rest of the time for designers will largely go to redesigning the web, webapp, templates, emails and so on.
The marketing team has to revisit all ads running in any platform, update URLs, brand name, ad and extension copy, imagery etc. It's a good time to conduct an audit as well. If your Google Ads' quality scores haven't been good until now or your account is simply a huge mess, it might make sense to start from scratch. Just don't forget to deal with trademarks in your new account and with your new brand.
Finally, with the new webpage and updated ads, you need to make sure you're still tracking all the relevant info and identify if tracking needs have changed. Make sure the correct tracking codes are implemented in the right places and all your goal tracking is working properly– keep in mind that if you're using GTM then you need to update any and all URL-based triggers.
Also, with the webpage moving and redesign, it is possible some variables get accidentally renamed so it is extra important to test everything again. It's a smart idea to add annotations to your analytics platforms regarding when the rebrand took place so you'll always be able to easily identify aspects having an impact.
Sharing your new brand across the web
Your company probably has a lot of profiles and links, whether they're on social media (Facebook, Twitter etc.), hiring tools (WeWorkRemotely, Toggl Hire etc.), review platforms (Capterra, Trustpilot etc.) or they're simply product mentions in other blogs or platforms.
For social media platforms you need to choose your new handles, update the logos, cover images, about info and links to your product or support. We suggest doing that with an accompanying post about the rebrand in order to avoid confusing your loyal followers.
While most of the changes are fairly easy to make once you have your copy and images ready, depending on the platform the actual change of a handle may take a few days. It's not a huge deal but it's good to be aware of this delay when planning the order of your to-do list.
Similarly, remember to update your brand information on review sites and in hiring platforms. Again, it can take time for things to take effect. For example, it's been a month since we requested a change and the URL of some of our review platform sites still includes our old name.
On the bright side, we were able to keep all our user reviews. To avoid confusion and because many old reviews include our old brand name, we've added a note to our review site descriptions (Toggl Plan (previously Teamweek) is …).
There are also probably tons of mentions of your product in various articles across the web. While we think it's unreasonable or even feasible to update them all, we do recommend figuring out your most valuable ones and reaching out with updated links and copy.
Administrative Tasks
If you change your brand name, does your legal company name stay the same? Make sure to clarify this situation to your contractors and customers in advance so they don't have to waste time fixing their invoices or feeling puzzled when receiving invoices from whatever name you use. Also, it's good to revisit your terms of use and other legal documents to see if there's anything that needs updating.
Internally, try to update your handbook in a timely manner and also let your employees know if you need to amend their contracts as well. If you have company swag then renaming will deem that obsolete. Find a way to either donate your swag or make getting rid of it a fun game. It's also an opportunity to re-think the swag you want and actually need.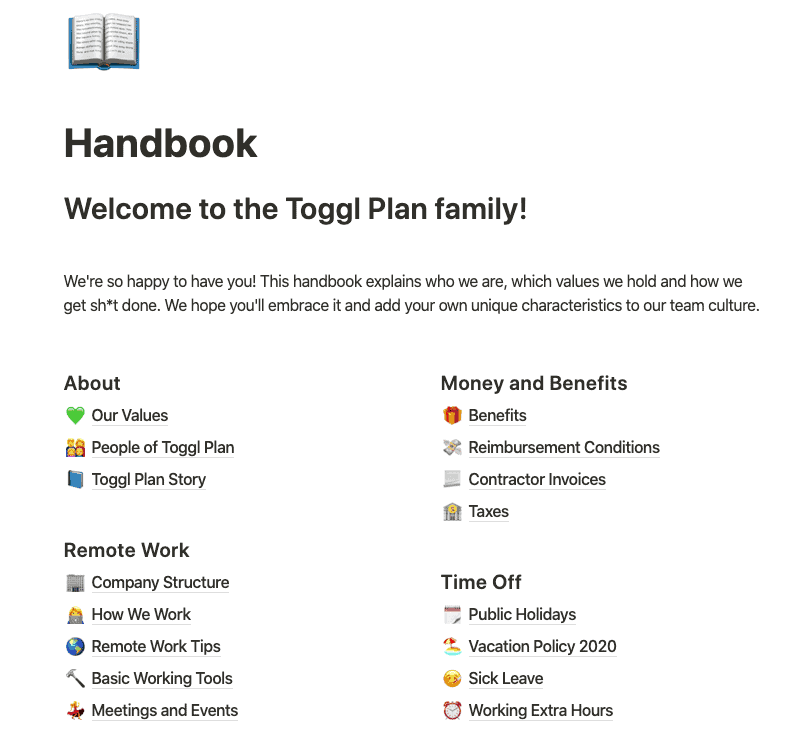 Rebrand launch
This is the where, when, what and how to introduce the world to your rebrand. The amount of effort required depends largely on your budgets and decisions on how big you want to go. But the main things to think about are:
How to keep your existing customers in the know while making sure they don't get confused or freak out about the changes: Let your existing customers know first and make it clear what the change impacts and when it will take place. If you're changing domains, an extra in-app information bar to drive attention towards why everything looks different might be helpful. It's also worth thinking about how your existing customers or those who know you by your old name might try to find you – maybe it's worth running some extra brand campaigns with your old name to make sure everyone who's looking for you, finds you.
New potential customers: are you doing a special launch promotional campaign? How do you want to use your new brand to get more customers and resonate better? What kind of materials do you need for your launch campaign? While new copy and images are fairly easy to produce, video production is a lot longer and more expensive.
Summary
Rebranding is exciting, but there are a lot of details you need to plan for. Don't assume that you'll just figure it out on the go. Preparation (while still remaining flexible) is key and we hope this overview has been helpful in starting to put together your own to do list.
Kati Kuustik is a marketing and analytics specialist at Toggl Plan, where she helps the product and marketing teams better understand user behavior in order to translate that into valuable product updates and effective campaigns.