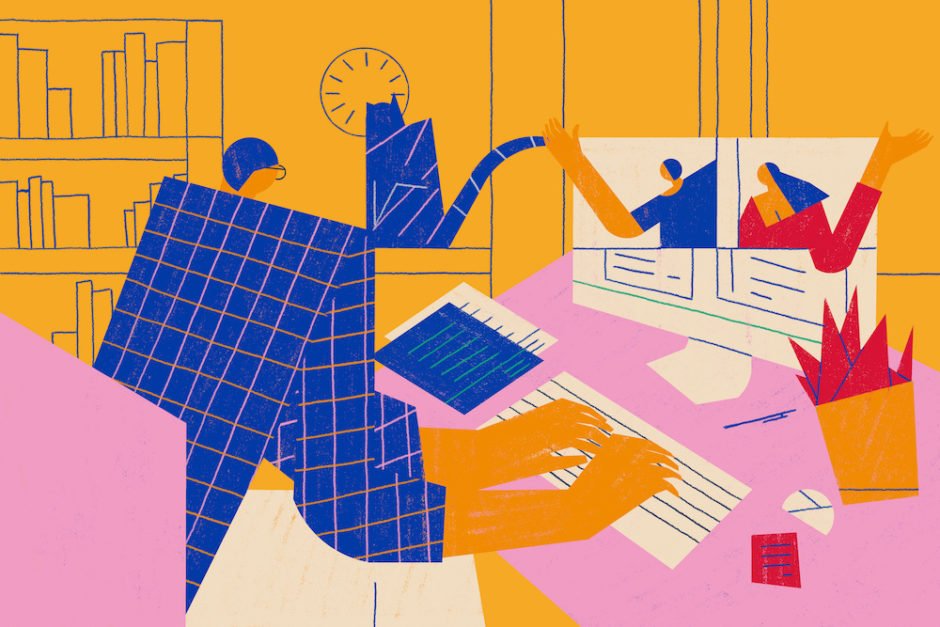 Once controversial, now mandatory
Before coronavirus compelled many universities across the United States to issue orders to move classes online, remote teaching was largely frowned upon. There was backlash among academics against existing online courses, and public and private disputes.
The debate around remote university teaching was largely about intellectual property and the quality of university education. For example, one concern grew around who would own the content of a course that was designed for online distribution. Would it be the professor who created it? Or would it be the university that helped to package it and distribute to students?
Another area of contention was the feeling that the quality of an online class wasn't the same as one taken in person. Mostly, students were worried about how concepts would be explained without an instructor to directly interact with.
I am a university professor who teaches on race and social justice as it relates to the broader field of urban education. I had much to consider about my work as an educator and as a researcher within these debates. Given my work around issues of equity, I was determined to find a way to make the online courses both valuable to the students who enrolled, while also protecting my intellectual property.
Yet here we found ourselves again–remote teaching–this time in a sudden pivot to online teaching by mandate.
The directive from my institution, CUNY, provoked in many of us a combined feeling of panic, anxiety, and anger. The earlier resistance had kept many professors from basic training in remote instruction. The new mandate brought on distress. There was no time to meaningfully redesign an existing course, one that had been meeting steadily in person for three months. All we knew was that we had just five days to pull ourselves together and figure it out, complete with digital training sessions to make it happen.
The difference between hybrid and fully remote teaching
I considered myself somewhat fortunate, as I had adopted a hybrid model of teaching in previous semesters. In my blended courses, my classes met in person for half the semester and worked remotely the other half. Working students welcomed this type of structure, as they needed more options that could accommodate professional responsibilities outside of the classroom.
However, in general, these unforeseen circumstances brought on negative emotions and learning curves that were higher than our pay grades.
We were forced to teach online, mostly without any prior training, Some faculty chose to resign or retire, while others resisted. Many found themselves unemployed at the end of the term, although they had successfully made the pivot. We were being asked to quickly adopt new digital literacies while trying to parlay existing skills that operated best face-to-face, an ask that brought on great challenges for all involved.
I too found endless obstacles to adapting from partially-online to fully-remote, especially within a matter of days.
In my previous versions of the hybrid model, I looked forward to meeting my students in-person when scheduled. And although I had knowledge of many of the different technologies available to us for a fully remote course, which program to use (given that the students had varying degrees of familiarity with the programs and many had no previous training) was another dilemma. There was a lot of confusion at the start, which caused assignments to overlap, with attendance falling and rising at different points in time.
Adapting to a fully remote teaching model
It seemed that students would become more interested in a remote class if we as professors could find ways to build community. Based on what I used when I first began offering my hybrid courses, in the past few months I have been building a pedagogical bricolage: effectively, a toolkit for ongoing, remotely taught classes.
I initially moved my class to online teaching platform Blackboard, in accordance with recommendations from my institution. In-person lectures were supposed to take place over an online discussion board. For a course with over 25 students, we had to read hundreds of comments to form a sense of the conversation related to the class topic. The increase in reading–just to keep up with the conversation–caused my students to read less. In addition, the system didn't take learning disabilities into consideration. We were also missing the human connection that my classes, in particular, thrived in.
Introducing remote guests
Then, taking cues from how my children learn at home, I decided to offer a live video communication component to my classes, despite the introvert in me. A year before the world's shift to a remote lifestyle, my children had already been taking a weekly art class over Zoom. Their art teacher was an educator living in Tennessee who taught children all over the country–including ours in New York City–how to paint. As I watched these children interact, I also realized that my class was no longer limited to just my students and me.
I could now easily invite others to participate in our classroom discussion.
With newfound access to the expertise of activists, social workers, community workers, other visiting professors, librarians, curators, and practicing artists, I expanded the scope of the course. This allowed us access to many more diverse and important voices than we had ever been able to feasibly include.
For example, in one of my courses, a student had wondered how young children were faring, given that COVID-19 kept them away from therapies, social interaction with their peers, and safe spaces (for those children who were living in violent or neglectful environments).
Rather than turn to a textbook, I invited a teaching and practicing social worker from New Jersey who was able to give the students a robust overview of the current state of affairs. If it were not for the normalization of virtual participation, the social worker's teaching schedule and geographical location would not have otherwise allowed him to speak to our class.
Building a video-based curriculum
The video-based meetings were going so well that students asked me to move the class to a weekly video schedule, although the university did not require us to meet synchronously. Some students did not have computers or a viable place to attend class remotely, but many of them were able to participate over the phone.
I also recorded sessions and later offered it to students who were unable to attend our synchronized meeting. The recordings became part of the bricolage, for colleagues and friends who needed a digital boost, inspiration, or an example of what they could do in their classes. Instead of writing an extremely long series of emails about the content, I sent over the file for a listen. These recordings also served as a series of digital notes that I could reflect on in the future.
Collaborating with students
I worked with my students. I asked for their input on designing the major assignments for the course as well as on their final projects. Enabling the students to explore available tools allowed them to develop their own interests and capabilities and present to us projects that we might not have been familiar with.
Professors who reduced their courses to email exchanges, never held a live video conference, and relied simply on an asynchronous discussion board lost the opportunity to expand the course in many ways.
Remote teaching perks for the professor
Certainly, not every subject can be taught well by remote instruction (yet). However, despite this and other limitations, with the custom adjustments described above, I was able not only to adapt, but also to discover a few perks.
First, remote teaching allowed me consistent time to conduct research–a requirement of my job as a university professor. Normally, I would not have had as much time: both because of a heavy teaching load and the time required in the physical classroom. Working remotely gave me the option of creating rigid windows for work.
There were times when I could research for a bit longer, because I didn't have to leave my office and go to the next classroom, which at my institution sometimes requires us to actually leave one building and head to another. Instead, I could sit with my reading material and read for an hour instead of the average 15-minute spurts.
Second, I was also much more present for my children, who also needed teaching and tending.
And finally, during the transition I also had the opportunity to fully participate in a museum training practicum. There were people of all professions who attended from across the country and from the Caribbean. Under normal circumstances, the course would have been limited to locals who could attend live sessions in Harlem, New York City over consecutive weeks.
My regular teaching schedule would not have allowed me to participate. I would have had to travel between places in a single day for a rough total of three hours and forty-three minutes to accomplish this. When we are able to assemble in person again, I'll have the training to teach my courses in a museum.
The shift to remote teaching means more now than it ever has. We are paying attention to many more voices and disciplines than we had before. If we design our courses and our research accordingly, we can redefine quality in teaching while also strengthening our intellectual capabilities.