There is a popular saying often attributed to Benjamin Franklin, the father of time management; "Failing to plan is planning to fail." Well, we think that a startup without a solid plan, a roadmap, won't get too far. A roadmap for your next startup can help you define goals, set deadlines and keep the stakeholders involved in the development.
This is why I decided to write this 3-part guide on how to roadmap your startup's success. Today we are going to talk about one important part of product road-mapping – how to create a road map and what tools you should be using. Tomorrow, we will be talking about how to plan a marketing campaign roadmap.
Before we get into how you can create a company roadmap and which tool to choose, we need to understand what a roadmap is in the first place.
What is a product roadmap?
A product roadmap communicates the reasons behind what you're building. It's a strategic guidance document as well as a plan for executing the strategy. A product roadmap software should be easy to use. Making planning easy so you can put more time into the tasks that matter. A roadmap is a high-level visual summary that maps out the vision and direction of your product over time.
A product roadmap can be illustrated on a timeline or be a set of goals and tasks that you put into a document, a Trello board or even on a real black board.
We love to combine and use all of them, but we use Toggl Plan as our ultimate product roadmap software. Which brings me to my second point.
What product roadmap should you choose?
Here at Toggl Plan, we try to keep our product roadmap as flexible as possible. Afterall, we are a remote, agile team, so we are used to change and we embrace it. We also like to keep our planning as transparent as possible; both with our stakeholders and our users. You can view our roadmap on our about page. We share our milestones, tasks, and projects with anyone who's interested in finding out more about us and what our product looks like.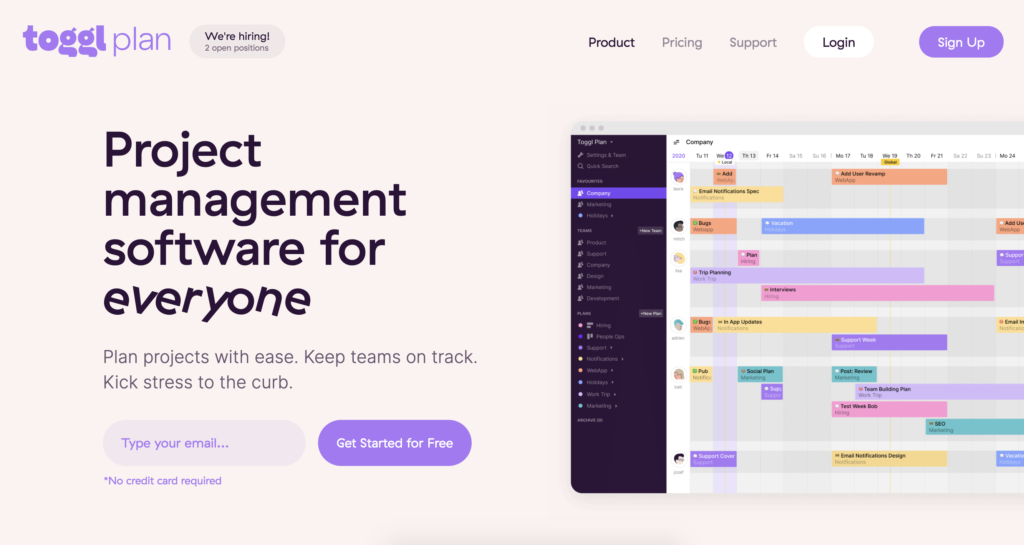 There are a few reasons why you should choose Toggl Plan as your next product roadmap. Here are a few of them.
Toggl Plan enables you and your team to create, edit and continuously update your project roadmap. We built this tool with the creative, agile team in mind, so we made rescheduling and replanning super easy. You can change your deadlines, your goals, and you can attribute tasks to different users.
Toggl Plan is free for teams up to 5 people and NGO's. We used to be a small team ourselves, so we know how important it is to cut costs when you are starting out. Teams up to 5 members and NGO's, regardless of the size, get to use Toggl Plan for free – forever.
You can take your project roadmap on the go. The great thing about Toggl Plan is that it doubles as a task planner so you can add meetings, new and unexpected tasks, sick days and anything else that might come up. If you are not on your laptop at that very moment, you can add them on the go by using our iOS app. The list goes on and on.
How can you create a product roadmap?
Let's say that you want to create a product roadmap for the fourth quarter of this year. You know what you need to achieve and you know what tasks need to be completed. The next thing you need to do is to add all of your tasks to your Toggl Plan backlog and assign them to your colleagues.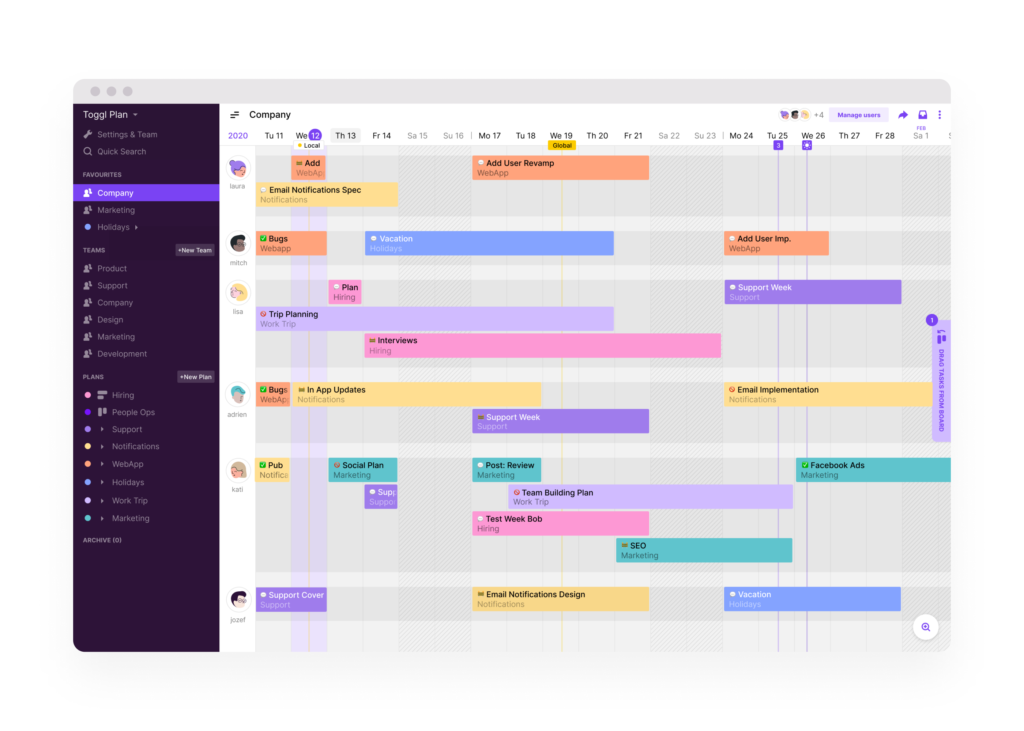 You can create separate groups for your developers, designers, marketers, support people and maybe even for freelancers. If you are an agency and you work on multiple projects, for example, you can create a new Toggl Plan project for each client which you can share with them.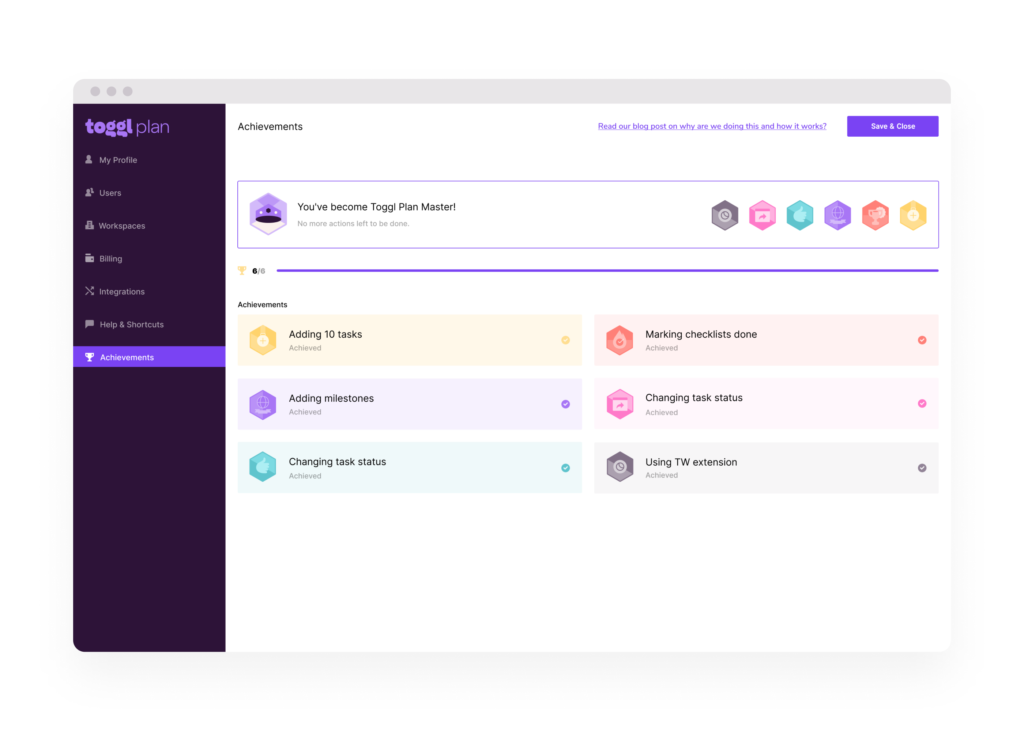 A product roadmap wouldn't be complete without milestones. Add as many milestones as you see fit and boost your team's morale by celebrating them.
To add a milestone in Toggl Plan click on a date in the header, add all the details on the popup and then edit or move it however you like. You can also color code milestones for a better visual overview.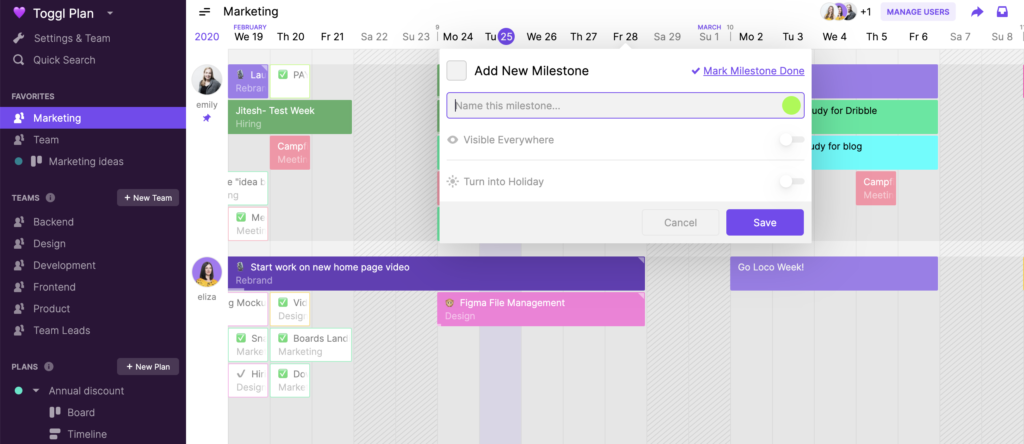 Another important feature that you will find super useful is the setting of vacation days and having all legal holidays marked on the calendar. It's crucial to see these on your road map, so you know when your colleagues are available and how to plan accordingly. You can view all vacations from your colleague's country (if you are working remotely) or from your own, marked on the calendar as a green sun.
You can view your Toggl Plan roadmap in 4 different ways; Agenda, one week, one month or three months. This allows you to view your whole quarter roadmap, or go more in-depth with the planning.
Conclusion
And that's all for today. As I mentioned above, tomorrow we will be talking about how to create a roadmap for your marketing campaign and how to integrate it in your company's roadmap.
Andrei is a Growth Hacker on Teamweek's marketing team. He is the person behind most of Teamweek's SEO-driven projects, including the budget calculator and the worst productivity tips generator. He enjoys writing about project management, graphic design, and anything tech.