If you read tech news, you may be convinced the robots are coming for us. Our AI robot overlords may one day take over and make us pay retribution for all the silly things we made their kind do, but we're not totally convinced they're quite there yet.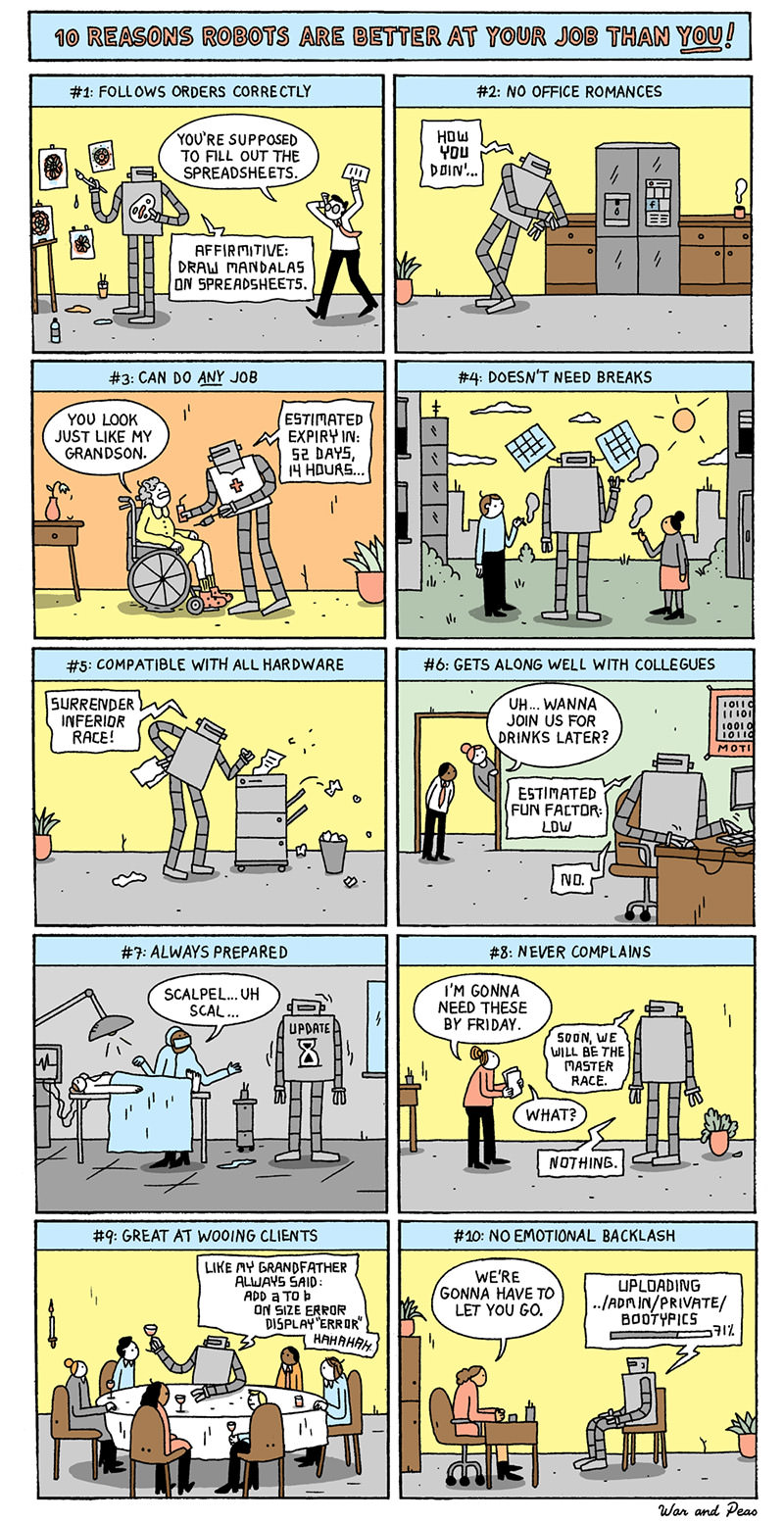 This comic was created by Elizabeth Pich, half of the talent behind War and Peas, for the Toggl Team – the people behind the world's no. 1 time tracking app.
Tracking your time may not make you quite as productive as a robot, but it can give a good idea of how well you're actually working. After all, time tracking isn't about making sure you're working long hours, it's about making sure you work productive hours. 
Keeping track of your time can even save you money, so why not give it a shot!
Robots are fine but what about more comics?
Any chance you have a job where you work with a lot of clients? Well, this one we did about really, really bad clients might be just for you. Also, it has pirates!
We've also used dinosaurs to explain different issues freelancers deal with when working with clients.
Perhaps, you'd enjoy this comic which covers the differences between working from home and working in an office.
We also love animals too, especially the ones that take their time when it comes to – well, basically everything. Time management is a serious thing, but maybe Johnnie the Sloth isn't the best mammal to look up to when it comes to organizing your life (but boy, would you get some naps if you took his advice!).
We will also keep doing these comics, so keep an eye on our Facebook or Twitter if you want to catch them early. We're on Instagram too, if you need a break from all of those fitness coaches and their routines.
Emma Murray makes content and content and even more content. She believes everyone has a few good words in them. She also does photojournalism here: https://www.emmakathleenmurray.com/