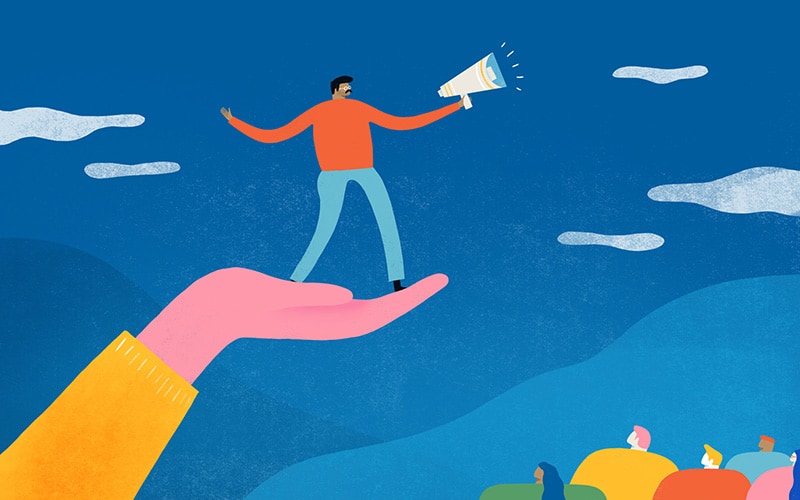 Startup marketing can make or break your small business. In today's varied and ever-changing digital marketing landscape, you must cast a broad net and take advantage of all your options.
If you don't embrace all your opportunities in the modern marketing space, your competition surely will. Get ahead and stay ahead with these quick and actionable marketing tips!
#1 Learn Basic Marketing for Entrepreneurs with the 5 Ps
This traditional method (called both the 4Ps and 5Ps of Marketing), has provided the backbone for countless business plans. New companies use this approach to balance their efforts and spread their resources across all the areas they need to address:
Product – What will you name your project's? How does it align with your company's your core mission? How will it affect other areas of your business? What USP (Unique Selling Proposition) will you present to your audience?
Price – How much will you charge for your product/service? What impact with the costs and revenues associated with this effort have on your profitability? Do the market share benefits of this project outweigh short-term losses? Is this product/service a good long-term investment?
Place – Where and when will you launch this project? Have you set all of your marketing resources in motion to maximize your impact? Have you chosen an easy-to-access target market as a beachhead for grabbing market share and leveraging future progress? Have you double-checked all logistics to ensure proper delivery of products/services – as well as marketing materials?
People – Have you identified your general target audience? Have you narrowed your scope to the particular demographics most likely to need and purchase your goods/services? Will the small group you've hyper-targeted for early success rave about your offerings and quickly attract more customers? Does your data back up all these early-stage marketing strategies?
Promotion – In which specific channels will you purchase ads? Have you considered all traditional forms of outreach from in-person, telephone sales to print and display media? Have you empowered your key stakeholders, employees, and early adopters to spread the word about your project?
#2 Discover the Updated 5 Vs of Marketing for Startups
In recent years, marketing specialists have updated the 5 Ps marketing model as the 5Vs system. With this approach, you can focus on the new opportunities available to today's startup companies. When formulating your startup marketing plan, take care to balance not just your investments, but also your time resources, across many platforms.
The 5 Vs provide a modern perspective on the classic concept of a marketing mix:
Validity – Understand what the customer wants from the product. Assemble a comprehensive plan for identifying and delivering an appropriate look, feel, name, and features with this product/service. Discern any differences between the people buying your product/service and those using it. Is this a gift item? Will you target this item to children? Who ultimately makes this purchasing decision? Will this product/service address your customer's needs better than your competitor's offerings? How can you focus on consumers' must-haves instead of low-priority features and options?
Viability – User your cost figures for development, launch marketing, and customer acquisition to determine if your idea is viable in the current market. Examine your various pricing options, including optimal price-points and overall pricing models. Examine your data on early-adopters to determine if the people most interested in your product/service live in areas with high percentages of your target demographics. If so, do these entry-stage markets provide the market share and leverage you need to scale up and hit less target-rich markets?
Visibility – Do you have the overarching digital marketing reach you need to get the volume of views your marketing strategy requires? Does your business model match your early numbers? Have you tested markets and MVPs (Minimum Viable Products) to determine the best placement for your product/service? Will your anticipated retention curve meet your needs for back-end revenues? Have you exhausted all your organic and paid marketing/advertisement options to maximize the number of people entering your sales funnel?
Virality – Have you empowered your raving fans to spread the word about your brand? Do you constantly reward brand ambassadors with giveaways and discounts? Do you run contests and audience-appropriate events to maximize your potential for exponential visibility growth? Are you engaging your fans on the devices (and in the apps) they use most often to get the biggest bang for your advertising buck?
Vitality – Does your founder/CEO demonstrate passionate leadership every day? Have you created a team around this mission that showcases your drive and ambition to the world? Have you created teams that work well together and benefit from each other's specialties? Does your company have the financial strength to see this through? Have you attracted enough investment? How much cash do you have on-hand? What revenues have you generated so far? Do you have a solid sales pipeline that can match your "burn rate"?
#3 Engage all the Startup Marketing Resources at Your Command
When launching a product/service, take care to gather every resource you can to make a massive impact on roll-out day. Startup marketing means using every tool in your toolbox to engage with prospective customers:
Top-Quality Web Design ­– Step ahead of most budding companies and invest properly in an attractive and functional website. Consumers will make split-second judgments about your brand based on the front page of your site. Take care to budget appropriately and create a site that looks (and functions) as well or better than your competitors – big and small.
Maximize Your Social Media Networking Outreach – Move beyond Facebook, Instagram, Snapchat, and LinkedIn. Establish and maintain a robust presence on startup-oriented sites like AngelList, Spiceworks, YouNoodle, and MidsizeInsider. Share your progress with potential investors and maximize your startup/expansion capital.
Increase Your Content Output – Encourage your team members to submit blog posts and social media content for your marketing team to edit, vet, and share. Create a blend of in-house content (specific to your product/service/industry) and professional copy (engages targeted demographics outside your team's areas of expertise). Consider highlighting (appropriate and approved) UGC (User-Generated Content) on your site and social media platforms to quickly generate content. These testimonials, though less targeted than your other content, can create massive credibility for your brand.
Dedicate Your Efforts to Engagement – By quickly answering social media comments, liking shares, and responding to emails, you can show your customers you care about their involvement in your brand. Companies that respond quickly on Twitter win big; researchers have found that over half of all consumers expect a response on this platform within an hour.
#4 Learn the Best Marketing Strategies for Entrepreneurs
When marketing to companies and consumers, remember one key point: you're selling solutions, not the next tech innovation. Though many startup companies build their USPs around star products and services that include the newest gadgets, you need to meet people where they are.
Don't use flash-in-the-pan tactics like overselling your offerings' comprehensive specifications. Technophiles will make an effort to find links to this information on your site and dig through the details. The average consumer trusts you to handle the small stiff – they want to know how your product/service will improve their daily life.
Startup marketing means reaching out past your core fans to the people they interact with and influence at work, home, and play.
When designing a solution-focused USP, ask yourself incisive questions and try to understand the buyer's point-of-view.
Startup marketing depends on intense and passionate audience engagement.
For example, does your product/service address a burning issue in consumers' lives, or just a casual urge?
Do your solutions help your customers compete in business, personal, or social arenas?
Will the people who invest in your product/service see a financial or emotional ROI (Return on Investment) on this purchase?
Will people live better, be more productive, enjoy themselves, and feel happier by spending money on your solutions?
#5 Embrace Cheap Startup Marketing Techniques
If you need to market your startup on a strict budget, get creative. The digital revolution has created myriad startup marketing options for getting started without breaking the bank:
Community Support – Share your passion for local sports teams, events, charitable organizations, and more. For example, a lawn care company could discuss a local country club's landscaping preparations for a golf tournament. Likewise, a gaming store could support the local chess club. Not only can you post about subjects adjacent to your company's mission, but you can also like, comment on, and share posts submitted by others. Name recognition can make or break a business; get some free press by engaging in local social media.
Introduce Yourself – When you meet new people, take the opportunity to offer a (brief!) description of your USP. When people ask what you do for a living, don't just say you're an entrepreneur or a business owner. Say instead, "I run a company that makes cats and dogs more adorable and less smelly."
SEO – Of course, you should use appropriate keywords on your website and in your social media posts. Tags and hashtags matter when finding and connecting with your audience.However, you can also use these tools to find key influencers in your marketplace. Search the same keywords you want your customers to use and find out who they're already paying attention to. For example, you can find Twitter users who use your keywords in their tweets and target them for engagement.
However, remember to take it slow; building lasting relationships between brands and consumers takes time – and trust.
#6 Market Your Startup on Crowdfunding Platforms
When creating a crowdfunding campaign, remember the key to startup marketing success: engagement. Just like any other strategy for getting attention and increasing investment, crowdfunding means reaching out to the right people in the right way.
For example, if you're raising money to produce a new technological gadget, don't crochet delightful doilies as rewards for contributors. Instead, offer discounts on your products, similar (inexpensive) items, and early access for first-adopters.
However, if you sell old-fashioned ice cream and pies, handmade (and even personalized) goods might charm the hearts of your crowdfunding investors. Remember to include stretch goals for contributions above and beyond your needs with a heavy emphasis on philanthropy and "giving back."
The best crowdfunding projects I've seen go far beyond simple pre-sales and soliciting donations; they create community and facilitate generosity (not just to your company).
Just like a website, a crowdfunding page is only as good as its content. Hire a professional writer (or, at least, an editor) with experience on your platform of choice to optimize your content marketing efforts. Work with your marketing team to share the story of your brand; share the accomplishments you've realized so far and describe (in detail) your next steps to market and profitability. Everyone loves to back a winner!
Because early success leads to more success, make sure to include milestones in your crowdfunding campaign.
Startup marketing means engagement, right? When people see you as a company on the rise, they'll want to say they had a part in your success.
Reach out to your personal connections across your business and social lives; ask them to take part in this rare and special opportunity to take part in a community event. Just like a barn-raising in the pioneer days, projects that bring people together attract more investment.
Just be sure to return the favor once your business starts growing and thriving!
#7 Keep Track of Your Busy Team
With Toggl's simple and powerful time-tracking software, you can easily manage your team's efforts during the early phases of your operations.
Make sure everyone gets credit (and even equity) for their work above-and-beyond the call of duty as your company grows from a dream into a fully-functioning corporation.
As you grow, integrate Toggl into all your productivity software platforms for quick and comprehensive time logs and reports. With the right startup marketing and organizational tools, you can bring your ideas to market and realize your startup's fullest potential.