Do you have a vision for your company? What are the values behind your brand and what are your main objectives? And if you do have something you want to achieve, how do you plan on making it happen?
Too many companies are flying blind with no clear direction of where they're going or how to get there. By asking questions like these, you are only beginning to scrape the surface of your strategic management process.
What is strategic management? Before knowing that, you first need to understand the plans that go into effect prior to any need for managing them.
What is Strategic Planning?
It would be far too simple to say this activity is simply making plans with strategies behind them. While it isn't wrong, there is so much more to this organizational technique than the name implies.
The concept of strategic planning involves a structured system that includes:
Clear priorities
Effective goals
Organized operations
Defined intentions for results
Ways to adapt as things change
Essentially, these plans are the foundation for daily decisions and how everyone should view their regular workload. Placing a significant emphasis on the identity of a business, the strategic planning process also keeps each member of the team informed on who they should be focusing on, their role in the company, and why their job is important.
As long as these plans concentrate on the future, they will be a model that guides every facet of a company's strategy. And while these procedures are designed to promote progress, they also set standards to help teams realize whether or not what they're doing is truly effective.
How to Create a Strategic Plan that Works
These documents can be as simple or as complex as you want them to be. A strategic plan could be a single page filled with a few concise one-liners or it could fill a notebook as a comprehensive guide with pages of detailed information.
But no matter how long or short it is, the direction should be clear, understandable, and adapted to every person within the company. It must include all of the basic elements that are required of a strategic plan. Depending on who you ask, these requirements may be slightly different, but they always have a similar foundation of goals and why those objectives are important.
Key Aspects of an Effective Strategic Plan
1. Mission Statement
This brief statement generally relates a company to its market based around its objectives. It gives a quick look into the "How" of a company's plans to reach those goals and what they plan to do to achieve them. These mission statements are often public knowledge as a means of marketing or letting customers know of their intentions.
2. Vision Statement
Some may feel a team vision is the same as a mission statement and many companies even use them interchangeably. But the reality is that there are a few clear differences. The vision statement is more closely related to where a company wants to be in the future and what it will mean when they get there.
3. Core Values
As a major factor in the brand of a business, core values must be focused and clear for everyone involved. These morals and overall philosophy stand as a guide for people who already work for you, while also offering insight to potential candidates who may want to be part of your team. They are paramount to the future of your strategic management.
4. SWOT Analysis
Strengths. Weaknesses. Opportunities. Threats. These four pieces make up a SWOT Analysis, which serves as a great tool for understanding many variable elements of your business. By going through this review and taking a close look at the details within, you can identify numerous factors to both build upon and improve upon.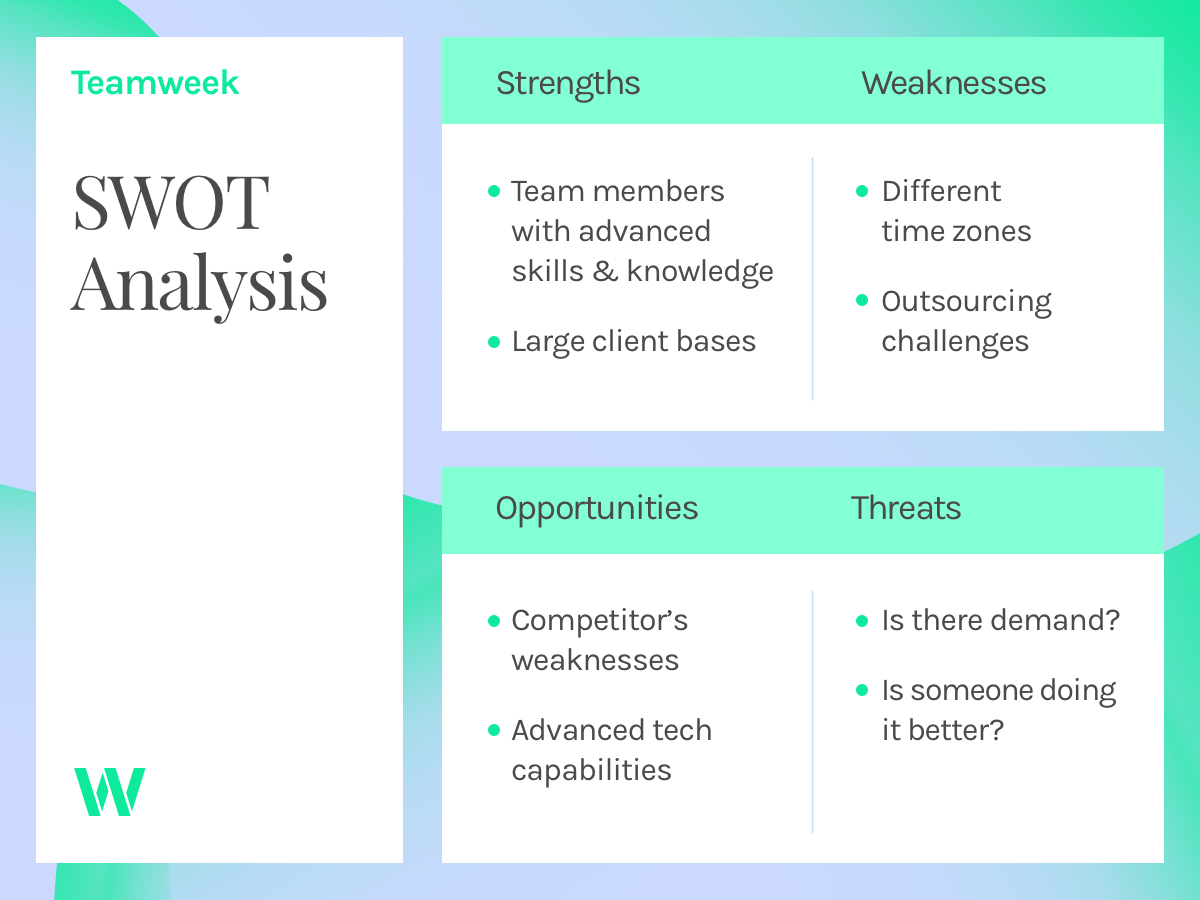 5. Long-Term Goals
While seemingly self-explanatory, these are among the most important aspects of your strategic planning process. As with any type of objective, you should heavily emphasize the need for SMART Goals. They will set the tone for everyone on your team, giving people a clear endgame to work toward on a daily basis.
6. Annual Objectives
A bit more on the short-term side, you should also construct yearly goals as a means of breaking down the ones that will take longer periods of time. And once these targets have been achieved, consider holding a fun, end of year event to celebrate. These present great opportunities for team building activities and other fun times.
7. Plans of Action
A French writer and pilot named Antoine de Saint-Exupéry once wrote that "a goal without a plan is just a wish." While goals are crucial to the success of any company, they will be practically useless without a clearly defined action plan of how to get there. Ensure everyone knows and understands what they are meant to do as they work toward the common goals.
What is Strategic Management?
Now that you know how to make the plans, you'll certainly need to know how to manage them beyond the first few weeks of action. Strategic management is a vital aspect of maintaining these processes and procedures.
While they are set as guidelines, the time will likely come when these plans will have to change or be altered to fit new needs. The management of these strategies will include:
Constant evolution of the team vision
Creating new objectives and goals
Integrating redefined strategies
Correcting procedures that haven't been working
Enforcing changes to prevent stagnancy
Strategic managers are tasked with the difficult but crucial job of avoiding complacency among their team members. They are given responsibilities to both achieve and maintain a competitive edge within their industry or market.
With that in mind, it is imperative that these individuals understand their need to be adaptable to change. As the business world continues to evolve, even the most basic protocols may require significant revamping to remain relevant and efficient.
The Importance of Strategic Management to Future Success
A thought leader on the strategic management process was a scientist from Canada named Henry Mintzberg. He wrote a paper regarding his thoughts of this system in 1987 and called it "The Strategy Concept I: Five Ps for Strategy".
In the document, he referenced how the compilation of these practices had to have a multi-faceted approach rather than a singular vision with no room for interpretation or adaptation. Within his paper, the five Ps he referenced included:
Plan: A specific program designed to reach a specific desired outcome.
Ploy: A plan focused on competitors and how to outsmart them within the shared industry.
Pattern: The concentration of uniformity within processes and procedures to consistently make them successful.
Position: Emphasis on the relationship a company has with the world and how it pertains to their growth.
Perspective: The viewpoint of how the organization sees itself fitting in with the world.
It may be of benefit to companies across any industry to incorporate and understand these factors and how they fit into their strategic management process.
Knowing how relevant these things are to the future success of a business may be the difference between a company like Google and one that never amounts to anything. Now, let's go over the benefits that strategic management can have for those who do it properly.
Direction
By defining goals, objectives, and vision within your strategic planning process, everyone will have a clear direction of where the company is heading. This makes it easier to focus from day-to-day and ensure everyone knows they're doing what is necessary to reach those targets.
Dynamic
With the ability to constantly change and move forward, these plans will allow companies to study and scrutinize their markets more efficiently than ever before. This dynamic focus will be pivotal to not only keeping up with trends but establishing them.
Foundational
People come and go all the time but a business must be able to remain in sync whether someone leaves or someone new joins the team. Having a foundation already in place will make it much easier for everyone involved to learn and understand what's going on.
Preparation
Challenges are imminent across any industry in the world. But a company with a clear strategic management process in place will be more readily prepared when they come. Instead of seeing these issues as obstacles, they're more likely to be seen as opportunities.
Competitive
Odds are at least one of your competitors have something like this in place and if your company doesn't, you will already find yourself behind the mark. Use these practices to rise to the top in your field and leave the competition in the dust.
Growth
Do you simply want your company to survive from year to year? Or do you want it to thrive and grow exponentially? Without a strategy, you'll become stagnant and in this economy, a company that isn't growing is doing the exact opposite. Expect incredible growth by using this tactic.
Ensure You Have a Strategic Management Process in Place
Occasionally, a company can be successful for a brief period of time with little to no organization involved. But as things progress and there's a desire to grow, it is vital that you integrate the strategic planning process into your business future. Without it, things tend to crumble and eventually what once seemed like a successful company can vanish.
Those who properly plan will be much more likely to triumph and beat the odds stacked against them. If they instill values and also follow the strategic management process, the probability of success increases even further.
Make sure you are prepared by using these key tactics within your own company and experience a truly organized system like never before.
For more great content about management, productivity, technology, and more, make sure you check out the Toggl Plan blog!
Logan Derrick is a full-time business writer and content marketing strategist. For years, he has worked closely with several project management professionals, learning from them and increasing his own knowledge of the industry. Having held multiple management positions in fields ranging from customer service to marketing, Logan has found a passion for helping others learn about project management, marketing, and the powerful tools available to professionals today.