It's no secret that when keeping pedal to the metal all the time it is usual to have some hiccups along the way. We've kept our speed up with the improvements and developments of Toggl Track Desktop and I am proud to announce another new release – Toggl Track Desktop 7.3 is here!
In this blog post I will give a short overview what has changed recently in Toggl Track Desktop and what cool features will be arriving in the near future.
What's new in Toggl Track Desktop?
Dropping version 7.1
With Toggl Track Desktop 7.3 being here we are going to deprecate version 7.1 and older. If you are still using that version it's time to update to the latest release. All your data will be there after the upgrade so there is really no reason to postpone this move.
As of November 11th versions older than 7.2 are blocked and unable to sync to our servers.
Windows App is here
With the new version we have finalized the Windows app transition from the aged Windows Forms to WPF. This means better performance and nicer design.
This is the biggest change since starting development on the Windows native app. We have had some issues during this transition period, but all these issues should be resolved by now, as the app is not a package of two technologies, but one single WPF app.
Autotracker for Windows
Also a new feature not known yet is the autotracker. The autotracker was already present in the OSX app and also in the latest Windows beta, but you can now use it on both platforms.
The autotracker can be set up to remind you to track your time when you open a specific app: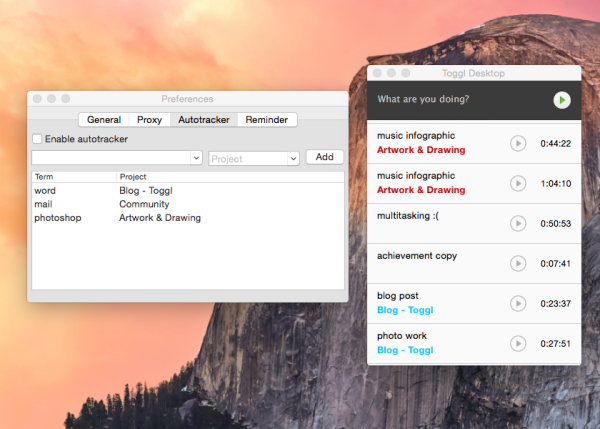 If you have one of the designated windows open and your timer isn't running, Toggl Track Desktop will remind you to start tracking time under the project you've attached to the app.
Default project
This is something we've heard from user feedback from time to time, and we've decided to work it in. The feature allows the user to set up a default project in preferences.
Once set up, the default project will be automatically selected when the user starts a time entry with no project attached. This is very useful for people who work a lot on one single project.
For the time being, you can only use this in the OSX and Windows beta versions, but hopefully we can include it in the full release soon.
You can get the latest version of Toggl Track Desktop from: https://support.toggl.com/toggl-on-my-desktop/
Want follow development?
We've been pretty good with keeping you up to speed with Toggl Track Desktop development news (we think), but if you really want to keep your hand on the pulse, you can view the public changelog here.
And as always – all feedback and suggestions about development on the apps are welcome at support@track.toggl.com
He's Mister Code, James Code. He likes to lift heavy weights and dig into hard problems. He doesn't drink coffee and he has three screens on his desk which is too little if you believe him. Also he likes to code them Indie games and mobile apps (http://drik.eu).