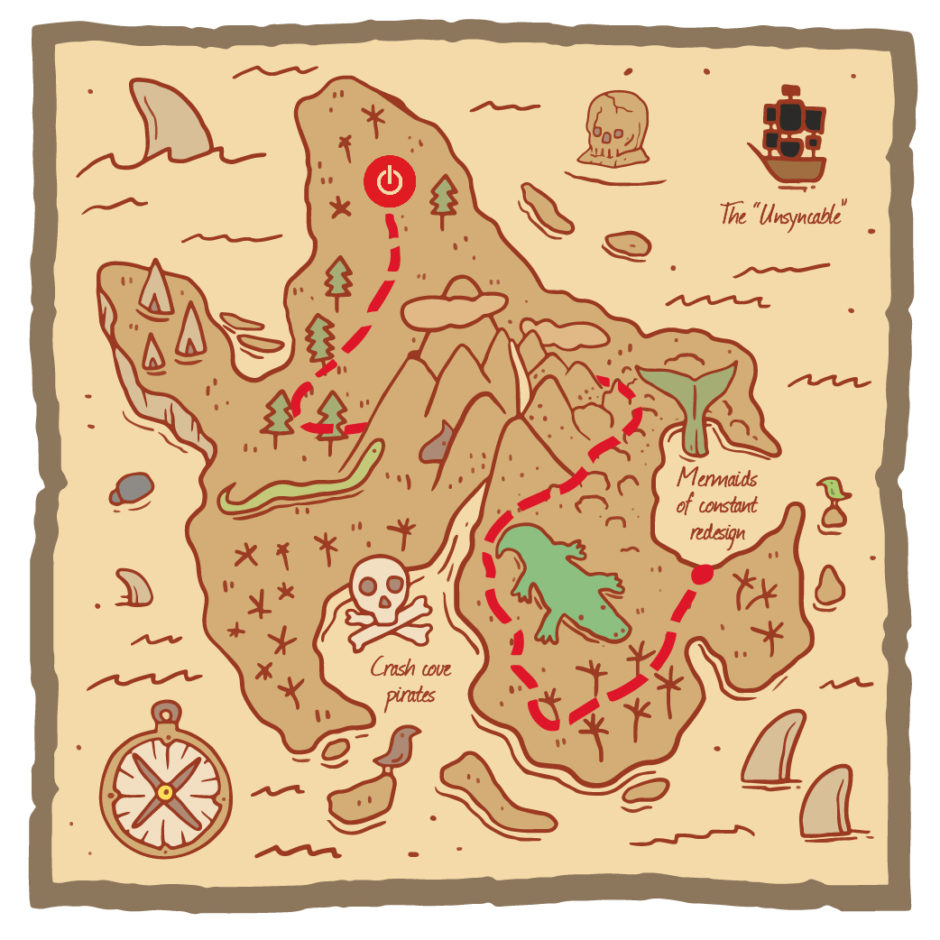 UPDATE: We've released our iOS app and it's high time for you to test it out! Get it on the App Store by clicking the button below!

Captain Paul's Log (November 6, 2017): We're almost there. We fought off the Pirates of the Crash Cove, avoided the sweet call of Mermaids of Constant Redesign and defeated the famous ship of the bug armada – "The Unsyncable". Now we face the last obstacle between us and the treasure of the App Store island: Storm of Thousand Betas.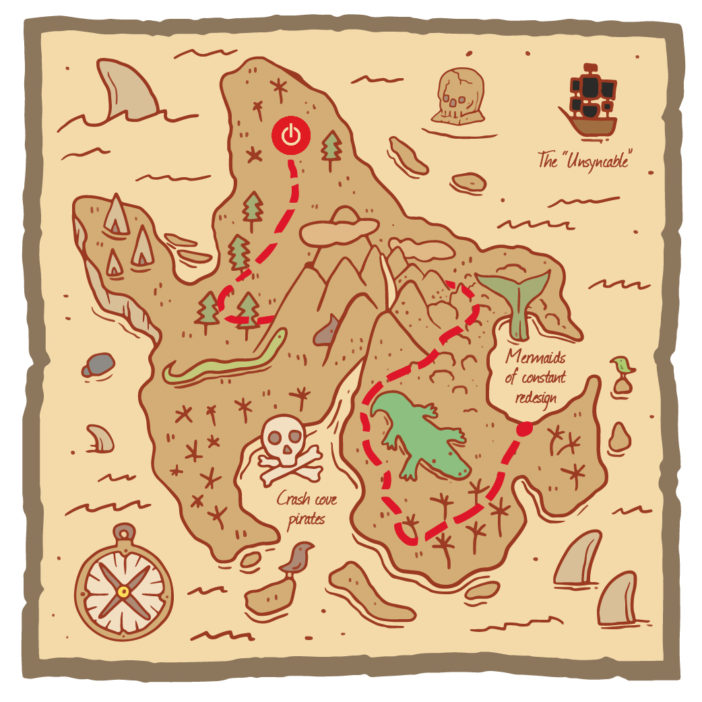 NOTE: The following article was about the Beta test for our iOS app which we released in the meantime. It still contains some useful (albeit outdated) info about the app itself and our thought process about some changes that we decided to make, but bear in mind that the buttons in this article are now changed to get you to our new Toggl Track iOS app – it's really awesome! Old article about our Beta process and initial feature set of our iOS app commencing in 3… 2… 1…
Yep, it's true. Toggl Track iOS Beta is officially live (with full version just on the horizon). It was quite a rollercoaster ride so far – and it's not ending here. Starting today, we are hoping you'll be able to join us in this last push of testing efforts and help us make the app even better before we officially launch it.
We already talked about why we decided to redesign the whole app, as well showcasing some of its features. This time, we'll be guiding you through our beta process, and how you can make a difference.
Also, some features will be locked at the start of the beta, but we will gradually introduce them as we move forward with the testing (though we will keep some of it as a surprise for the launch party – stay tuned!).
Let's cover the basic use case of the new Toggl Track iOS app and what you'll be able to test from Day 1 of the beta phase:
Suggestions & Log View
When you open the app for the first time, you'll be greeted with Suggestions View, new feature that helps you track recurring time entries faster (also, this is one of the features that will be accessible only via mobile app – go go mobile team!). Simply put, new Toggl Track app will check what & when are you tracking your time, and then suggest you a time entry to track based on your history. This is perfect for those tasks that you do week after week (those Thursday "brainstorming" meetings, am I right?), freeing you from the trouble of finding it in your log history.
Don't worry, log history will still be available as before – to access it, just swipe down and you'll switch to Log View (swipe up and your back on Suggestions View).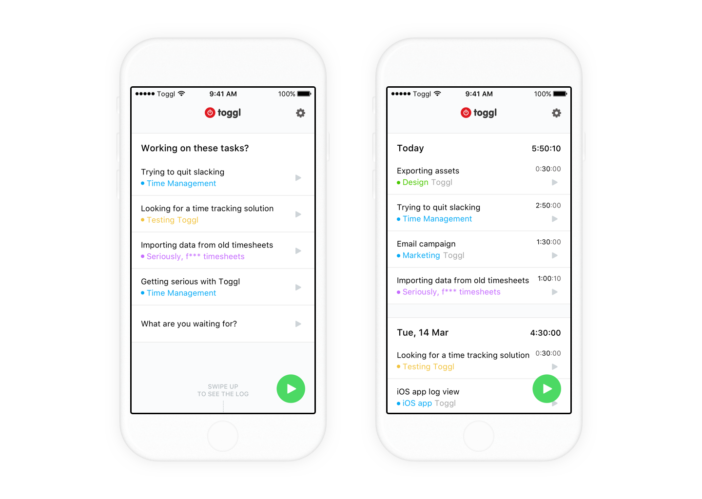 Time Entries: Better, Faster, Shorter
What we really wanted to improve upon is the time entry creation flow. Typing and tapping on mobile tends to be tough experience as is, so we set out to alleviate this pain as much as we can.
Now, when you start tracking your time, you'll be able to type everything in one line, including projects and any specific tags you want to add to that time entry. Couple of additional cool things we implemented here:
Auto-complete
As you start typing, app will check your log and start suggesting time entries for quicker selection. Auto-complete feature will check similar time entries based on the text you entered, as well as similar projects and tags if you added them.
Shortcuts
You can now use shortcuts to quickly add any project or tag to time entry. Typing @ will allow you to add a project, and typing # will allow you to add tags. Both of these will open up a list of projects/tags you already used, or let you create brand new ones (this will be available in the full live version of the app).
Remember, less typing = more tracking!
(Fun fact: You can also start a time entry and leave it completely blank and add info to it later – but do you trust your memory that much?)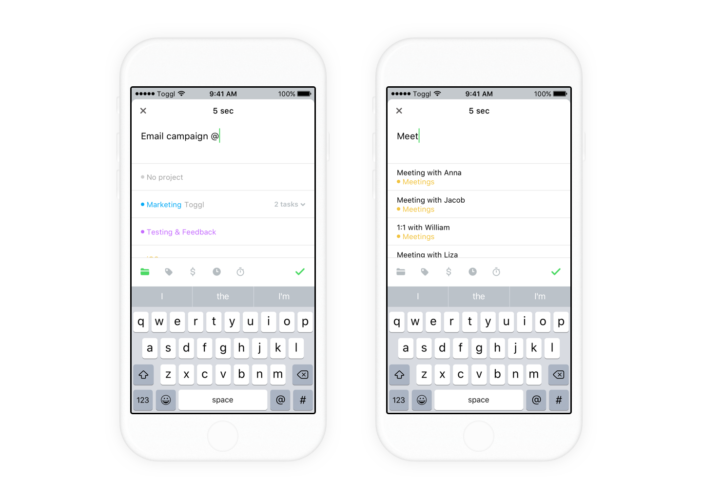 Future Updates
Like we mentioned, there are quite a bit of features that we will introduce over the course of the Beta and once we fully launch the app:
Reports

for mobile have undergone quite a facelift and will be present as we dive deeper into the Beta

One of the most requested features is finally coming to mobile – you'll now be able to

add & edit clients, projects & tags

straight from the app 🎉

Timeline

will be also making a grand appearance on mobile – similarly to what we have on the Web app, Timeline will provide you an instant graphical overview of projects that you've worked on during the day (with option to scroll it back up to 7 days – craaaazy!)

Secret stuff that our mobile lead wouldn't like me posting right now 👀
Remember – It's Beta
We made great effort to provide you with a clean and stable environment for testing all new and redesigned features, but, it is beta after all, so you might encounter some issues here and there. We just hope you'll have patience and understand that we have so much cool stuff planned and improvements ready to roll out, and with your help, we think that this app will be a game changer for many.
How Can You Help
First off, register for the beta here if you haven't already. After that, you'll receive invitation from Apple's Testflight, which we are using for our beta testing.
Once you have the new Toggl Track app set up, test it how your heart desires (or follow Daft Punk's advice 👇).
Track it, use it, stop it, scroll it,
test it, break it, quick – report it!
Once you want to send us feedback (and we'd really like to hear what you think) or encounter an issue, send us an email at support@track.toggl.com.
So, what do you say – want to help us help you save your time?