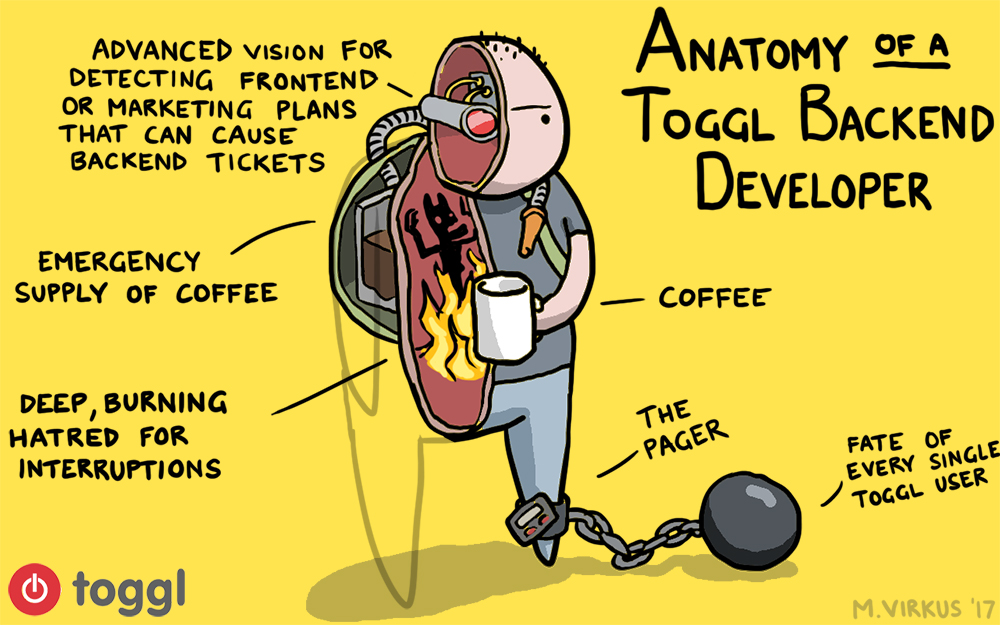 In case you're new here – Toggl Track is a time tracking tool used by thousands of businesses aroud the world. We seem to be doing something right, because we're growing quite fast, and thus we're always looking for people to join our international team.
It doesn't matter where you live, as we think great people can do great work anywhere.
Below is a short Q&A with Margus, the Toggl Track backend team lead. Hopefully it will give you slight idea of who we are – and hopefully it'll make you want to join the team:
Hey Margus! Do you have 10 minutes to answer some questions for this blog post I'm writing?
Sure. Developers love being interrupted – I'll drop everything so we can do this right now!
What's the single most important thing you look for in a new team member?
Interest in coding and an ability to learn. Knowledge in ops/dba is a plus.
Interest in the subject matter is the most important thing – we're fine with having a guy with an ops background wanting to code or a coder wanting to build better databases.
What do you see as the biggest challenge for the backend team in 2017?
Refactoring last bits and pieces of a decade old code.
One of your goals is making Toggl Track reports faster? Why? They seem pretty fast to me.
We're growing, so there's more and more data to handle. We're also aiming for bringing bigger and bigger workspaces on board.
So the reports may seem OK today, but that won't be the case in the future.
You're stuck on a deserted island and you can only have 2 items with you – what would these be?
One rubber duck and unlimited supply of duct tape.
Vim or Sublime?
Vim, no, sublime, no, vim, no emacs. To be honest, we don't care what you use, as long as you yourself are able to use it.
Dev or Ops?
both + DBA.
Postgres or Mongodb?
You mean PostgreSQL or ToroDB, right?
No I mean Postgres or Mongodb.
I see what you're trying to do – and it's not working.
Ok, Ok… tea or coffee?
Coffee in the morning, black tea with lots of sugar when it's cold outside.
Beer or whiskey?
Beer.
***
Interested in working at Toggl? Feel free to also check out our other job openings.
Hope to see you soon!