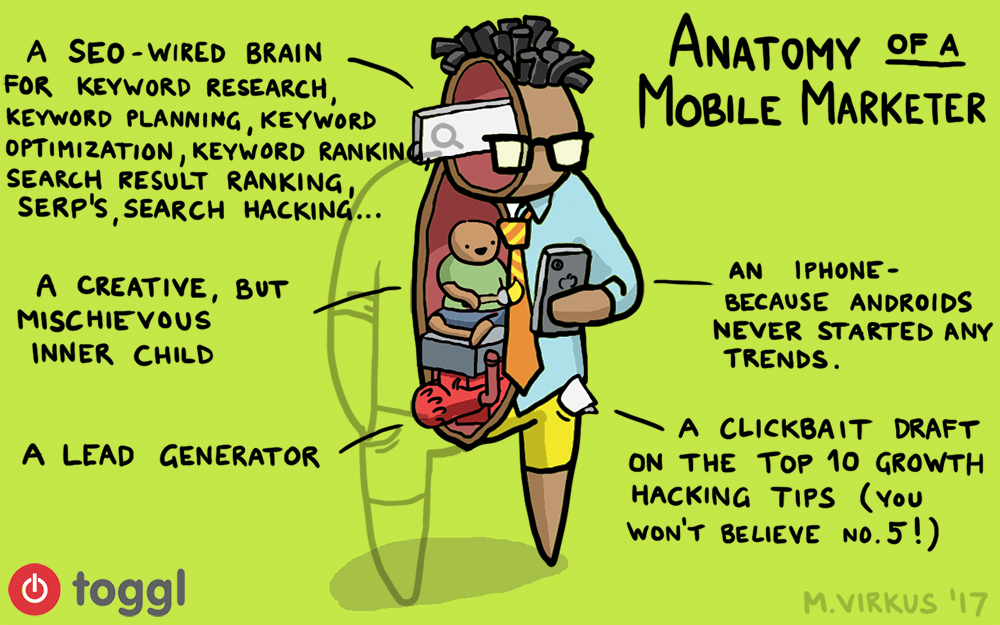 In case you don't know – Toggl Track is a leading time tracking tool for small teams. We've got some big plans for our mobile apps and we're looking for someone who can help us get Toggl Track into millions of smartphones.
To help you get an idea of what it's like working in the Toggl Track marketing team, here's a short Q&A with our SEO expert Andrea:
Hey Andrea, got time to answer a few questions for this hiring post I'm writing?
Not really.
It's great for SEO.
Ok!
What's your best SEO tip for 2017?
Focus on topics instead of specific keywords.
What's your favorite thing about working for Toggl Track?
The people. They are the least pretentious and still most professional team I've ever worked with. And they are a funny bunch, too.
What do you expect from your future marketing teammate?
Familiarity with current marketing trends won't hurt, but the most important traits would be curiosity, resilience and good work ethics.
Do you have any hobbies outside of Toggl Track?
I recently decided to get more into herbalism and started a side project called MentalNettle. It's only an Instagram account for now, but hopefully it'll grow into something more in the future!
What does having a hobby give you as a marketer?
It keeps me up-to-date with general content marketing trends (and not only SEO).
What's your favorite app?
Pocket.
What's your favorite Instagram account?
I'll go with Scorpiondagger – he makes collage animations from old paintings.
What about Twitter?
@neiltyson ❤️
What about Google Plus?
What about Google Plus?
Lol. Favorite emoji?

What's the toughest thing about working remotely?
The toughest part is that it can get lonely when your teammates are scattered all around the world.
What makes it all worth while?
The freedom – I'm more productive when I'm in control of my time.
***
If you feel like you want to join Andrea in the Toggl Track marketing team, just head to our jobs page and check out our openings. If all goes well, you'll hear from me soon! 👋🏾