Fax machines. Dial-up internet. Resumes.

These are all things that belong in the past. 
Tools that serve a function at one point in time simply stop being fit for purpose as better options come along.
When the economy picks up and countries start opening again, there will be a movement of mass hiring, unlike anything we've ever seen. That means more candidates and less time. There's only really one tool for the job: Toggl Hire's Smart Test.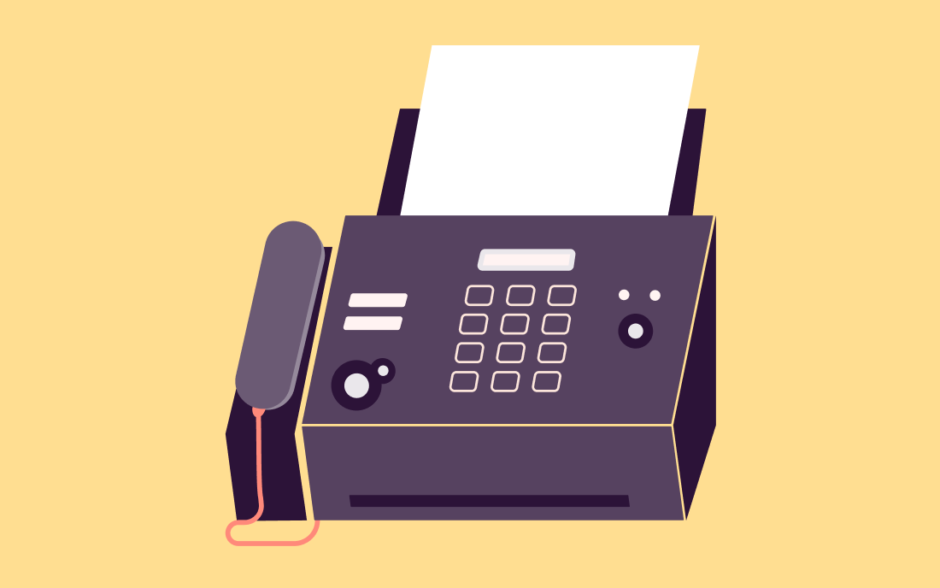 Hiring needs a revolution
Recruiting with resumes is a time-consuming, expensive, and unfair process for both employers and candidates.
60% of applicants don't finish their applications because they're too complex or long, and that is despite their willingness to spend almost 2 hours on each job application. On the flip side, employers only spend 6 seconds looking at each resume, and yet, it is not uncommon for candidates to wait for weeks and sometimes months to hear back (the average length of a job interview process is 27 days!).
Resumes don't actually tell you anything about a candidate's quantitative abilities. They're almost always embellished or exaggerated, making it impossible to objectively compare candidates to each other.
The way we hire now takes too much time, it's unfair, and you can't be sure you're even recruiting the best candidate. There has never been a better time to reinvent how we all hire. And Toggl Hire is leading the revolution with ground-breaking pre-employment testing software.
Introducing Toggl Hire's Smart Test
Toggl Hire has helped over 1,000 companies hire faster, better, and fairer with pre-employment skills tests since our inception in 2017. We help you go from 250 applicants to the top 6 candidates in one afternoon. We reduce your time to hire by over 80%. We save you 22 hours (and approx $3,900) per position.
We've just released our Smart Test feature, which takes our software to the next level and makes it truly unlike anything else on the market. It harnesses the power of machine learning to create unique skills tests in seconds, just from the job title you're hiring for.

Create an account for free with Toggl Hire (if you already have one simply log in)
Create a new skills test from the dashboard
Select the role you are hiring for from the available options (currently, you can hire for Frontend Developer, PHP Developer, Java Developer, and Product Manager)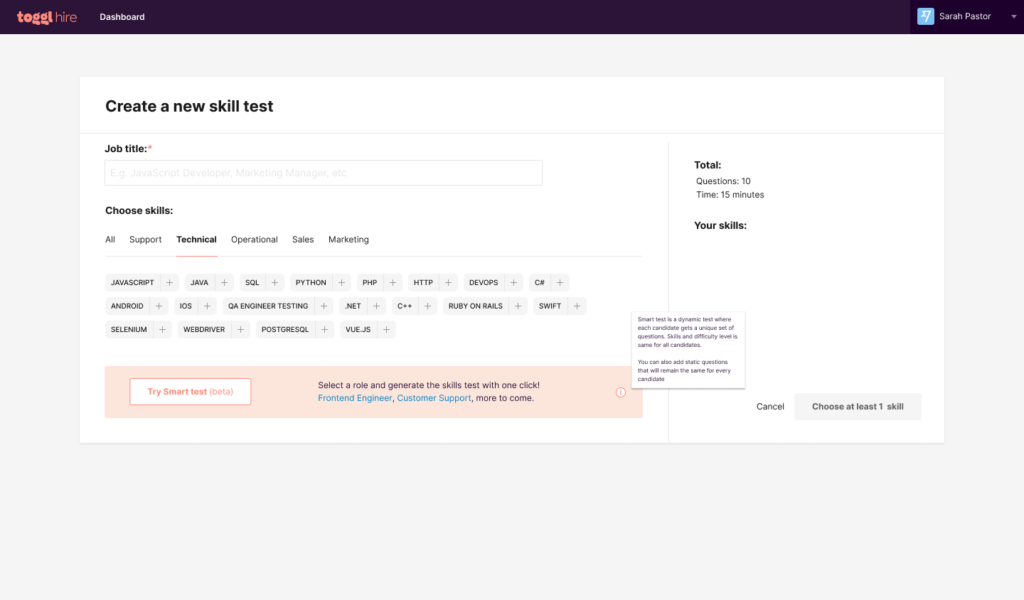 The Primary and Secondary skills associated with that role will auto-populate into the test creator. You can add additional skills if you'd like.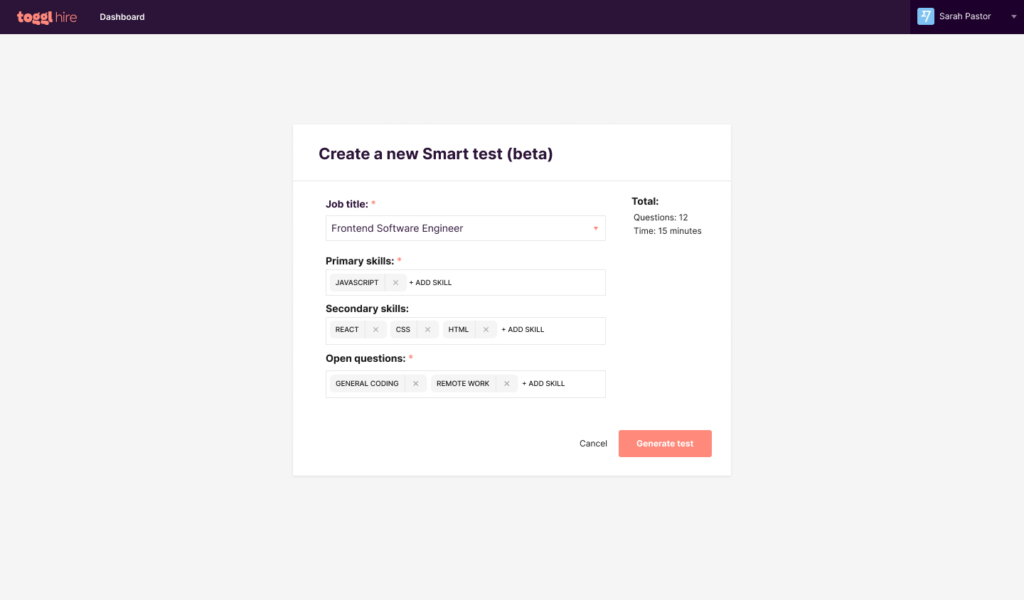 Our software generates a Smart Test for you from our database of 5,500+ questions. All questions are written by our team of Question Experts – a hand-picked group of high-scoring ex-candidates who are experts in their field.
Each applicant gets a unique test, so no two candidates will see the same set of questions. Tests are matched for difficulty, so the results are still comparable.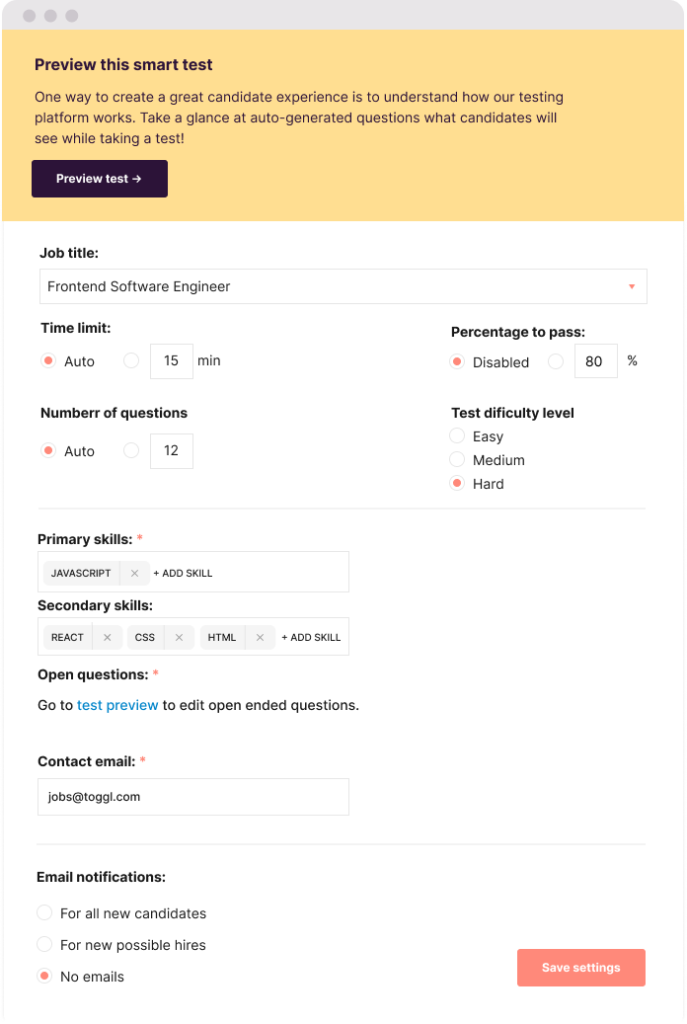 7. Watch candidates' results come in real time – organize and manage candidates seamlessly within our platform.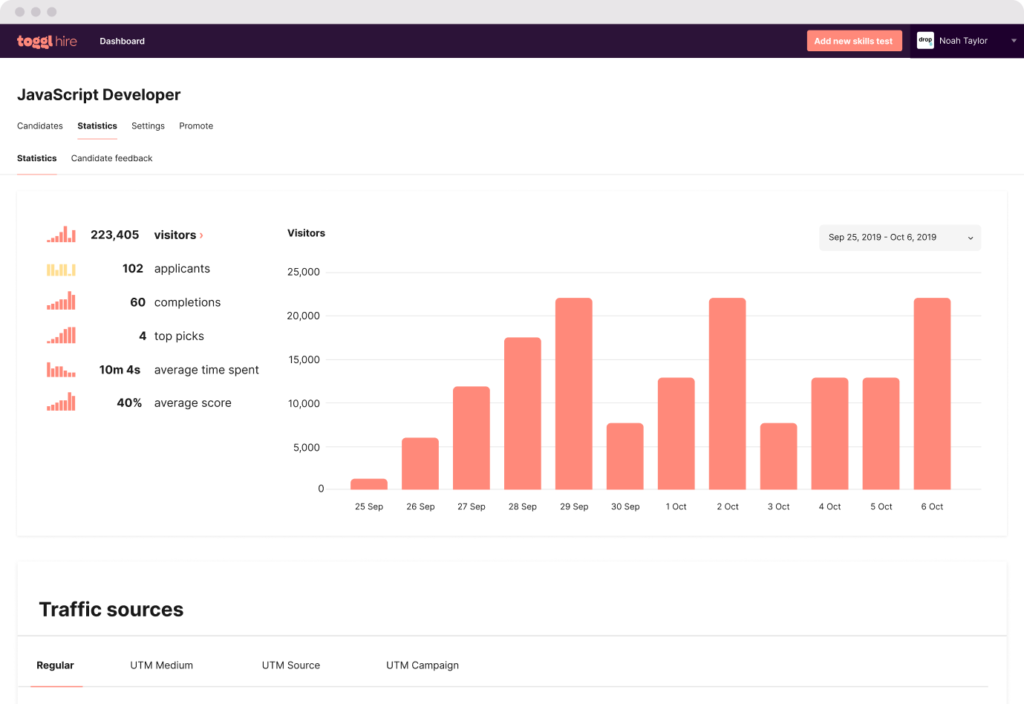 Give our Smart Test a try today.
What roles can I use the Smart Test for?
Right now, you can use the Toggl Hire Smart Test for the following roles:
Frontend Developer (Javascript + React)
PHP Developer
Java Developer
Product Manager
More roles will be added in the future, in different fields such as tech, marketing, sales and customer support.
Join the hiring revolution
We're on a mission to re-imagine what hiring could be, with tools that are fit for purpose. Sign up today for free to taste the future!
You wouldn't use a fax machine to send an email. So why are you still using resumes to hire?