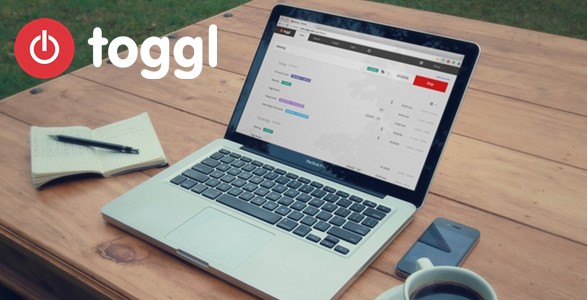 Hey togglers!
Our hands have (luckily) been full of work, but we finally got ourselves together to introduce to you some tricks that can help you make toggling faster and more comfortable. This post includes several features that can be enabled from different places around Toggl. All of this to make your life easier!
– Let´s start with the most common features that many of you haven´t even heard about. All of those can be enabled from your My Profile page: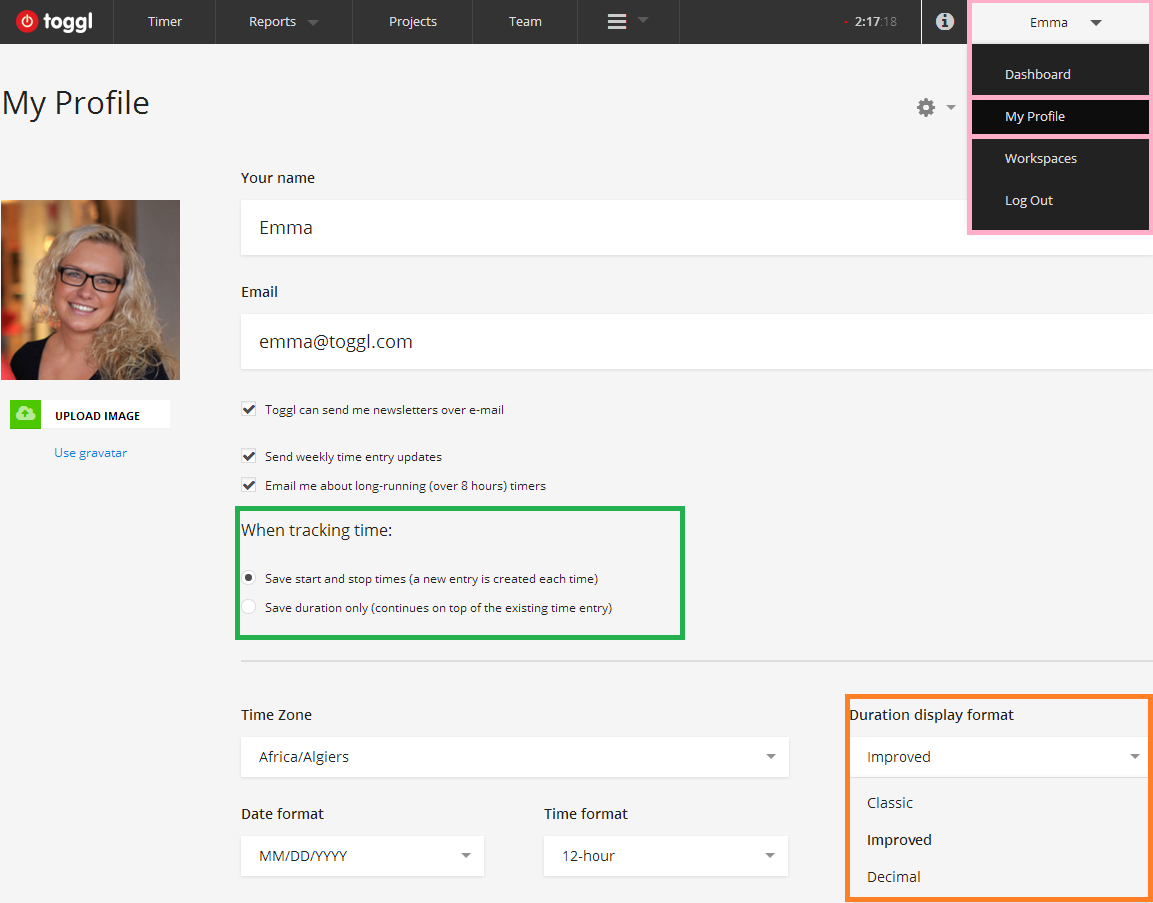 – When tracking time is important in many ways. It affects your time entries overall and it also affects the Continue Button. If you have selected the first option, your time entries include the start time as well as the end time. This setting also means that each time you press the little green continue button, a new time entry will be created. If you have selected the second option, your time entries do not include start and stop times, but only the duration. If you continue a previous entry, it will continue tracking time from the point you stopped it the last time without creating a new time entry.
– Duration display format is also something that will definitely make running reports a lot better for you. Here's the difference between Classic, Decimal and the Improved format:

Let´s move forward to some other cool features. Say hello to Rounding (Pro), which can be set up from your Workspace Settings page. This is something that many of you ask, so let´s make finding it easier for you. There it is: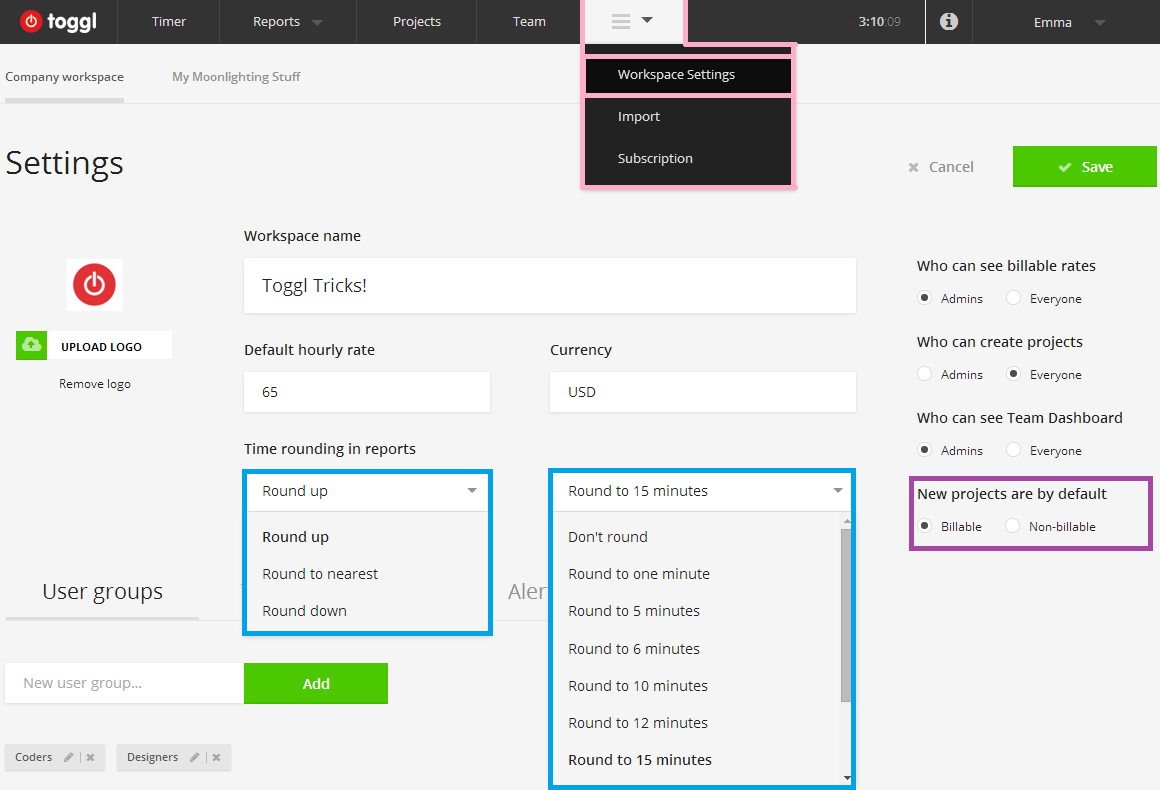 After you have set it up, go to your Reports page and enable it from the cogwheel icon on the right side, under the Filter button. After that you´ll see that all your times have been rounded they way you previously set it up. How cool is that?!
– Another thing that we would like to bring up from the Workspace Settings page is the ability to choose whether your new projects will be Billable or Non-Billable by Default (Pro). This is also an option that was not available in the past.
– Have you ever thought that adding the same information to each new project is so annoying? Problem solved! Project Template feature allows you to to create many similar projects quickly. When you create a new project based on an existing template, all of the template project's settings are applied to the new project including billable rates, estimates, planned tasks and team. You can later go and make modifications to any of the created projects.

 – At times we receive emails where you say that you need to share your reports with your clients, but how can this be done without them having to create their own Toggl account. Bookmarked Reports (Pro) do the trick!

After confirming the settings and clicking "Save", the Bookmark will appear on the Bookmarks page (you'll find it by hovering over the Reports bar with your mouse cursor and choosing "Bookmarks" from the drop-down menu).

The Bookmark URL can be copied and shared immediately. Also, on that page you're able to change the type of the Bookmark (make it public/private) or delete it.
– Bulk Edit is something that we know many of you were looking and waiting for. There it is, finally! This feature is available in the Detailed Reports, as well as on your Timer page.
 After clicking on the Bulk Edit button, you can change the description, project, billable status, tags and dates of your time entries.

– Another thing that appears in your Reports are sorting arrows. We hope that this is also something that makes viewing your data much easier for you. That´s how they look:

Those allow you to view time entries and users in alphabetical order. The duration can be displayed from the longest or the shortest and the time from the earliest to the latest.
-We have come to the last and the most important page, which you see the most – your Timer page. There are many ways to make it work the way you would like to. One of your main points in the feedback is that there´s too much space between the lines. From now on, you can choose they way your data is displayed by changing the Display Density: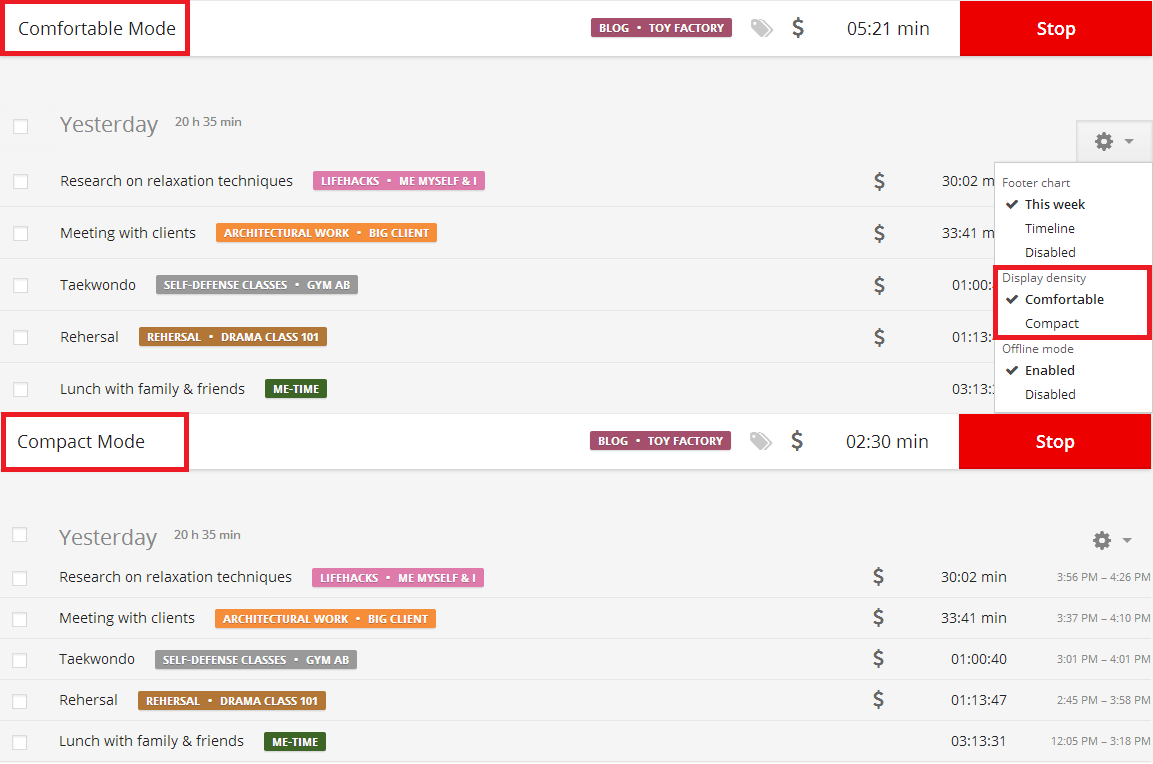 – On the bottom of your Timer page, there´s a This Week Overview, which gives you a good colorful overview of how much you have tracked time this week and on which project you have spent your time.

– For all you keybooard power users, Toggl can be easily controlled by the keyboard. All the fields in the timer and time entries list can be selected by pressing the TAB key. Also Toggl has shortcut keys to start or stop your time entries quickly. The keyboard shortcuts work when you're not editing any fields.
s = stops the current running time entry;
n = switches to the timer mode to create a new time entry & starts the timer;
m = switches to manual mode to create a new time entry;
c = continues the last time entry;
I hope that all of those tricks can help you out while toggling! If you need any help or if you have more suggestions, all your feedback is welcome to supprt@toggl.com
Happy toggling!