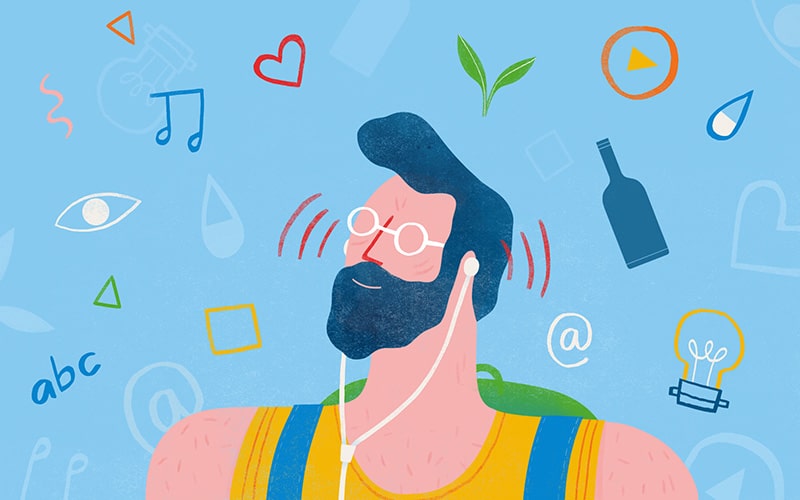 When you're aiming to stay on top of your tech game, there's nothing like listening to a few enlightening and insightful tech podcasts to get your creative juices flowing.
Fortunately, there's no shortage of options for you to choose from.
From podcasts that dig into the specifics of gadgets to the ones who use a wider lens to look at how tech impacts our entire world, you'll find plenty of thought-provoking shows that are worth a listen.
But, while having so many different choices in front of you is a good thing, it can also be slightly overwhelming.
How can you know which ones will satisfy what you're looking for?

Where should you start?
To help you separate the wheat from the chaff, we've pulled together this list of 11 different tech podcasts that are well worth checking out in the coming year. Add them to your list, and prepare to be amazed by all of the boundary-pushing tech advancements out there!
Speaking of innovative tech, Toggl is just the tool you need to take control of your time and boost your productivity in 2018!
But First… Why Podcasts?
Before we dive into the list of podcasts, let's address one big question:
Why podcasts?

When there are so many other sources of news and information out there, why should you bother tuning into any of these episodes?



Well, there are a few reasons that podcasts are such a great option for learning:
1. They're Engaging
Sure, there are plenty of tech-related articles out there that you could read to get your hands on that need-to-know information.
But, let's face it—podcasts are far more engaging. You get to listen to honest interviews and frank discussions, which brings the content and news to life far more than text on a computer screen could.
Maybe it's the way people spill to podcasters' microphones more than they would with a camera, or maybe it's the feeling of privacy podcasts create when TV feels so communal, but podcasts seem to be engaging audiences on a level that more established mass media don't.
-Explains Felicia Greiff in an article about podcasting for AdAge.
For anybody looking for a source of news and information that won't have them yawning or aimlessly scrolling, podcasts are a great solution.
2. They're Easy to Consume
Another big benefit of podcasts?
They're easy and efficient to consume.
With something like an article or a video, you need to devote your full attention to what's in front of you.
But, with a podcast?
You can multitask and save time. You can listen to one during your morning commute or on a long road trip.
You can pop in your headphones and learn while you're loading your dishwasher, folding your laundry, or answering your emails.
And, plenty of people do just that. Two-thirds of podcasts are listened to on mobile or a tablet, and the average podcast fan listens to five shows each and every week.
So, unlike other forms of content that can be somewhat clunky or inconvenient to consume, podcasts are a seamless and effective way for you to fill your brain with new information.
3. They're Diverse
Podcasting is something that's constantly evolving, which means you won't get tired of the same-old, same-old content.
From interviews to storytelling to heated debates, there are plenty of formats that make podcasts continually fresh and exciting—which has contributed to their ever-increasing popularity.
In fact, a whopping 112 million Americans have listened to podcasts, a figure that's up 11% from 2016.
Tech Podcasts: 11 Podcasts to Add to Your List in 2018
Now that you're convinced that podcasts are one of the best, modern ways for you to consume content, which tech-related ones should you have on your radar?
Here are 11 different tech podcasts that are worth adding to your must-listen list.
Hosted By: Leo Laporte
New Episodes Released: Weekly
Why You'll Love It: With an original release in 2005, this podcast is both long-running and popular.
Featuring Leo Laporte as the host and a rotating number of other experts and panelists, the format of the show includes a roundtable discussion (and, oftentimes, a debate) centered on some of that week's top technology headlines.
Because the core of the show is a free-flowing conversation, standard episode lengths can vary pretty considerably.
And, at times, the discussion can explore a tangent that isn't directly pertinent to technology. But, if you're looking for a podcast that's filled with engaging dialogue, you'll find it here.
What a Listener Says: "The best tech show on the whole iTunes podcast library. Uber-non. Leo and all his guests are objective and as tech savvy as you can get. They will review all the new stories, gadgets and tech trends in today's (an in some cases tomorrow's) news. The show is funny, creative and produced with such quality you will be hooked instantly. Since their beginning in ZDtv, TechTV and now in TWiT these guys are the last word in tech. You won't be disappointed."
Hosted By: Guy Raz
New Episodes Released: Weekly (if not more often!)
Why You'll Love It: While not always specifically related to tech, this interview-driven podcast is a great way to gain insider insights into household-name businesses and the behind-the-scenes stories of their rises to success.
While host, Guy Raz, has interviewed entrepreneurs of more traditional businesses (think Spanx and Whole Foods, for example), he's also had plenty of conversations with the founders of tech companies like Bumble, Airbnb, Kickstarter, and Reddit (just to name a few!).
If you're looking for a podcast that's strictly tech topics and headlines, this might not be the best fit for you.
But, if you're game for taking a wider lens and exploring businesses as a whole, you're sure to enjoy this behind-the-scenes glimpse at some of the world's biggest companies.
What a Listener Says: "How I Built This gives great insight into some of the most creative minds that have shaped the world as we know it. It takes a direct look at how the products we know and love came to be. The episodes are not too long and keep the reader intrigued for the duration of the episode."
Hosted By: Kara Swisher (of Recode Decode) and Lauren Goode (of TheVerge)
New Episodes Released: Weekly
Why You'll Love It: As the name suggests, the aim of this podcast is to address all of those burning tech questions that you want the answer to—yet are a little too embarrassed to ask.
With each episode framed as one large question (you know, things like "will robots take our jobs?" or "will we ever stop using passwords?"), the shows hosts engage in thought-provoking, straightforward, and oftentimes snarky discussions in an attempt to reach a conclusion and answer—while also touching on some of the latest tech products and gadgets.
What a Listener Says: "With the fast pace of tech, it's so helpful to have a podcast that will break things down for you in a way that's fun and interesting. Thanks for making this!"
Hosted By: Kara Swisher
New Episodes Released: Weekly
Why You'll Love It: If you aren't already familiar with Kara Swisher (yes, the same Kara Swisher of "Too Embarrassed to Ask"), she's one of the most prominent tech journalists out there.
In this podcast, she reports on the week in tech, while incorporating plenty of interviews with business leaders, tech experts, and tons of other outspoken personalities.
With those conversations, plenty of discussion about the industry, and more newsy updates, this podcast strikes a perfect balance for those who are looking for a well-rounded and interesting tech show.
What a Listener Says: "This is exactly what I was looking for as a tech podcast: In-depth discussion and interesting background access to the tech world. This podcast is the perfect companion to the daily-tech-news-show!"
Hosted By: Gareth Mitchell, Bill Thompson, and Ghislaine Boddington
New Episodes Released: Weekly
Why You'll Love It: As a product of BBC, Click takes a more international approach and turns a discerning eye to the digital and technological news and headlines from all over the globe.
The show dives into some complex tech issues and happenings at times.
But, the hosts do a brilliant job of disseminating the information in a way that's still engaging for techies—while being straightforward enough for less tech-savvy listeners to understand.
What a Listener Says: "Been a regular listener to this podcast for some time now. Well done program that explores multiple facets of technology with an emphasis on the internet. Enjoy the non-US perspective that the BBC provides. I highly recommend this weekly technology program."
Hosted By: Jonathan Strickland and Lauren Vogelbaum
New Episodes Released: Weekly
Why You'll Love It: There's no denying it—TechStuff is a podcast all about technology. But, if you're expecting endless droning about the intricacies of how tech products function, you're going to be pleasantly surprised.
Yes, there are still plenty of insights into how things actually work for those techies who want the details.
However, the beauty of this show is that it zooms out with a broader focus and highlights the people behind the tech, as well as how those advancements are making real impacts on people and our society as a whole.
Needless to say, it's an incredibly interesting listen!
What a Listener Says: "I've learned a lot from these brief, entertaining discussions of current technology. They not only explain how the technology in question works, but some of the issues and current news related to it. The two hosts are funny and have a good rapport. Highly recommended."
Hosted By: Marc Fennell
New Episodes Released: Weekly
Why You'll Love It: If you're searching for a show that will keep you up to speed with all of those changes, advancements, and trends, this one is the podcast that you're looking for.
Host Marc Fennell collaborates with a panel of different guests in order to dive into the latest in technology, digital culture, social media, and consumer electronics.
Based in Australia, this podcast is an effective way to get a worldly view of what's happening in the tech industry—as well as some Australia-specific updates.
What a Listener Says: "Really, download this show. It's a great discussion of some big topics in the tech industry with an Australian focus. It's structured and it's smart."
Hosted By: Rory Cellan-Jones
New Episodes Released: Weekly
Why You'll Love It: Another podcast from the BBC, Tech Tent utilizes a mixture of interviews, news updates, and analysis to fill you in on all of the technology related news from around the world.
While the content is top-notch, many listeners also appreciate the show's host, whose quick wit always keeps things interesting and engaging.
What a Listener Says: "The BBC's Tech Tent never ceases to amaze me! Regular corners and unfamiliar nooks and crannies are discussed each week! Excellent diversity, covering tech happenings worldwide! I am positive you'll love this podcast all about technology!"
Hosted By: Manoush Zomorodi
New Episodes Released: Weekly
Why You'll Love It: Put together by WNCY, a New York-based public radio station, Note to Self isn't just another tech podcast.
What makes it different? It's story-centered approach.
Each and every week, Manoush Zomorodi takes a look at real, human stories that are somehow related to tech. This unique tactic is what makes it unique, and results in content that techies and non-techies alike can enjoy.
What a Listener Says: "I've been really enjoying and learning each and every podcast. Manoush does a great show on a wide variety of topics, making tech very accessible."
Hosted By: Will Smith, Norman Chan, and Jeremy Williams
New Episodes Released: Weekly
Why You'll Love It: As the official podcast of Tested.com, This is Only a Test and its three co-hosts take a close look at that week's biggest tech news in a way that's both informative and interesting—with as little jargon as possible.
One thing that listeners especially love? The hilarious, honest, and at times irreverent hosts that will keep you both laughing and learning.
What a Listener Says: "This is a great podcast about not just tech news, but all the other things that tech junkies love!"
Hosted By: Nilay Patel and Dieter Bohn
New Episodes Released: Weekly
Why You'll Love It: Each week, the two co-hosts chat with various tech thought leaders to make sense of what happened in tech over the past week—as well as take a forward-thinking look at what news and advancements might be coming up next in terms of tech and gadgets.
The co-hosts share great chemistry, and listeners appreciate the fact that they're able to bring a more human quality to technology news.
What a Listener Says: "If you enjoy mellifluous, tech-oriented conversation unfettered by any hipster, corporate overtones, I highly recommend subscribing to this podcast."
Over to You
There you have it—11 different tech podcasts for you to check out in the coming year.
Choose a few of them (or, hey, all of them!), make some time to listen, and prepare to learn and absorb everything you've ever wanted to know about tech.