When it comes to landing a gig or position as a web developer, there are two key things you'll need: the necessary skills and a killer online web developer portfolio to prove you actually have them.
Unfortunately, it's that second part that trips many people up.
Sure, you love flexing your creative muscles and coding impressive websites for your clients.
But, when it comes to putting together your own web developer portfolio?
Well, for whatever reason, that seems extra challenging.
That's normal—it can be awkward and uncomfortable to build something with a sole purpose of touting your skills and accomplishments. However, it's a hurdle you'll need to get over if you plan to continue growing in your career as a web developer.
So, what do you need to know in order to successfully make your own web developer portfolio website?
We're diving into all of the details right here.
Wait… Do You Really Need a Portfolio?
Here's the short answer: Yes, you absolutely need your own portfolio to showcase your web development work.
Many people are tempted to think that a LinkedIn profile or a traditional resume is more than enough to do the trick.
But, that actually couldn't be further from the truth.
For web developers, your website is more than just a description of your work—it is your work," explains developer, Nick Babich, in a post for the Shopify blog, "It's a place where you can demonstrate what you're capable of.
So, with that in mind, why would you want to hang your hat on a boring old PDF resume?
Put simply, if you're serious about your career in web development, you absolutely need your own web developer portfolio at the ready.
How to Build a Web Developer Portfolio
With that important note out-of-the-way, you're on to the next part of the process: Actually putting together your portfolio.
But, even for the most creative and experienced developers, this step can feel tricky.
Coding a website for yourself is a whole lot different than creating one for a client. Plus, when this site acts as a representation of your work and everything you're capable of, it's tough to know how to make a portfolio that walks that fine line between being impressive and intuitive.
Here are eight key tips to keep in mind when creating a web development portfolio for yourself.
1. Keep it simple.
This is your chance to show that you really know your stuff—that absolutely anything that client requests, you're capable of pulling it off.
For that reason, it's easy to fall into the trap of cramming your portfolio full with every available bell and whistle.
But, ultimately, it's far better to keep things on the simple side.
Why? Well, you want your work to take center stage—and, that's going to be tough if that prospective client can't wade his or her way through all of those custom features you've added.
You can still create a beautiful and impressive website without making it cluttered and complicated.
Resist the temptation to do things just because you can, and instead focus on the things that actually add value to your website. That'll help you skip the unnecessary features and add-ons and instead keep the most important thing in the spotlight: your work.
Check out this beautifully simple web developer portfolio website created by Taylor Ho: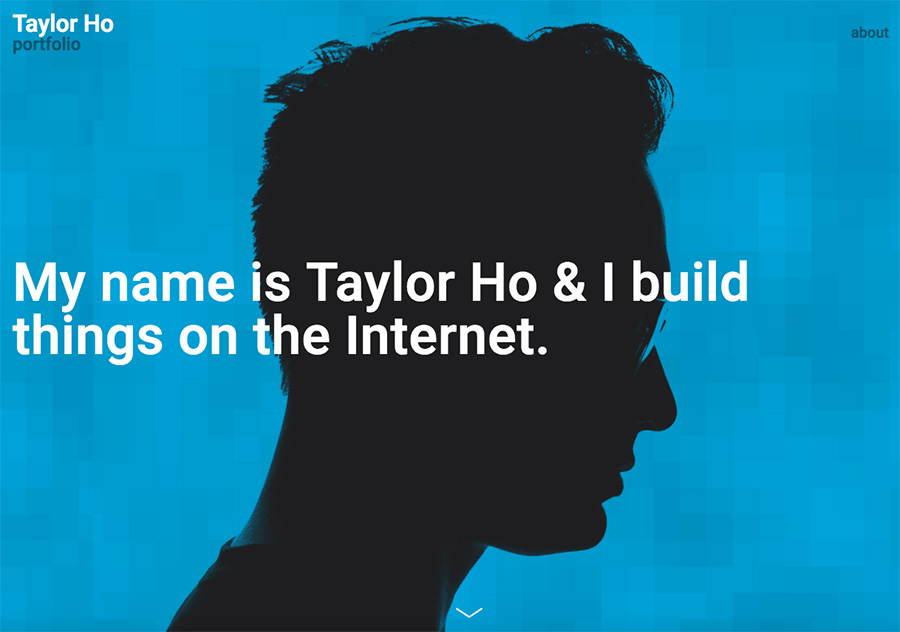 2. Always remember user experience.
When developing websites for clients, there's one thing that you always keep at the front of your mind: user experience.
You want the site to be easy to read, use, and navigate. This same rule holds true when creating your own portfolio.
A lot of this has to do with your actual portfolio design—such as always making sure that text colors pop against the background shade or making calls to action stand out, for example.
However, you should also make sure that you design your portfolio with a variety of devices in mind. That way, you can rest assured that your portfolio looks equally beautiful—whether it's being viewed on a phone or a desktop.
Want to know what many reviewers' favorite thing to do with your portfolio is? We love opening your website and then immediately adjusting the browser window width back and forth," shares James Rauhut in a post for FreeCodeCamp, "This tells us whether you give consideration to the plethora of devices your site could be browsed on.
Always keeping the experience of your user in mind not only makes your portfolio that much more impressive, but it also demonstrates that you emphasize that ever-important characteristic when coding other websites—which is something your prospective clients are going to look for.
3. Take advantage of your homepage.
You only get one chance to make a first impression, and this is exactly why the homepage of your web developer portfolio carries so much weight.
Believe it or not, people are going to form an impression of your website after only 50 milliseconds (yes, that's a real measure of time!). So, your homepage needs to immediately make the following clear:
When it comes to using images on your homepage, in that same Shopify blog post, Nick Babich suggests using a photo of yourself in order to add some personality to your site. Plus, it reminds people that they're hiring an actual human—and not just a faceless developer behind a computer screen.
Just check out this online portfolio example to see how clear Sadok Cervantes is about who he is and what he does on his homepage: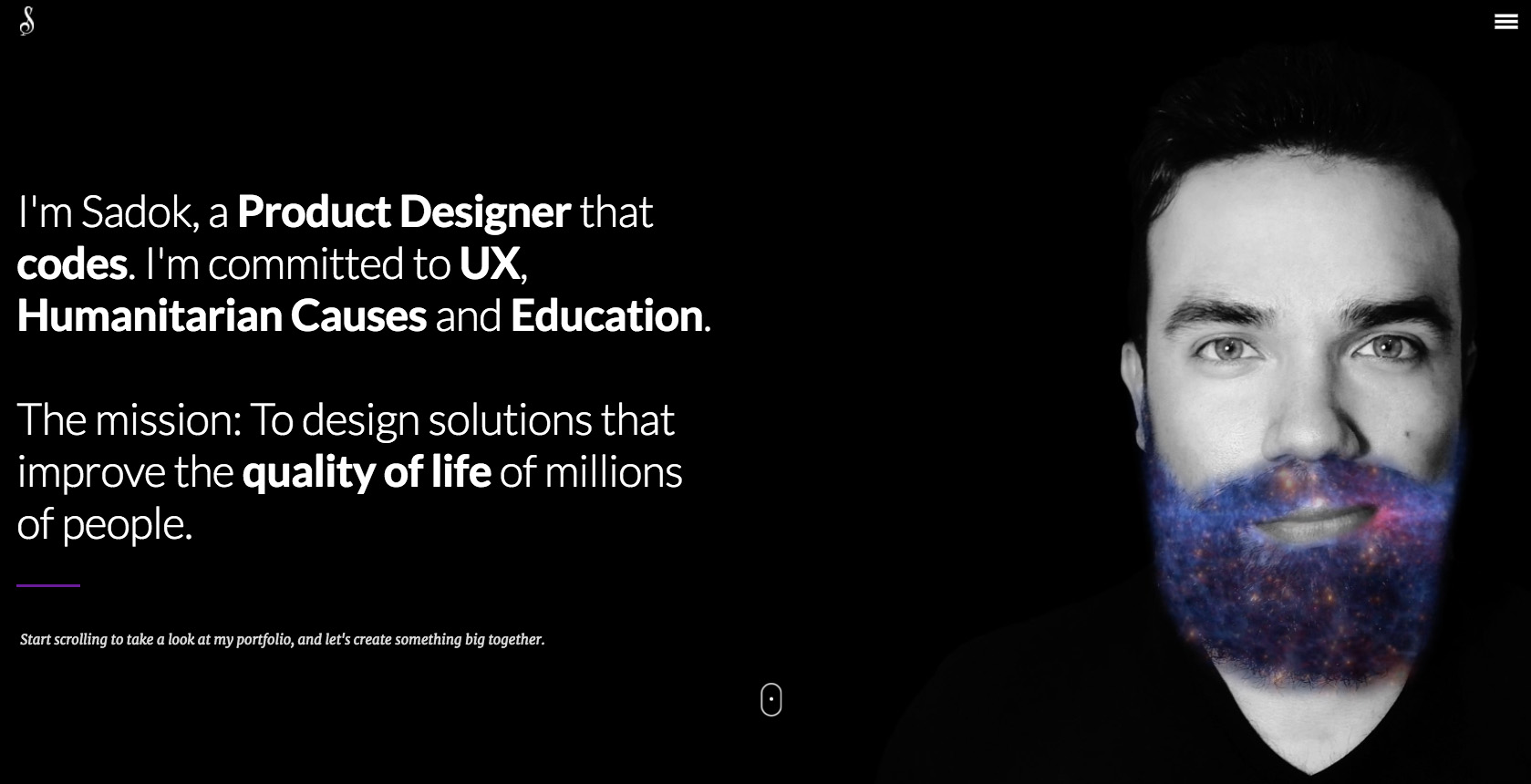 4. Don't skip the details.
The very purpose of your web developer portfolio is to showcase your work. For that reason, you figure that all people need to see is the final product.
But, if you truly want to make an impression, don't hesitate to dive deeper than that.
Talk about the process you went through to create that site or touch on the specific technologies and techniques you used. Mention any roadblocks or challenges you faced in creating that final product, as well as how you overcame them.
And, if it isn't proprietary, showcase the actual code.
Without any opportunity to inspect your code, you're making the reviewer's job tougher," says James Rauhut of the portfolios he's reviewed, "We'll struggle to know whether it's worth our time to move you on to the next step in a recruiting process.
Think of it like needing to show your work in your high school math class. Yes, getting the right answer is one thing. But, people want to peek behind-the-scenes and see how you got there.
5. Be selective.
You're proud of all of your work—and, that's great. But, unfortunately, people are only going to spend 10-15 seconds reviewing your portfolio.
Ouch, right?
But, that's actually further incentive to make sure that you're sharing your very best stuff—rather than every web development project dating back to 2008.
So, how exactly can you determine what websites you should be highlighting in your portfolio?
When considering a specific project, ask yourself the following questions:
What specifically makes me proud of this web development project?

How does this project differ from the ones already showcased in my portfolio?

Am I willing to replace an existing portfolio piece with this one?
That sort of self-reflection will help you separate the wheat from the chaff and land on only the projects that are most deserving of a coveted place in your portfolio.
PRO TIP: Set a regular reminder to review your own portfolio and make any necessary updates. As you know, the craft of web development is constantly changing. So, it's a good idea to check and see if there are any better, more recent projects that should replace some older ones within your portfolio.
6. Share your personality.
The people who hire you for web development projects are hiring a living, breathing person—not a machine. But, it's really up to you to remind them of that.
How do you do this?
By injecting some personality into your own web developer portfolio.
Use a snappy but descriptive "about" page to give people the opportunity to learn more about you, your background, and your education.
Don't hesitate to also touch on what makes you who you are personally—whether it's a love for the outdoors or a passion for rescue dogs.
We touched on using an image of yourself on your homepage. But, whether or not you choose to include one there, you should absolutely include some sort of headshot on your "about" page.
That way, prospective employers or clients will be able to put a face with your name.
Finally, make sure to include links out to your other, relevant social media profiles. With those in place, people who are interested in finding out more about you on a more personal level will have a quick and easy way to dig into more of your online presence.
Want to see an effective "about" page in action? Check out this web developer portfolio example from Jordan Vitanov: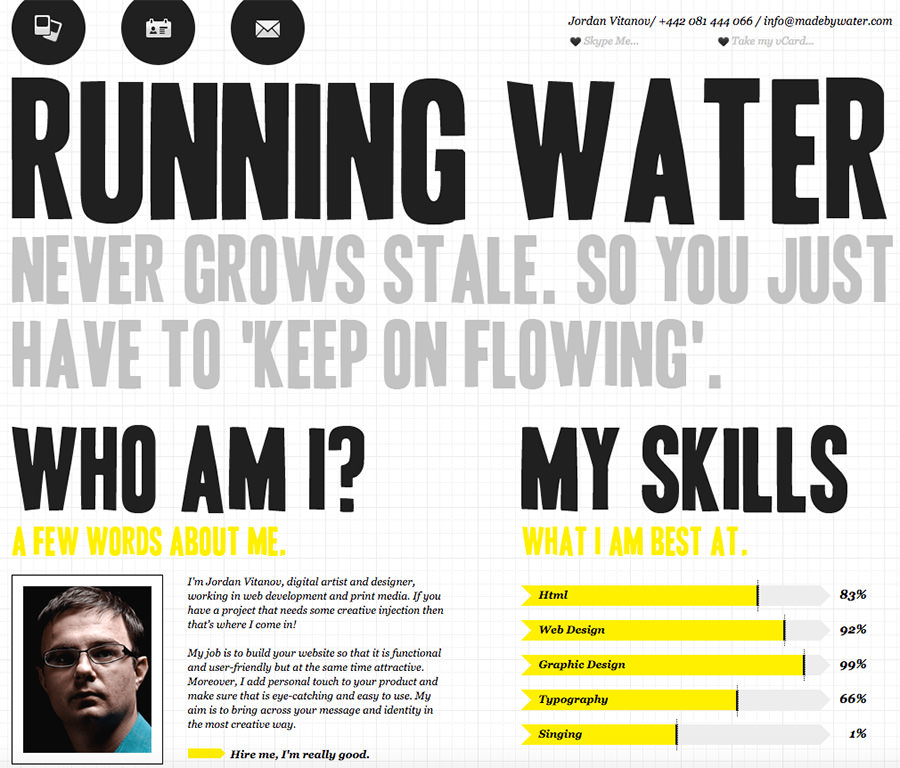 7. Make it easy to contact you.
The main goal of your portfolio is to land jobs. But, that's going to be difficult if you don't give interested parties any way to efficiently and effectively get in touch with you.
When it comes to your portfolio, you need to make it blatantly obvious how people can contact you—often by including a designated "contact" page directly in your main navigation menu.
As far as what goes on your "contact" page?
If you feel the need to include a generic contact form, go ahead and do so.
But, you should also include at least one additional way that visitors can get in touch with you—whether it's an email address or a phone number.
If your visitor or customer needs help, they want it now," explains Lindsay Kolowich in a post for HubSpot, "They don't want to fill out a form and wait to see when, if ever, they get a response.
8. Dare to be different.
Generally, your web developer portfolio will subscribe to the same recipe as many other people's—there will be an "about" page, a "contact" page, and—of course—your actual portfolio of work.
And, while it's important to make sure your site is intuitive and easy to use, there's also nothing wrong with branching out, trying something new, and doing things just a little bit differently.
Get experimental and make small changes that do not harm the design," advises Rauhut, "One of the slightest differentiators had placed their navigation on the right side instead of the left. I knew it was time to focus more because the navigation was not on the cookie-cutter left or top of the layout. Simple, but effective.
Over to You
Creating your own web developer portfolio presents a unique challenge.
Sure, you're great at cranking out websites for clients. But, coding one for yourself that accurately captures all of your competencies and experience is tough at best.
But, as tricky as it might seem, it certainly isn't impossible. Use these eight tips to put together your own portfolio, and you're sure to end up with something that impresses even the most discerning of potential clients.
And in the meantime, don't forget to track your time with Toggl Track.
Kat is a freelance writer specializing in career, self-development, and productivity topics. She's passionate about being as efficient and effective as possible—much of which she owes to her 114 words per minute average typing speed. When her fingers aren't flying on the keyboard, she loves to bake, read, hike, or tackle yet another DIY project around her home.