You're about to submit a design proposal to a potential new client. Your heart is racing, and you feel both stressed and exhilarated. After all, a winning proposal means the difference between landing a new client and losing potential business.
As a designer, writing up a perfect design proposal is absolutely essential. So how do you ensure your proposal is irresistible? Follow these tips to write design proposals that will stand out from the crowd.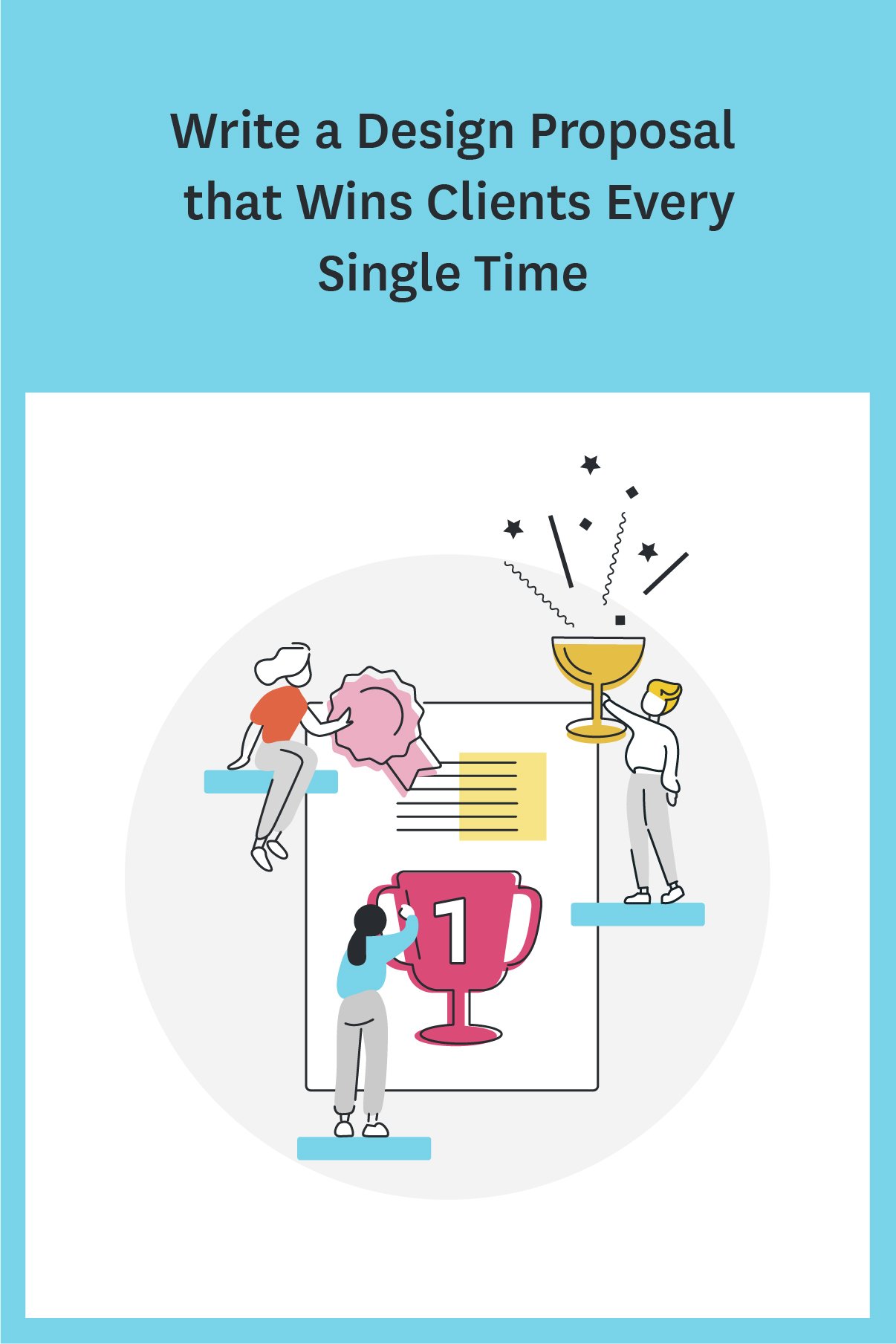 Know what your potential client wants
Submitting a design proposal means nothing if you don't have a good understanding of what the client wants. If you have a lead, talk to them first before approaching your client. You want to get a good grasp of the work ahead before the project begins.
Once you have your meeting with the lead, it's time to talk to your potential client. A face-to-face meeting is usually best, but it's not always viable for remote businesses. If your client is too far away to meet in person, go for a Skype call or any kind of video chat. Even though you're not meeting in person, the client will feel more comfortable seeing you in addition to hearing your voice. Your personality could be the boost that bumps your proposal ahead of a competitor's, which is why it's so valuable to take the extra step of meeting via video instead of just on the phone.
During your meeting, try your best to understand the client's problems and share ideas of how you can help the client solve these problems. We live in a world where people love instant results, so suggesting small changes here and there will further convince the client that you are the person for the job. It implies that you've already thought of ways you can tackle these issues.
Above all in this meeting, take notes and ask clarifying questions so you understand the exactly what the client is looking for and why. Asking questions shows your commitment to the job and that you're doing everything you can to understand what's going on, which will further impress most prospective clients.
Do your research
Now that you've taken notes and met with the client-to-be, it's time to gather the data. This could include resources, information about the client's brand, budgets, etc. You want to be as thorough as you can possibly be in your proposal. Leave no stone unturned. As important as it is to give your potential clients a fair price, you also don't want any surprises down the road.
When you design something for a client, you want it to be the best, plain and simple. To do that, you have to understand what your prospective client's competitors are doing. For example, with a web design project, this research might include:
Keyword research to see what competing businesses are ranking for

The company's current reach and influence on social media

A review of the UX/UI of the current website
You want your prospective client to succeed in their given industry because that means that you've been successful, too.
How to write a winning design proposal
You've talked to the client, put in the hours, and done your research, what's next? You're now ready to begin the design proposal process. You'll tailor each proposal to the needs of the client, but there are a few things to keep in mind when you write your proposal:
Surprises are a no-no. You need to be realistic with yourself and the prospective client. Put everything up front and don't hide the negatives. It might seem like a good idea for now, but it will only haunt you in the end.
Don't undersell yourself. Keep in mind that you have to actually make money from this, and if you're working with a team, they do, too. If you undercharge, you probably will not be taken seriously. If you overcharge, you can quickly scare away the would-be client. You have to find the happy medium where both you and the client are getting value out of the deal.
Don't make it too lengthy
As important as it is to be thorough, nobody wants to read a 10-page proposal. You should aim for no more than a single page. If the client asks for more info, oblige them.
Don't make it overwhelming
A long design proposal in general can be overwhelming, but using industry jargon is something you should also avoid. Be clear and concise. The client should read the proposal and have their questions answered, not generate more questions. Simplicity is a necessity.
Give the prospective client options
Everyone likes to have options. Keeping everything above in mind, put together a few packages so that the client feels that they have more control in the buying decision.
Remember, you want to make it easy for the client to decide to hire you.They'll choose your design proposal if it's clear, easy-to-understand, and if they feel like they have the power to choose the best package that you propose.
Additional tips
It goes without saying that each design proposal experience will be slightly different from the last. One thing that remains the same, however, is the need to keep track of your tasks once you've landed a new project.
Toggl Plan is a great tool for organization and making sure all your projects run smoothly. It's perfect for communicating with clients, and the visual timeline allows clients to see each and every step of the process. It's the ultimate project management tool for design agencies.
Remember that practice makes perfect. The more you practice writing design proposals, the more comfortable you'll be. If you're currently having issues with winning over new clients, follow the steps in this article and ask someone in your industry for feedback.
Finally, treat your proposals as projects themselves. There's more to a good proposal than just making more money. Of course, that's a pretty nice bonus, but what it's really all about is the pride in professionalism. You're selling your talents to the world, and that's definitely something to take pride in.
Like many other people, Zach McDaniel gained his knowledge of management and project management through research and necessity. He believes that the most interesting thing about project management, management, and productivity is that there are so many different strategies, so there's always something new to learn and share.