Little's Law vs. Kanban
Despite the common misconception expressed in the heading above, Little's Law and Kanban aren't at odds with each other. In fact, the creators of popular management strategies like Kanban, Lean Manufacturing, and Agile based many of their foundational principles on Little's Law.
Kanban software development team leaders measure WIP in terms of scenarios, user stories, cards, etc. Because arrival/departure rates are equal in stable systems, they can use their Throughput as the Little's Law arrival rate. With this information, they can calculate the amount of time their team needs to complete a task. Managers use this formula not just to determine the "engineering lead time" of projects, but also "order lead time" (the communication delay time between a customer's order and the beginning of production).
Kanban managers use Little's law for much more than predicting lead times, WIP, and throughputs. They use this formula to give their team members a broader perspective on workflow and efficiency.
Imagine our beardnet weavers wanted to double their production (Throughput) to meet a spike in the demand for stylish and sanitary culinary face wear. Flipping around the equation, their manager notices that:
WIP/Lead Time = Throughput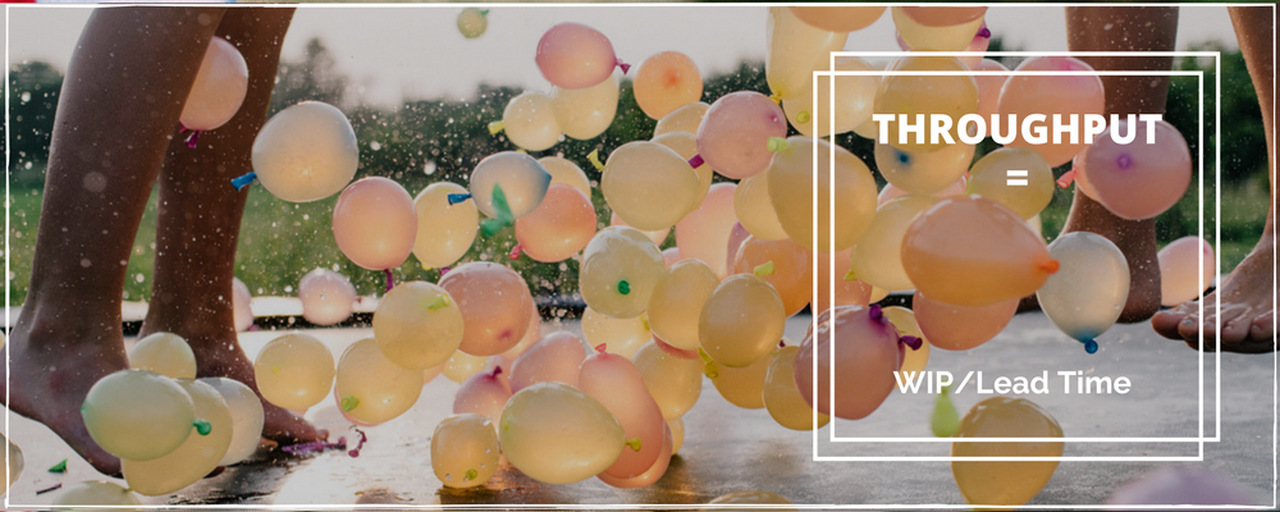 To double the company's Throughput, this manager could hire 5 more employees (doubling the team's WIP):
10 beardnets at a time/ ½ days to produce one beardnet = 20 beardnets per day
Alternatively, the original team of 5 weavers could work twice as fast (by adopting a new breakthrough in beardnet weaving technology) and cut their lead times in half:
5 beardnets at a time/ ¼ day to produce one beardnet = 20 beardnets
Little's Law vs. Cycle Time
Many people confuse Cycle Time and Lead Time, perhaps because they both involve "time." You can easily make sense of these concepts by realizing that lead time measures elapsed time and cycle time involves time per unit. If you find yourself adding or subtracting cycle and lead time from/to each other, stop. The units don't match, and you're heading for trouble.
Cycle time is the average time it takes to complete one step (or many steps) of an operation.
Imagine our taco truck offers freshly-made tortilla chips along with a tangy salsa verde. These taco-slingers have two tortilla presses, each of which flattens one tortilla per minute. The cycle time of one press is 1 minute per tortilla; the cycle time of this company's fleet of two presses is 30 seconds per tortilla. Their deep fryer is just large enough to handle 4 tortillas every two minutes (cut into wedge-shaped chips, of course) so it's no problem to churn out the chips.
If this truck's regular customers re-discover their passion for the first Ghostbusters movie and all foods that resemble green slime, their demand for salsa verde will dramatically increase. If this company buys two more tortilla presses, they can now make tortillas twice as fast (15 seconds per tortilla).
However, this action would create a bottleneck. Though the physical capacity of the fryer is adequate, its cycle time is not. At 2 minutes for every 4 tortillas, its cycle time equals 30 seconds per tortilla.
This company needs to invest in a larger deep-fryer, too!
In our taco truck example, the lead time of a tortilla chip (before any investments in new/additional equipment) equaled 3 minutes: 1 minute in the press and 2 minutes in the fryer.
However, adding the cycle times of the presses (30 seconds) and the fryer (30 seconds) doesn't add up to the lead time. Only when we consider that this company operates two presses do we see that this system was running at full capacity before their regulars went crazy for green, slimy foods.
Now that you understand cycle time a little better, reconsider its difference from lead time.
In Little's Law, Lead Time (W) refers to the average amount of time an item spends in a system; Cycle Time measures Throughput (λ). L refers to the volume of items in the system.
L = λ W
In the tortilla chip example,
WIP (3) = Throughput (1) x Lead Time (3)
This system can hold three tortillas at a time (WIP), taking into consideration both the physical and temporal capacities of the presses and fryer. Yum!