Looking for the best planner apps to organize your schedule? This article compares the top apps for planning your day, week, month, or more.
But why do you need a planning app?
Juggling priorities, both on the personal and work front, can be tough.
Thankfully, today you have a number of software options to set a schedule and get work done. Plus, these applications are available for a variety of platforms — web, desktop, and mobile.
How do you find the best scheduling and work management app?
That's what this article is about. We look at the best apps for planning your work and life. Each app in this article serves specific planning needs. So by the end of this article, you'll find one that meets your requirements.
Here's what we'll cover:
Ready to dive in? Let's start.
What are the best planner apps in 2022?
Toggl Plan is the overall best planner app for businesses and teams.
With Toggl Plan, you can plan and track your team's schedule using simple drag-and-drop timelines. But if you prefer Kanban boards to manage your tasks, Toggl Plan has them too.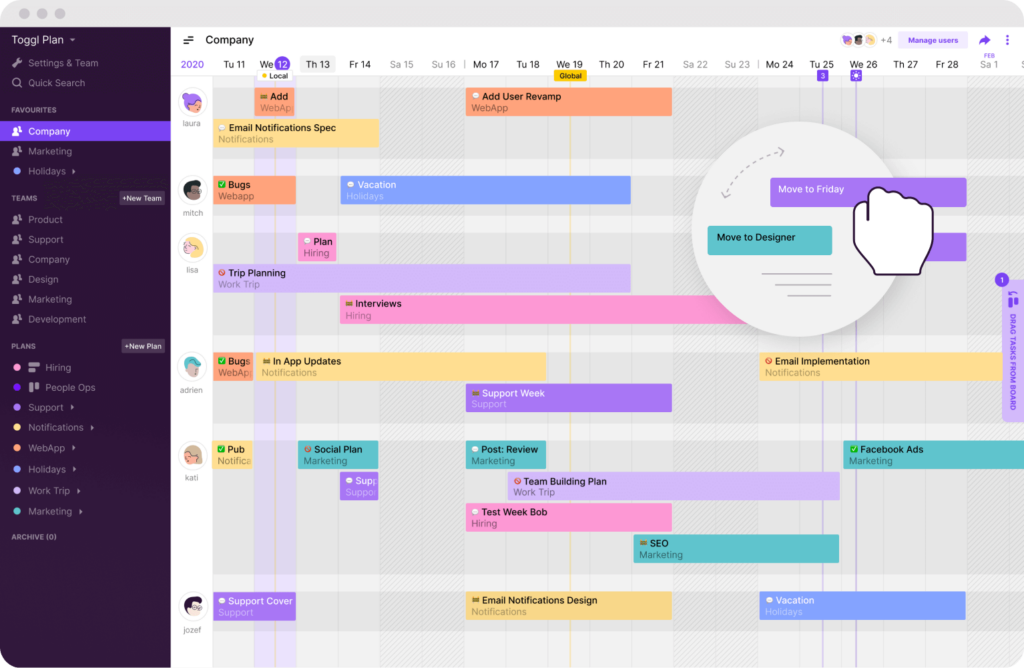 You can also set color-coded milestones on the Project timeline. Optionally, you can share important milestones across other plans.
You'll also be able to collaborate with your team by attaching files and checklists and adding comments to your tasks.
Best of all, managers can see their entire team's plan in one place. This helps them identify scheduling bottlenecks and balance team workloads thus preventing overwork and burnout.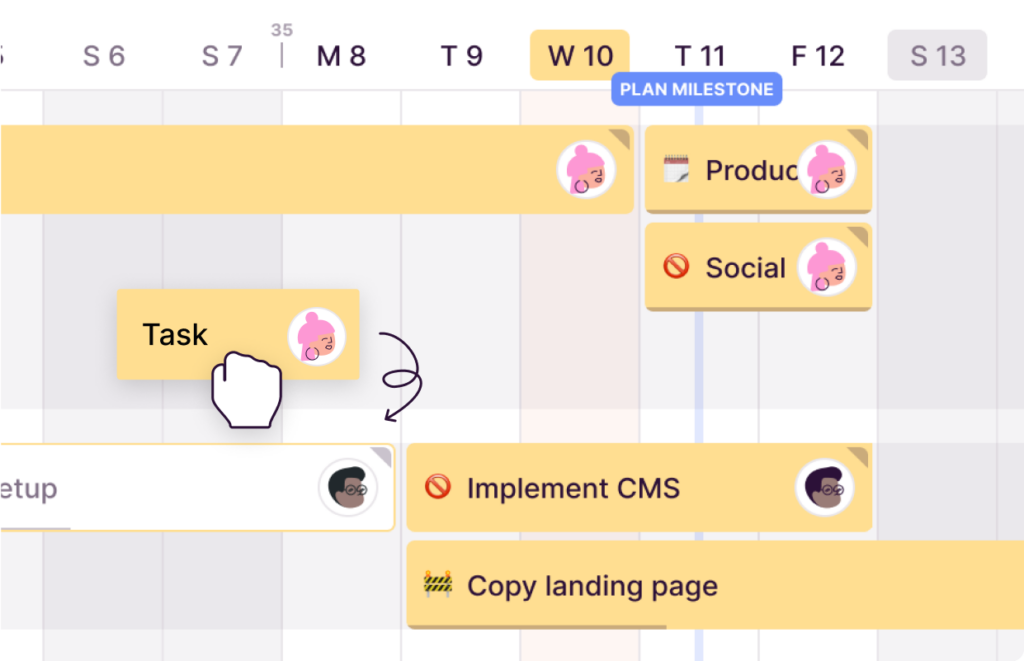 Key features
Plan project or work schedules (including time off) using simple drag-and-drop timelines.
Get a weekly, monthly, quarterly, or annual overview of the timeline
Share a read-only view of Project timelines with external users
Visualize your entire team's schedule in one place to avoid overwork and burnout.
Track tasks visually on Kanban task boards.
Add color-coded milestones which are optionally visible across timelines.
In-app and email notifications when something changes in your schedule.
Integrates with Apple, Google, and Outlook calendars.
Platforms
Online, iOS, and Android
Price plans
Forever free plan for solo users
Team plan at $9 per user per month: Comes with Team timelines and integration with Toggl Track for time tracking
Business plan at $15 per user per month: Comes with SSO, guest users, and data export for reporting
If you're looking for a free task planner app with a calendar view, Trello should be number one on your list.
Everything in Trello revolves around its Kanban board. You can drag and drop a task across columns to change its status and trigger automation workflows.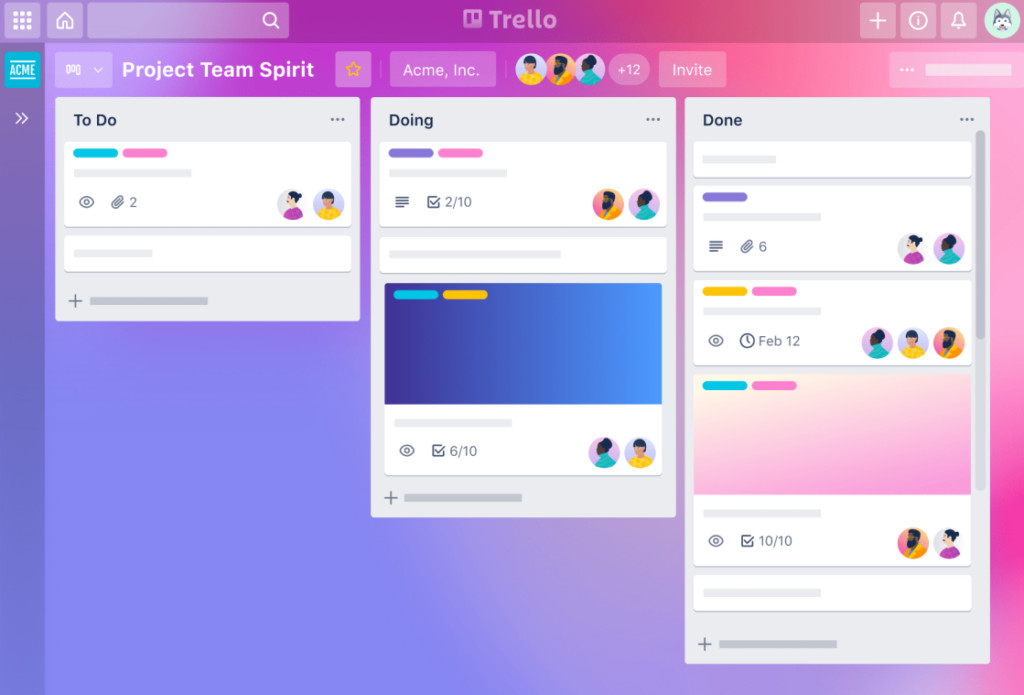 You can attach files, labels, and checklists to tasks and collaborate with your teammates using comments. But that's not all. Trello's task functionality is easily extended to suit your workflows using add-ons (aka powerups).
One such add-on is the calendar view with which you can visualize your plans and scheduled tasks on a calendar.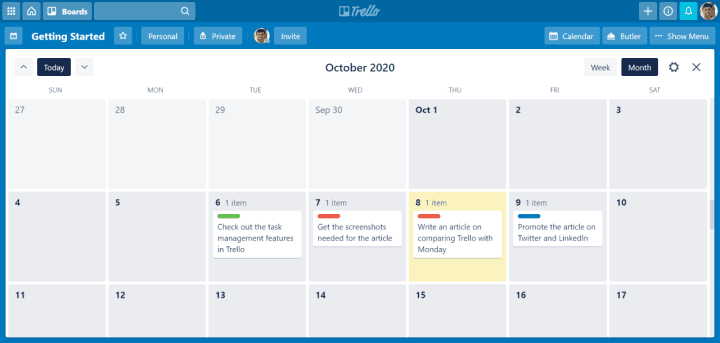 Key features
Plan and track tasks with simple to-do, in-progress, done, or a custom workflow
Visualize task schedules on a calendar view
Visualize tasks on timelines and maps (premium feature)
Integrates with thousands of other productivity apps
Automate task works with if/then logic
Platforms
Online, Windows, iOS, and Android
Trello price plans
Forever free plan with unlimited tasks and up to 10 task boards
Standard plan: comes at $5 per user per month with custom task fields and guests on single boards.
Premium plan: comes at $10 per user per month with dashboard, timeline, and workspace calendar views
Enterprise plan: comes at $17.50 per user per month with multi-board guests, single sign-on, and unlimited workspaces
If you were to build a list of personal daily planner apps, Any.do would be at the top.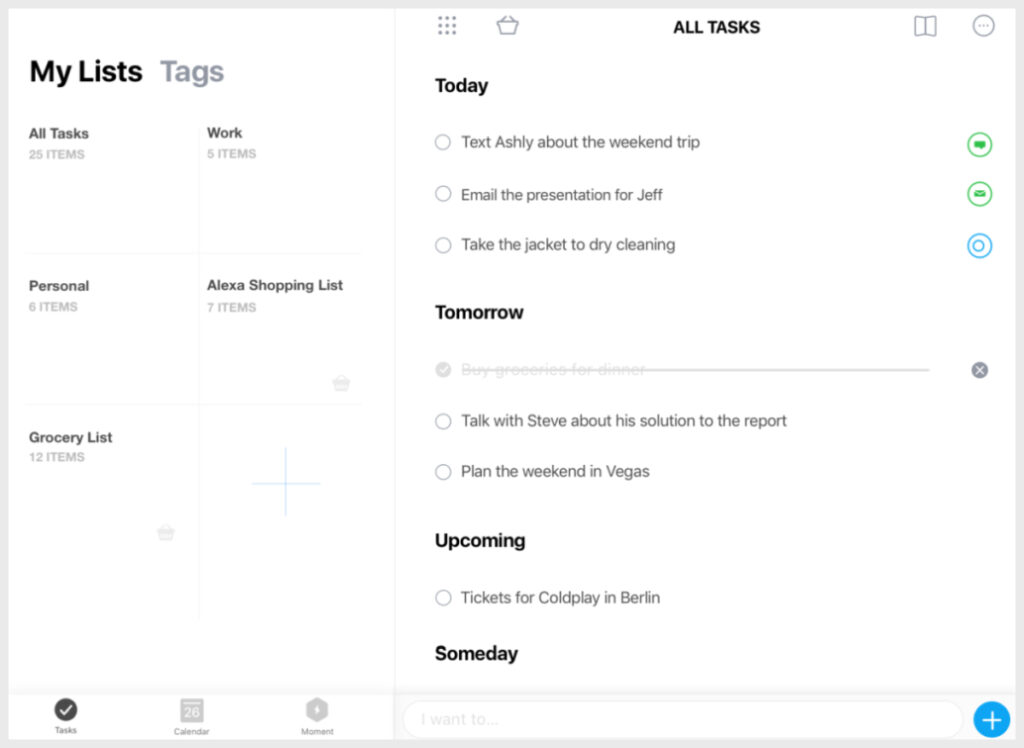 With Any.do, you can visualize your daily plans as a simple to-do list. You'll see your to-do items segmented by when they are due — today, tomorrow, or someday later.
For each planned task, you can set reminders too.
A planner app isn't complete without a calendar or a timeline view. Any.do comes with a simple calendar view with which you can filter tasks for a specific date.
In addition to to-do lists, you can also capture notes and file documents.
Key features
Capture and organize to-do items into lists
Set one-time, repeating, or location-based reminders for to-do items
Visualize daily plans using the calendar widgets on your phone
Add grocery items to automatically add them to relevant category lists
Re-schedule tasks for the day or week with a single tap
Platforms
iOS, and Android
Any.do price plans
Forever free plan with unlimited to-do items and lists
Premium plan: $5.99 per month with advanced reminders, recurring tasks, and customizable color themes
TickTick is the most versatile work planning app for capturing tasks.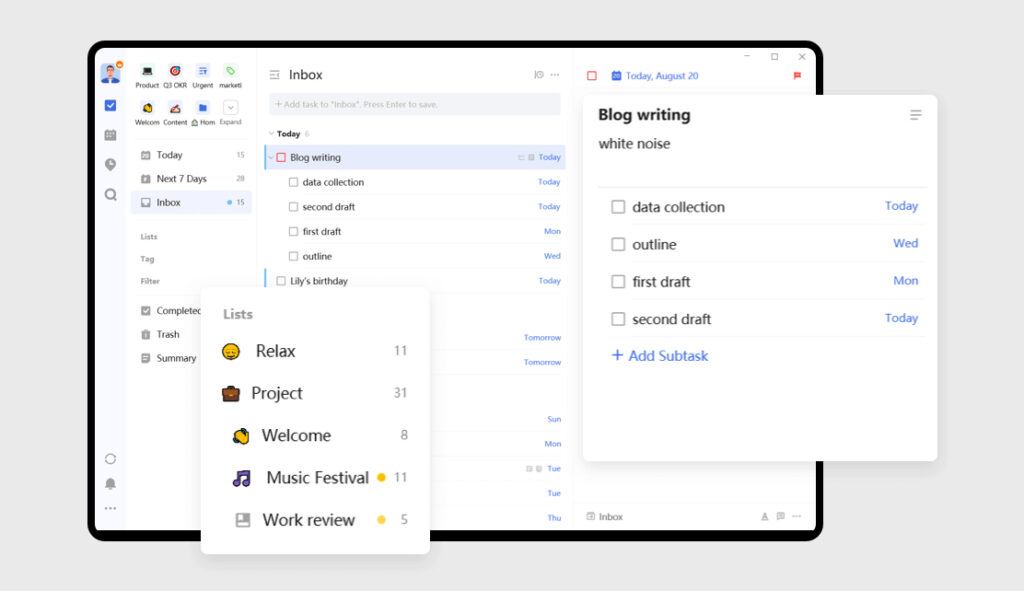 You can capture tasks using voice commands, by sending emails to TickTick as well as via Apple's Siri app. While capturing tasks, TickTicks natural language processing automatically schedules tasks and creates reminders for a specific time or location.
Key features
Capture tasks via email or voice input
Organize tasks into lists and folders
Prioritize and labels tasks
Visualize tasks on a daily, weekly, or monthly calendar
Pomodoro timer and white noise for distraction-free work (premium feature)
Platforms
Online, Linux, macOS, Windows, iOS, and Android
Extensions for Chrome, Firefox, Gmail, and Outlook
Pricing options
Free version: limited calendar functionality
Premium version: $27.99 per year with full calendar features, progress tracker, Pomodoro timer, and white noise
Todoist is a work organizer and planning app for teams.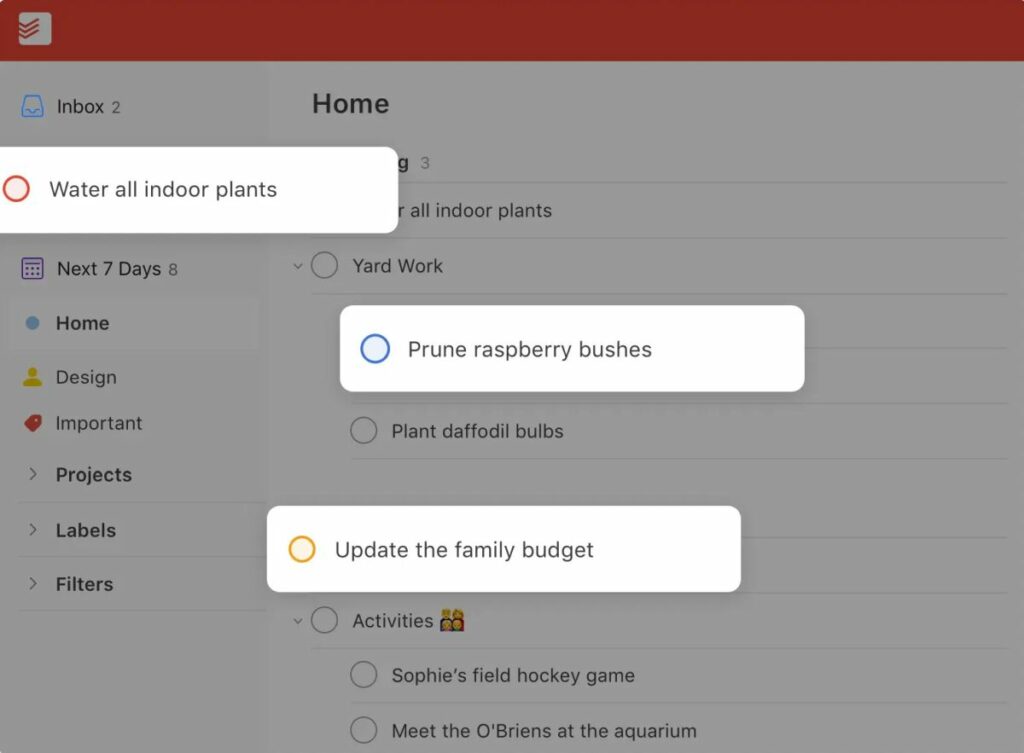 With Todoist, you can capture tasks for your personal and professional commitments. Once added, you can organize tasks into projects and subtasks.
You can also prioritize tasks, add projects as favorites for quick access, and set reminders for critical tasks.
Todoist also allows you to delegate tasks to your team and visualize everyone's work on a Kanban board.
Key features
Quickly capture and schedule tasks using natural language processing
Organize tasks into projects and subtasks
Share files and discuss tasks with your team
See your team's activity by project or team member
Visualize the productivity of your team over time
Platforms
Online, macOS, iOS, Android, and Windows
Price plans
Free forever: for 5 projects with up to 5 collaborators per project
Pro plan: $4 per user per month for 300 projects, up to 25 collaborators per project, and reminders
Business plan: $6 per user per month for 500 projects, 50 team members per project, and team billing
Twobird turns your email inbox into a work planning tool.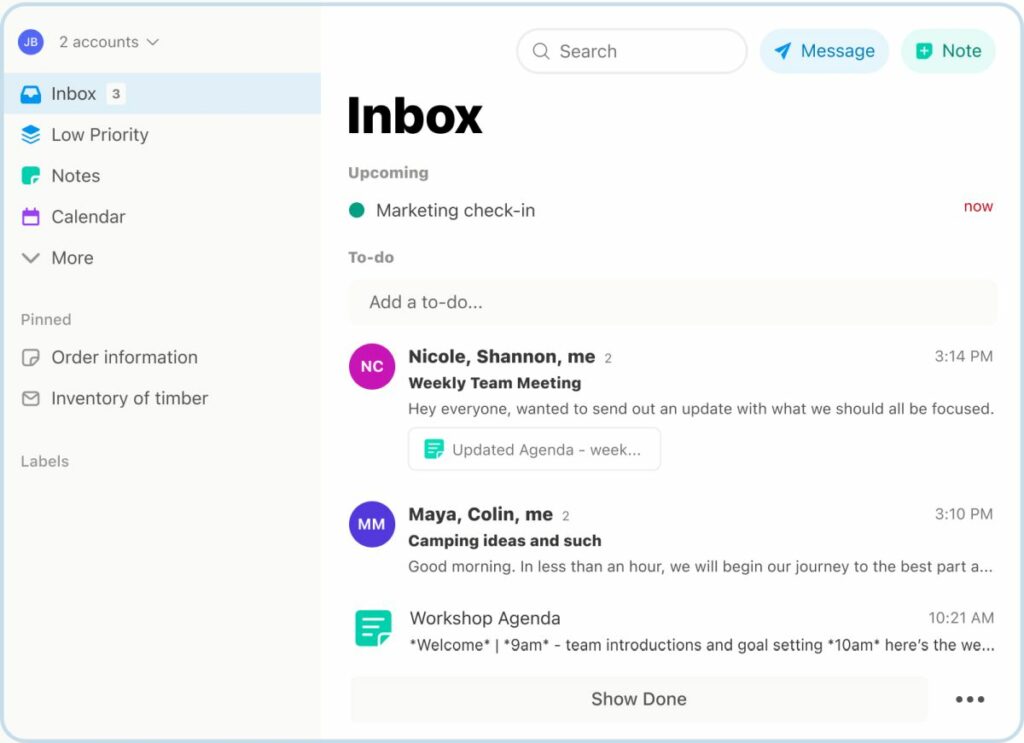 It works with Google and Microsoft email apps including Gmail, Google Workspace, and Outlook.
Twobird smartly categorizes your emails by priority. Plus, it sets reminders for emails that can be tackled later. In addition, you also get smart notifications to avoid distractions.
Key features
Integrate with Google and Microsoft email
Prioritize emails and set reminders automatically
Get smart notifications for distraction-free work
Unsubscribe from unwanted emails quickly
Add notes to email conversations
Platforms
Windows, Mac, iOS, and Android
Pricing options
Twobird is free to use for now and plans to offer premium plans in the future.
Google Calendar is one of the best online calendar apps out there. It provides one of the best overviews of your work, meetings, and daily agenda.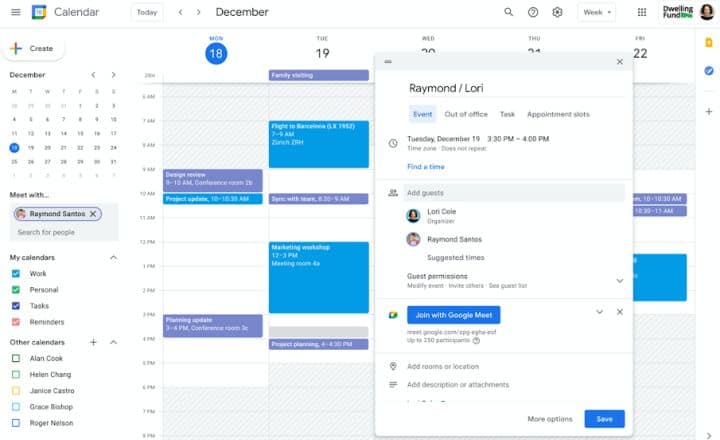 Scheduling remote meetings with Google Calendar is a breeze. It automatically takes care of the participant's time zones. Plus, with integrations for Zoom or Google Meet, you can hop into the meeting right from the notification.
Key features
Create events with smart suggestions for titles, people, and places
Automatically add events to calendars from flight or hotel booking emails in Gmail
Day, week, and month views to visualize your schedule
Platforms
Online, iOS, and Android
Pricing options
Free for personal use
Google Workspace subscription for business at $6 per user per month
If you're looking for a daily planner app for iPhone or iPad, look no further.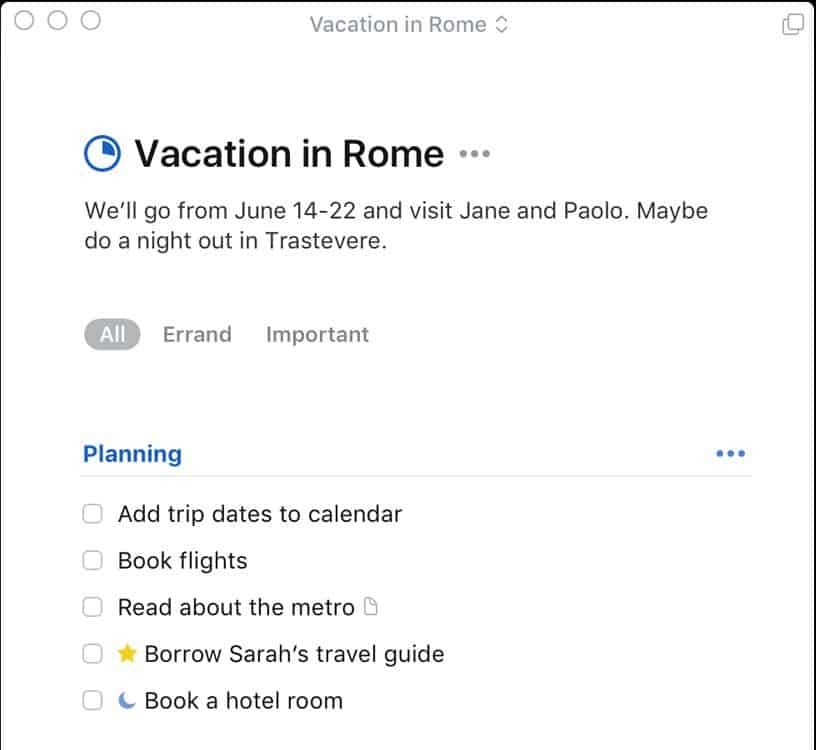 Things 3 is an award-winning daily task planning app built specifically for iOS. It also works on desktop Mac devices.
To-do items in Things are organized into projects and areas. Areas represent each sphere in your life such as work, family, finance, etc.
Key features
Organize to-do items into projects and areas
Plan and visualize your daily and upcoming schedules
Set reminders
Repeat tasks automatically on a set schedule
Integrates with Apple calendar and shows your events alongside tasks
Create to-do items via email
Platforms
All iOS devices including Mac, iPhone, iPad, and iWatch
Pricing options
iPhone and iWatch version: $9.99
iPad version: $19.99
Mac version: $49.99
Day by Day is one of the popular planning apps for Android devices.
It integrates Google Calendar and Google Tasks in one Android app. That way you get the best of both worlds — a powerful calendar with simple task management.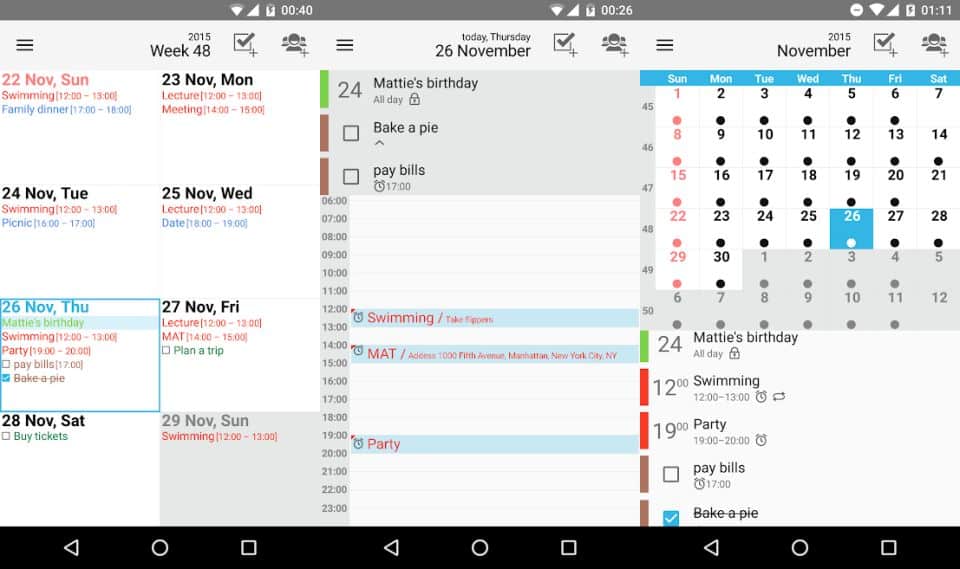 Day by Day keeps your Calendar and Tasks in sync. You can see all your events and tasks in one simple list. Also, you can plan and track tasks for a specific day, week, or month.
Key features
See events and tasks in one list
Keep your Google Calendar and Google Tasks in sync
Birthday reminder
Capture tasks and events with voice input
Agenda planner view
Platforms
Android
Price plans
Free version with Google Calendar and Tasks synchronization
Premium version at $4.99 with recurring tasks, subtasks, and task priorities
Habitica is one of the best daily routine planner apps that helps you form habits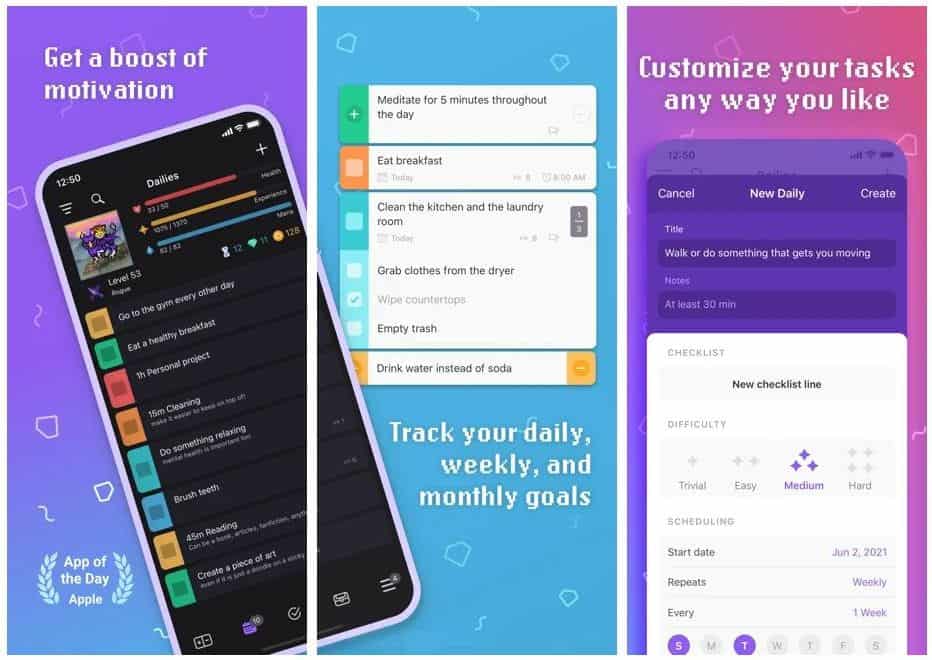 It gamifies your daily routine and encourages you to form habits and become more productive. Every time you perform a routine task on time, you get in-game rewards as well as praise from the community.
Habitica is useful as a student planner app to form study habits. Or as a fitness planner to stay healthy with daily exercise habits.
Best features
Track and manage habits, to-do lists, and daily goals
Get in-game rewards as you check off your tasks and goals
Battle with your online friends using these rewards to earn real-world rewards
Platforms
Online, iOS, and Android
Habitica pricing options
Free version to track your goals and habits publicly
Premium version at $9 per month + $3 per user per month for private group plans
What is the best planner app for your needs?
There are a lot of options when it comes to planning apps. You get apps for personal and professional use as well as individual and team use.
So how do you choose the best planner for your needs? Think about it from these angles:
Does the app meet your/your team's needs?
Does it make you more productive when planning your work?
Do you like working with the app?
Does it fit your budget?
Can it integrate with your existing work management system?
These questions will help you decide on the best planning app for your needs.
Most online tools, including Toggl Plan, have a free trial or a forever free plan. Use this opportunity to try out the planning software, along with your team before you decide on the tool of your choice.
FAQs about planning apps
What is a planner app?
A planner app is a work management tool that combines scheduling and task management. It captures, organizes, and schedules work tasks using a timeline or a calendar.
Why should I use a planner?
A planner helps you and your team get work done by bringing clarity, accountability, and transparency to work. In addition, planners like Toggl Plan help you avoid scheduling conflicts as well as prevent your team from getting overworked and burned out. In addition, here are nine planner ideas to organize your work
What are the different types of planners?
There are many types of planner apps depending on the end-users — personal and professional work planners, paper and digital planners, team project planners, etc. In addition, certain types of planners are designed for specific use cases. For example, financial planners, student planners, health and fitness planners, etc.

How to use a digital planner or planning app?
First, identify the work you need to get done in a specific period. For example, a month, a week, or a day. Second, schedule tasks and projects using a timeline or a calendar while avoiding scheduling conflicts with other work plans, team members, and time off. And third, ensure that everyone's workload is reasonable.
Does Google have a daily planner?
Google does not have a daily planner app. However, you can combine Google Calendar and Google Tasks to plan your daily work items. In addition, you also get Google Keep which helps you organize your notes and to-do lists as well as get location-based reminders.
Jitesh is an SEO and content specialist. He manages content projects at Toggl and loves sharing actionable tips to deliver projects profitably.