Do Monday mornings feel overwhelming with zero passion for starting work? Planning can help you beat the motivation blues. In this article, learn how to plan your week and get work done.
Here's what you'll learn:
Ready to dive into creating your weekly plan? Let's begin.
How to plan your week in 3 steps
Planning gives you a sense of purpose and reduces stress. But more critically, it makes your brain happy. For example, just planning a holiday makes vacationers happy weeks before the trip begins.
The same principle applies to your workweek. Here's how to plan your week:
Step #1: Make a task list
Your brain has to juggle a lot of things simultaneously. Instead of focusing on the task at hand, you're constantly jogging your memory for things to do. As a result, you end up wasting productive time and energy.
Importance of creating a tasklist
Writing down tasks makes it easier to focus on the task at hand. And when you're done, you know where you can go back to pick up the next task.
Making a task list is like taking notes. You look at all the work and distill it down to a list of to-dos. A written to-do list makes it easy to remember your tasks without even looking at the task list.
A tasklist turns abstract goals into concrete work steps. It's hard to make sense of abstract goals without breaking them down into a set of concrete actions.
Work is constantly interrupted by team messages, emails, and meetings. It's easy for unanticipated tasks to slip through the cracks. Creating a task list helps you uncover hidden tasks.
So grab a piece of paper and write down everything you need to do.
How to create a tasklist
Your task list should include all the tasks you need to complete this week. And not just what you need to do right now.
Ask yourself:
Are there any operational tasks for this week? Is there a report to submit?
What actions do you need to do to meet your monthly, quarterly, or annual goals?
What project tasks do you need to complete to deliver a project?
Do you need to follow up with any clients or vendors?
Do you have any meetings scheduled?
Why every task needs a purpose
Like it or not, most of the tasks you'll uncover will be tedious and boring. And setting reminders for the least enjoyable things to work on can sap up your motivation.
But that doesn't mean you shouldn't create a task list. As we've already seen, a task list can help you get work done more efficiently.
Instead, focus on the purpose behind each task. Studies have shown that people who work purposefully enjoy work more than those who just see it as a list of things to do.
Step #2: Prioritize tasks
Now that your task list is ready, it's time to prioritize your tasks.
Prioritizing tasks helps you focus on tasks that will have the most significant impact. Also, it enables you to make the most of the limited time you have.
Many frameworks can help you prioritize tasks. Let's look at the three most common ones.
4Ds of Time Management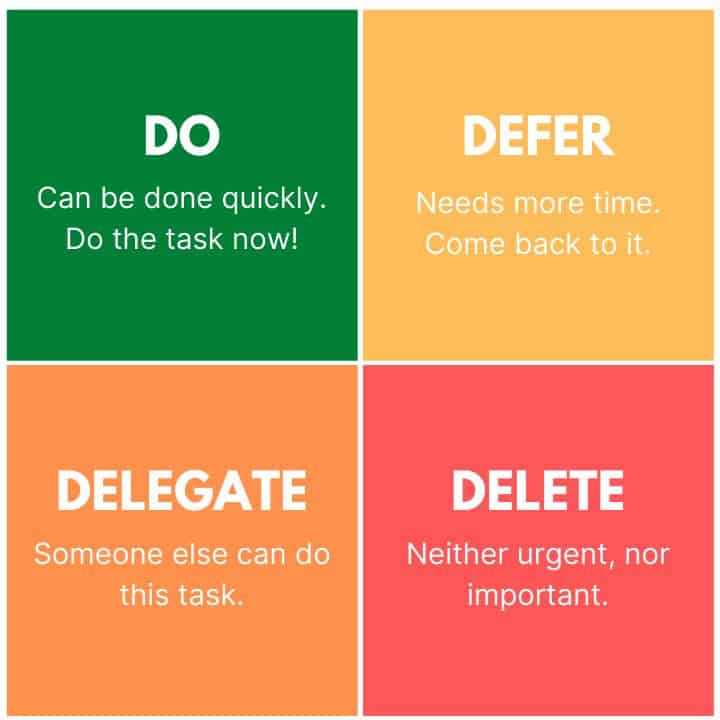 Using this framework, you categorize tasks as "Do, Defer, Delegate, or Delete."
First, the "Do" tasks are simple tasks that have no dependencies. Plus, these tasks can be done quickly, in a minute or two. Do these tasks to trim down your task list.
The "Delegate" tasks don't need your expertise. Anyone can do them with sufficient instruction. Assign these tasks to your team to trim down your list further.
Third, the "Delete" tasks are those that you don't need to do or serve any purpose. Remove them from your list to trim it down even more.
Finally, all that is left is the "Defer" tasks. These tasks may have dependencies and take time to complete. These are the tasks that you'll work on during the workweek.
Eisenhower's Power Matrix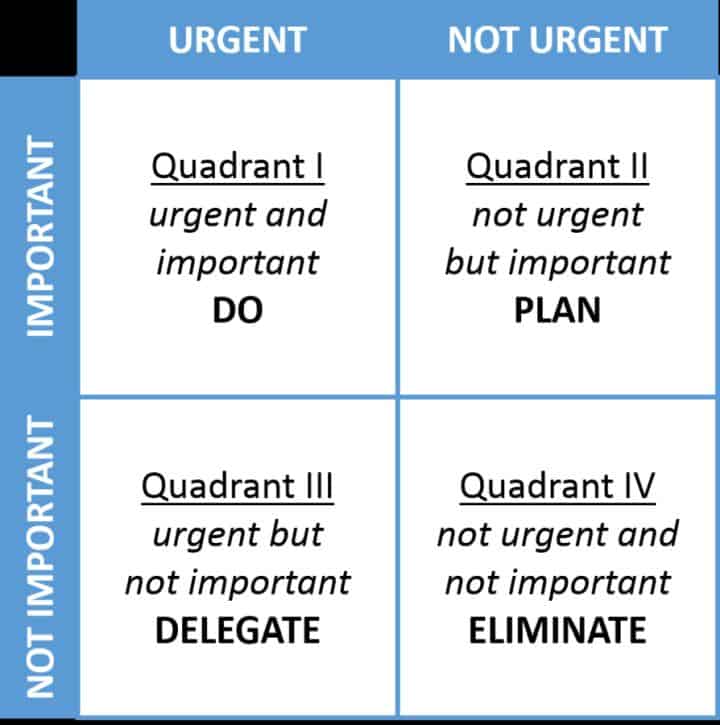 The Power Matrix conceptualized by Dwight Eisenhower prioritizes tasks as:
Urgent and important tasks have the highest priority. Not completing these tasks immediately will have negative consequences.
Not urgent, but important tasks are your "Defer" tasks. These are the tasks that you'll plan for.
You can delegate urgent but not important tasks to your team.
And finally, tasks that are neither urgent nor important can be removed from the task list.
Relative Priorities
Once you trim the task list using the above methods, your task list will contain only the "Defer" or "Not urgent, but important" tasks.
The next step is to prioritize these tasks.
An easy way to do that is to assign a relative priority to each task. For example, you can assign a number from 1 to 10 to set each task's priority. But how do you assign this number?
Three straightforward ways are to look at due dates, dependencies, and impact.
Prioritizing tasks by due dates is simple. Assign a higher priority to tasks that have an earlier due date.
To prioritize tasks by dependencies, first, you need to identify the relations between tasks. Tasks that are dependant on other tasks will have lower priority.
Finally, you can look at the impact each task has on your goals. Prioritize tasks that have a bigger impact.
Step #3: Create a schedule
It's not enough to have a prioritized task list. Next, you need to schedule these tasks and block off specific times for doing each task. That way, you know what you need to do on each day of the week.
Let's look at the steps to create a weekly schedule.
Block prior commitments
Before you can start adding the tasks to the schedule, block all your previous commitments on the calendar.
These could be your off-days, including public holidays and vacation days. Also, block off meetings and time dedicated for other projects.
Assign deadlines to tasks
Next, go through your tasks and set a precise due date for each task.
Estimate the effort needed to complete each task. Also, check to see if the task is dependent on other tasks. Based on the estimated effort and dependencies, set the "start by" and "due by" dates for each task.
You may not be clear about how to complete a few tasks. For such tasks, set the "start by" date early and schedule a few hours every day. That way, you won't have to deal with last-minute stress.
Add tasks to your calendar
Project management tools come in handy to manage your schedule.
You can add tasks on dates when they're due. Or you can use Gantt chart tools to indicate both the start and end dates.
To keep your focus on the current week, avoid adding tasks that aren't due this week. Or you can set the zoom level of your project management tool to focus on the current week.
How to get your weekly plan done
Now that your plan for the week is ready, how do you ensure that you get tasks done on time?
Here are three straightforward ways to get your weekly tasks done:
Keep a fixed working schedule: Flexible work hours are an attractive option. You can adjust your work schedule around your everyday life. However, try and keep a consistent working schedule, at least for a few hours every day. Fixed working hours help you be more productive during those hours. Plus, it's easy to coordinate with your team and colleagues.
Set reminders and notifications: Most project management tools will send you notifications for task start and end dates. You can also set reminders in your calendar software such as Google Calendar or Outlook. That way, you won't accidentally overlook a task.
Share work plans with team members: Staying transparent about your work plans helps increase accountability. When you share your plans with your team members, it automatically makes you feel more accountable for completing your tasks on time.
So far, we've looked at how to plan your week and get the scheduled tasks done. Next, let's look at Toggl Plan and how it can help you plan your week.
In case Toggl Plan isn't for you, here are the best planning tools you can use.
How to plan your week using Toggl Plan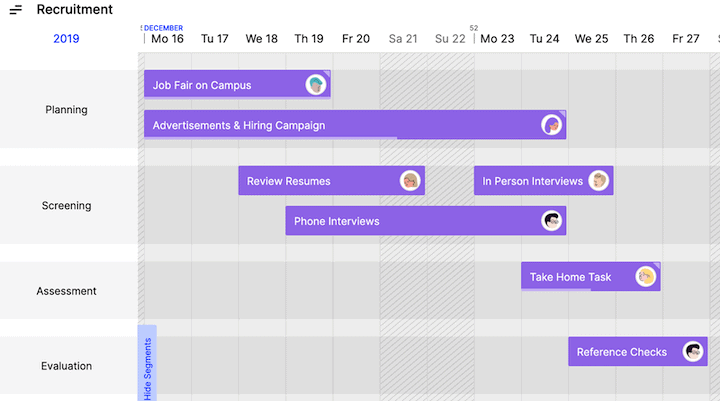 Toggl Plan is a beautifully simple planning tool. You can also use it to create weekly, quarterly, and annual plans. In addition, you can also create project plans and roadmaps.
Planning Features
Create work schedules with Project Timelines. When things change, adjust your plans by simply dragging and dropping tasks.
Zoom in on a week on the timeline to get a look at the details. Or zoom out on a month, quarter, or year to get a birdseye view of your plan.
Create plan calendars for team members, projects, and time off. See all calendars come together on the Team Timeline. 
Get a visual overview of your team's workloads and availability on the Team Timeline. 
Keep all task-related information in one place. Attach notes and file attachments to tasks. Collaborate with other team members using task comments.
Get in-app notifications and email reminders for upcoming and overdue tasks.
Schedule recurring tasks
Get Started For Free
Toggl Plan is free for solo users.
Teams can sign up for a free 14-day trial of the paid Team and Business plans. Paid plans start at just $9 per user per month.
Get started with Toggl Plan now.
Jitesh is an SEO and Content Specialist at Toggl. On this blog, he shares actionable tips for professional service teams to deliver projects profitably.