In the start of 2022, we've been focusing on setting the stage for the future and providing more insights for managers. Continue reading to find out what we've been up to.
The Product
Here's what to look forward to the next time you open Toggl Plan.
More Accurate Time Estimates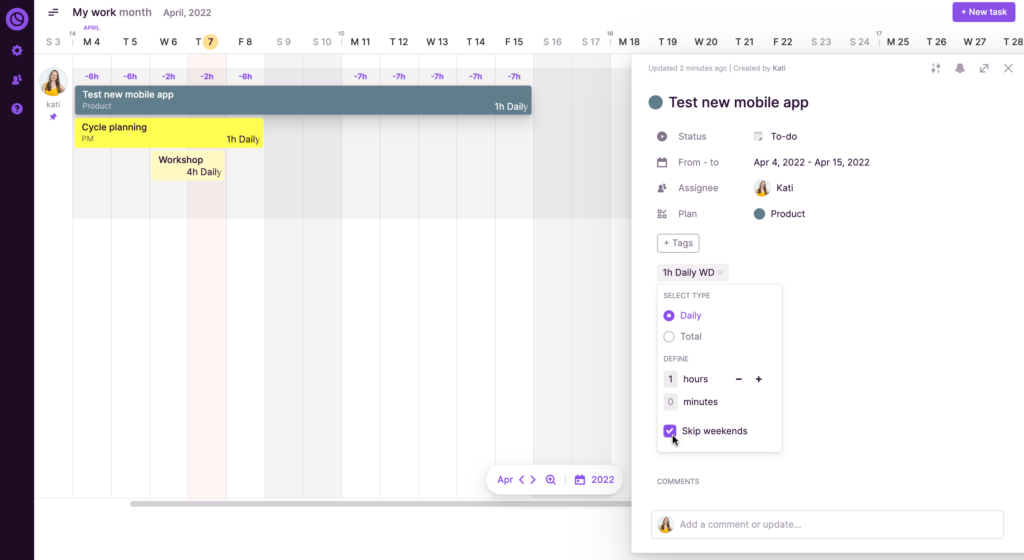 Time estimates help you manage workloads, make sure people are not overbooked and stay profitable by communicating expected effort upfront. However, most of you don't work on weekends and before, Toggl Plan was lacking a clear way to deal with tasks overlapping Saturdays and Sundays.
Now you can decide to skip or include weekends for time estimations. While all past tasks remain as they were with weekends included (we don't want to mess up your calculations!), for newly created tasks, skipping weekends is the default. Because we hope all of you get to enjoy a few days a week with your loved ones, taking a much deserved break from work.
Skip weekends is available on both – our web and mobile applications.
See How Your Projects Are Aligned With My Plans (Beta)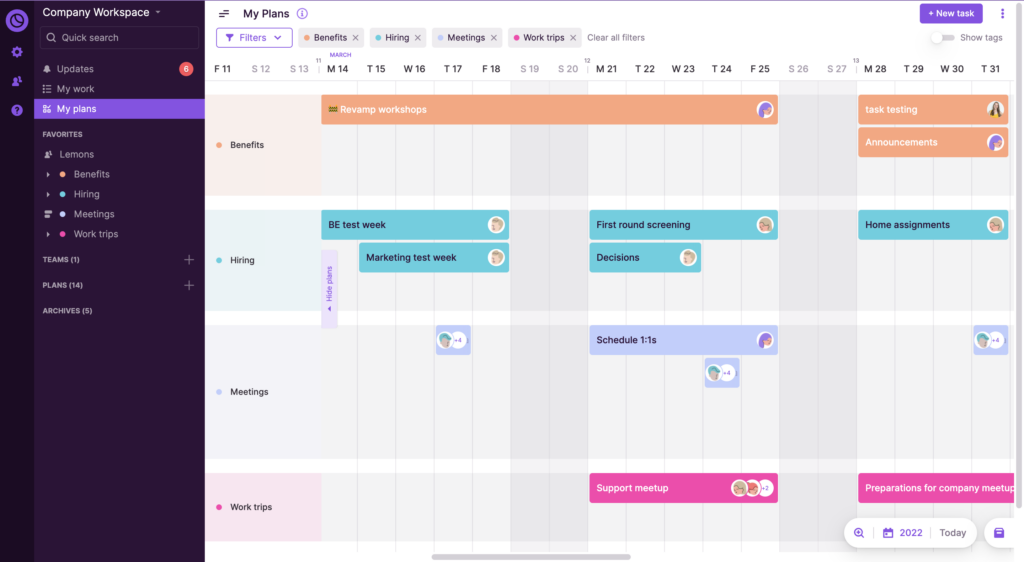 When a new project comes in, you need to commit to the right schedule with confidence. To do that, you need to make sure you've got your existing work spread out and your key deadlines are not falling too close together.
While our team timeline provides a great overview of people's workload, it's not the easiest way to understand how your projects are aligned.
Here's where we're introducing My plans – a timeline view organized by projects, not people. My plans helps you see how the work aligns.
By default, My plans opens with the Project timelines you've added to your Favorites. However, you can edit the filters at any point, picking and choosing which Plans you wish to look at.
My plans is a beta feature currently only accessible on our web application. If you have any feedback or suggestions, please let us know at support@plan.toggl.com.
What's New on the Toggl Plan Mobile App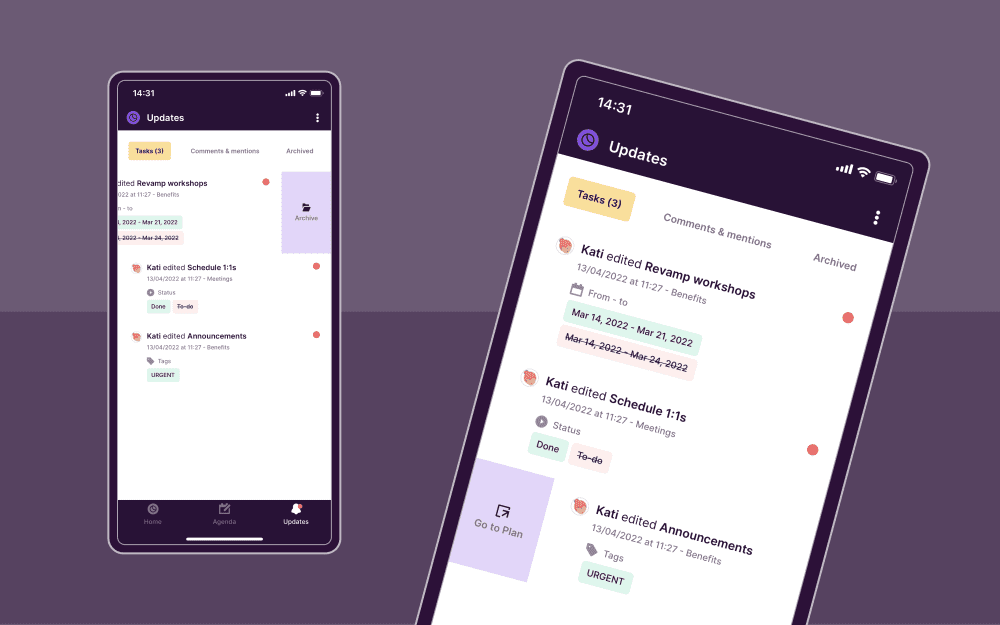 Checking out your tasks for the day on the go, but worried you might be missing some important changes? Luckily, we've introduced Updates center on our mobile app, to make sure you always know what to look out for. Similarly to our web application, Updates center gives you an overview of changes and comments to the tasks you follow as well as any mentions.
Managing your updates is easy:
Click on the update to navigate to the edited task
Swipe left to archive the update or swipe right to navigate to the Plan where the task belongs
Long-press to multi-select updates and archive or mark them read
Updates center is currently being rolled out to both Android and iOS apps.
Are you using the Toggl Plan mobile app already? We are really happy with all the progress it has gone through in the past year. If you're using a small device, our mobile app is definitely the way to get the best experience of Toggl Plan.
Haven't tried our mobile app yet? Find it in Google Play or App Store. Already a user? Send us your feedback and suggestions at support@plan.toggl.com.
Company
In March, we had our first joint meetup with product teams from Toggl Plan and Toggl Track. We spent some quality time together, shared lessons learned from 2021 and visioned what the future might look like. It's always great to put an actual face (and height) to people and this meetup was no exception.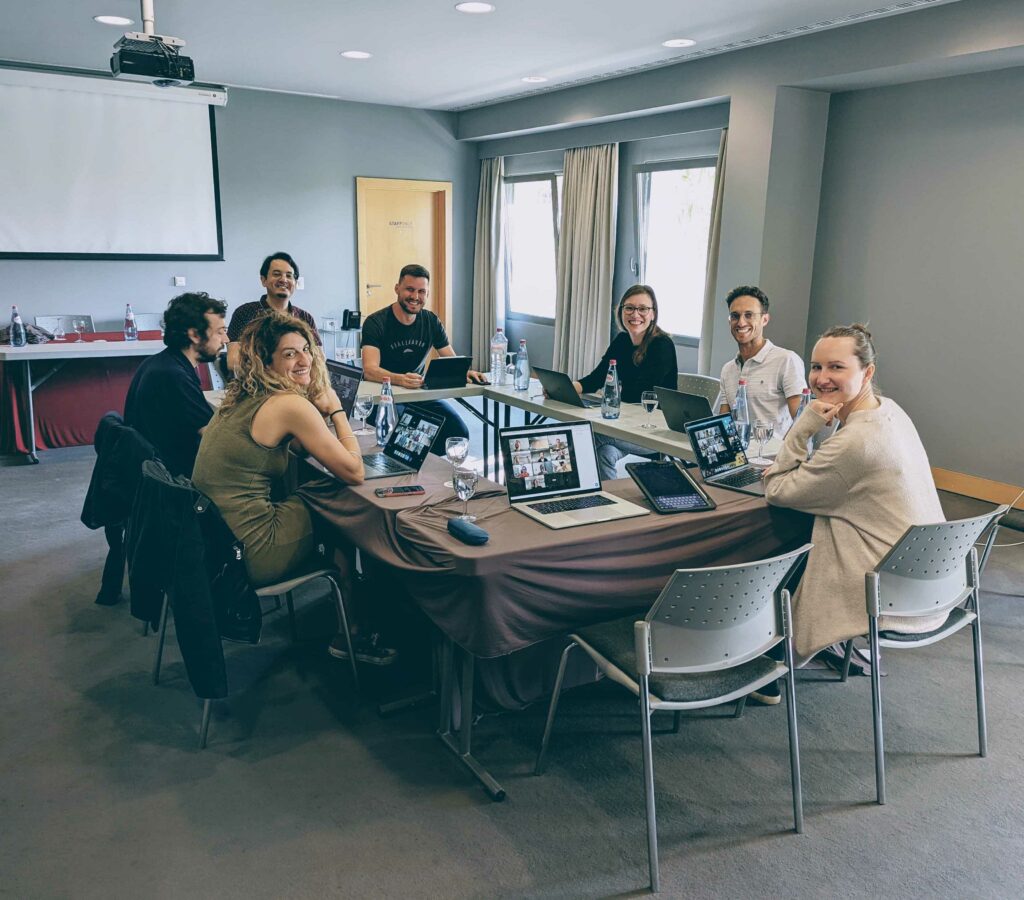 Want to join us next time? Good news, we're hiring! Check out our jobs page here.
Final Words
I hope you enjoyed this overview of our first quarter here in Toggl Plan. We are very excited about what's yet to come this year. Until then and as always, don't hesitate to reach out at support@plan.toggl.com with questions, feedback and anything else that's on your mind.
Kati Kuustik is a marketing and analytics specialist at Toggl Plan, where she helps the product and marketing teams better understand user behavior in order to translate that into valuable product updates and effective campaigns.