Resource planning, along with the right tools, are key aspects of project management. It doesn't matter how well you define and plan tasks if you don't have the right resources when needed.
This gets even a bit more complicated when teams share resources. Take for example: developers or copywriters for design and marketing teams. It's crucial that team tasks assignments do not overlap.
Given the importance of resource planning, we've put together an article to help. We've covered:
And if you prefer, you can skip straight to the tools for resource planning 👇
What is resource planning?
Resource planning is a specific area in project management that deals with gathering and making use of all the necessary resources required to deliver a project. In this respect, anything can be viewed as a resource: people, IT equipment, materials, facilities. Generally, for knowledge and creative work, the most important resource is people – whether they're full time employees, freelancers or contractors.
Resource planning is also about managing available talent. It allows project managers to make sure that one person will be working on one thing, at one time, for a specific project. Managing resources is also about matching skill level to task difficulty level. This way, team members get to do challenging work and stay motivated.
Why is resource planning important in project management?
Resources can make or break your project. Like we mentioned earlier, it doesn't matter how well tasks are planned. Without the right resources, they won't turn into reality. What's more, projects come with difficult requirements and deadlines, but the resources project managers get are finite. Strategic use of resources allow project managers to ship on time, respecting deadlines and costs. To this end, resource planning is an essential step.
Additionally, priorities can change on the fly. In order to accommodate changes, project managers need to keep an eye on resource availability and utilization so they can shift resources when needed.
Resource planning also keeps an eye on utilization rates. This is very important if you charge clients according to the number of hours.
Last but not least, resource planning can help project managers create balance and a good mood inside their team. Matching tasks and skill set will keep team members happy and engaged. Also, by constantly managing individual availability, project managers make sure that work is divided equally and that no one gets overworked.
Why should project managers use resource management tools?
Although important, resource management can be difficult. However, there are a lot of tools that can help.
Spreadsheets can be a temporary solution for resource planning. Even if they seem helpful at first, in the long run, they become complicated. For starters, spreadsheets require manual data input, which leaves plenty of room for error. Then there's the risk of file overwrites and multiple versioning. (We've covered why you should ditch Excel for project management here).
The right tools, on the other hand, will make any project manager's job easier. A lot of project management tools come with resource planning modules embedded. There are also stand-alone, dedicated resource management tools. Both provide useful features such as visual resource planning, capacity planning and real-time analytics and forecasting.
Also, both will help project managers create a better use of resources. Visual resource planning shows what task team members are assigned to and working on. This makes it harder for task to overlap. Given the reporting capabilities, resource management tools allow project managers to keep an eye on utilization rates.
Additionally, project managers get a better view of team members' availability. They get to see when they complete work on a project and when they can reassign them to other tasks.
Resource management tools also allow teams to collaborate and can be used as a communication tool. The initial plan can be shared with stakeholders and clients so they get to see who is working on what and when.
5 best resource management tools
Free plan available
Premium plans from $8 per user per month
Toggl Plan is a simple visual resource planning and management tool. It's easy to use, and quick to get started. That means there's no training needed, and no friction when onboarding the team (even those less tech-savvy!).
The drag-and-drop interface makes using Toggl Plan feel quick and effortless. Plans and projects can be drawn out and assigned in a few clicks, and updating is a breeze too. Nobody likes to spend hours per week on keeping plans up to date. With Toggl Plan, you don't need to.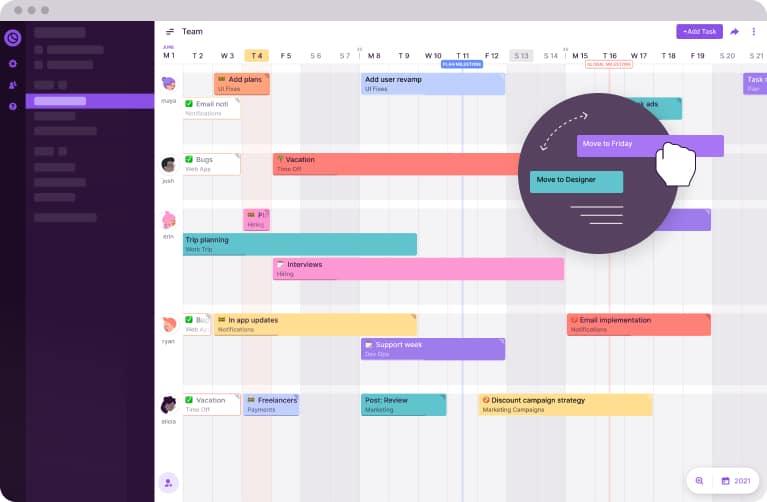 In the Team Timeline, you'll get a birds-eye-view of what everyone is working on, and how their projects are progressing. You can see at a glance how busy everyone is, to make sure capacity is optimal.
Looking ahead, it's easy to see when there are deadlines or milestones approaching. You'll always know when you have space to take on more work, too (and who's available for it!).
Plans and pricing
Toggl Plan comes with a limited free version.
Paid plans start at $8 per user per month (annually), or $9 per user per month (monthly). Full details can be found here.
Get a free trial of Toggl Plan.
Free for up to 10 resources.
Plans starting from $25 per month.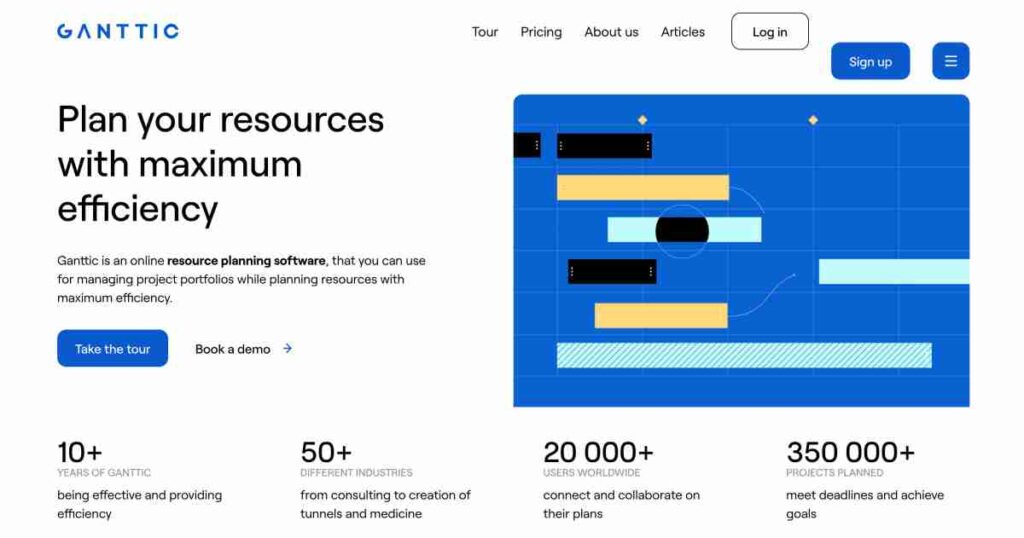 Ganttic has been around for more than 10 years. Originating in Estonia, this resource planning software has a streamlined and versatile design that's made it popular with creative agencies, engineering, production, startups, and construction companies around the world. Easy to use and fully customizable, the web app comes with everything PMOs need to run projects more efficiently: drag and drop scheduling, automatic reporting, Gantt charts, and utilization tracking.
Ganttic conforms to the way you plan, not the other way around. Decide if you want to plan from the POV of projects, or use your resources as the starting point. Then organize the planner according to custom data fields for projects, tasks, and resources. Plus, you can easily integrate your other favorite tools via the API or with Zapier.
Plans and Pricing
You can try Ganttic for free without a credit card for 14 days. Better still, plans are based on resources, and all come with unlimited users. So you only pay for what you use and everyone can stay in the loop.
Monthly plans for up to 20 resources start at $25 per month, but for up to 10 resources it's free forever.
No free plan
Premium plans from $2.50 per user per month
Resource Guru has been around a while. All in all, it's a pretty powerful tool, and it's popular with agencies and companies working with multiple clients. It comes packed with features such as filtering, checking team availability, easy resource allocation, reporting, time zone support and other customization options.
Resource Guru also allows leave management and sick days so project managers can get a better overview of available resources. Each user gets his/her own dashboard. Standard users get to manage their availability and see what they should be working on next. Project managers get a bird's eye view of resources' availability, bookings, clients and projects.
Resource Guru also prevents resource clash allocation by setting availability for each resource and through waiting lists. It also supports multiple users so more Project managers can use it at the same time without stepping on anyone else's toes.
Plans & pricing
Resource Guru doesn't have a free plan, but they do offer a 30 day free trial. Once the trial is over, pricing plans start at $2.50/user/month (annual) or $3.00/user/month (monthly). Prices go up to $8/user/month depending on the plan. A separate price is also available for non-human resources.
4. 10,000ft by Smartsheet
No free plan
Pricing details must be requested
10,000ft is a resource management tool popular for marketing, advertising and architecture companies. It's also used by design, management and consulting businesses. 10,000ft comes with standard resource planning features such as drag and drop assignment, powerful dashboards that give an overview of current status, task management and reporting.
What makes 10,000 plans different is the project and resource matching feature, which allows project managers to always find the right skills for a specific task. 10,000ft also provides time tracking and expense tracking. What's more, project managers can create comprehensive reports with data such as utilization for projects, teams, clients or more.
Plans & pricing
10,000ft plans previously offered a 30 day free trial, with pricing from $10/user/month.
Since joining Smartsheet, they still offer a 14 day free trial, but do not publicly advertise pricing. You can contact Smartsheet for pricing & details.
No free plan
Premium plans from $6 per user per month
Float is a popular resource management tool for many advertising agencies. With clients such as R/GA, Ogilvy and Razorfish, Float has also become popular with other creative companies such as Vice or BuzzFeed. This tool provides all the necessary features a project manager needs to plan resources smoothly: easy assignment, fast editing, live updates, holiday management. Float also allows users to set recurring tasks.
Additionally, it comes with powerful reporting that can be customized according for insight into departments, projects, tasks and resources. What's different about Float is the live update system that sends email notifications with weekly schedules and updates so users don't need to log in. It also comes with a Zapier integration, making it easier to connect with other apps.
Plans & pricing
Anyone can test-drive Float for 30 days for free. Afterwards, premium plans cost $6-$10 per month (paid annually), or $7.50-$12.50 per month (paid monthly).
Pricing details available upon request
Mavenlink is a full fledged project management tool that also allows for resource planning. However, it covers all the standard resource planning features: resource assignment, allocation, quick editing. What's more, it also provides real-time availability forecasting. What sets Mavenlink apart is its resource shaping tool. This feature allows users to define a resource's workweek and to automatically book availability so that workload is distributed evenly.
Mavenlink also comes with file sharing, task dependencies, built-in timesheets and powerful reporting that can be customized. Additionally, it has an API, so it can be integrated with other services or with custom solutions.
Plans & pricing
Naturally, Mavenlink is slightly more expensive than tools that only offer resource planning. They're also a feature-rich project management tool. Previously, pricing has been advertised starting from $19/user/month+.
Now, pricing is available upon request with four different tiers available: Teams, Professional, Premier, and Enterprise.