I always knew that employees were expensive, but according to the Human Capital Management Institute, they account for an average of 70% of a company's operating expenses. No wonder one of my old bosses stared at me intently whenever I mentioned a raise. I thought he was merely interested in what I had to say: maybe he was trying to turn me into stone.
In addition to being more expensive these days, workforces are growing because many companies are adding remote workers to their teams. Yet global research firm Gartner estimated that workforce management solutions account for only 3% of average company spending.
That amazes me. Workforce management software can help you make the most out of your teams, manage labor costs better, and correct inefficiencies like uneven workloads, but it accounts for a minuscule part of the average corporate technology budget. Those organizations that have implemented it report positive results like the following:
Improved company productivity: At my company, automated workforce management presents you with data that helps you make better decisions. When you have the insights needed to assign the right people to a task at the right time, the company can meet changing goals without impacting product or service quality.
Reduced expenses: Workforce management software allows you to schedule more effectively and, in the process, reduce labor costs. Aberdeen Group research suggests that companies with optimized workforce management see their unplanned overtime reduced by up to 41%.
Better employee morale: When your workforce management is primarily automated, it increases transparency and builds trust, both of which are conducive to employee morale. When they're being properly managed and their paychecks don't have accounting errors, you'll have a happy team.
There are a lot of great workforce management software options out there, so I've listed the most popular ones in this article. We'll start with my personal favorite, and then go through other solutions that are used and trusted by companies across the globe.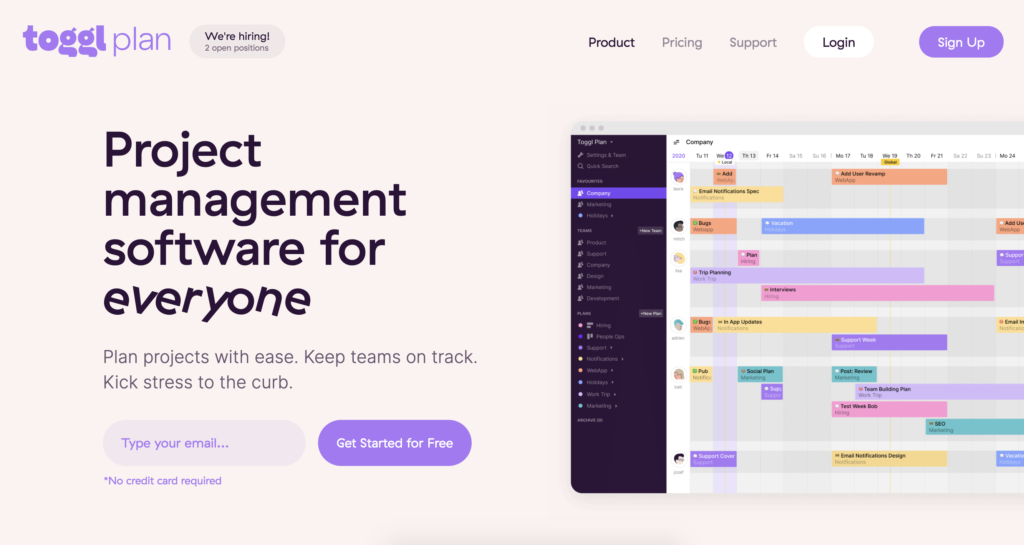 Why You'll Love It: The first thing I loved about Toggl Plan was its ease of use. The functions are so intuitive and flow naturally together that it's become the workforce management solution of choice at Microsoft, Spotify, Buzzfeed, and other household names. It's also free for teams of 5 or fewer people, which is amazing given its ability to simplify both project and workforce management.
A simple Gantt chart alternative with an attractive interface and drag-and-drop functionality, Toggl Plan gives me the big picture in the form of a timeline. I can see how close my team is to completing a milestone and whether it looks like we're going to meet the deadline. It also lets me see how each team member is doing with their tasks.
I can't stress the importance of this feature enough. In my experience, few people will admit to being overburdened. They don't want to be seen as complainers or unable to manage their share of the workload. Toggl Plan shows me what each person is working on and how they're progressing, allowing me to provide assistance to anyone with too much on their plate.
Other great features include:
Timelines that you can color-code to make each project stand out from the others. That one's a lifesaver when you're pressed for time and need a project status in a hurry.
Checklists that keep everyone organized and on the same page. As you finish each task or subtask, check it off and everyone knows that you've completed it. When anyone on the team is at the risk of becoming overburdened, the checklist feature lets me know who's available to help them.
Integrations that connect Toggl Plan with everyone's favorite apps, such as Slack, Trello, Asana, and Basecamp. Personally, I like the Slack integration the most, as it's a great way of sending team broadcasts without adding to already-crowded inboxes.
I'm not the only one who loves these features: one reviewer on Capterra declared, " I love that you can see what all the team has on their plates with all of their clients/projects. Most project management tools don't have that."
Pros: Easy to learn and use, attractive color-coding feature for timelines, provides valuable insight into individual workloads
Cons: Some reviewers wished that they could add images to individual tasks.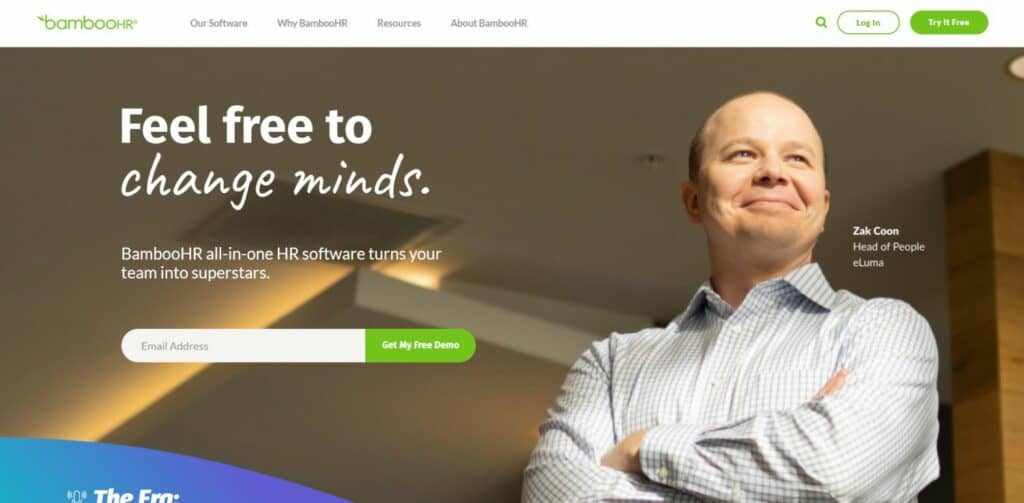 Why You'll Love It: Used by Vimeo, Foursquare, and Reddit to manage their workforces, BambooHR creates custom workflows that support data integrity and more efficient decision-making. It also makes approvals easy to manage and execute so that your company's growth is not jeopardized by the dreaded decision-making loop.
Although I don't use BambooHR, I have friends who do, and they're especially happy with the time-tracking feature because it takes the difficulty out of collecting hours for payroll purposes. Employees can enter their hours manually or clock in and out, creating timesheets that you can edit or approve with ease.
Other features include:
A detailed employee database and records. When you need a team member with special skills, you know where to look.
The eNPS feature, which lets you keep your finger on the pulse of employee morale by using the employee Net Promoter Score (eNPS) to generate reports on employee satisfaction and the ways that you can improve workplace culture.
An employee self-onboarding process that enables you to complete paperwork and make team introductions via email before a new hire's start date.
One Capterra reviewer said that Bamboo HR has changed the way their company does business. "Our employees have nothing but great things to say about this software. Several cumbersome processes have been streamlined.
Pros: Easy to learn and use, simplifies the HR documentation process, friendly customer support
Cons: According to some reviewers, the software is not as customizable as some other options on the market.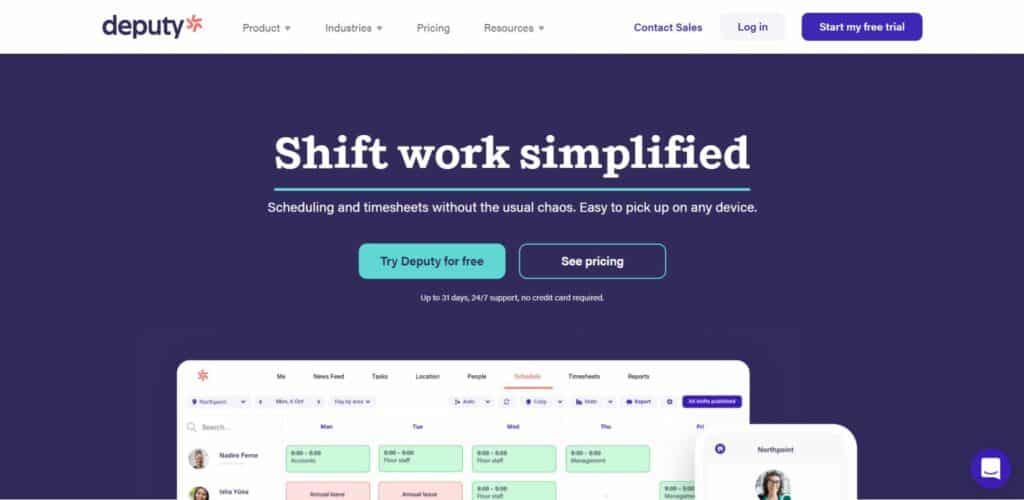 Why You'll Love It: The name alone suggests that this software is your perfect workforce management support. After you use Deputy to quickly create staff and team schedules, the software integrates with over 300 leading payroll providers to ensure that all timesheets integrate seamlessly with payroll. You reduce the likelihood of those embarrassing paycheck mistakes that employees hate.
Deputy users have spoken positively about its portability. If you're a larger company with hundreds of employees in multiple regions, you can't really afford to work with a fixed hardware system that requires teams to clock on and off. Managers have praised the software for creating greater transparency and more robust communication culture.
Other features include:
Fatigue and overtime management that can help prevent employee burnout at your company. If anyone exceeds their maximum allotted hours per day or week, you can investigate further and take appropriate action.
Tracking trained and qualified employees. This is a GREAT option when you're new to a company and want to assemble the right team for your project. This feature categorizes employees according to their skills and qualifications. Love it!
Costing control. You can cost the next schedule before you publish it and make sure that you don't go over budget. Employee pay rates are synced from your company's payroll software for greater cost projection accuracy.
One Capterra reviewer enthused, "We love the fact that it gives both the manager and the staff the flexibility to control their shifts and it gives the employees a sense of ownership – they are almost responsible for their own time management."
Pros: Makes it easier to build qualified teams, great cost control, can prevent employee burnout
Cons: Some reviewers say that the app doesn't have as much functionality as the desktop version of the software.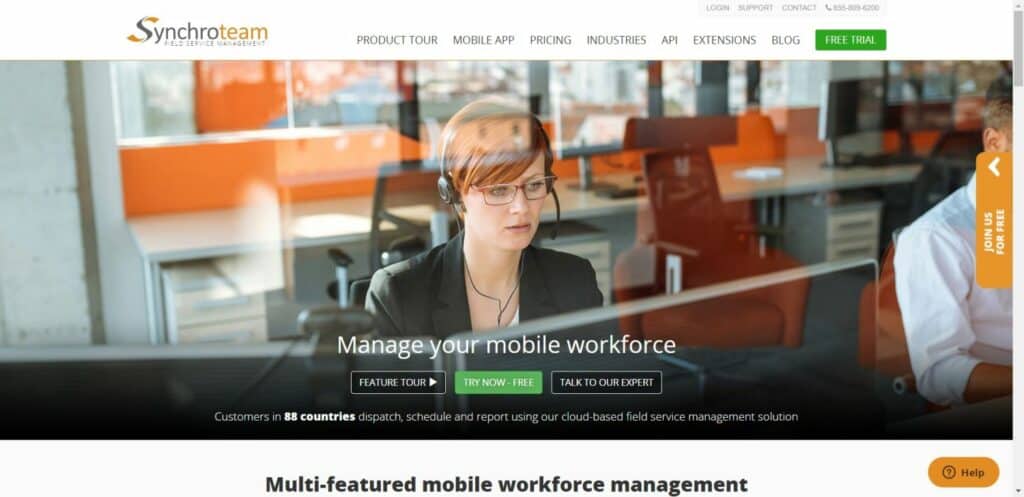 Why You'll Love It: Mobile workforces have made the shift from unusual to mainstream, so you want a workforce management software that is robust and portable enough to manage people no matter how many miles away they may be. Synchroteam gives you a wealth of configuration options that let you create the best solution for your unique team.
Synchroteam has gotten a lot of praise from service and repair companies that dispatch technicians to do work in the field. One reviewer said that he used it in his appliance service and repair business and loved the fact that his engineers could use the mobile app in offline mode when necessary. He said that by using the software, his business went from 13 jobs per day to 21.
Other features include:
Interactive daily schedules that show you who is booked when and for how long. Scheduling new jobs and making changes is as easy as dragging and dropping.
Filtering by skill so that you can quickly locate workers whose skillsets match the ones you need. This is another great way to assemble a team with the right balance of experience and expertise.
Tracking trained and qualified employees. This is a GREAT option when you're new to a company and want to assemble the right team for your project. This feature categorizes employees according to their skills and qualifications. Love it!
Time Tracking. This feature allows you to accurately track the time and costs of each shift and pay period and use that information to generate the right amount of compensation for each employee.
One Capterra reviewer gave Synchroteam a positive rating, saying, "This software really helps us to centralize all the maintenance reports in one single place and makes the management and technicians jobs easier."
Pros: Great for a mobile workforce, quickly find employees with the right skills, easy to learn
Cons: Some reviewers have commented on the fact that only technicians can use the mobile app and it doesn't offer a real-time GPS tracking of the techs in transit.
Conclusion
It's 2019, and more companies say that they are prioritizing IT spending, but research suggests that a lot of them aren't yet aware of the value that workforce management software can bring to their operations. If your company is one of them, you have a huge opportunity to improve business performance, both immediately and in the long term.
Once you find the solution that matches your requirements and goals, you'll be overjoyed at how much time you now have to innovate, expand, whatever your heart desires! Your employees will also be happier and ready to support whatever future progress awaits.

Rose Keefe is an author and technical writer who has over ten years' experience in supporting project managers in the manufacturing and construction sectors. One of her primary responsibilities was developing product manuals that supported efficient use of industrial equipment. She continues to write on the subject of time management and commercial productivity for trade websites and publications.