Remote collaboration has taken all the rage in the business world for the past few years and is growing ever so popular these days. It's no wonder, there are so many advantages and benefits of you running and being part of a remote team.
Still, many project managers and business owners fear to outsource their work over the globe. It's a natural fear, mind you. How can someone, who doesn't have some kind of control placed over them, accomplish any serious work?
You wouldn't say this at first, but remote teams are way more productive, than in-office ones. And the reason is simple. By removing the "physical aspect" or office, from the term work, team members have the liberty to work whenever they want, from wherever they want which raises their satisfaction and will to work. There is time and place for everything (both work and fun), and remote team members know it the best.
Why? because they get to pick it themselves.  It's a stress-free endeavor for everyone.
Sure, sounds well enough, right? But, still, how do you ensure the productivity and the results. Well, you simply do. By opening yourself to global networks of remote workers, you get the type of employee best suited for your team. The right kind of talents is now available in a matter of days, and those long recruitment processes are now minimized.
Sure, you don't always hit the gold mines. But, having a remote team is a gigantic money saver as well.
And we can babble on the benefits and disadvantages alike. And we will, in some future articles. But, there's just so much to gain and so little to lose by starting a remote team. Trust us, we know. After all, we've come pretty far, and today offer one of the best project management software out there. And, yes, you've guessed it, our teams are pretty much remote as remote can be.
What To Look For In A Calendar Tool?
We know we stated a lot of positives about remote teams. Of course, it's not all unicorns and rainbows. Managing a remote team can be really stressful as well. Sometimes the communication can get really slow, sometimes you just cannot make people do anything.
It's ok, though. Of course, you cannot expect things to flow like you want them sometimes. But if things go south too often too much, you want to have the right set of tools to track bottlenecks and resolve issues as soon as possible so that your remote team can continue functioning properly.
Organizing your remote teams time and tasks is as equally important just like with any other team. You want to make them a part of your organization and show them their importance in the giant scope of things.
Keep it simple. There are a lot of tools out there, that just offer a wide variety of added stuff you probably wouldn't use with your team. And it's true, you don't want to overwhelm people with too much, the goal is to set up a functioning and agile team as quick as you can to keep things moving. The idea is to use the tool that works both for you and your team.
Look for creativity and goal setting attributes. You'll keep them motivated to do, avoid scheduling conflicts and optimize for productivity. Just a few pointers here, but let's jump into three of the best calendar tools to organize, lead and keep your remote team productive, feeling good, well-informed and aspired to do more.
Toggl Plan is the ultimate tool to organize your remote team time and tasks. Simplicity and visualization (creativity) are two important things we talked about, and it's exactly what this tool offers. Set your freelancers tasks on a simple and colorful timeline. Use Gantt charts for easy navigation and understanding of the projects current workflow, so your remote team can organize their time accordingly.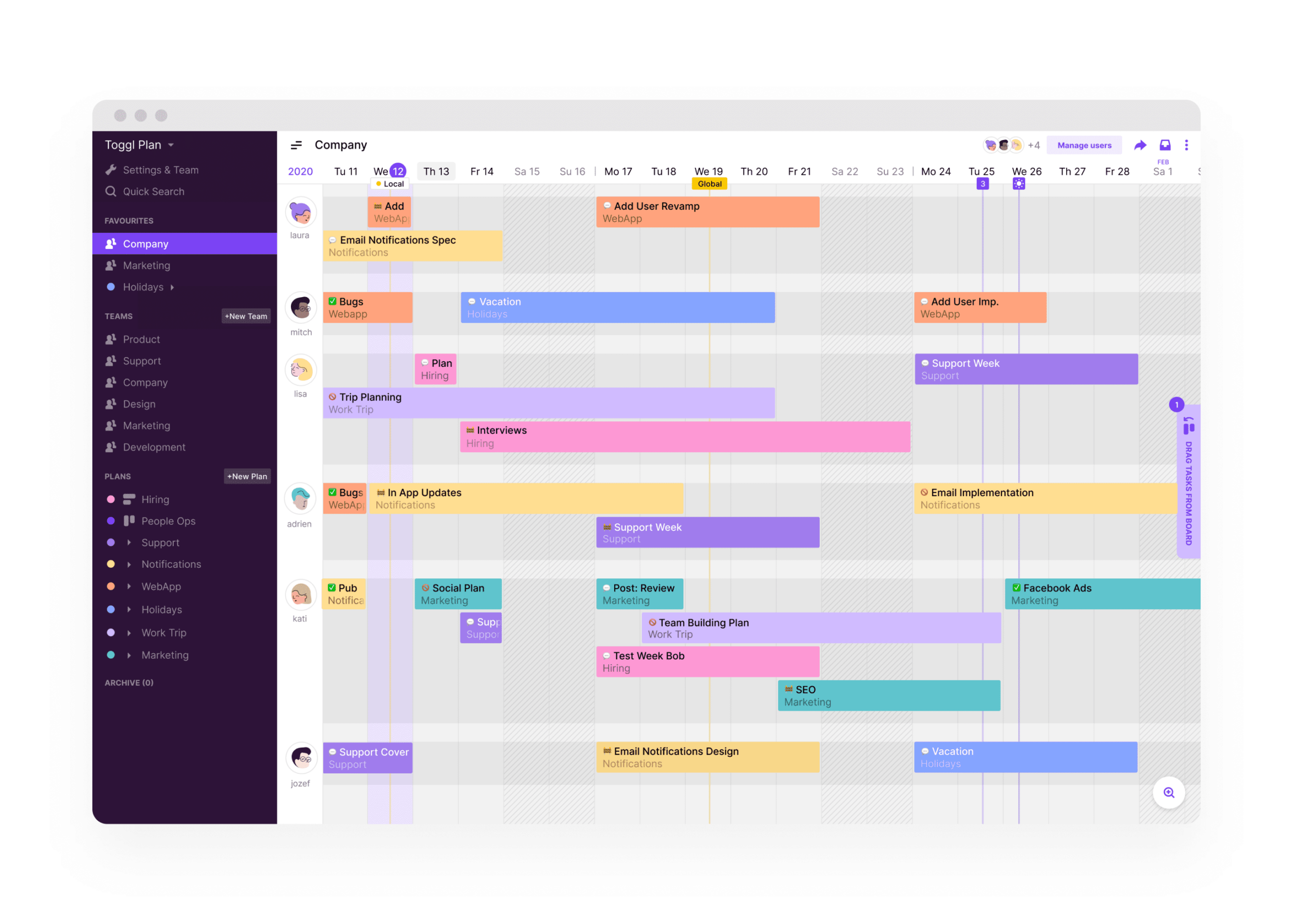 They will immediately see themselves as they should, an important factor! Let them be visionaries like yourself and connect with your team on a higher level. It will keep them motivated to organize their own time to keep things running smoothly. Of course, Toggl Plan's tool offers a lot of integrations but everything you need for a successful organization of your team's tasks is right here. Click here to try Toggl Plan for free.
This is another tool that uses simplistic approach. It's an online sharing calendar for workgroups, projects. And although Teamup resembles Google Calendar a bit, it takes scheduling tasks to an admirable level. We're not sure if we should put it under an advantage or disadvantage, but teamup tool can be accessed without any signup information. It may take this tool a bit on the 'not so serious and professional' side, but nevertheless a powerful option for first-time users of online calendar tools.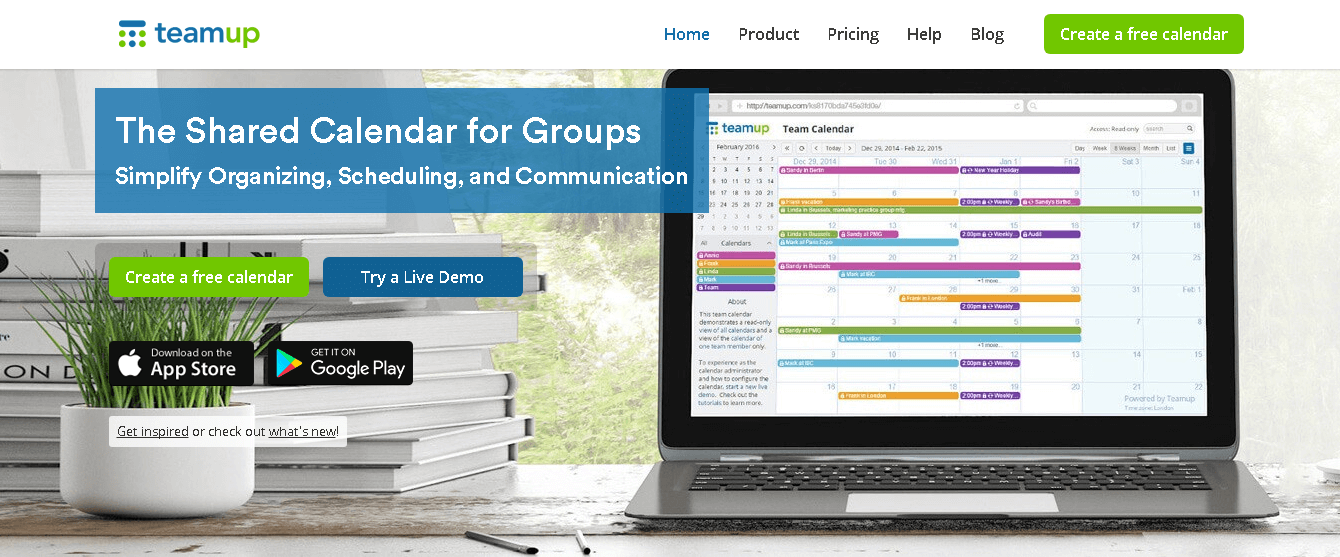 Just like the previously mentioned tool you'll navigate this one almost with no effort and find yourself setting those tasks instantaneously.
Although it takes simplicity out of the game here, Bitrix24 is definitely one of the power players out there. It's designed and used mostly as a CRM system, but it's just as great for managing your remote team. It will take some time to learn how to use it, which can take the fun out of the picture. But the tool allows you to enter contacts as well, which enables you and your team to do all the messaging and communication using a single tool.
Although advanced support and additional functionalities will cost you, it's basic calendar tool is free.Maybe you wouldn't want to use it only for your remote team as before mentioned tools will perfectly do the work, especially because of the simplicity and multiple views of tasks and timelines.
So, this was our take on the best calendar tools for your remote team's needs. And while some tools may work better for one team, others can do wonders for another. In the end, it's all about what best suits you and your team.
Josip is an aspiring content marketer and an outreach specialist at PointVisible and freelance writer at Teamweek. Other than marketing, he likes to grab a good book and read about different leadership ideas and styles.