If you use Asana, Trello, or any of the dozens of other tools that feature kanban boards, you know how useful boards can be.
They provide a new way to organize your work, allow you to check on a task's status at a glance, and ensure nothing gets lost when you're juggling dozens of projects.
That's why we're thrilled to announce the Beta launch of boards in Toggl Plan.
If you're like most of our customers, you came to Toggl Plan for the timeline. You want a clear overview of what people on your team are working on. Or you want to lay out projects on a timeline so you can see how all the moving pieces fit together.
We get that, and we think Toggl Plan offers the most user-friendly, visually-pleasing timeline on the market.
But we want to offer you more functionality and flexibility.
With the addition of boards, you'll have a place to keep tasks that don't fit naturally on the Toggl Plan timeline. You'll be able to manage sprints more easily. Plus, if you assign a date to tasks on your boards, the tasks will appear on your timeline.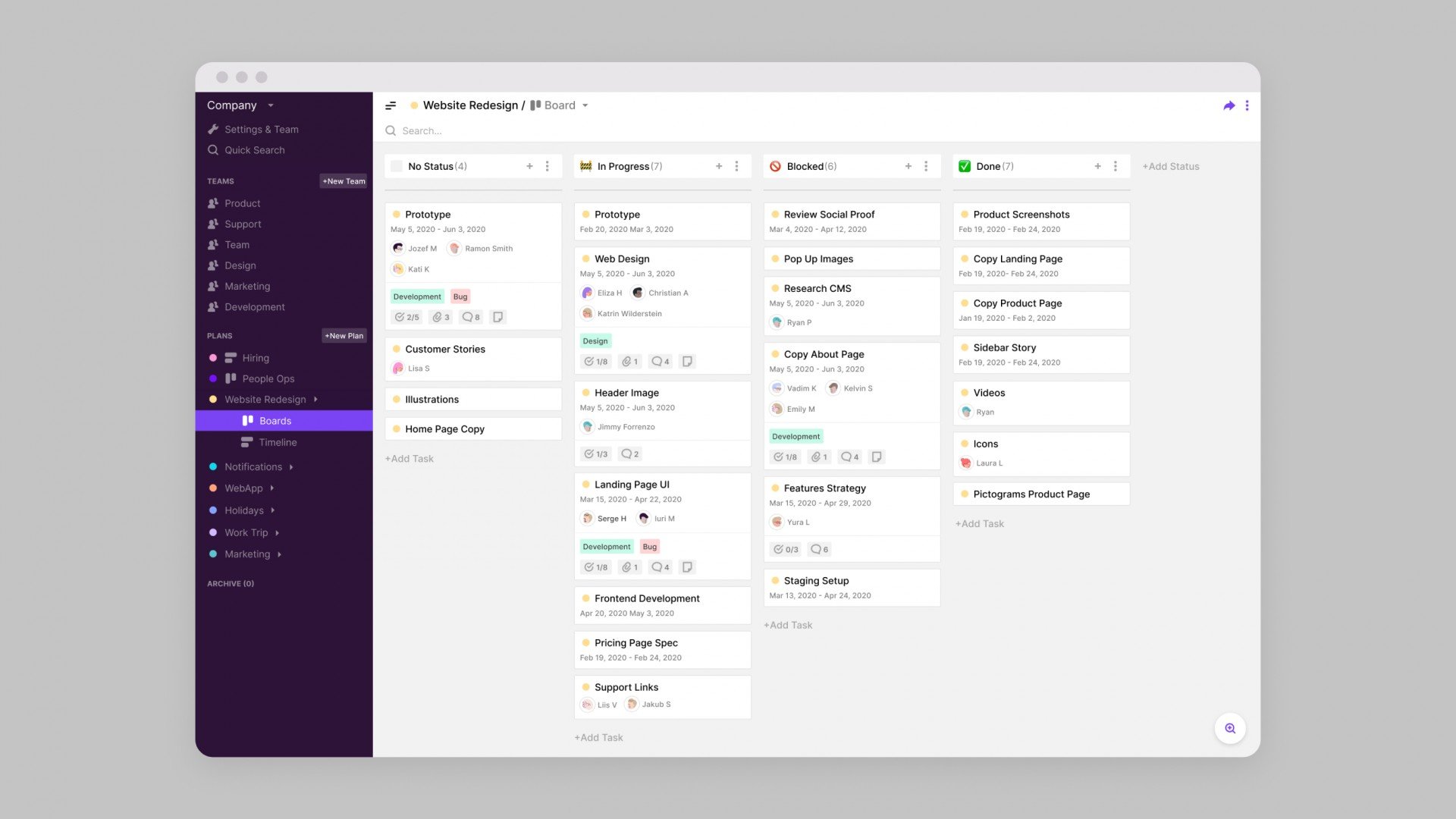 It's the best of both worlds: In board view, you'll be able to prioritize a large number of tasks quickly. Switching to timeline view will give you a visual overview of the days, weeks, and months ahead.
All About Boards
All Toggl Plan users will have access to boards. You'll be able to create as many new boards as you'd like. Within each board, you'll be able to create as many status columns and tasks as you'd like.
Discontinuation of Marking Tasks as "Done"
Boards offer you a chance to concentrate on task statuses, which the columns of the board represent. This means that we will be offering a set of wider-range, fully customisable statuses. As a downside, it also means the discontinuation of a beloved feature, marking tasks as done.
The reasons behind this decision are twofold. First, the previous method of marking tasks as done made it difficult for managers to get a clear overview of project status. When a task was marked as done, it turned white on the timeline. This meant that every task marked as done required a careful inspection to determine which project it used to belong to and how its status as "done" impacted the project.
Second, we wish to keep boards as flexible and easy-to-use as possible. Keeping the "mark tasks as done feature" would have interfered with board statuses. It would also have made it hard to use boards in a way our users are used to — without constraint.
Emoji Markers for Task Status
To make changes in statuses visible, we're introducing emoji markers for each status. When turned on, you can set an emoji to communicate the changes made to the tasks statuses. So the visual changes are still here, they're not just as dramatic.
Live Sync Coming Soon
During the beta period, we'll still be working behind-the-scenes to improve boards. One thing to note: your boards won't live sync because we are still developing this feature. This means that if you and someone else are making changes to the same board at the same time, you won't see the other person's changes until you hit refresh.
We know the lack of live sync is annoying and might lead to confusion on your boards, and we apologize for the inconvenience. Please hit refresh frequently while you work and know that we are working as quickly as possible to bring live sync to you.
FAQs
Q. How do I get beta access?
All of our users will automatically have access to the Beta version of boards when we release it in February. You don't need to do anything!
Q. Where will I find boards?
You'll see them in your sidebar navigation and in the header bar.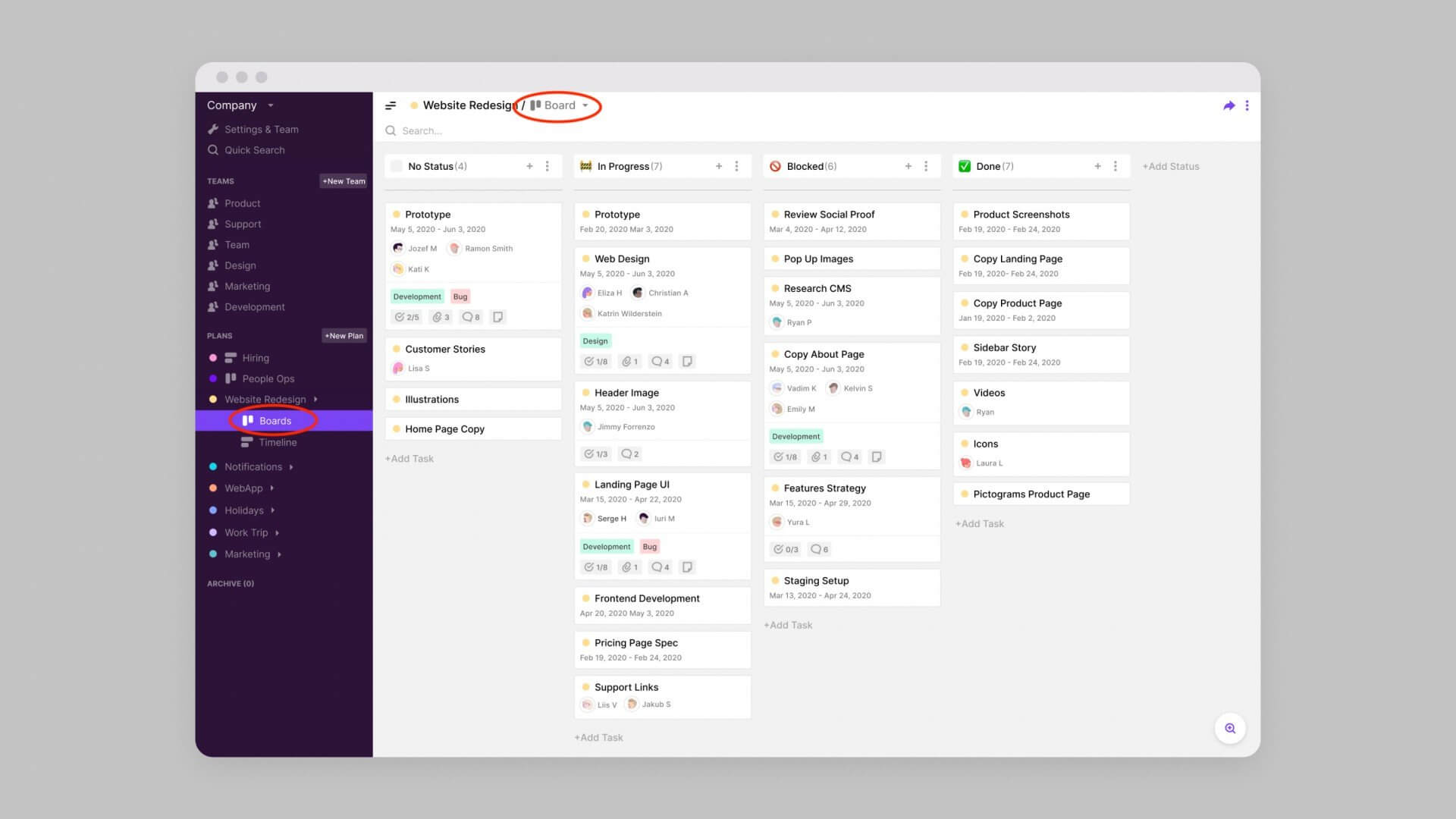 Q. What if I only want to use the timeline?
That's fine! You can continue with your normal workflow, and you don't need to enable boards. If you ever want to try out boards in the future, you'll have instant access in your workspace.
Q. Will there be any changes in pricing packages because of this?
Nope! Our pricing stays exactly the same.
Q. Is there a team board?
No, there is no team board. We recommend that you continue to assign your team member's to specific tasks; this way the tasks on a board will appear on that person's timeline.
Emily is the former marketing team lead at Toggl Plan.