Not everyone is as gifted as others when it comes to scheduling and remembering things. We can't all be perfect. And, even if you are perfect, it can be such a burden to have to remember everything. An interactive calendar may be the perfect solution for you and your team.
An interactive calendar takes scheduling and deadlines beyond a simple day planner. No more X-ing out days and circling dates on a calendar hung on your wall (I mean, you can still do that, too, if that floats your boat). We're in the technological age. Let's make it easier. Here are 8 reasons why your team should be using an interactive calendar.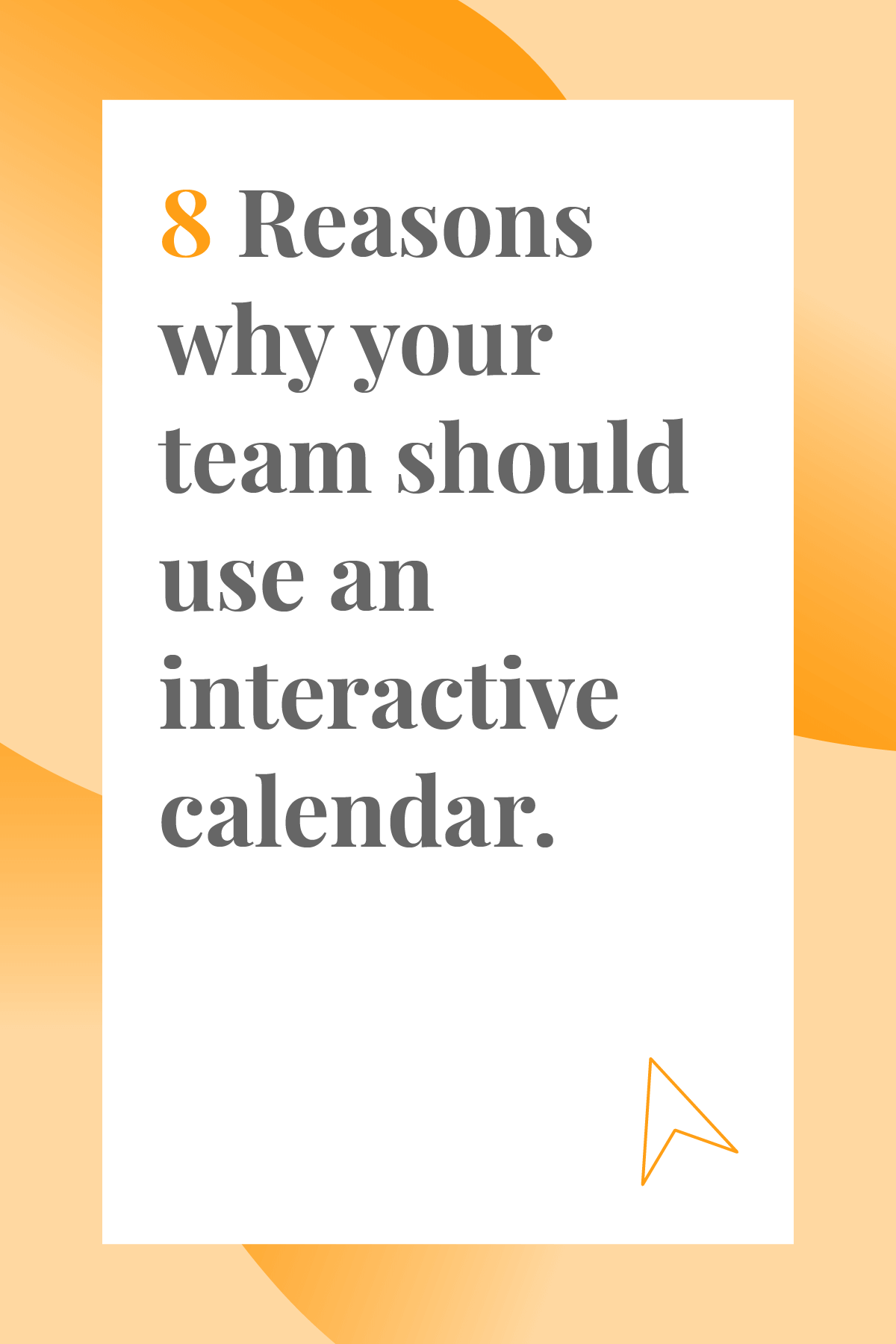 Sharing is Caring
One of the best uses for the interactive calendar is calendar sharing. With an interactive calendar, you can share your big plans with as many people as you want. Clients always want to know what's going on and so do team members. With a shareable, online calendar, it's as easy as sending a quick email with the calendar link. This, of course, saves you loads of time to do other things.
Making More Than One Calendar
It's no secret that when you use a paper calendar, it's only good for a few uses. Not to mention, you might get paper cuts. By using an online, interactive calendar, you can create multiple calendars. As many as your heart desires! While it may not seem like a big cost now, cutting out the need for multiple planners and calendars saves paper and bandaids. More importantly, it's easier to stay organized. You won't have to search through piles of papers or page through three different calendars to find what you're looking for.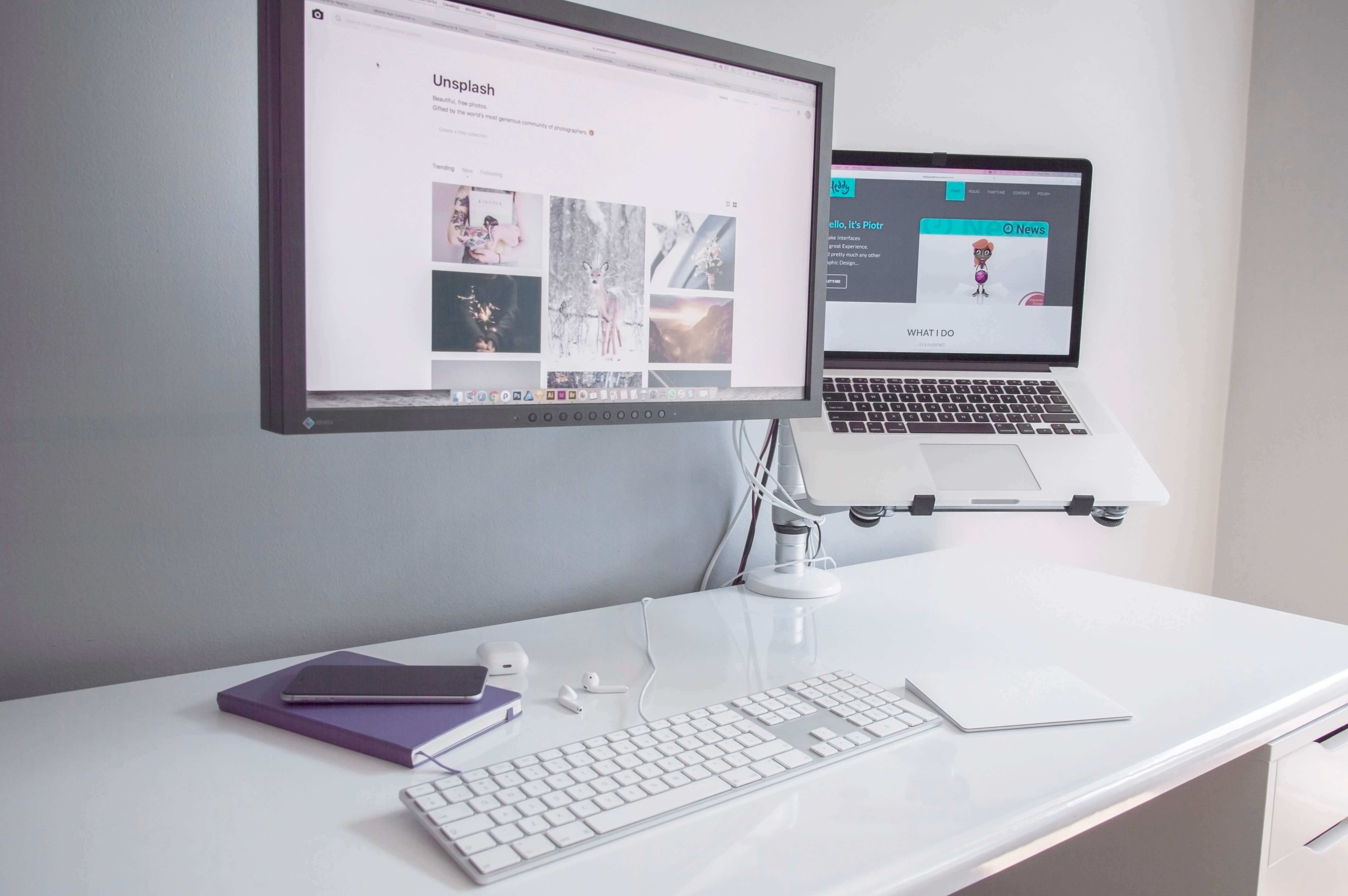 Take it Anywhere
Let's say that you've had a busy week, and you just need a break. You take the day to yourself and go out and treat yourself. DING! You've just received an email from Janet asking you to resend her the calendar because she accidentally deleted hers. What do you do? Luckily, since nobody ever goes anywhere without their phone, you can send it to her just as easily as you answer texts. With an interactive calendar that's both online and shareable, you can access it anywhere from any device.
Set Reminders, Just in Case
Listen, we've all been there. A busy schedule means a busy mind and sometimes we just forget about a meeting or deadline. It doesn't mean that you're terrible at your job, it just means that you're human. Many interactive calendars allow you to set reminders for meetings and events. That way you'll never forget again.
[bctt tweet="What's the point of an interactive #calendar? Team accessibility, for one. Why else? Come and see." username="toggl plan"]
Appointment Management
You're a busy person. You have lots of appointments and meetings. What better way to be able to schedule said appointments than on an interactive calendar. You can even manage your appointments from your phone.
Software Integration
Nowadays, it's important to have as many applications in one place as possible. I think we can all agree that this just makes things easier. Most interactive calendars allow you to integrate things like emails, communication apps, and other project management software with just the click of a button.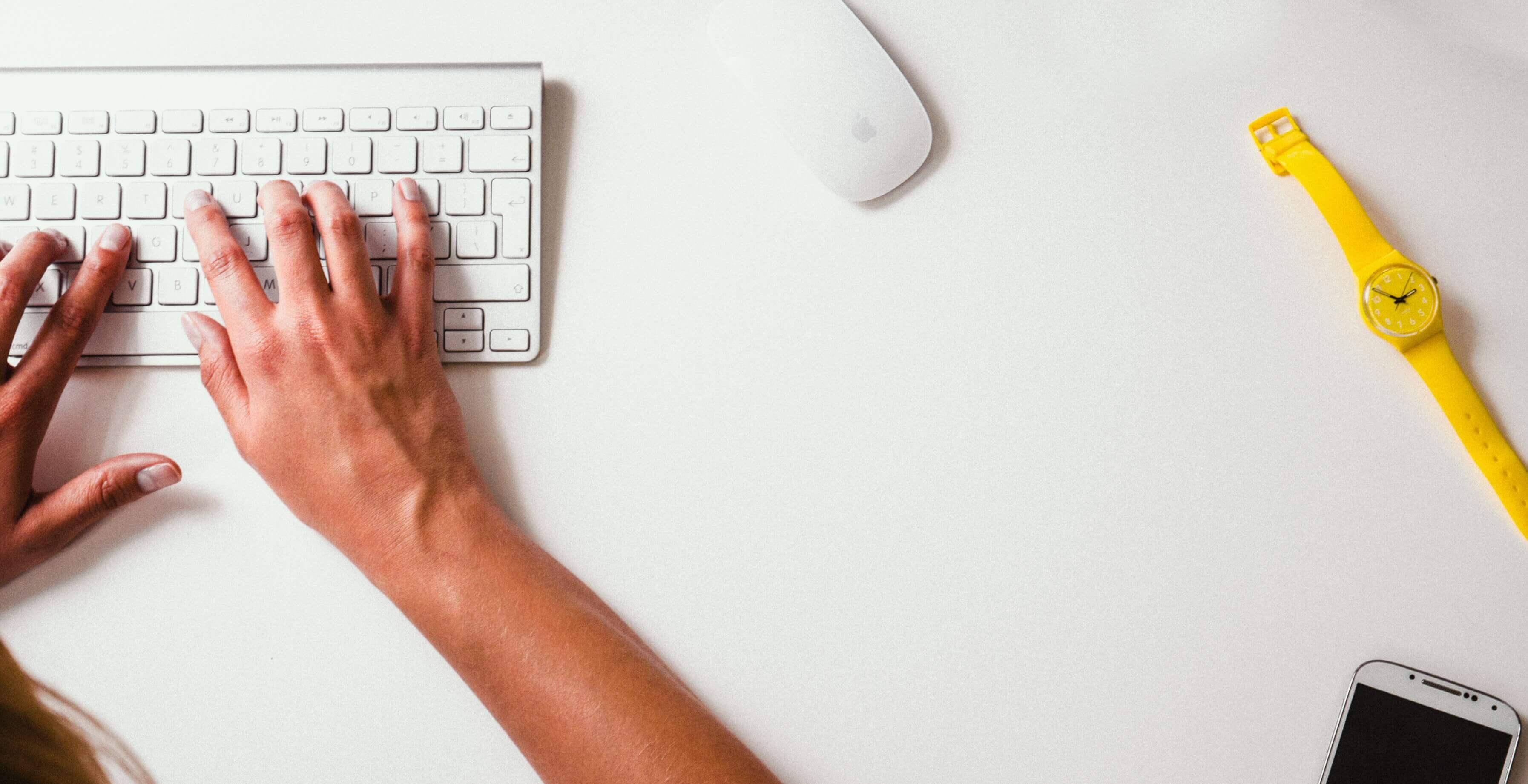 Team Accessibility
Interactive calendars are easy for your team to share. They're also easy for your team to alter and adjust.  You can correct any mistakes or make big and small changes quickly and easily. Even better, your team can also adjust the calendar.You don't need to scribble out any dates or words you've written. Simply backspace and proceed. Your calendar will remain clean and organized.
Color Coding
This may seem silly, but once your calendar gets filled up, it's easy to get all the dates, times, and tasks mixed up. How do you fix that? Toggl Plan came up with a simple solution that is both fun and helpful. Color coding the different tasks for each team or each project makes it easier for everyone to see what people are working on . Maybe one project is more important than another? Another way to use color on your interactive calendar is to assign the more important tasks with specific colors. When your team members see the red, high-priority tasks, they know what they need to work on first.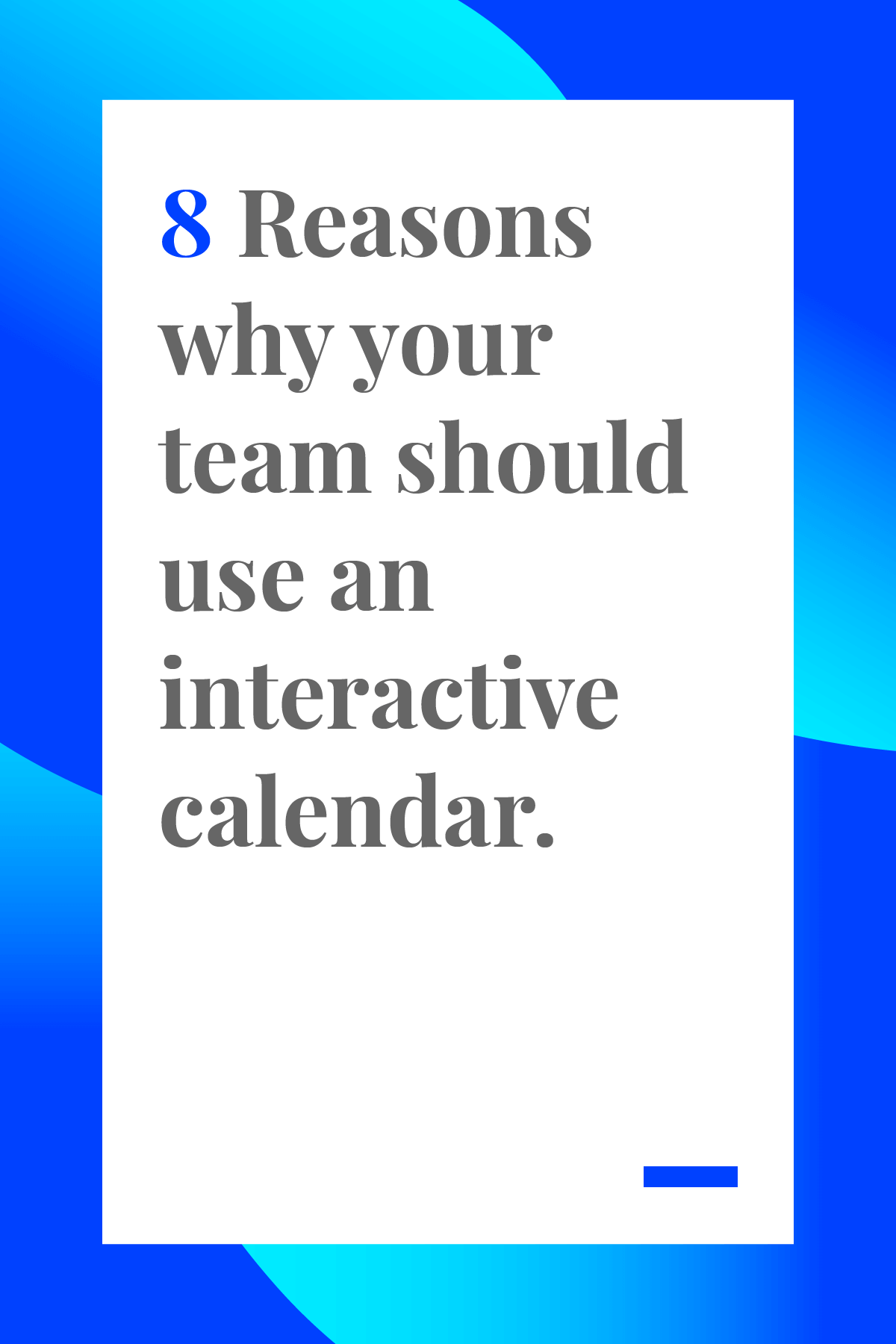 The Interactive Calendar to Try First
Having an interactive calendar makes life much easier. Aside from the fact that you no longer need to go out and buy a new, paper calendar every single year, there are many benefits to using a digital, interactive calendar.
As you've probably noticed, there are tons of calendar options out there. So, which calendar should you try first? We use and always recommend Toggl Plan.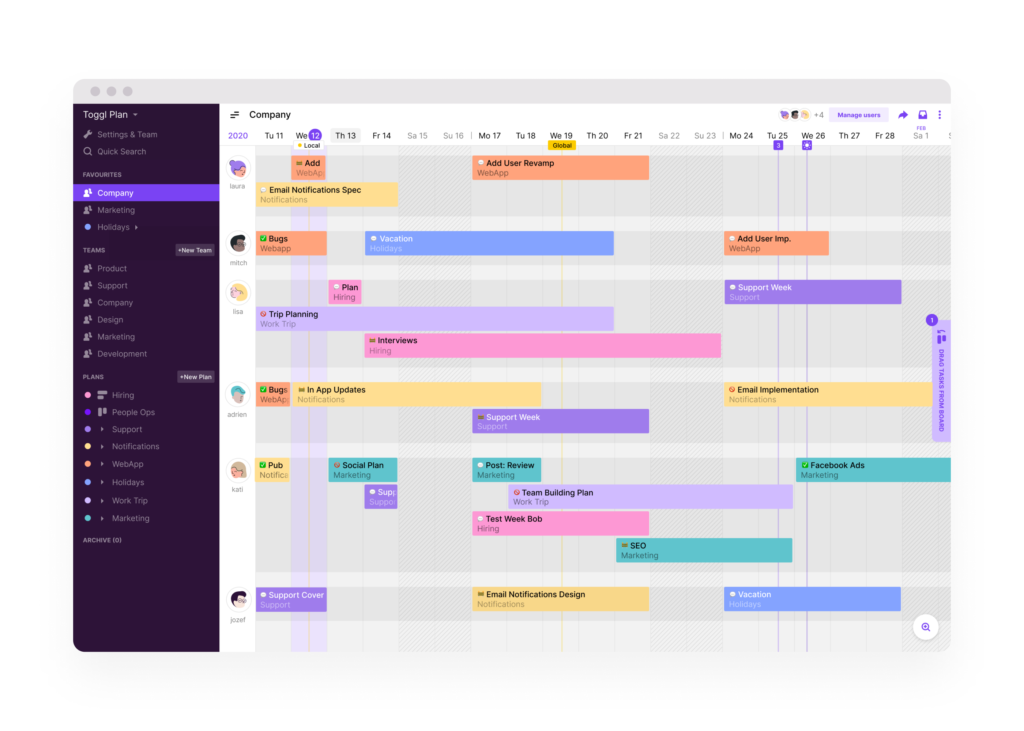 Toggl Plan is a super detailed, easy-to-use calendar with lots of advanced features. For example, you can create and share timelines and project roadmaps, get monthly, quarterly, or annual overviews, and list tasks in a backlog to help your team prioritize. So many business's, big and small, use Toggl Plan, and it's easy to see why.
To sum it up, if your team isn't using an interactive calendar yet, now is the time to start. Interactive calendars are easy to create, adjust and share, which keeps everyone on the same page. The right interactive calendar, like Toggl Plan's, can zoom out to help you see the big picture or zoom in to give you clarity on your team's weekly schedule.
Like many other people, Zach McDaniel gained his knowledge of management and project management through research and necessity. He believes that the most interesting thing about project management, management, and productivity is that there are so many different strategies, so there's always something new to learn and share.