Toggl Track's native integration with Jira — Jira Sync — allows you to duplicate your Jira workspace structure in Toggl Track to start tracking time against relevant data immediately.
The latest version of Jira Sync has some significant improvements compared to the last build.
Here's everything you should know.
What's Jira Sync?
Jira Sync is a native integration with Toggl Track and Jira, enabling a one-way sync of Jira entities to your Toggl Track workspace. Pair it with our browser extension integration for Jira to track time directly from Jira and save the time entries into Toggl Track projects and tasks that match your Jira workspace structure.
Key improvements to the Jira integration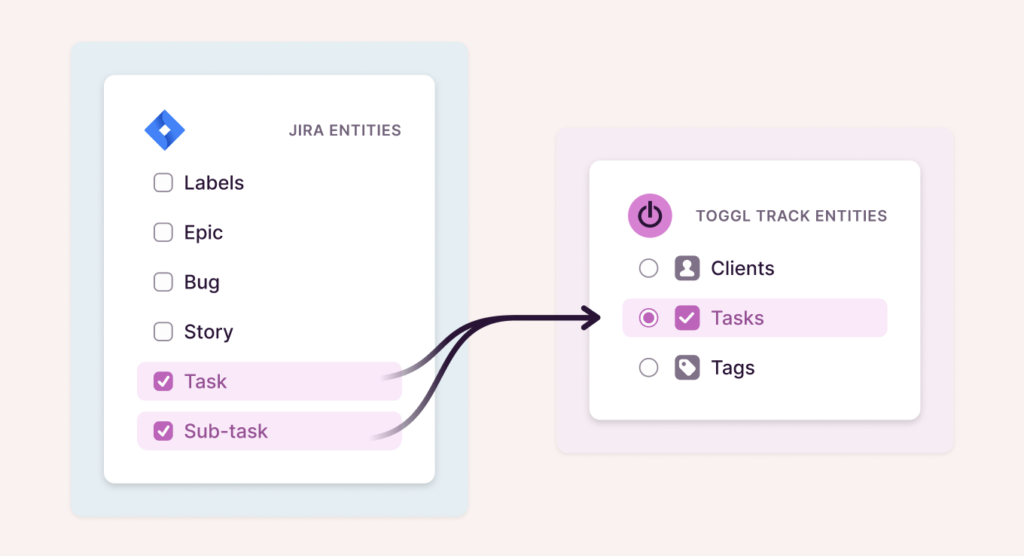 With the new Jira Sync, you can do all the following.
Filter! You can choose which Jira entities will be synced to the Track workspace—and leave the rest.
Map several Jira entities into one Track entity type—for example, map Tasks and Stories as Toggl Track tasks within a single project.
Map Jira projects to Toggl Track projects.
Why it matters
You have already been migrated to the new version, but we have not altered your mapping preferences.
To take advantage of the improvements, you'll need to edit the mapping manually using the options now available on our Integrations page.
Questions and comments?
Email us at support@toggl.com. Your feedback helps us improve. Our latest version is never our last version!
Work tools to elevate your productivity – apps for incredibly simple time tracking and effective project planning.