Welcome back to another quarterly summary! In the last three months, our focus was on getting to know our customers better, fitting this research to our workflow as an ongoing process and setting the stage for future improvements.
Continue reading below to find out what's new and what's to be expected in the upcoming months.
The Product
It's time for spring cleaning — dealing with inconsistencies that have accumulated over time. Additionally, we had more people working on performance enhancements and launched much-requested improvements to existing features. We're also revamping our Task Card which we hope to share with you soon.
More Flexibility With Time Estimates
We already had daily estimates for tasks in Toggl Plan. However, in many cases you know the total time estimated instead. This means, you had to manually calculate the daily estimate.
That's not convenient.
We addressed this by adding total time estimate as an option next to daily estimates — feel free to choose which one suits your planning needs better.
On timelines, total estimates are converted to and shown as daily estimates (total time divided by task length in days). This will give you an idea of people's daily workload at a glance. When changing task's dates, the total time estimation value doesn't change.
Detailed Data Exports
Your data exports now include all Task properties. With the addition of Statuses, Segments, and Tags, you get a better summary of all your exported tasks. We also updated how time estimates are exported. The new Estimated Minutes field always shows total time estimates — either the total time estimate as it is or the daily time estimate multiplied by task length in days.
You can use the exported data for checkups, reporting, creating summaries or working with other tools. Data export is a Business plan feature and only workspace owners and admins can run exports. You can read more about how Data Export works in our Help Center.
Spring Cleanup
As part of our spring cleanup, we wanted to improve your experience when using Toggl Plan. Most notable changes included:
Hiding default status emoji on timeline views. We recently added the notepad emoji to default statuses. However, we realize that this takes away space from showing more of the task name on timelines, especially when the task only lasts a day or two. As a solution, we hid the default status emoji, to make the timelines more informative.
PS. You can still customize statuses and add or remove emojis as you wish.
Filters facelift – we simplified picking filters and added the option to filter by archived plans or deactivated users.
Improving readability – we improved the updates count readability on the sidebar as well as the way we show multiple assignees on short timeline tasks.
Making 1-day tasks on quarterly zoom level stretchable.
Randomizing Plan colors when creating a new Plan from inside the task card.
Improved consistency of icons and naming in Taskbox and following Plans and Teams.
Smaller bug fixes related to subscription changes and tasks on boards.
Mobile App
A lot happened in our mobile app this quarter.
First, you can now accept workspace invites on your mobile device. If you already have downloaded the mobile app, you can get to planning easily, wherever you are.
Second, we added landscape mode and monthly zoom level on timelines. This is probably one of the most sought-after functionalities you've asked for. These two together give you a better big-picture overview of what's happening on small screens, such as mobile and tablet devices.
Download the app from Google Play Store or App Store now and give it a try!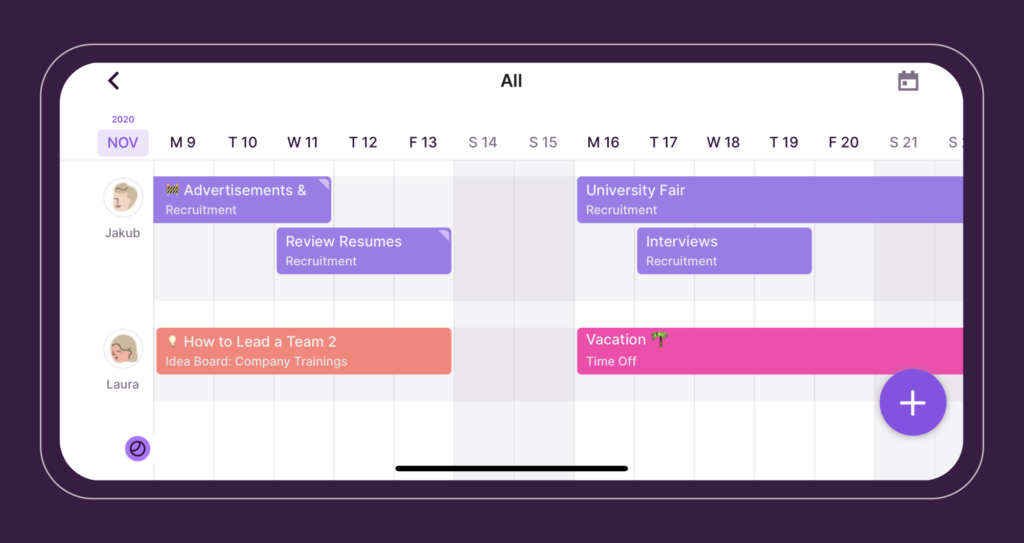 Misc. Updates
We also made changes to the first user experience that we believe will help new people get to planning faster. We enabled 'pin me on top' by default to all new users, updated and improved onboarding guides, solved issues with task colors flickering and made it smoother to accept workspace invites.

Coming Soon — Revamped Task Card
We are working hard to improve our Task Card. The Task Card is the view where you edit all the information relevant to a task – its properties, description, checklist, comments etc.
Over the years, the Task Card has become very busy. So we decided to simplify it, but still keep it flexible enough to support potential new functionality.
The improved Task Card is more flexible, makes sure everyone gets the same information and leaves room to see what else is happening. The beta version is ready and undergoing testing and final improvements. We're super excited to share it with you in the upcoming quarter. Once it's ready to roll out, you'll see a popup offering to opt-in and be the first to give it a try. This will be your chance to also leave us feedback and influence a very central part of Toggl Plan.
The Company
We're all set in working in 6-week cycles, but there's a lot we can still improve. Currently top of mind — resource allocation and fitting ongoing product discovery into our workflow. We're keen to learn more about the people who use Toggl Plan, what their workdays look like and how we help them get work done. We've reached out to quite a few of you and had some super lovely and insightful chats about how Toggl Plan fits into your daily life. If you feel like you're up for a chat and sharing your thoughts, let us know at support@plan.toggl.com.
Meanwhile, we had an online meetup with the team, where we talked about our values and principles. We realized that we're all really happy and proud of our company culture, especially the transparency, trust and autonomy everyone here at Toggl Plan has. Our purpose as a company is to build healthy workplaces, something we hope our product helps you to achieve.
Oh, and we also made tacos!
Final Words
I hope you enjoyed this edition of quarterly summary and the improvements to Toggl Plan. Feel free to email us with questions or to share your feedback at support@plan.toggl.com.

Going forward, we'll continue reaching out to better understand how you work. We will use what we learn to improve Toggl Plan, to help you plan and get work done more easily.
We'll also carry on our work on making planning faster, simpler and more flexible, so you can get your work done as smoothly as possible. This includes our ongoing work on revamped Task Card, but we're also looking into better handling people's availability and time off work when planning ahead.
Until next time!