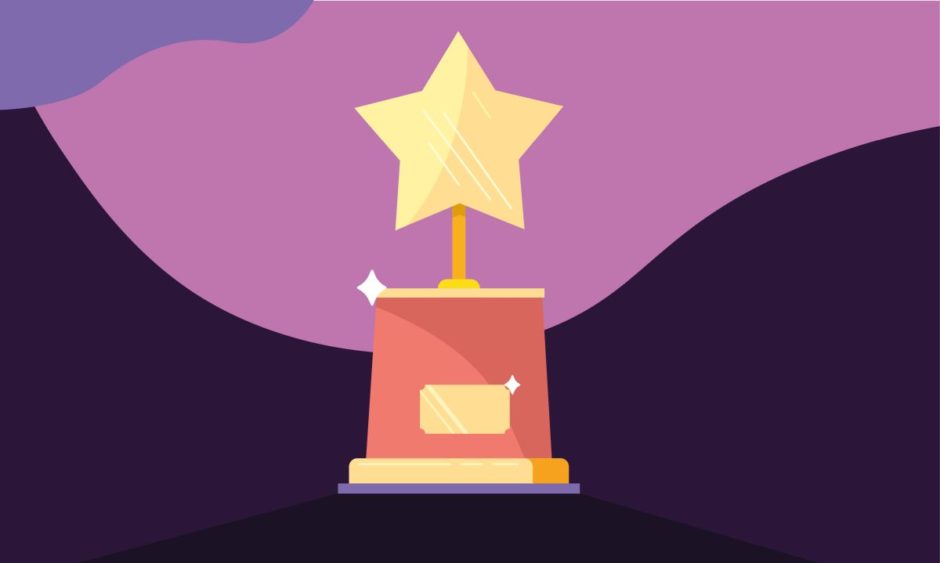 Without a systematic process, managing a marketing campaign can become chaotic. Marketing project management software helps you plan, collaborate, and track the delivery of marketing projects.
In this article, we look at the top 10 project management software tools for marketing teams. Specifically, we look at:
What types of teams need marketing project management software?
What does a marketing project management software do?
Why use marketing project management software?
What features do you need in a project management tool?
Best marketing project management software
Let's start.
What types of teams need marketing project management software?
Marketing management software is essential for marketing teams of all sizes and kinds, including:
Marketing agencies
Internal marketing teams
Marketing consultants
Freelancers
Designers
Brand management firms
Advertising agencies
Most of the above marketing teams use a project management tool to plan, manage, and track campaign activities. While others use a project tool to collaborate and communicate work progress.
What Does Marketing Project Management Software Do?
Managing a marketing campaign is complicated.
Often, there are lots of people, variables, and resources involved. Deliveries are time-sensitive, and clients want to be closely involved.
A marketing project management tool helps manage all these factors. Project management for marketing involves the following activities:
Campaign planning
Task management
Baseline management
Workload management
Team collaboration
Client communication
Time tracking
Read next » 10 Proven Project Management Tips For Small-Team Project Managers
9 Reasons Why Your Marketing Team Needs A Project Management Software
Whether you're the only marketer or work in a team, using project management software can help you streamline your work.
Here are the benefits of using a marketing project management tool:
Project planning – Plan project timelines based on previous track record.
Capture ideas – Capture, organize, and prioritize campaign ideas.
Track campaign progress – Monitor campaign tasks, track progress, and adjust the schedule as necessary.
Resource allocation – Plan resource availability when required and allocate these resources accordingly.
Communication and collaboration – Ensure that the campaign's information is available when needed. Help team members work together on overlapping tasks.
Design documents and files – Keep all design and specification documents accessible to team members in one place.
Client communication – Seek approvals and communicate campaign progress with clients.
Time tracking – Track time spent on campaign activities.
Big picture view – Get a birds-eye overview of the campaign project and team's capacity to prevent overwhelm and burnout.
A project management software is definitely a critical software you should invest in for your marketing team.
What Project Management Features Does A Marketing Team Need?
Based on what benefits you're looking for, you can choose a project management software for your marketing team.
Some critical features that you should look for are:
Timelines – Plan better project schedules by factoring in team availability and vacations. Get a big picture overview of your campaign and team capacity.
Task Management – Assign tasks, manage workflows, and monitor campaign progress.
Boards – Manage ideas and campaign iterations.
File Attachments – Share designs, specifications, and other documents across your team and stakeholders.
Workload management – Avoid underworked or overwhelmed teams. Manage your team's capacity.
Time Tracking – Invoice clients based on the time your team spends on campaign activities.
Reports and Notifications – Communicate project progress and essential due dates within and outside the team.
Other than the above features, you'll also need to consider two critical factors.
Ease of use – Does the tool make it easy for your team to create/update project information? Otherwise, your team will end up wasting time, or worse, stop using the tool altogether.
Budget – Does the tool come within your budget? Most project management tools are priced on a per-user, per month basis. Consider costs to cover your entire team and customers.
Best Marketing Project Management Software
Now that you know the features to look for, let's look at the best marketing project management software today.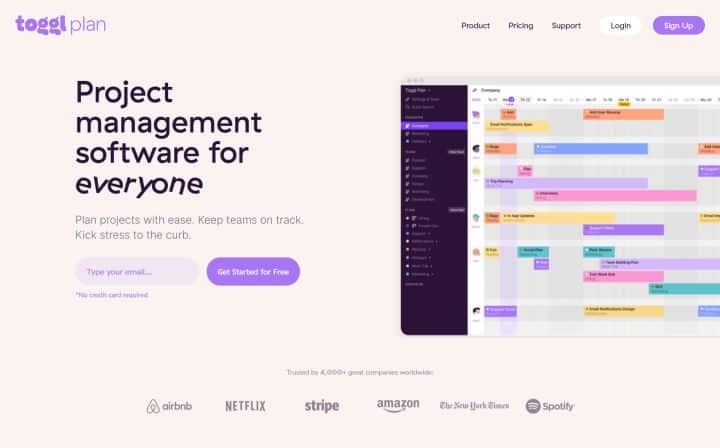 Toggl Plan is a simple yet comprehensive marketing project planner and execution tool. It comes with all the features you need to manage a marketing campaign.
Pros
Simple drag & drop timelines to plan and manage campaign schedules.
Drag & drop boards to capture, organize, and prioritize creative ideas and tasks.
Free read-only timeline views to communicate project progress to clients.
Custom task workflows and recurring tasks to manage all kinds of marketing campaigns.
Task checklists to improve task completion quality.
Multiple assignees per task so team members can collaborate using notes, comments, and file attachments.
Team timelines to visualize and manage your team's capacity.
Integrates with popular time tracking, calendar, and repository tools.
Cons
No reports. But Toggl Plan sends email notifications with task summaries.
Price
With the free plan freelancers and solo users can manage unlimited projects. Team plans start at $9 per user, per month.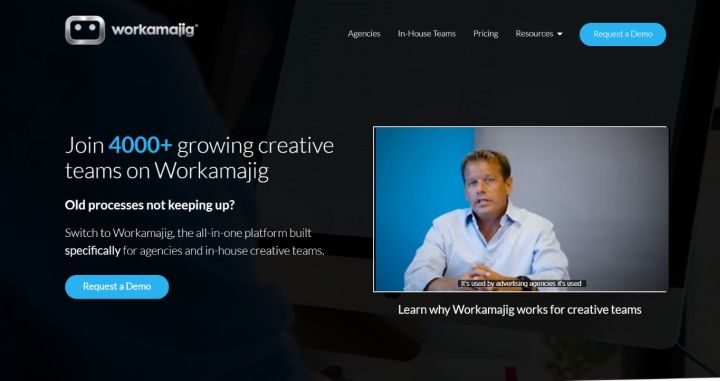 Workamajig is a marketing workflow software. It's built specifically for agencies and in-house creative teams. It comes with a comprehensive feature set when it comes to project management for marketing agencies.
Pros
Generate timelines from task lists.
Manage using any project methodology including Agile, Kanban, and Waterfall.
Time tracking for managing billable hours.
Manage multiple teams and forecast demand.
Manage the sales pipeline with revenue forecasting.
Cons
It may feel expensive and complicated for smaller marketing teams.
Price
Workamajog does not have a free plan. Paid plans start at $50 per user per month; for a minimum of 5 users.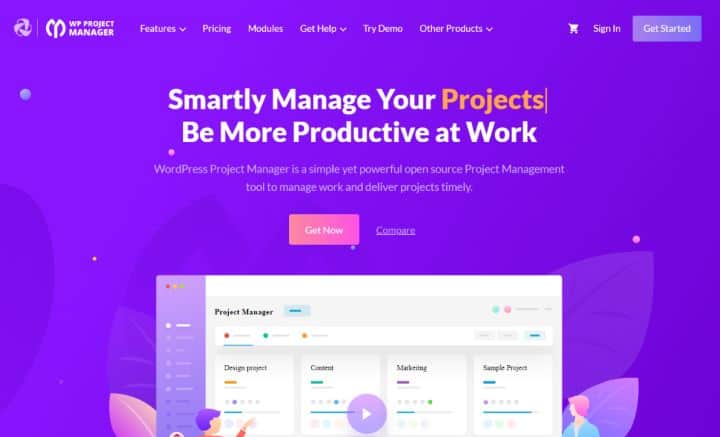 WP Project Manager is a freemium WordPress plugin to manage marketing projects from within WordPress. WordPress design studios and marketing agencies that primarily work with WordPress will find this useful.
Pros
Drag & drop boards to manage ideas and tasks.
Gantt chart timelines with sub-tasks and task dependencies.
Time tracker and invoicing.
GitHub, Slack, and WooCommerce integration.
Open-source software.
Cons
You're responsible for maintaining your PM software installation.
Limited to the WordPress platform.
Price
The base plugin is available for free from the WordPress repository. The premium version of the plugin starts at $79 per year for a single domain website.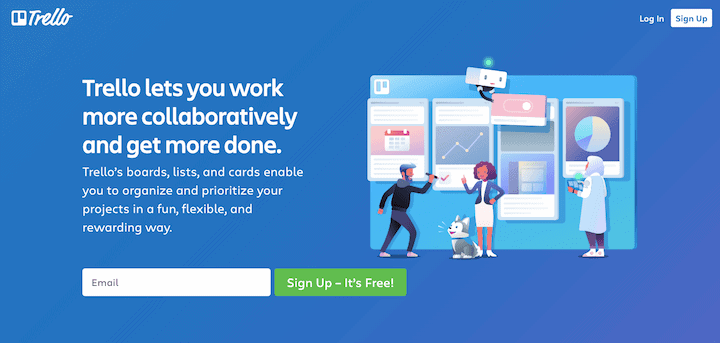 Trello is another simple project management platform that's popular among marketers. Task boards in Trello make it easy to manage linear marketing campaigns.
Pros
Simple drag & drop boards to manage campaign tasks and ideas.
Create and manage custom task workflows.
Custom tasks fields and checklists to include custom information.
Collaborate with task comments and file attachments.
Automate task workflows.
Cons
No timelines to plan your campaign schedule or your team's capacity.
Poor overview of the campaign progress.
Price
You can manage up to 10 team projects in the free plan. Paid plans start at $12.50 per user per month.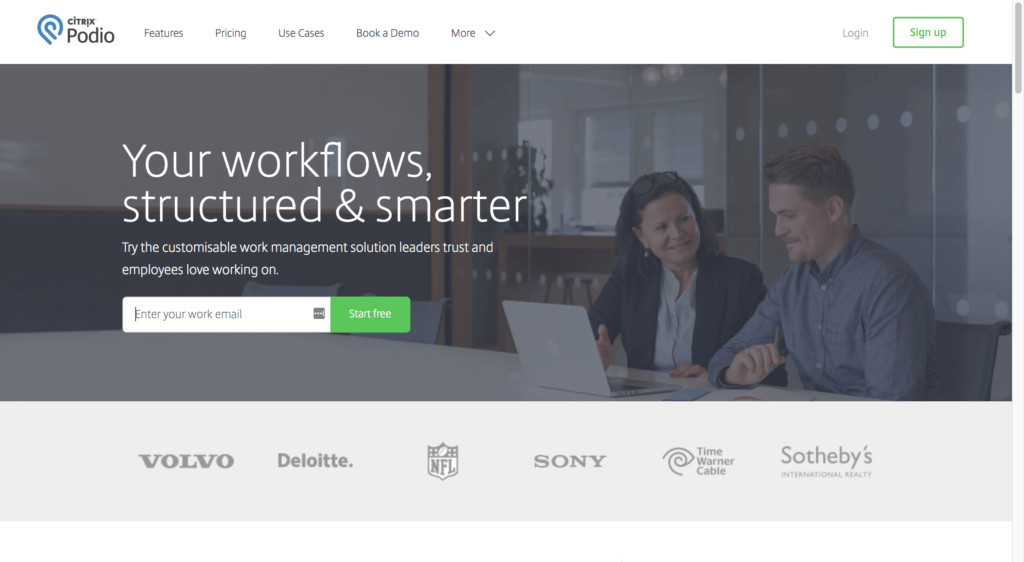 Podio is a simple task management tool with customizable as well as automated workflows.
Pros
Task management with custom task workflows.
Task boards to organize and prioritize tasks.
Integrations with marketing, cloud-storage, and calendar tools.
Attach files to tasks.
iOS and Android apps to manage work on the go.
Cons
No planning and workload management features.
Read-only client access is not available in the free and basic plans.
Price
Podio's free plan comes with task management for up to 5 users. Paid plans start at $9 per user, per month.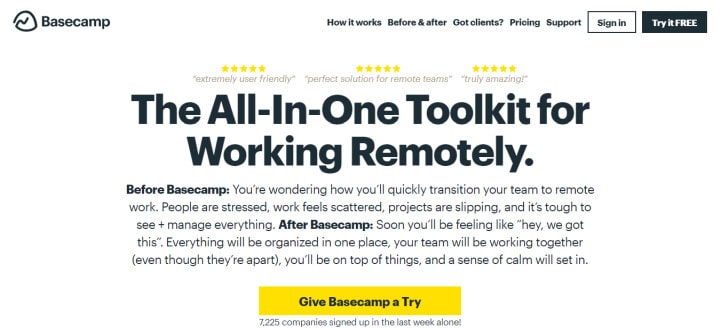 Basecamp is a popular collaboration tool for marketing teams. It comes with powerful features for file sharing and project communication.
Pros
Powerful internal messaging and file sharing.
Event schedule with recurring events.
To-do lists to manage campaign activities.
Collaboration using comments and chat messaging.
Message boards.
Cons
No campaign plan timelines.
No task management or custom workflows.
Price
Basecamp has a free personal plan with limited features. Paid plans start at $99 per month or any number of users.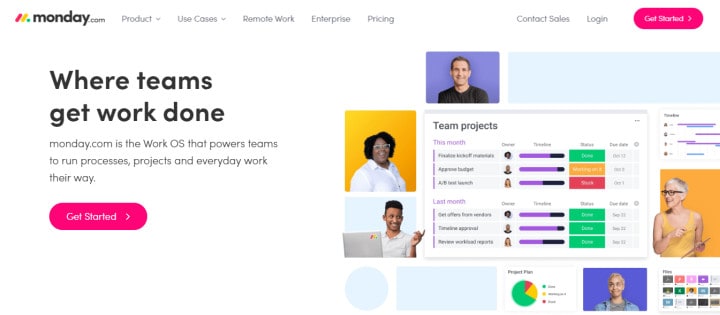 Monday.com is another popular tool for marketing collaboration. It comes with multiple ways to view a project campaign.
Pros
Multiple ways to visualize project campaigns, including timelines, calendars, lists, and boards.
Visual workload management to manage team capacity.
Integrations with calendars, cloud storage services, and code repositories.
Custom dashboards.
Enterprise-level security.
Cons
While it has multiple views, you can only manage tasks from a task list.
No free plan. Plus, paid plans have a minimum number of users.
Price
Monday.com comes with a 14-day free trial. Paid plans start at $10 per seat per month with a minimum slab of 3 seats.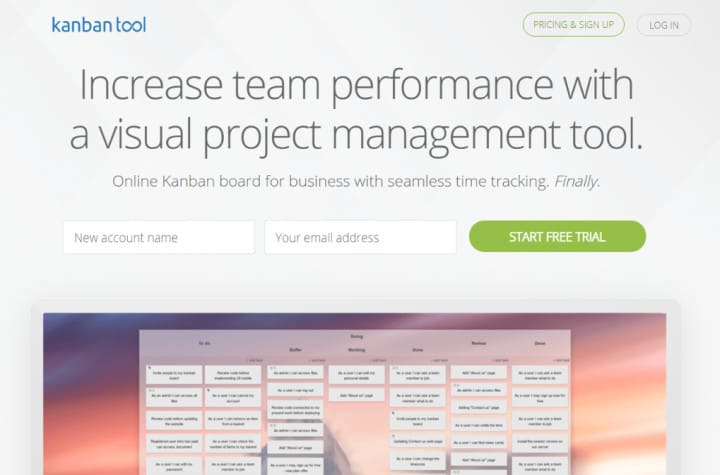 Kanban Tool is a board-based tool like Trello. It's more of a marketing project tracking tool. But, it's lightweight and suitable for simple task management.
Pros
Capture and organize creative ideas.
Manage project iterations and tasks with custom workflows.
Visualize project progress with dashboard reports.
Cons
No planning features.
No workload management features.
Price
Kanban Tool's free plan is limited to two users and two boards. Paid plans start at $5 per user, per month.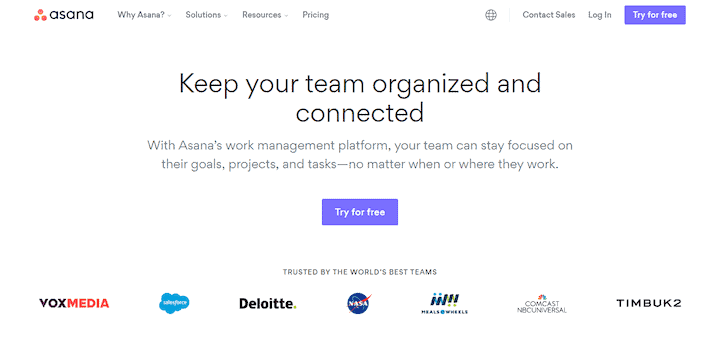 Asana is a comprehensive project management software. It's suitable as a marketing agency project management software. Particularly if you need to manage large teams or complex projects.
Pros
Plan schedules using calendars and timelines.
Create custom task workflows using boards.
Visualize campaign progress with custom dashboards.
Get client approvals with the approvals and proofing feature.
Portfolio management for larges agencies.
Manage team workloads.
Cons
It can feel overwhelming for small teams or simple marketing projects.
Price
Asana's free plan allows up to 15 team members for an unlimited number of projects. Paid plans start at $13.49 per user per month.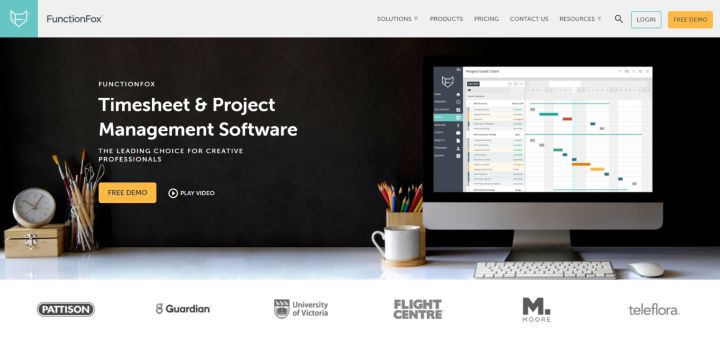 FunctionFox is a project management software for marketing departments and agencies. It comes with time & expense tracking, project management, and internal communication features.
Pros
Gantt charts for project planning.
Blogs for internal team communication.
Track time and expenses along with project management features.
Custom report builder.
Cons
No team capacity planning or workload management features.
The tool feels rough around the edges.
Price
FunctionFox does not have a free plan. Paid plans with project management features start at $40 for the first user per month. For additional users, it costs $8 per user, per month.
How To Choose A Marketing Project Management Software?
Now you know what tools are available for managing marketing projects. Next, let's look at how you can choose a tool for your team.
By choosing the right tool, you can streamline your marketing campaigns. On the other hand, select the wrong tool, and your team may not enjoy using it or stop using it altogether.
Here are the steps you can take to select the best tool for your team.
Depending on the needs of all stakeholders, decide what features you need.
Decide on a budget that you're willing to spend every month for the PM tool. If you're planning to go with a complex tool, you'll also need to factor in onboarding and training costs.
Based on the feature set you need and your budget, shortlist 2-3 tools to try out.
Most tools have a generous free plan, while others have a free trial. Use the free options to test a tool with your team and choose one that your team best feels comfortable using.
Conclusion
Choosing the right marketing project management software is critical to managing campaigns of all sizes.
To help you choose the right tool, we looked at why your marketing team needs project management software. Next, we looked at the features offered by these tools. And finally, we did an overview of the best tools available today.
Hopefully, this helps you choose a PM tool that best fits your needs.