Today you'll learn about the top 10 marketing project management software tools and how they compare against each other.
You'll learn about:
The features and integrations each tool offers
How a tool works with screenshots
And its pricing options
By the end of this article, you'll be able to choose the best marketing campaign management tool for your needs—whether you're looking for a digital project management tool or an advertising project management platform.
Let's dive in:
The best marketing project management software
When it comes to project management for marketers, every tool has something unique to offer. Here's a quick summary of the top marketing campaign management tools:
If you're looking for a drag-and-drop team project planning, tracking, and management tool, Toggl Plan is perfect for you. Whether it's project management for marketing agencies or internal teams, it helps you visualize your team's capacity, availability, and workload to make solid campaign plans.
With Toggl Plan's drag-and-drop timelines, quickly plan and adjust project schedules. Create color-coded milestones to keep track of important deadlines.
Assign multiple people to a task and have them collaborate using file attachments, task notes, and feedback comments.
Use task checklists to improve task completion quality and avoid rework.
Track project progress from the timeline or use simple, visual, drag-and-drop Kanban boards to track work progress. This makes Toggl Plan perfect for agile marketing teams as well.
Visualize your team's schedule across projects, time off, and public holidays. Avoid scheduling conflicts and rebalance workload with simple drag and drop.
Get a long-term overview of your agency's upcoming projects to determine if you can take up more projects or need to hire more people.
Integrations: Toggl Plan integrates with our popular time tracking tool—Toggl Track. It also integrates with popular calendar tools such as Apple Calendar, Google Calendar, and Outlook.
Pricing:
Forever free plan for solo users
Free 14-day trial for teams
From $9/user/month
Try Toggl Plan for free (no credit card required)
For marketing teams that work in 1-4 week sprints, Trello can be a perfect solution. It comes with robust task management features to help you manage agile marketing projects and campaigns.
Trello comes with powerful Kanban boards to manage project tasks. Kanban boards are simple yet powerful marketing workflow tools.
You can drag and drop task cards across columns to change status. Run if-then-else automations when something changes on a task card.
Task cards in Trello are equally powerful. Add labels and notes for task details. Or attach files and checklists to work together with your team. But best of all, you can also add custom fields to these task cards.
Switch between Kanban, calendar, timeline, or table views to make the most sense of your tasks.
Integrations: Trello can integrate with hundreds of apps natively or via Zapier. Top integrations include Jira, Bitbucket, Slack, and Gmail.
Pricing:
Forever free plan with limited boards and views
From $5/user/month
If you need robust project management software for your marketing efforts, look no further than Paymo. It's great in terms of collaboration.
Get your team onboard to manage work in a single workspace, from communicating in dedicated comment sections to opening threads in the Discussion tab, or leaving comments as the team is file proofing uploaded documents.
Upload files from Google Drive, Slack, or JotForm for convenience, thus shortening the feedback loop, and add as many revisions as needed (file versioning) in the Task Files.
Visualize your tasks through various views, e.g., lists, tables, Kanban boards—and Meta Kanban, if you're managing a team—calendar, agenda, and Gantt charts. Filter in terms of priorities, due dates, assignees, status, and more.
Integrations: Paymo integrates with Slack, Google, Zapier, Typeform, Quickbooks Online, and Zero, among others.
Pricing:
Free plan available, but limited to one user
From $4.95/month (solo) or $9.95/user month (team)
If you're looking for an end-to-end project management system, Asana is perfect for you. It comes with features to manage organizational goals, project portfolios, as well as projects, and tasks.
Campaign planning in Asana begins with the Gantt timeline. The Asana timeline supports task dependencies.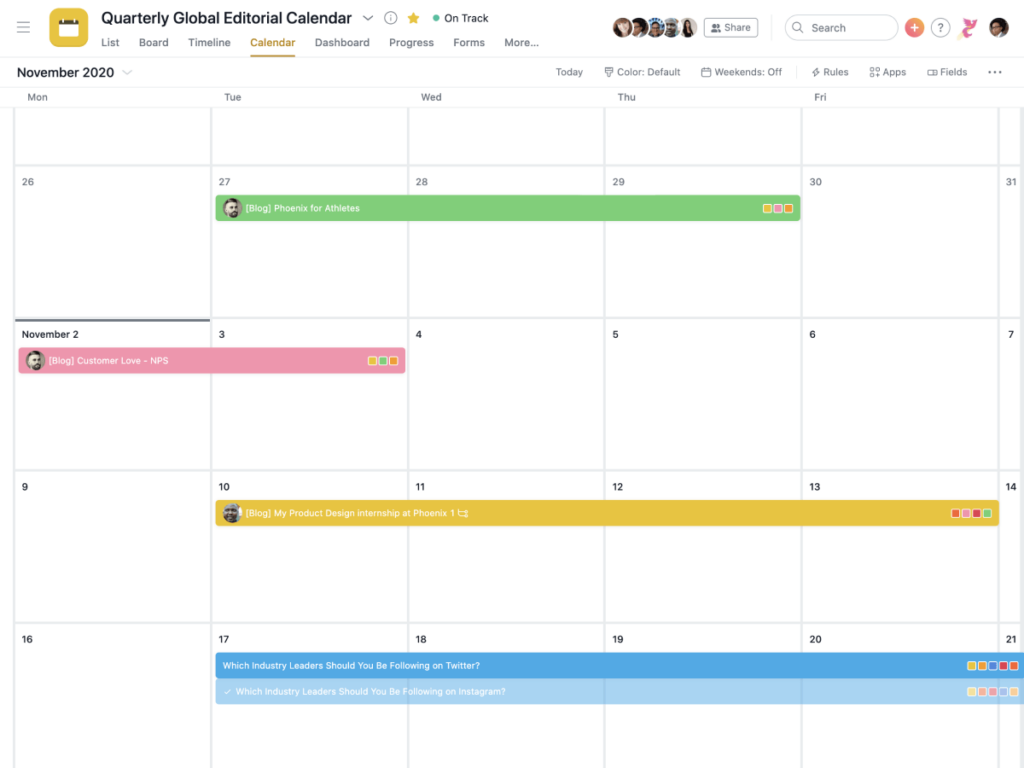 Visualize tasks in task lists, calendars, or on a Kanban board. Add sub-tasks, notes, and file attachments to make task collaboration easier.
Assess team workload and bandwidth and rebalance work to make your team more productive and avoid burnout.
Integrations: Asana integrates with hundreds of apps such as Microsoft Teams, Google Calendar, Gmail, etc.
Pricing:
Free plan with limited features and no timelines
From $13.49/user/month
Some marketing teams need to execute custom campaign management workflows. If you're looking for custom marketing workflow management software, Monday.com should be the first tool you want to look at.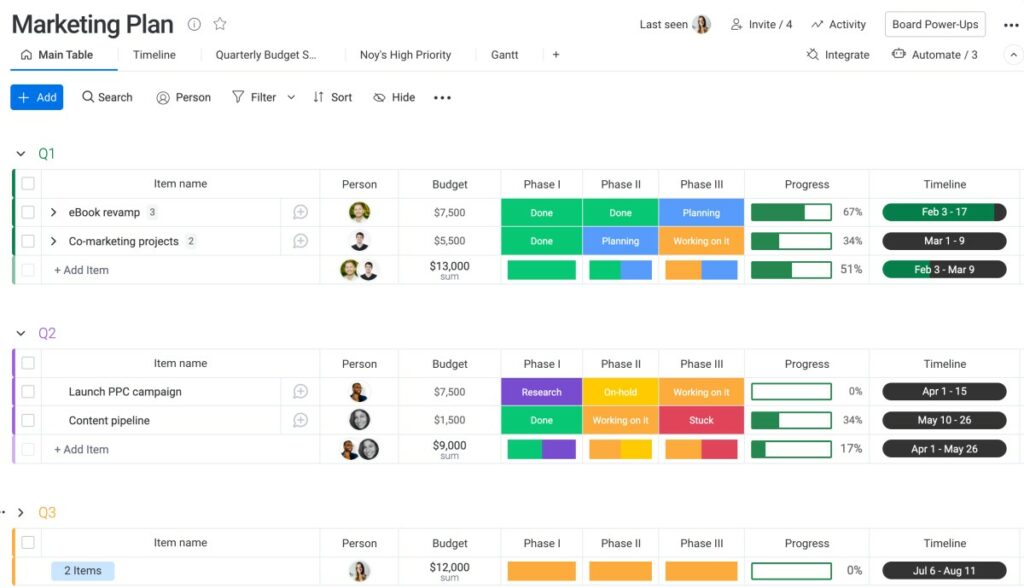 At the core of Monday's workflow management are boards. Capture your items which are flexible entities that can be anything such as tasks, projects, or portfolios on a board. Organize items into groups, for example, task status. Finally, customize each item's properties with fully customizable columns.
Visualize boards using the dashboard, Kanban, and timeline views.
Get a clear overview of your team's workload from the workload report to ensure no one is over or underworked.
In addition, your team can also track time spent on tasks using a basic time tracking tool inbuilt into Monday.com. This is useful if you invoice your clients by the hour.
Integrations: Monday integrates with many work management apps using direct integrations and Zapier.
Pricing:
Forever free plan for solo users
14-day free trial
From $10 seat/month
If you're looking for a free plan with unlimited members, ClickUp has it. However, with the free plan, you don't get critical features useful for managing marketing campaigns.
With ClickUp, capture, organize, and manage tasks into folders and lists. Folders and lists in turn are organized into spaces and workspaces.
Visualize your tasks as a task list, calendar, Kanban board, Gantt timeline, and map views. Each view is customizable and you choose which columns are displayed where.
Collaborate with your team using docs and whiteboards. Organize docs into wikis or attach them to a task.
Integrations: ClickUp integrates natively with popular tools like Toggl Track, Slack, GitHub, Dropbox, etc.
Pricing:
Free forever plan with limited storage and features
From $9/member/month
If you need something completely flexible and don't mind designing your own marketing workflows, Notion can be a great option for you. It comes with fully customizable documents, wikis, and databases.
Notion docs make it easy to collaborate with your team with headings, paragraphs, bullet lists, and even checklists. Link together docs into a wiki using internal hyperlinks.
Databases are where Notion shines the best. With custom databases, you can build any workflow in Notion. For example, project management, CRM, sales dashboards, etc.
You can also visualize a database as a calendar, Kanban board, or timeline. In addition, Notion comes with ready-made templates for many workflows including those for marketing campaigns that you can import and customize to suit your needs.
Integrations: Notion integrates with Slack, GitHub, Asana, and Jira using native integrations. It also connects with other apps via Zapier.
Pricing:
Forever free plan for solo users.
From $10 /user/month
If team communication and client collaboration are your primary use cases, you may want to look at Basecamp. It's a minimalistic project management tool that many marketing agencies use.
With Basecamp, you can organize your tasks into simple task lists. However, you miss out on the visual project management tools—timelines, boards, and calendars. As a result, while Basecamp is great for simple task tracking, it may not suit marketing project managers.
Collaboration is where Basecamp truly shines. It comes with a messaging app, bulletin boards, and minimal docs to help your team to share marketing project proposals with clients as well as stay up to date about a project.
Integrations: Basecamp integrates natively with tens of apps. You can also connect Basecamp with Zapier or Automate.io to integrate it with other apps.
Pricing:
Forever free plan with 3 projects and limited features
$99/month
If you're looking for an all-in-one agency management solution, Workamajig is for you. It has a comprehensive set of features including project management, business intelligence, resource management, and sales CRM.
Visualize your project tasks as task lists and Gantt charts. Quickly set up a project with ready-made marketing plan templates. Keep an eye on the project's resources and budgets.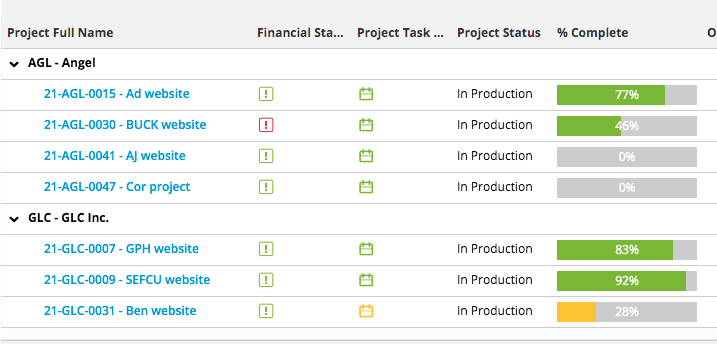 Visualize campaign progress on project dashboards. Use fully customizable chart views to manage your agency better.
Spot over or underworked team members and balance workloads with a few clicks.
In addition, Workamajig also comes with a sales CRM and business intelligence solutions to help you grow your agency.
Track your sales pipelines using a CRM from the first contact to the final invoice.
Integrations: Being an all-in-one solution, Workamajig does not come with integrations for other work management tools.
Pricing:
Request a free demo
From $50/user/month
If you're a WordPress agency that doesn't want to invest in a monthly SaaS solution, WP Project Manager may be perfect.
You can use this WordPress plugin forever for a one-time payment. There's even a free version available. However, it becomes your responsibility to set up and maintain the entire project management system.
With WP Project Manager, manage projects from within a WordPress installation. To organize tasks you get a task list. You can also visualize tasks as Kanban boards, Gantt charts, and calendars.
You can also attach files by uploading or linking Google docs directly.
Integrations: While WP Project Manager does not integrate with external work management tools, it can work together with other WordPress plugins using premium extensions.
Pricing:
Forever free version without Kanban and timeline views
From $63/year
If you provide marketing support and need an issue tracker to manage support requests, DoneDone is worth a look. It's a simple issue tracker and help desk software.
DoneDone's bug reporting and management are super-flexible. Customize statuses, assignees, priorities, tagging, and due dates to match your bug-management workflow.
It also comes with a simple helpdesk management solution. Manage your support requests with easy searching & filtering, private commenting, out-of-office responses, saved replies, customer histories, etc.
In addition, you can also manage tasks and projects from an integrated task management tool. Stay on top of progress updates with calendars and dashboards.
Integrations: DoneDone integrates with Slack, Harvest, GitHub, and Google Drive.
Pricing:
14-day free trial
From $5/user/month
How To Choose A Marketing Project Management Software?
Now you know what tools are available for managing marketing projects. Next, let's look at how you can choose a tool for your team.
By choosing the right tool, you can streamline your marketing campaigns. On the other hand, select the wrong tool, and your team may not enjoy using it or stop using it altogether.
Here are the steps you can take to select the best tool for your team.
Depending on your team and the needs other stakeholders, decide what features you need.
Decide on a budget that you're willing to spend every month for the PM tool. If you're planning to go with a complex tool, you'll also need to factor in onboarding and training costs.
Based on the feature set you need and your budget, shortlist 2-3 tools to try out.
Most tools have a generous free plan, while others have a free trial. Use the free options to test a tool with your team and choose one that your team best feels comfortable using.
What types of teams need marketing project management software?
Marketing team project management software is essential for marketing teams of all sizes and kinds, including:
Marketing agencies
Internal marketing teams
Marketing consultants
Freelancers
Designers
Brand management firms
Advertising agencies
Most of the above marketing teams use a project management tool to plan, manage, and track campaign activities. While others use a project tool to collaborate and communicate work progress.
What Does Marketing Project Management Software Do?
Managing a marketing campaign is complicated. 
Often, there are lots of people, variables, and resources involved. Deliveries are time-sensitive, and clients want to be closely involved. Plus, team sizes differ and so do workflows.
A marketing project management tool helps manage all these factors. Project management for marketing involves the following activities:
Campaign planning
Task management
Baseline management
Workload management
Team collaboration
Client communication
Time tracking
9 Reasons Why Your Marketing Team Needs A Project Management Software
Whether you're the only marketer or work in a team, project management software can help you streamline your work.
Here are the benefits of using a marketing project management tool:
Project planning: Plan project timelines based on previous track records.
Capture ideas: Capture, organize and prioritize campaign ideas.
Track campaign progress: Monitor campaign tasks, track progress, and adjust the schedule as necessary.
Resource allocation: Plan resource availability when required and allocate these resources accordingly.
Communication and collaboration: Ensure that the campaign's information is available when needed. Help team members work together on overlapping tasks.
Design documents and files: Keep all design and specification documents accessible to team members in one place.
Client communication: Seek approvals and communicate campaign progress with clients.
Time tracking: Track time spent on campaign activities.
Big picture view: Get a birds-eye overview of the campaign project and the team's capacity to prevent overwhelm and burnout.
Project management tools are definitely critical software you should invest in for your marketing team.
What Project Management Features Does A Marketing Team Need?
Based on what benefits you're looking for, you can choose project management software for your marketing team.
Some critical features that you should look for are:
Timelines: Plan better project schedules by factoring in team availability and vacations. Get a big-picture overview of your campaign and team capacity.
Task management: Assign tasks, manage workflows, and monitor campaign progress.
Boards: Manage ideas and campaign iterations.
File attachments: Share designs, specifications, and other documents across your team and stakeholders.
Workload management: Avoid underworked or overwhelmed teams. Manage your team's capacity.
Time tracking: Invoice clients based on the time your team spends on campaign activities.
Reports and Notifications: Communicate project progress and essential due dates within and outside the team.
Other than the above features, you'll also need to consider two critical factors.
Ease of use: Does the tool make it easy for your team to create/update project information? Otherwise, your team will end up wasting time, or worse, stop using the tool altogether.
Budget: Does the tool come within your budget? Most project management tools are priced on a per-user, per month basis. Consider costs to cover your entire team and customers.
Conclusion
Choosing the right marketing project management software is critical to managing campaigns of all sizes.
To help you choose the right tool, we looked at why your marketing team needs project management software. Next, we looked at the features offered by these tools. And finally, we did an overview of the best tools available today.
Hopefully, this article helps you choose a PM tool that best fits your needs.