Toggl Plan is thrilled to launch our native integration with Toggl Track.
The new integration provides an easy way to start and stop timing your tasks from within Toggl Plan, and automatically pass the data through to your Toggl Track workspace.
It'll only take a couple of minutes to connect your accounts and get started. Keep reading to find out more about how it works, and how to get started in this blog post:
What can I do with the integration?
I'm glad you asked! Here's an overview:
Start the timer from your Toggl Plan workspace
This can be done either from the timeline, by right-clicking a task:

…or from inside the task popup.

When you're timing a task, you'll get a visual indication:

Stop the timer from your Toggl Plan workspace
This is fairly self-explanatory! Stop the timer in the same way that you started it.

Pass data to your Toggl Track workspace
After you stop timing a task, the entry will be automatically passed through to Toggl Track. You can configure how to send your time entries too. For example, whether a Plan or Segment name should be mapped to a Project or Client in Toggl Track.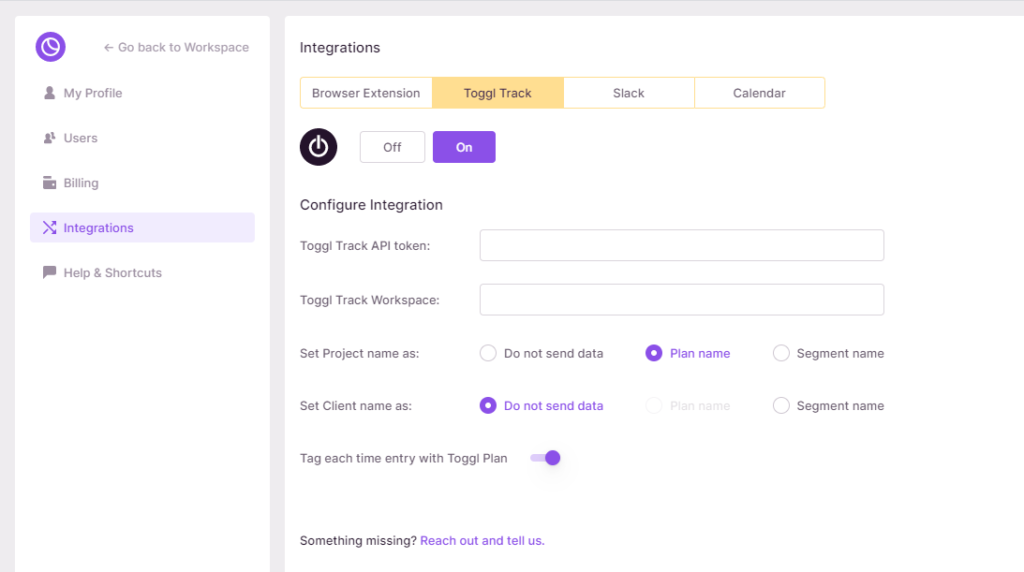 How to get started
Connecting your Track account is quick and easy. Here's how to get started.
Navigate to your integrations page in Toggl Plan (settings → integrations)

Click on the 'Toggl Track' option near the top of the page, and then select 'on'.

In another tab, head over to your Toggl Track workspace, and grab your API token. You can find it by going into My Profile, and scrolling down until you see the 'API Token' subheading.

Copy and paste your API token into the relevant field in your Toggl Plan settings.

Configure the remaining settings to decide how data should be sent to Toggl Track
That's it. You're good to go! Start timing either from inside the task popup, or by right-clicking any task on your timeline, and selecting 'Start Time Tracking'.
In case it's helpful, you can watch our <1min video below:
FAQs
Q: Does this mean I can start using the same login for Toggl Plan and Toggl Track?
A: No. It simply makes for an easier way to time your tasks, and pass the data to your Track workspace. Accounts, logins, and billing are still entirely separate.
Q: Why can't I see the Toggl Track option in my Integrations settings?
A: If the feature is not enabled by a workspace admin, you won't be able to see it.
Q: Does everybody need to add a Toggl Track API token, or just our workspace admin?
A: Every person who wants to track their time will need to add an API token, found in their Toggl Track 'My Profile' page.
Q: Is there a way to compare time estimations from Toggl Plan with actual time tracked in Toggl Track?
A: No, that isn't a feature of this integration right now.
Q: Do I need a paid account to use this integration?
A: Yes, you need a paid Toggl Plan subscription. Free users can still use the Toggl Button extension in Chrome or Mozilla.
I sincerely hope that both Toggl Plan and Toggl Track users find this useful. If you're not yet using both tools, you can sign up here:
https://toggl.com/track/
https://toggl.com/plan/
If you have any questions, feedback, or suggestions, please don't hesitate to reach out: support@plan.toggl.com. Have a wonderful day!