Struggling to manage your projects and often find yourself overwhelmed by an overflowing to-do list
Project time management might just be the solution to your problems!
What is project time management?
Project time management is the process of estimating, scheduling, and controlling project tasks to complete the project within the agreed-upon timeframe and budget.
It involves defining all the tasks required, determining their order and dependencies, estimating the resources and duration of each task, and developing a realistic project schedule.
Why is project time management important?
Project time management is important because it helps you and your team complete projects on time and within budget.
It can also help with:
Allows you to set clear timelines for all tasks so team members can prioritize work and deliver work on time.
Keeps stakeholders informed of progress at every project stage, building trust between the project team and client.
It enables you to proactively manage the project timeline to prevent delays and missed deadlines.
After all, nothing is worse than realizing your project is behind schedule and over budget with no clear plan to get it back on track!
Main benefits of project time management
Here are some of the main benefits of effective time management in more detail:
Reduced stress
Effective project time management significantly reduces team stress by clarifying deliverables and schedules.
For example, a marketing team using Toggl Plan to map out their work on a project timeline knows exactly what work they need to deliver and when.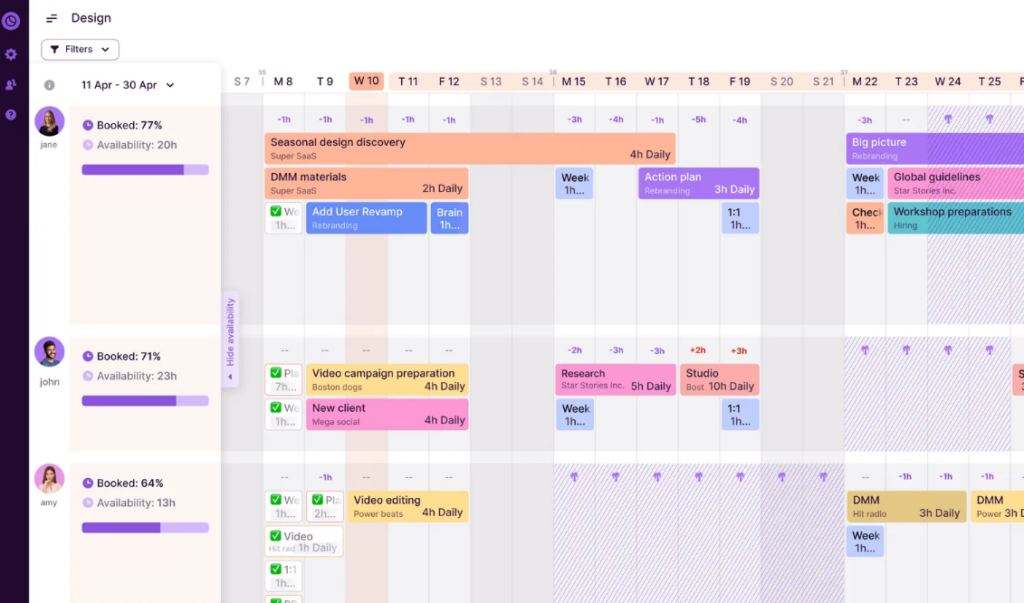 This transparency helps to distribute work evenly and minimizes last-minute rushes.
Increased productivity
Project time management helps you to create more accurate project scheduling and prioritizing of work, giving you better control over scope, progress, and budget.
By prioritizing work and meeting deadlines, team members can accomplish more.
Better resource management
Managing project time also enhances resource allocation since tasks are mapped to availability.
If team members know how much time they have for each activity, they can plan their workflow accordingly.
For example, a marketing team manager seeing a deliverable is behind schedule in Toggl Plan can quickly shift resources to get it back on track.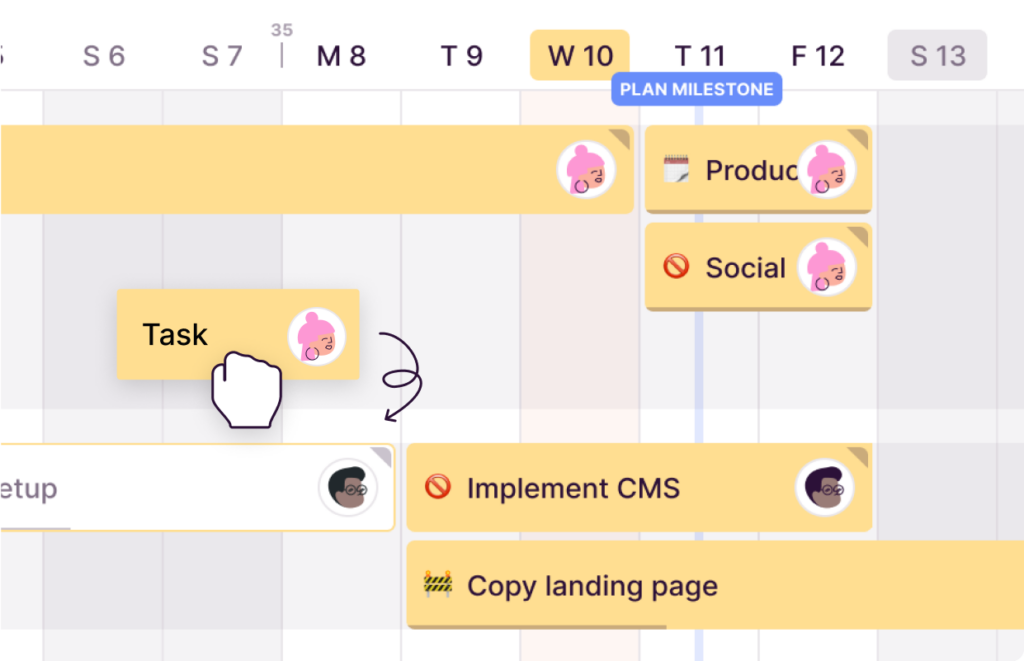 Improved project quality
Effective project time management helps you to define realistic schedules based on time estimates.
This prevents setting overly ambitious deadlines that sacrifice quality for speed.
6 key project time management steps
Six key steps play a role in effective project time management.
Let's take them one by one.
1. Define phases and tasks
Working on a project is easier when you have a clear task structure.
Before you start working on a project, break it down into phases or deliverables to help you understand how long it will take to complete the project.
You can use a Work Breakdown Structure (WBS) for this.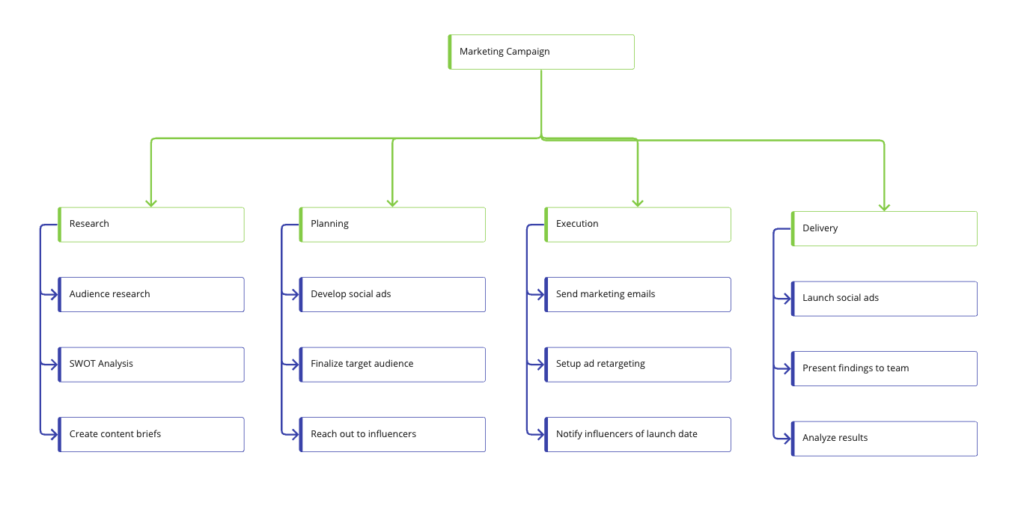 A WBS is a hierarchical breakdown of a project into manageable deliverables or phases.
Doing it right, clearly, and objectively helps you organize and manage your projects more effectively.
Here's what a simple WBS looks like:


Top tip:
WBS should be hierarchical. A hierarchical structure displays information from the highest to the lowest level. Every task has a relationship with the one above it.
Once you have defined the tasks, the next step is to estimate their duration.
2. Estimate time for each task
With your phases and tasks worked out, you can now estimate how long each task will take.
Creating realistic time estimates for your tasks is crucial. Otherwise, you risk project delays and missed deadlines.
If you're using time tracking software like Toggl Track can quickly gather historical data from past projects and speed up your time estimates.
How?
Go to the Projects tab on the left sidebar
Select a project
Click on Tasks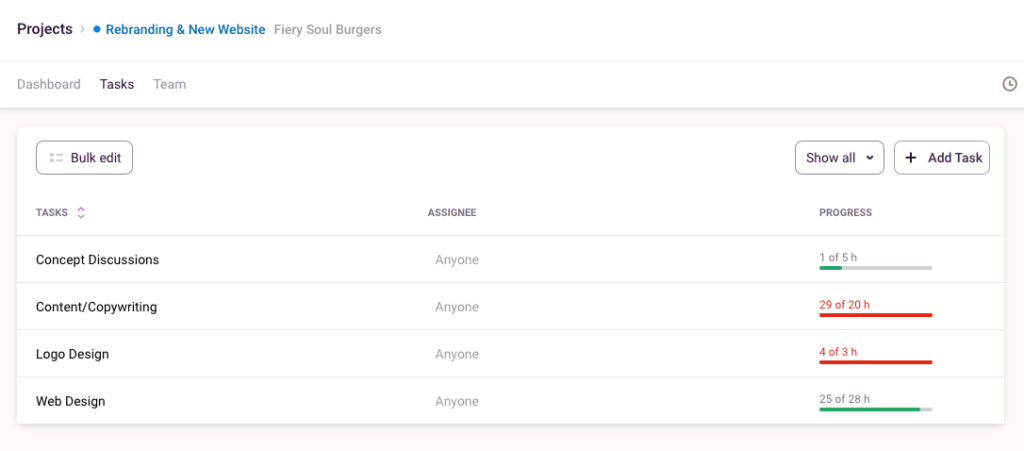 Once you know how long each task takes, add the total hours to your WBS.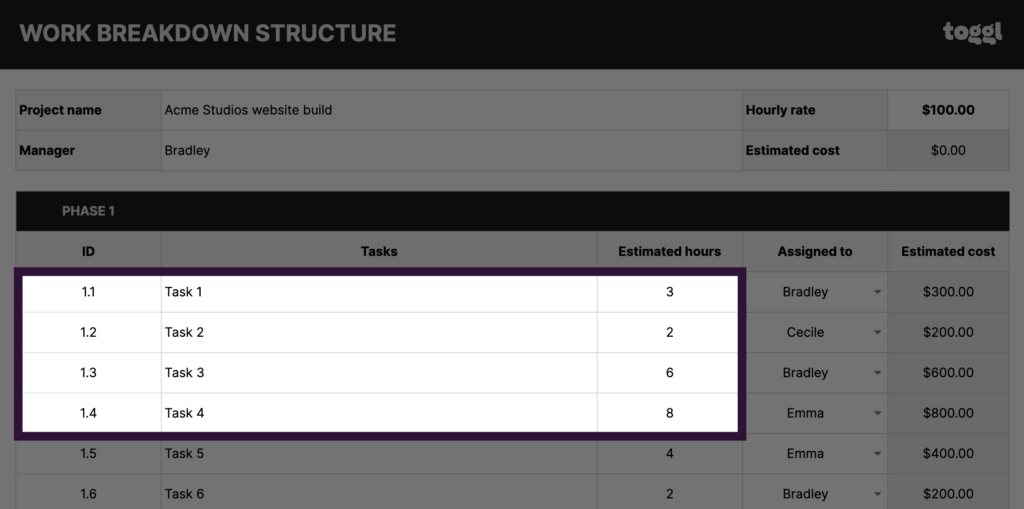 3. Create your project schedule
Once you organize your tasks, it's time to create a project timeline.
A project timeline will help you visualize all your tasks' start and finish dates.
Use Toggl Plan's timeline view to schedule, assign, and visualize your tasks in a stress-free way.
Click the + symbol next to Projects on the left-hand side: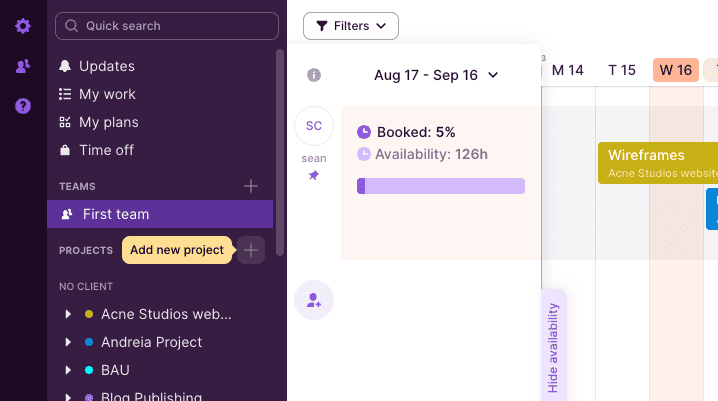 Name your project and hit Save: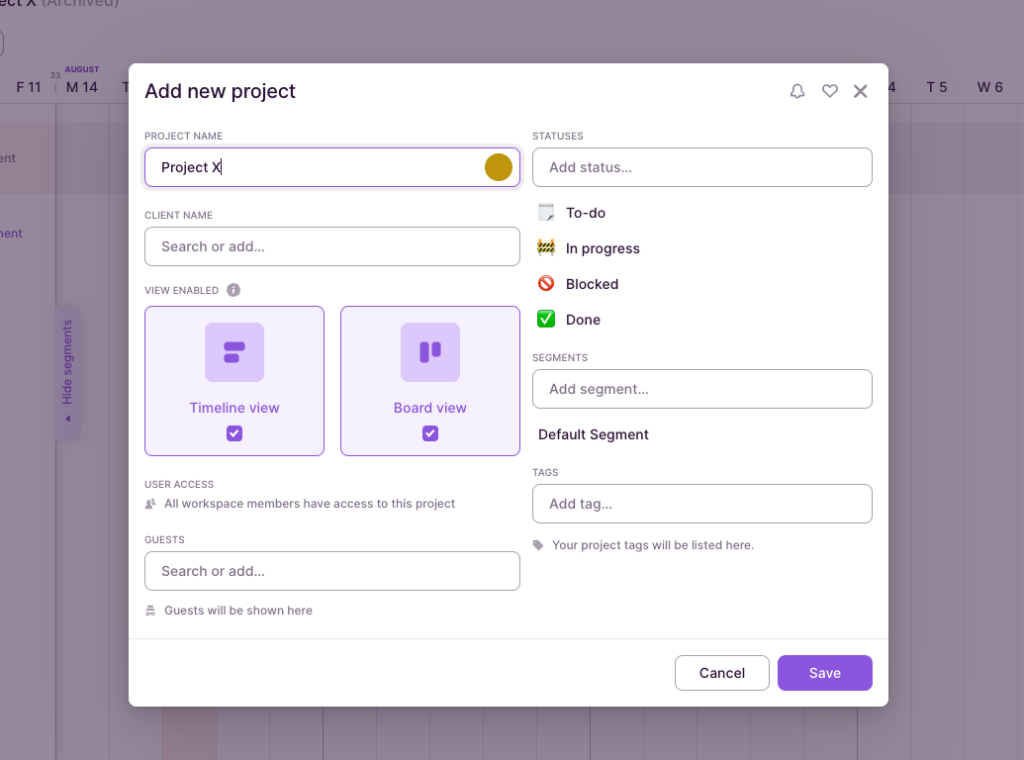 Now click on the project timeline and start adding your project tasks and their details (date, time estimate, etc.):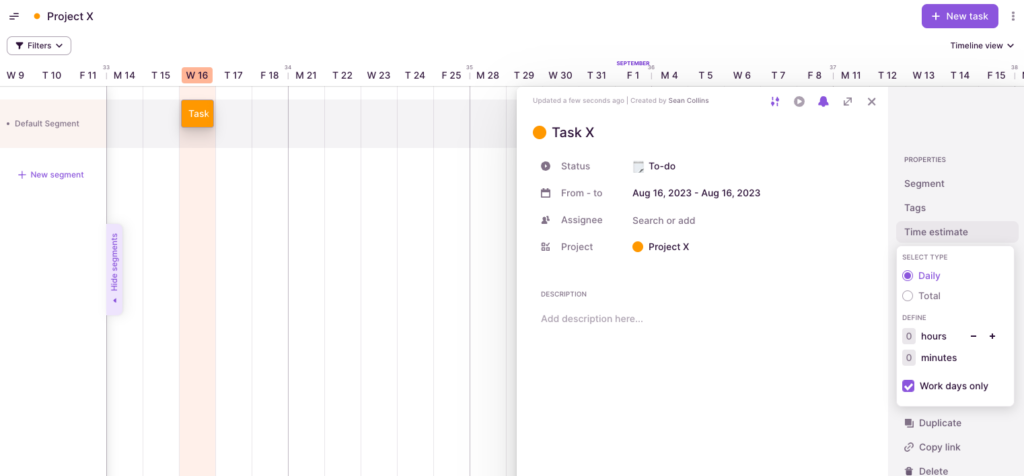 Once you've added all of your tasks, you should be able to see all scheduled project tasks across your entire team to get a clear overview of project schedules.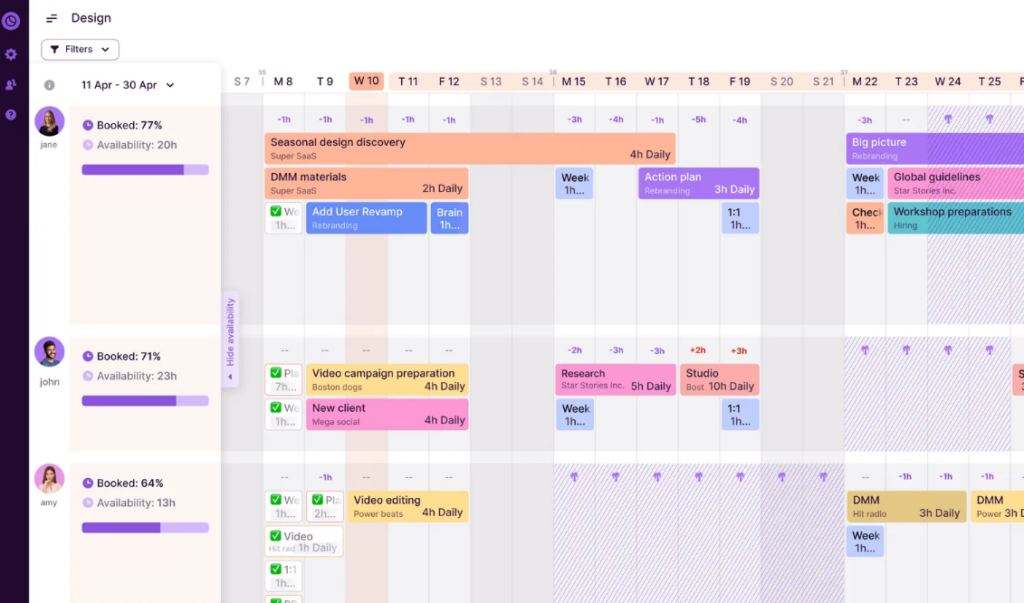 4. Assess resource availability
Check your resources to ensure you have what it takes to complete your project on time.
Does your team have enough availability to complete the project on time?
If you still need to, you might need to adjust your schedule or scope based on your resources.
You can use Toggl Plan's team timelines to allocate your resources more effectively.
The Team view gives you the following:
Each team member's availability for the time period selected
Their total available time each day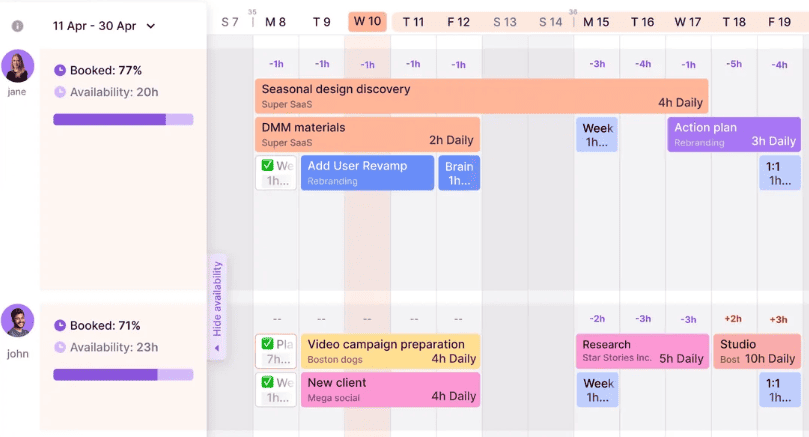 Getting a visual overview of your team's workload and availability can help you balance your work efficiently and deliver projects on time.
5. Assign tasks to their owners
With a clear idea of your schedule and resources, you're ready to assign tasks to team members.
You can easily do that in Toggl Plan.
Click on the task you want to assign and select the appropriate assignee: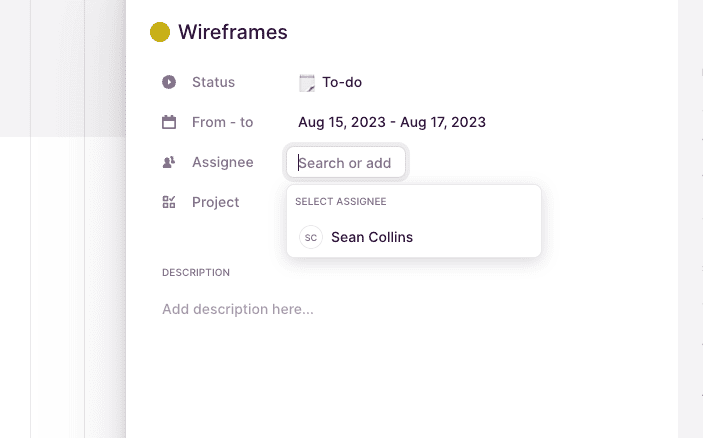 Doing this will give each team member an overview of their work inside of the My work tab: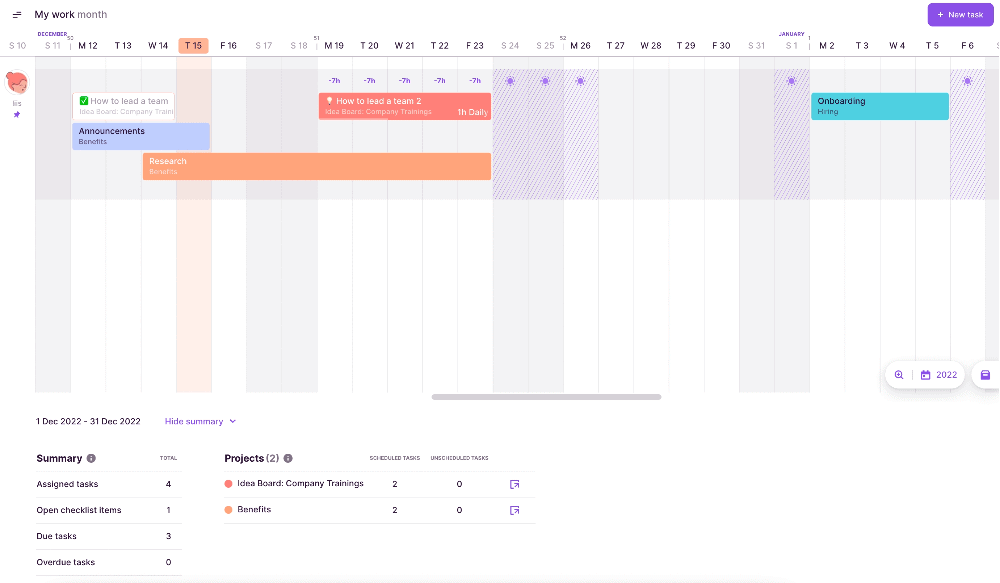 6. Review and adjust the schedule
Once you've assigned tasks to your team, you should review the project timeline and schedule to see if you need to move any tasks around.
You may spot scheduling conflicts with other projects.
You can view all project schedules using Team view in Toggl Plan: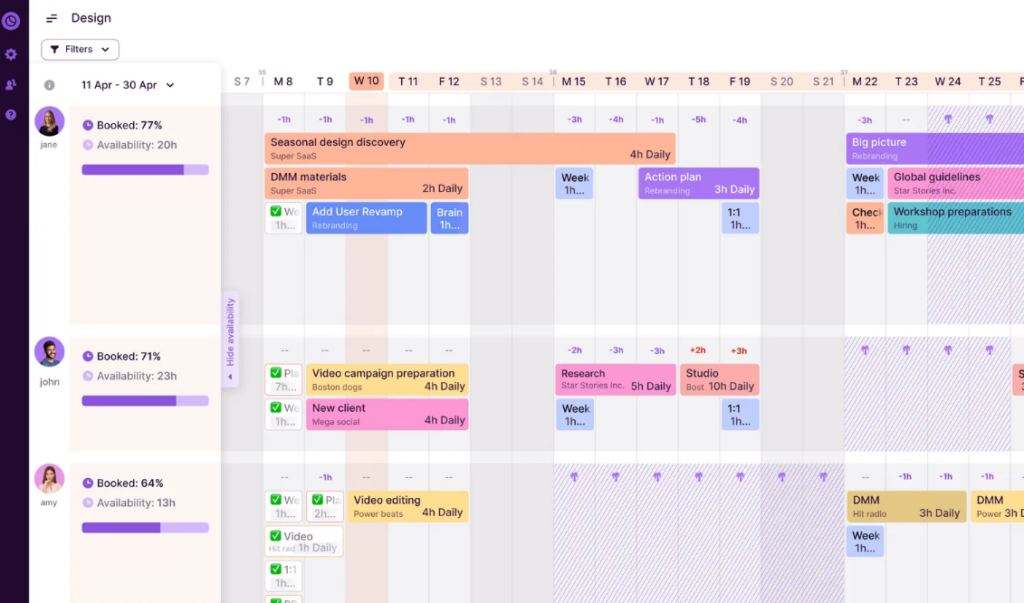 Tasks are color-coordinated by the project and fade when completed.
That way, you can see at a glance what everyone is working on, make sure that no one is overloaded, and notice when there's room for new projects.
Project time management best practices
Estimate project time accurately
The more accurate your time estimates, the better your chances of completing projects on time.
The best way to create accurate time estimates is to use data from past projects.
With Toggl Track, you can use time tracking data from previous projects to understand how long tasks typically take.


Top tip:
Toggl Track fully integrates with Toggl Plan. No switching between tools here. Start the Track timer straight from Plan tasks, and watch as tracked time syncs back to Toggl Plan, keeping all your data current and coordinated.
Compare estimated time with actual time
Comparing your initial time estimates to the actual time spent per task shows how accurate your estimates were.
This helps you refine your estimation process.
You can do this in Toggl Plan by clicking the Timeline view button at the top-right corner of your screen and selecting Progress overview: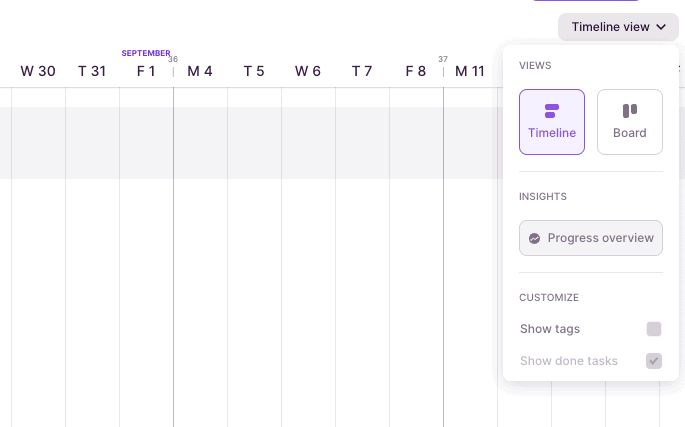 You will then see two boxes that may look similar to this: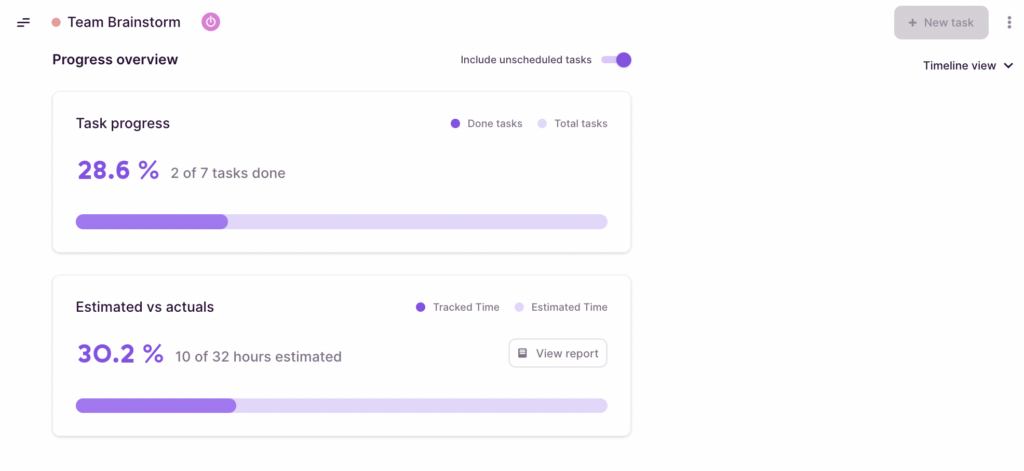 What can you see here?
Task progress:
Adds up all Tasks in the selected project
Adds up all Tasks marked 'Done' in the selected project
Estimated vs. actuals:
Sums up the time estimates for all Tasks in a specific Project
Communicate the plan with stakeholders
Clearly communicating the project schedule establishes clear expectations and alignment between you and the client on milestone dates and deliverable deadlines.
This prevents confusion and miscommunications down the line.
Toggl Plan's Shared Timeline feature lets you share your projects with clients in just a few clicks.
When you're viewing a project in Timeline mode:
Click the three dots on the top-right of your screen
Select zoom level (week, month, 3 months)
Copy to clipboard
Share with your client!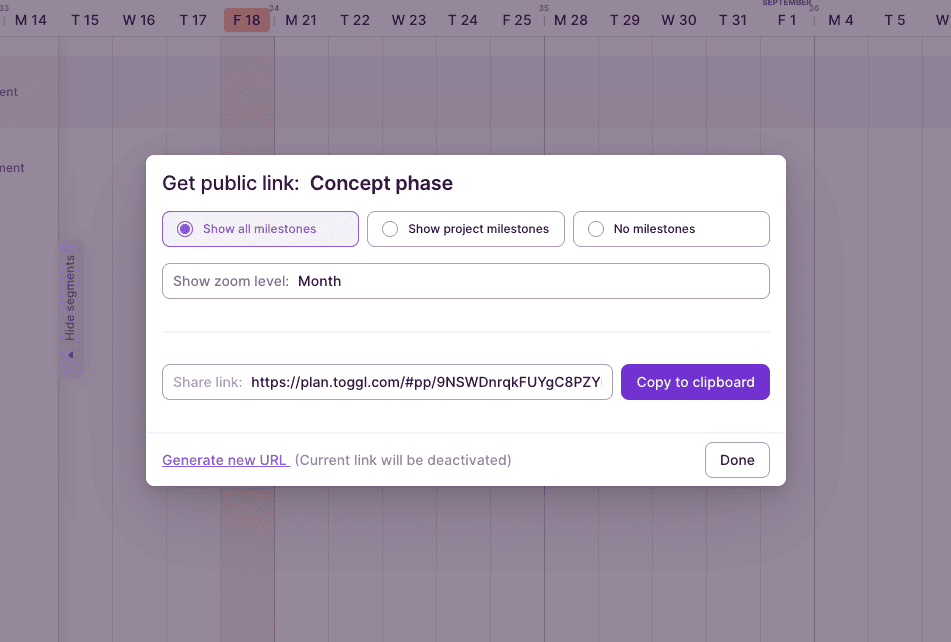 Analyze change impact on project schedules
Project risks, such as scrope creep, can easily push schedules back.
But analyzing how these changes impact your timeline helps you adjust plans and manage expectations.
In Toggl Plan, you can easily adjust the project timeline by dragging and dropping tasks to accommodate changes.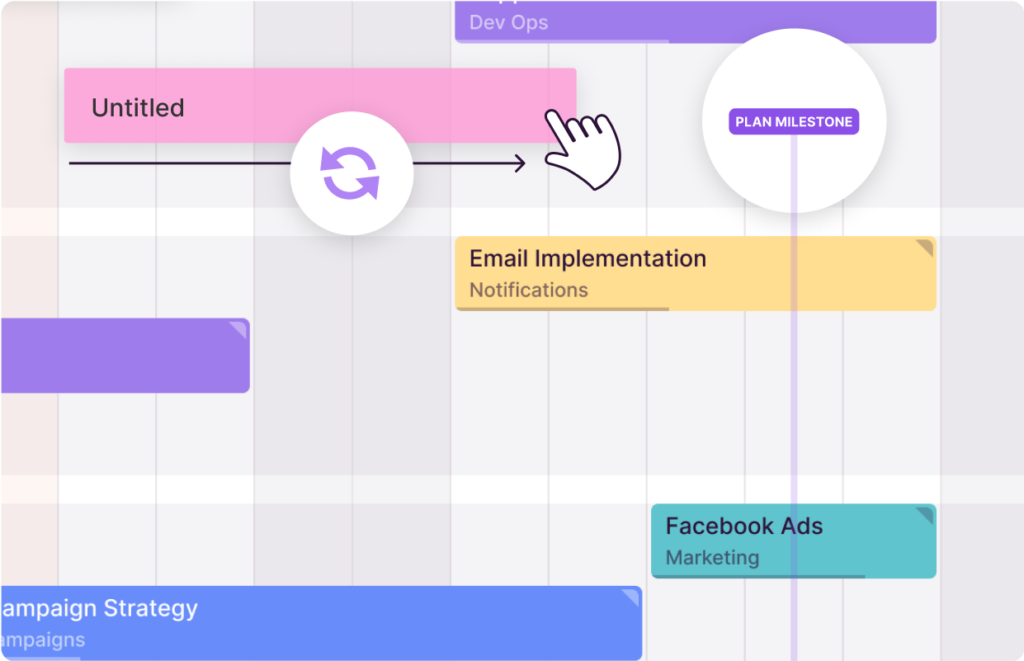 Monitor team workload
You don't want overloaded team members with work. But you also don't want them twiddling their thumbs.
That's why monitoring your team's workload is crucial in keeping a healthy and productive work environment.
You can view team availability for a given timeframe in Toggl Plan to visualize workloads and identify imbalances.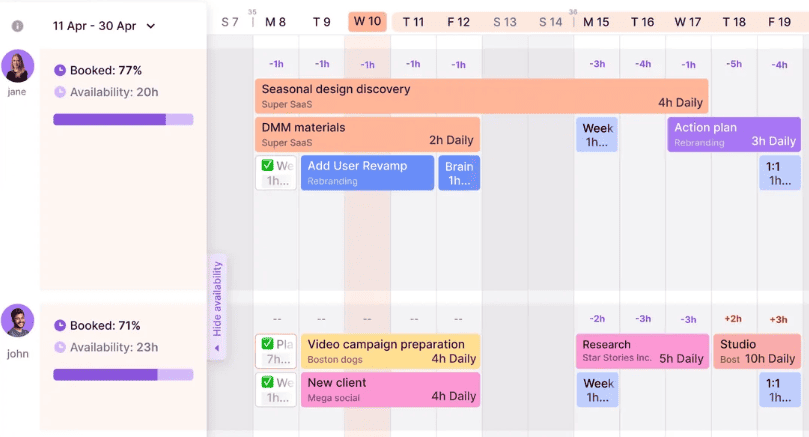 Nail your project time management
Excelling at project time management requires developing key skills like planning, estimation, and scheduling.
Leverage tools like Toggl Plan to map out timelines, set milestones, assign resources, and track progress.
Want to learn more about project time management?
Check out the following resources:
Work tools to elevate your productivity – apps for incredibly simple time tracking and effective project planning.